English Premier League Power Poll: Week 34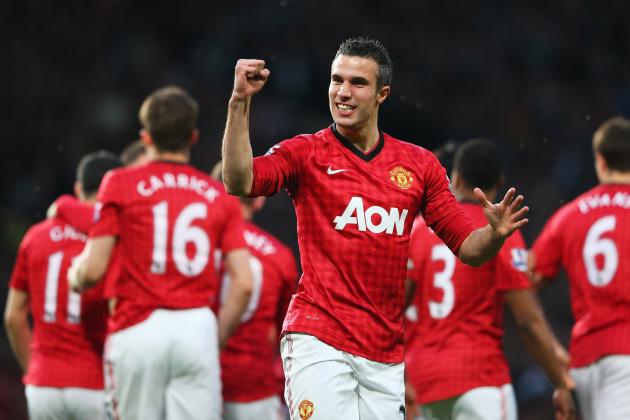 Alex Livesey/Getty Images

Manchester United are champions again after Robin van Persie's first-half goal glut, and a resounding win over Aston Villa at Old Trafford clinched the club's 20th English title and 13th in the Premier League era.
That should serve as a pretty strong hint about the identity of the top-ranked team in this week's B/R English Premier League Power Poll. But even without any top-of-table drama left for the run-in, there's plenty of reason to keep watching the final weeks of the season.
Who's going to finish in the top four? Who's bound for relegation? How does each club stack up in our rankings?
We can't answer those first two questions yet, but we've got the latest rankings fresh for your consideration.
Begin Slideshow

»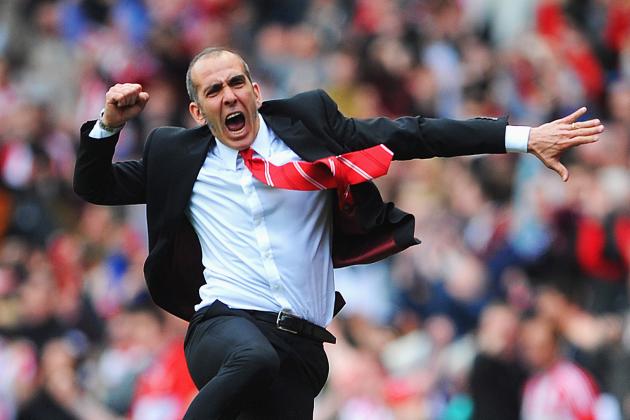 Michael Regan/Getty Images

Ten B/R personalities ranked all 20 Premier League clubs. A first-place vote counted as 20 points, a second-place vote as 19, and so on.
In each slide, "Points" refers to the number of points accumulated by each team via the voters. "Previous" refers to each team's ranking in the previous edition of our poll.
The voters this week were:
Aliko Carter: B/R front-page editor. @AlikoCarter
John Greely: B/R world football assistant editor. @johnwgreely
Adam Hirshfield: B/R deputy editor. @ahirshfield
Dan Levy: B/R national lead writer. @DanLevyThinks
Karl Matchett: B/R world football full-time writer. @karlmatchett
Ian Rodgers: B/R UK assignment editor/writer. @irodgers66
Sean Swaby: B/R featured columnist coordinator. @seanswaby
Will Tidey: B/R world football lead writer and editor. @willtidey
Sam Tighe: B/R world football tactical analyst. @stighefootball
Michael Cummings: B/R world football lead writer and poll organizer. @MikeCummings37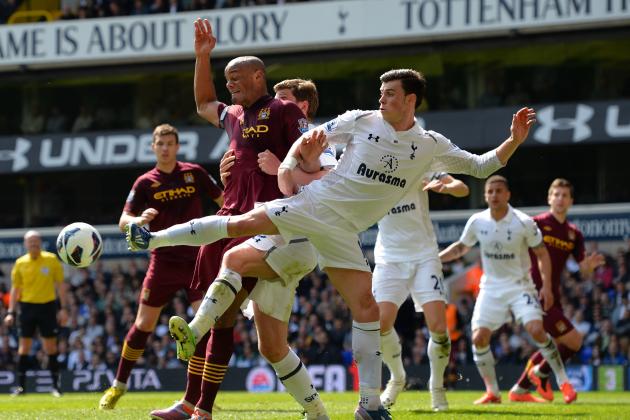 Shaun Botterill/Getty Images

1. Manchester United
2. Arsenal
3. Tottenham Hotspur
4. Chelsea
5. Manchester City
6. Liverpool
7. Everton
8. West Ham United
9. Southampton
10. Sunderland
11. West Bromwich Albion
12. Swansea City
13. Norwich City
14. Fulham
15. Newcastle United
16. Aston Villa
17. Stoke City
18. Wigan Athletic
19. Queens Park Rangers
20. Reading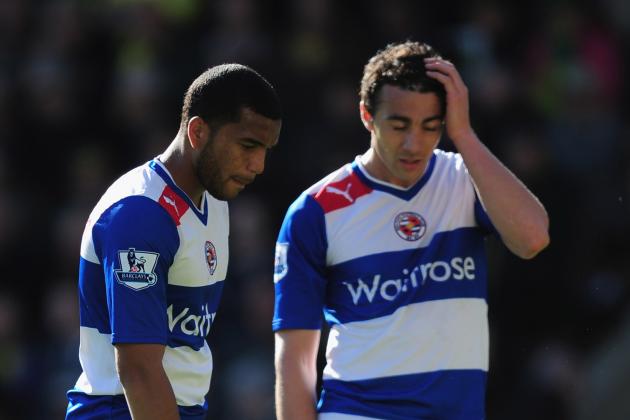 Jamie McDonald/Getty Images

Points: 13
Previous: 19
Result: Lost 2-1 at Norwich
Fixture: Home to QPR, Sunday
Reading's previous Premier League win came Feb. 2 at home against Sunderland. Based on form, it might be their last in the top flight for a while.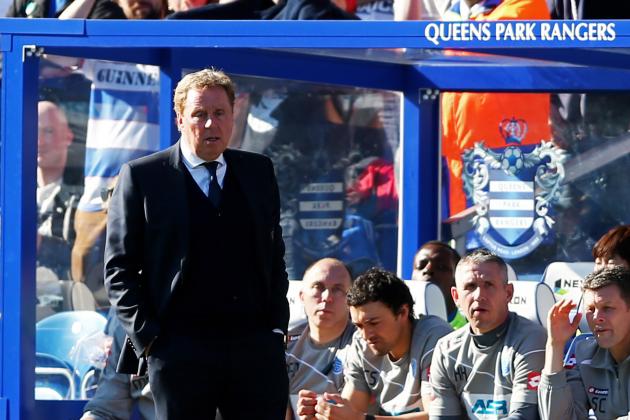 Paul Gilham/Getty Images

Points: 18
Previous: 18
Result: Lost 2-0 home to Stoke
Fixture: At Reading, Sunday
So much for Harry's Houdini act. Ten points adrift of safety with four matches left, QPR are destined for the drop.
Dan: On the plus side for QPR, most of these underachieving players will be sold off before next year. So there's that.
Sean: How this side have only won four (!) matches with all that cash splashed is beyond me.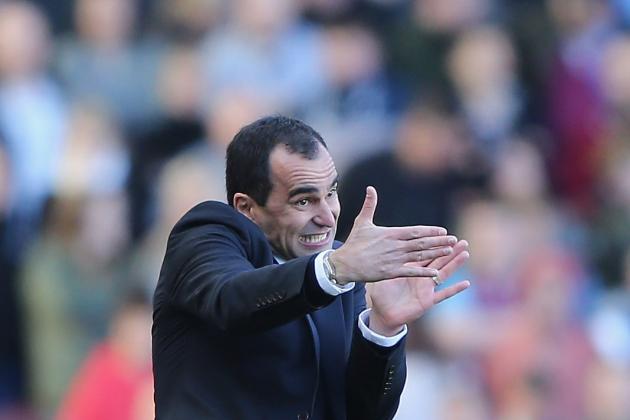 Ian Walton/Getty Images

Points: 38
Previous: 16
Result: Lost 2-0 at West Ham
Fixture: Home to Spurs, Saturday
Wigan's yearly rite of relegation escapism is running a bit late this season. Can manager Roberto Martinez do it again?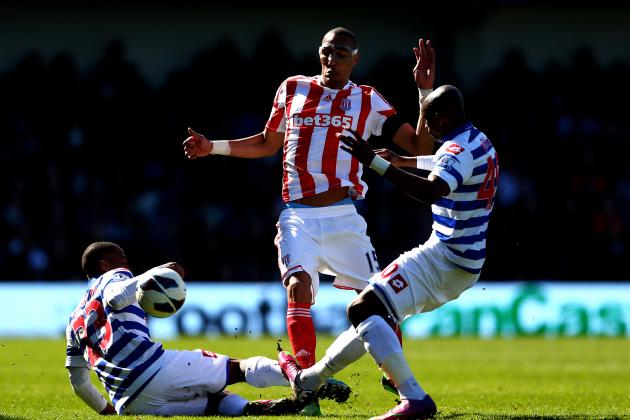 Paul Gilham/Getty Images

Points: 58
Previous: 20
Result: Won 2-0 at QPR
Fixture: Home to Norwich, Saturday
Beating QPR eased Stoke's own relegation worries. Next up is a home date with fellow strugglers Norwich City.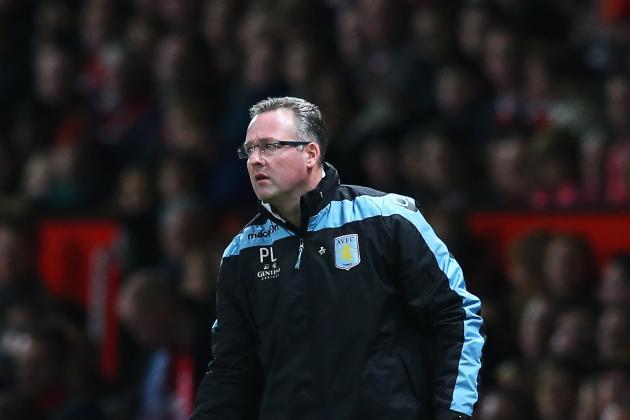 Alex Livesey/Getty Images

Points: 61
Previous: 13
Result: Lost 3-0 at Man United
Fixture: Home to Sunderland, Monday
Some unlucky club had to be the sacrificial lambs in Manchester United's title coronation. Sorry, Villa.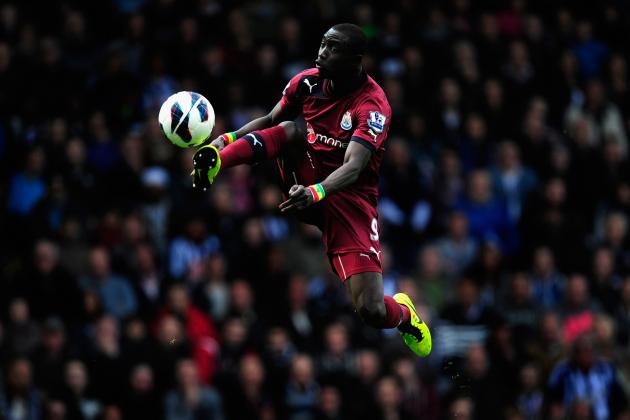 Stu Forster/Getty Images

Points: 71
Previous: 15
Result: Drew 1-1 at West Brom
Fixture: Home to Liverpool, Saturday
Newcastle are six points clear of the relegation zone with four matches left. Problem is, Wigan have a match in hand.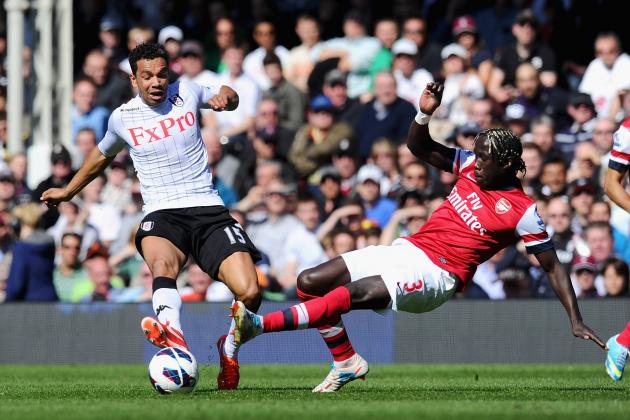 Mike Hewitt/Getty Images

Points: 79
Previous: 10
Result: Lost 1-0 home to Arsenal
Fixture: At Everton, Saturday
In losing three of their past four league matches, Fulham have scored just once. At times against Arsenal, though, the Cottagers were on top despite playing with 10 men for much of the match.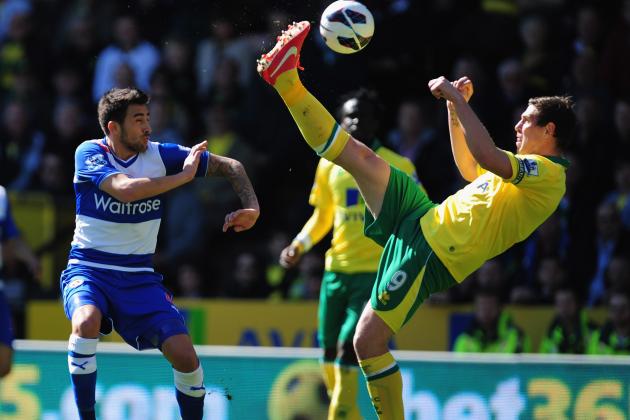 Jamie McDonald/Getty Images

Points: 83
Previous: 17
Result: Won 2-1 home to reading
Fixture: At Stoke, Saturday
With 38 points, Norwich are just about safe from relegation worries. Beating Stoke would make it all but official.
Dan: Big win over Reading put them seven clear of the relegation mark. They should be safe now.
Michael Steele/Getty Images

Points: 94
Previous: 12
Result: Drew 0-0 home to Southampton
Fixture: At Chelsea, Sunday
Swansea have gone five league matches without winning but have maintained ninth place the whole time.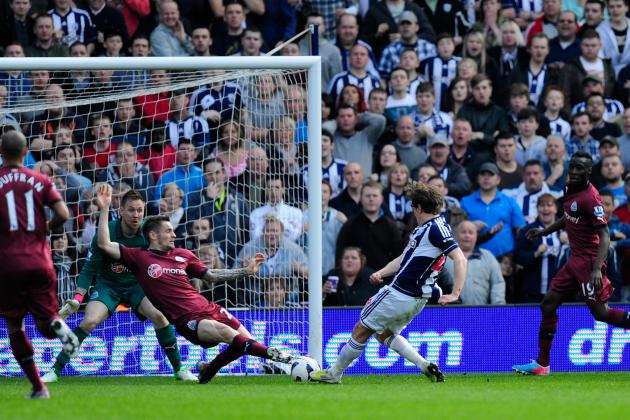 Stu Forster/Getty Images

Points: 100
Previous: 11
Result: Drew 1-1 home to Newcastle
Fixture: At Southampton, Saturday
Eighth-placed West Bromwich (-1) are the highest-placed Premier League team with a negative goal differential.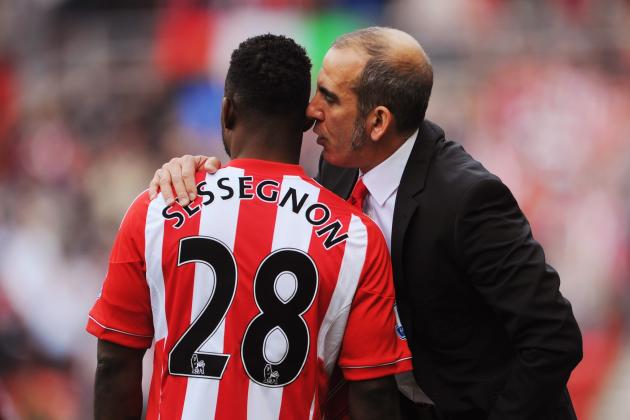 Michael Regan/Getty Images

Points: 101
Previous: 14
Result: Won 1-0 home to Everton
Fixture: At Aston Villa, Monday
Props to Paolo Di Canio for hauling Sunderland out of the relegation mess with back-to-back wins. Now, can he keep it up, or will the honeymoon period fade?
Dan: It was the win of the season at home over Everton, ruining Everton's chances at Champions League while all but assuring another year in the EPL. In a trying season, that will be the match fans can remember.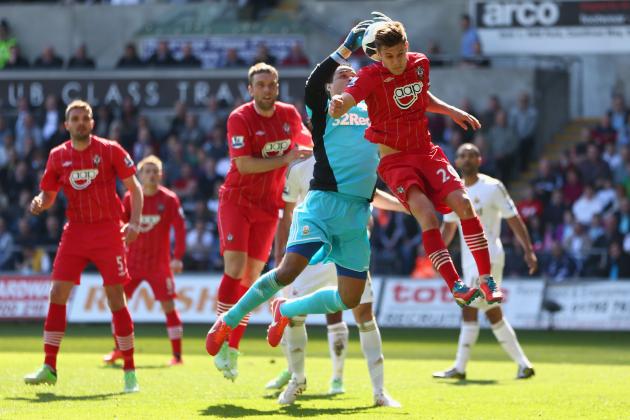 Michael Steele/Getty Images

Points: 108
Previous: 9
Result: Drew 0-0 at Swansea
Fixture: Home to West Brom, Saturday
Southampton are unbeaten in six league matches (three wins, three draws) and have outscored opponents 8-3 during that time.
Sean: Six-match unbeaten run? Break up the Saints!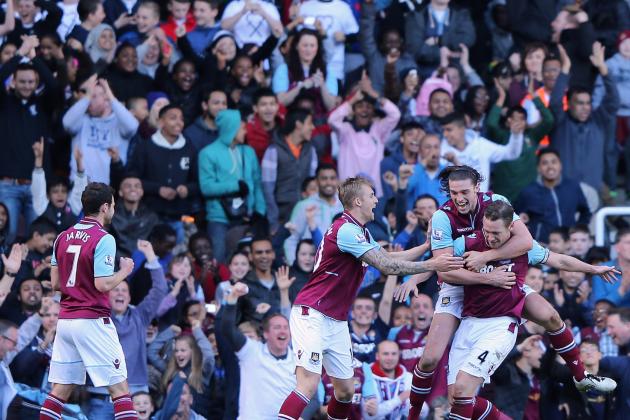 Ian Walton/Getty Images

Points: 116
Previous: 8
Result: Won 2-0 home to Wigan
Fixture: At Man City, Saturday
West Ham are unbeaten in five league matches and look like a decent bet for a top-half finish.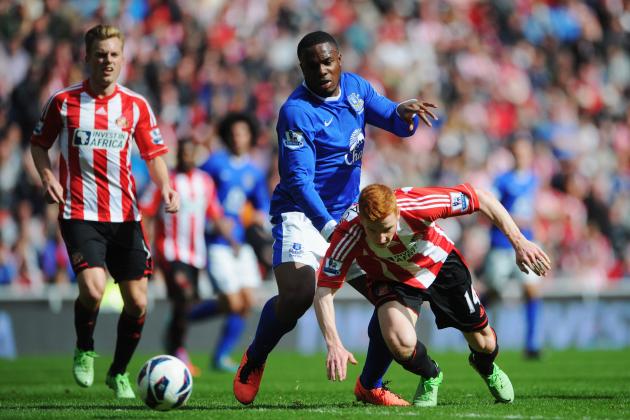 Michael Regan/Getty Images

Points: 133
Previous: 5
Result: Lost 1-0 at Sunderland
Fixture: Home to Fulham, Saturday
Everton's chances of a top-four finish are all but finished after the Toffees lost at Sunderland.
Dan: I actually DVR'd their loss to Sunderland. Somehow watching on fast forward didn't make the loss any less excruciating to witness.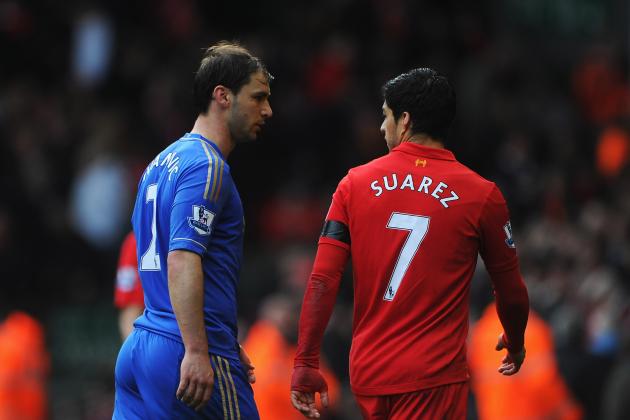 Michael Regan/Getty Images

Points: 144
Previous: 7
Result: Drew 2-2 home to Chelsea
Fixture: At Newcastle, Saturday
Liverpool trail both clubs in the table but have scored more goals than Tottenham (three more) and Everton (10 more).
Sean: All I'll say about [Luis] Suarez is that his pass to set up Liverpool's first goal was a thing of beauty. The bite? The web's reaction has been, well, hilarious. Sorry to ever have doubted you.
Dan: Liverpool have scored 61 goals in 34 matches. Luis Suarez has been a part of 33 directly by scoring (23) or assisting (10), which doesn't account for his activity in other setups. Those numbers won't be going up the rest of this year, that's for sure.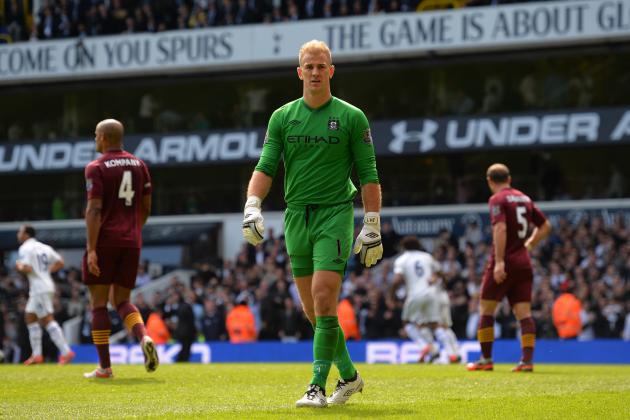 Shaun Botterill/Getty Images

Points: 161
Previous: 2
Result: Lost 3-1 at Spurs
Fixture: Home to West Ham, Saturday
City have been in second place since drawing 0-0 at Chelsea on Nov. 25. Could a late swoon change that?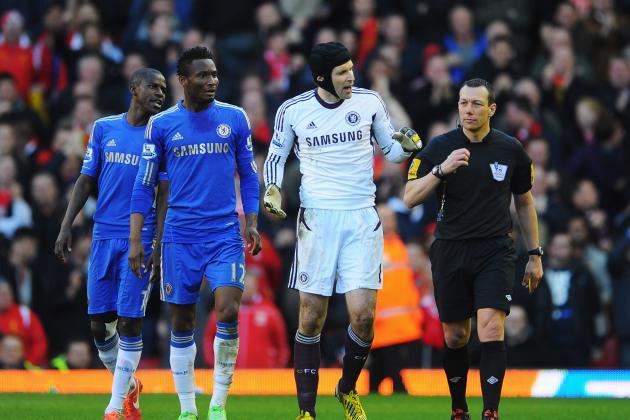 Michael Regan/Getty Images

Points: 168
Previous: 3
Result: Drew 2-2 at Liverpool
Fixture: Home to Swansea, Sunday
Chelsea's goal differential of plus-31 is second best in the Premier League this season.
Dan: If they miss out on Champions League because Luis Suarez wasn't given a red card for biting Ivanovic, it will be criminal. Though, not nearly as criminal as biting a man.
John: Are Chelsea the most likely to be left out of the Champions League next year? You have to figure that Rafa cares the least of the relevant managers.
Sean: Should Suarez have even been on the pitch to equalize? Nope. Should the match still even been going on when Suarez did equalize? Nope. Bitter pill for Chelsea in a crowded top-four scrap.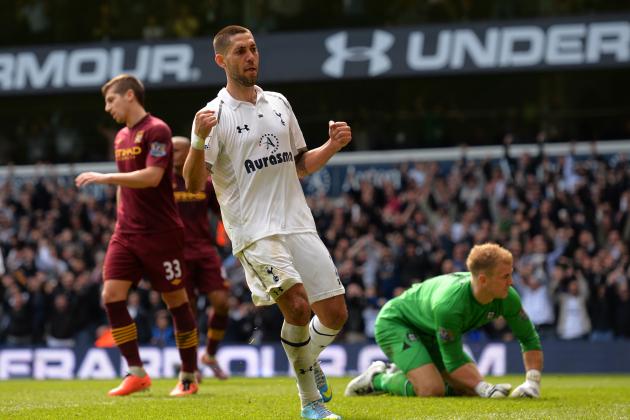 Shaun Botterill/Getty Images

Points: 172
Previous: 6
Result: Won 3-1 home to Man City
Fixture: At Wigan, Saturday
Spurs sit two points behind rivals Arsenal in the race for the top four but have a game in hand.
John: Spurs took four points from Man United this year, and just beat Manchester City. AVB's certainly been a bit of a giant killer this year.
Dan: A season-saving seven minutes in the win over City.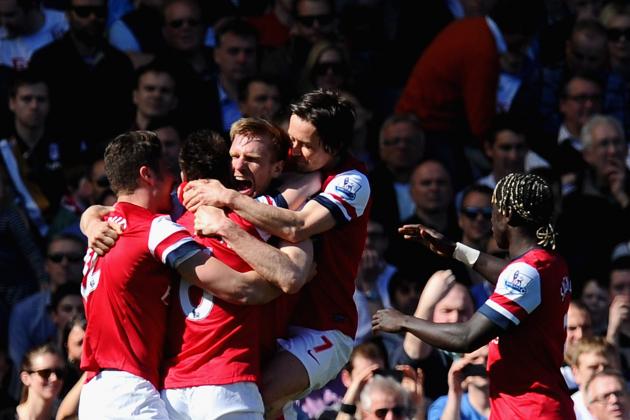 Mike Hewitt/Getty Images

Points: 183
Previous: 4
Result: Won 1-0 at Fulham
Fixture: Home to Man United, Sunday
Arsenal are unbeaten in six Premier League matches and have a better goal differential than Manchester City. Still, with both Chelsea and Spurs breathing down their necks, the Gunners could finish outside the top four for the first time in manager Arsene Wenger's reign.
Sean: Points-wise, Arsenal are currently enjoying their best form of the season. Of course, supporters (like me) were stuck collectively holding back the puke while watching Robin van Persie completely destroy Villa, then celebrate winning the EPL in a different shade of red than Gooners ever hoped to see him in.
John: RVP scoring a hat trick and notching a goal-line clearance in United's title-clenching match couldn't have been pleasant for Arsenal fans. Still, if it weren't for Spurs beating City, it could have happened at the Emirates. That's right, the Gunners owe Tottenham a major thanks (albeit through gritted teeth).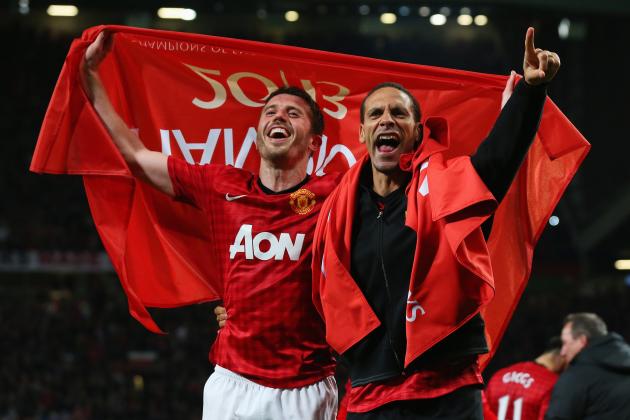 Alex Livesey/Getty Images

Points: 199
Previous: 1
Result: Won 3-0 at Aston Villa
Fixture: At Arsenal, Sunday
It had been months in the making. Manchester United, who have led the table since beating QPR 3-1 on Nov. 24, finally clinched the title Monday night.
Nobody can say it wasn't deserved.
Dan: Congrats on your title, now spend the next four matches trying to come up with a better dance than the lame jumping up and down with your arms outstretched. You had months to plan this!
John: To quote the inspiring lyrics of the Champions League anthem, "CHAAAAAMMMPIOOOONNNS!"
Sean: Shrewd buy, that Van Persie bloke was.