William Gholston: Video Highlights for Former Michigan State DE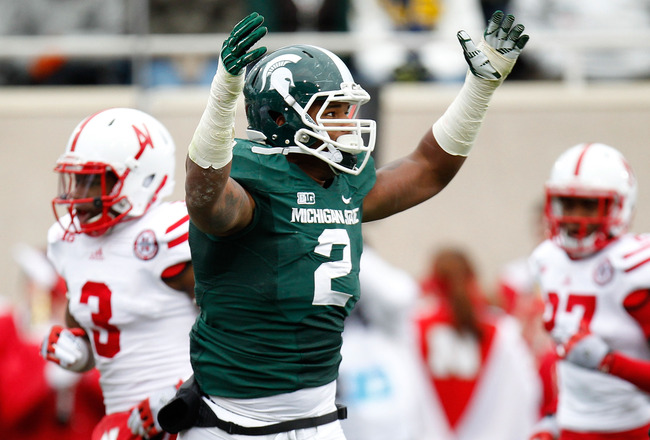 Gregory Shamus/Getty Images
It's not exactly fair, but Michigan State defensive end William Gholston enters the 2013 NFL draft with a strike of sorts against his name.
Really, it's against his name.
The 6'7", 275-pound Gholston, who had 59 tackles, 4.5 sacks and a forced fumble as a junior in 2012, is the cousin of Vernon Gholston, who was a titanic bust after being selected sixth overall by the New York Jets in 2008.
However, William Gholston isn't his cousin and has a skill set all his own. Here's a look at how that skill set can help to overcome the stigma of his surname.
Blowing Up the Backfield: vs. Ohio State (2012)
At 6'7" and 275 pounds, William Gholston is a load, so much so that many draftniks have pegged him as a 3-4 defensive end at the professional level.
However, Gholston also displayed impressive athleticism for a man of his size at times while with the Spartans.
Gholston shows off that athleticism in this clip from a 2012 loss to Ohio State, exploding through the line of scrimmage before tossing the ball-carrier to the turf like a rag doll.
Crushing the Quarterback: vs. Central Michigan (2012)
Opposing running backs weren't the only players who felt the brunt of Gholston's explosiveness.
A few quarterbacks got plowed under too.
You can count Central Michigan's Ryan Radcliff among them, as Gholston comes charging through the middle of the line for the sack in this highlight from the Spartans' blowout win over the Chippewas last September.
Granted, it would have been nice if someone had at least tried to block Gholston, but the speed he shows in getting to the quarterback is impressive nonetheless.
Fighting Through Blocks: vs. Georgia (2012)
It wasn't always that easy for William Gholston to get to the quarterback, as sometimes opponents put someone in his way.
In fact, in this clip from Michigan State's overtime win against Georgia in the 2012 Outback Bowl, the Bulldogs set up a double-team, with both the tackle and guard ready to block Gholston.
However, the tackle is forced to peel off to deal with a blitzing defensive back, which paves the way for Gholston to spin inside the guard and tally one of his two sacks on the afternoon.
Showing off His Strength: vs. Georgia (2012)
One good sack deserves another, and as stated on the previous slide, Gholston racked up a pair in the Spartans' Outback Bowl victory over Georgia.
The second of those sacks was a demonstration in strength and leverage.
As this highlight shows, Gholston gets a good jump and has excellent hand placement, which allows him the gain leverage on the offensive lineman, slide off the block and corral the passer.
Pursuit from the Edge: vs. Wisconsin (2012)
This last clip showcases the sort of ability that could make any number of 3-4 teams very interested in Gholston's services.
In this highlight from an October victory over Wisconsin, Gholston once again flashes great speed, coming off the edge and across the formation to bring down running back Montee Ball for a loss.
If Gholston can add a little weight to his 6'7" frame without sacrificing that quickness, he could be in for a long and productive NFL career as a 3-4 defensive end.
Keep Reading

Tampa Bay Buccaneers: Like this team?