MLB's 25-Man Facial Hair All-Star Team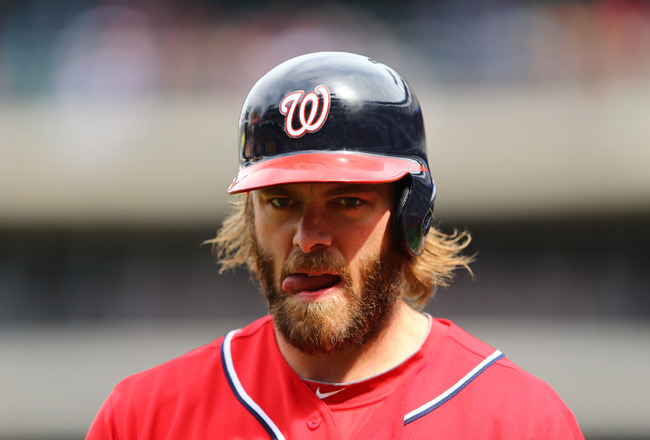 Al Bello/Getty Images
Clean-shaven baseball players seem like they're hard to come by these days, as men with robust facial hair are making a statement in today's MLB.
With personal expression at the forefront for these players, their individual styles have made them recognizable throughout the game. Whether it's for tacky mustaches, wild beards or just plain interesting designs, these players have given the game a new, fun element.
Naturally, facial hair comes in many shapes and sizes. Some guys can pull off their beards or mustaches, while others just look plain silly.
We'll highlight them all here in the MLB Facial Hair All-Star team.
*Note: Thanks to all of B/R's great Featured Columnists for helping compile the team.
Catcher: John Buck, New York Mets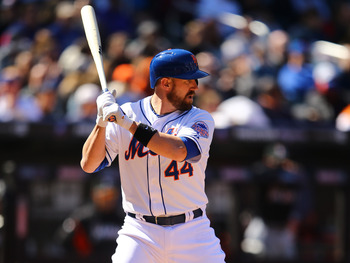 Al Bello/Getty Images
John Buck's beard is simply perfect—thick, yet shaped.
His beard is exemplary of what a good catcher should be. Its rugged look is almost a symbolization of how catchers are routinely beaten up behind the dish.
This is the thickest Buck's beard has been in quite some time. With the Toronto Blue Jays in 2010, his beard was in the early stages of development. Since it has grown in, his bat has come alive.
Coincidence? Eh, maybe.
He's leading the National League with 22 RBI through 17 games and should strongly consider keeping his face blanket through even the summer's warmest months.
First Base: Prince Fielder, Detroit Tigers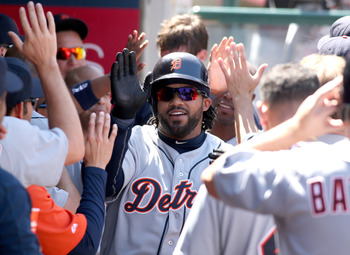 Stephen Dunn/Getty Images
Prince Fielder's beard is a representation of the big slugger himself. It's powerful and stylish. Fielder is known for his exorbitant amount of power from the left-handed batter's box and has crushed massive home runs throughout his nine-year career.
He's hit at least 28 home runs every season since 2005, his rookie campaign. The five home runs he's hit this season have put him on the right path to continuing that trend.
As if the big first baseman wasn't intimidating enough in the batter's box, his facial hair adds another element to what he brings to the plate.
Those who missed the cut: Adrian Gonzalez (Los Angeles Dodgers) and Todd Helton (Colorado Rockies)
Second Base: Danny Espinosa, Washington Nationals
Al Bello/Getty Images
Danny Espinosa is the first of several Washington Nationals players on this list. He's a newcomer to the facial hair craze, however, as this spring marked the fullest his beard has ever been.
No longer is Espinosa the baby-faced second baseman of his rookie year in 2010. Today, he's a veteran major leaguer looking to finally kick-start what was originally thought to be a promising career.
He's off to a very slow start, hitting just .220 through 47 at-bats. Maybe it'll take Espinosa some more time to get used to rocking the beard on the diamond.
If not, then his beard could be short-lived.
Those who missed the cut: Dustin Pedroia (Boston Red Sox)
Third Base: Justin Turner, New York Mets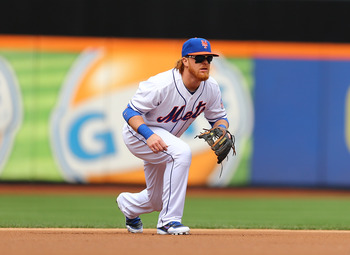 Al Bello/Getty Images
Justin Turner is a versatile infielder for the Mets, and third base isn't necessarily his primary position. He's capable of playing both shortstop and second as well.
Putting him at third for our All-Star team was the best way to get his beard in the lineup, however. How could I not include the best red-haired beard in baseball?
Turner's beard makes him look like a big-time slugger at the plate (at least in my opinion), so it's ironic that he has just six home runs in five career seasons. Maybe he's hoping to harness the inner powers of the mighty red beard.
Plus, his Twitter handle is even @redturn2! He's one of the most deserving players on this team.
Those who missed the cut: Chase Headley (San Diego Padres)
Shortstop: Jose Reyes, Toronto Blue Jays
Ed Zurga/Getty Images
Jose Reyes' facial hair is one of my all-time favorites. Just look at it!
Reyes has come a long way since his dreadlocked rookie year with the Mets in 2003, though some sort of facial hair has always been a part of his look. He's sported many looks throughout his career—the soul patch, the goatee and the beard.
Now, it looks as if he's going with the soul patch/goatee/beard combo. Talk about a triple threat.
Reyes' scraggly hair won't be seeing the field again for another three months, as its owner will be nursing a left ankle injury.
Outfield: Josh Reddick, Oakland Athletics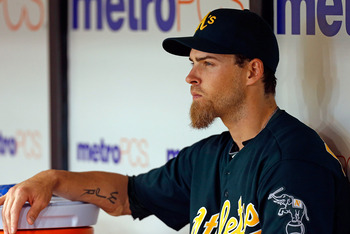 J. Meric/Getty Images
Josh Reddick has gotten a haircut recently but, thankfully for this team, he continues to rock a stellar goatee.
Reddick's beard has been one of the more recognizable in baseball. His new look may take some time to catch on, but his original look will be forever immortalized through the stories of Oakland A's fans everywhere.
He brought a spark to the A's in 2012, and it was his strong play that helped to propel them to the postseason. His look was representative of the hard-nosed style of play that led the A's to a playoff berth, even with a team of young, inexperienced players.
His new beard seems as if it's been through the ringer. Maybe Reddick hopes it'll bring new opportunities to the A's in 2013.
Outfield: Jonny Gomes, Boston Red Sox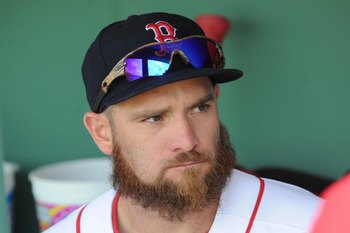 USA TODAY Sports
Jonny Gomes, one of the biggest tough guys in baseball, has always sported facial hair indicative of such a reputation. In his first season with the Boston Red Sox, though, he's taken it to a whole new level.
His beard is extremely thick, so thick that it even looks as if it's growing out. What makes it even better is the contrast you get from looking at his shaved head and then looking back down to his face.
Now we don't have to wonder where all the hair from the top of his head went.
Gomes has gotten off to a slow start in Boston, sporting a .172 batting average through 29 at-bats. Even though he's not known for a particularly high batting average, even that beard won't keep him in the lineup if he keeps hitting like this.
Outfield: Jayson Werth, Washington Nationals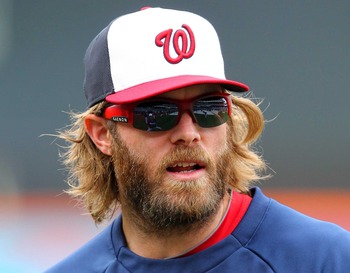 Brad Penner-USA TODAY Sports
Jayson Werth has constructed the best beard in baseball—period.
He sports the hard-to-rock neck beard, as well as the very thick facial hair that is indicative of a man that does not care for being cleanly shaven. He has a touch of gray on his chin that shows his age (he'll be 34 years old in September), but the whole package suggests that he still has a wild side.
Couple that with his flowing locks and you have the league's version of the Geico cavemen. It's likely that Werth plays the game significantly better than our early ancestors, though.
Designated Hitter: Luke Scott, Tampa Bay Rays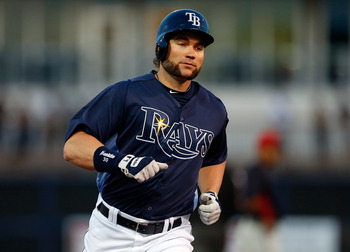 J. Meric/Getty Images
Just take a look at those sweet chops on designated hitter Luke Scott. There's no DH in the league with better facial hair.
Scott gets the nod here because of the creativity and sheer humility he has for creating this look. Not many guys can rock chops like that—he can.
The Tampa Bay Rays definitely cannot wait to get his power back in the lineup. They are struggling offensively, and Scott provides the power necessary to change games. His bat can be a valuable asset to any lineup, and his chops are an integral component of our All-Star team.
Those who missed the cut: David Ortiz (Boston Red Sox)
Catcher No. 2: Brian McCann, Atlanta Braves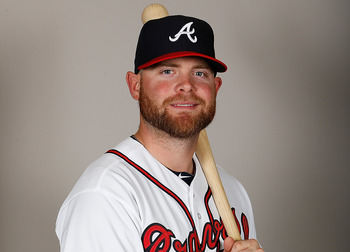 J. Meric/Getty Images
Brian McCann has not played a game yet in 2013 for the Atlanta Braves, but that doesn't stop him from making this list. His beard is thick and representative of the warm atmosphere of his hometown of Athens, Georgia.
His beard is actually similar to John Buck's, but Buck gets the starting nod because of the way he's started this season. If McCann works on his beard while on the disabled list, then he could easily claim the starter's job upon his return.
Without any growth, he'll be relegated to backup duty. See? Baseball and facial hair are eerily similar.
Bench Middle Infielder: Emilio Bonifacio, Toronto Blue Jays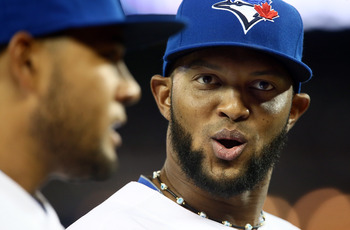 Abelimages/Getty Images
When both Emilio Bonifacio and Jose Reyes are healthy, the Toronto Blue Jays will boast one of the best middle infields in baseball—well, in terms of their unique facial hair designs.
Like Reyes', Bonifacio's choice of facial hair design is very different. He combines chops with the full neck beard, but also shapes it underneath where the soul patch would be. It's also got a small chunk missing on the left side, something that makes the style even more unique.
A facial hair All-Star team without Bonifacio wouldn't be fair. Not only does his beard meet the criteria, but his versatility in the middle infield makes him a practical choice as well.
Bench Corner Infielder: Chad Tracy, Washington Nationals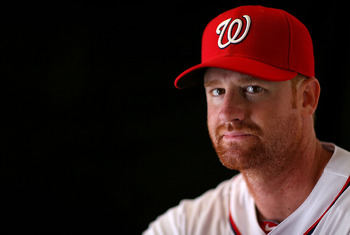 Mike Ehrmann/Getty Images
Chad Tracy makes this list because he's one of the few red-headed players in baseball brave enough to rock a beard. Not that there's any problem with people with red hair growing out their beards; it's just not something that you see very often.
Justin Turner gets the start at third base over him because his is much fuller, but Tracy's is evident all the same. Tracy's shows more age than Turner's. The veteran corner infielder has been around the block, and his beard shows it.
This pick was also made due to practicality. Similarly to Bonifacio, Tracy is capable of playing multiple positions in the infield.
He's not exactly the best fielder, however, so situations where the ball is hit to him can get a bit hairy.
Bench Outfielder: Bryce Harper, Washington Nationals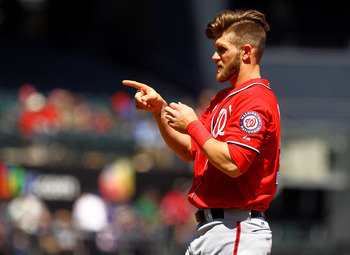 Mike Stobe/Getty Images
The award for strangest hair style in the majors goes to none other than Bryce Harper. Before we analyze his facial hair, we need to ask ourselves a simple question—what the heck is that on top of his head?
I don't think the Nationals will care very much as long as he keeps hitting. He's locked in at the plate through 17 games, crushing seven home runs and leading the league with a 1.169 OPS.
Maybe he can attribute that to his wild hair. He's not quite in Jayson Werth territory (a look he's undoubtedly trying to rival), though his beard is quite respectable in its own right.
When you consider the fact that he's just a month older than myself and can grow more facial hair in a month than I have in my entire life, it makes it an even more impressive feat.
Those who just missed the cut: Dexter Fowler (Colorado Rockies)
Starter: David Price, Tampa Bay Rays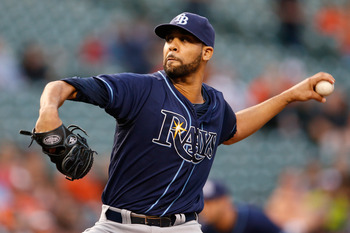 Rob Carr/Getty Images
David Price may not have the most unique or crazy beard in baseball, but Price is the ace of this staff because of his comments regarding the facial hair policy of the New York Yankees.
Back in February, Price claimed he wouldn't sign with the team if given the opportunity because of their stringent facial hair policy. Price loves the idea of having his own individuality while on the mound, and that's something that's made him a big time personality in the game today.
The former Cy Young winner's devotion to his whiskers is unparalleled throughout baseball. How many other guys could honestly claim that they wouldn't sign with a team because of a facial hair policy?
I'd say not very many.
Starter: Jeff Samardzija, Chicago Cubs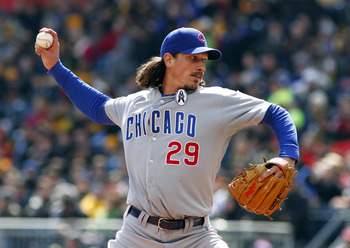 Justin K. Aller/Getty Images
Jeff Samardzija, the hard-throwing Chicago Cubs ace, has a very different choice in personal style. Not only does he have a flowing mane behind him, but his mustache/beard combination is pretty out there.
He almost looks like a pirate, if you ask me.
The hair appears like it's here to stay. It has only grown thicker since the team's photo day back in February and, if he keeps pitching well, it could become somewhat of a good luck charm.
Maybe he's got an advantage on hitters with this look. I'd certainly find it difficult to watch the ball out of his hand if I had his long hair and choice whiskers right there in front of me.
Starter: Roy Halladay, Philadelphia Phillies
Daniel Shirey/Getty Images
Roy Halladay has one of the most classic beards in the majors. It's thick yet trim, a perfect comparison to his pitching style.
Even though he's struggled the past two seasons due to injury and ineffectiveness, Halladay is known as a strikeout guy with impeccable control. He can paint the edges with all of his pitches—both breaking balls and fastballs.
His ability to control the hard stuff is uncanny. His ability to control that beard of his is not so uncanny. If he let it grow out, though, then we could be looking at one of the wilder styles in baseball.
His style is trim and proper, however, just like the way he pitches.
Starter: Brandon Morrow, Toronto Blue Jays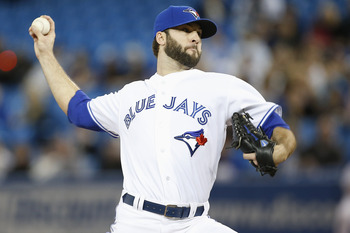 Tom Szczerbowski/Getty Images
Brandon Morrow possesses both a power fastball and a power beard. It's one of the darkest in the league and it's clear that he puts plenty of time into making sure it's presentable.
If only he spent that much time on learning how to locate his pitches.
Morrow isn't quite on the level of Price, Samardzija or Halladay, hence his relegation to the No. 4 spot in our starting rotation. Maybe if he chopped the chin and mustache and just left those stellar chops he could be bumped up.
Go ahead, visualize that. Talk about sick facial hair.
Starter: Brandon Maurer, Seattle Mariners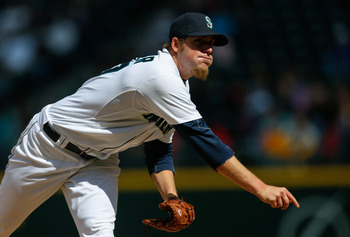 Otto Greule Jr/Getty Images
Brandon Maurer literally makes this list because of the strength of his beard—not because of the strength of his early-season pitching line. He boasts a 7.45 ERA over just 19.1 innings (four starts).
Maurer, a rookie, certainly isn't afraid to set himself apart from the other rookies in the league in terms of personal style. His goatee is brilliant and really gives him the look of an MLB veteran. Unfortunately for the on-field product of our team, this won't help very much.
His pitching is just plain bad, and it's only a matter of time before he's replaced in the rotation. We won't get rid of him, though, unless he shaves off the goatee.
For our team's sake, I hope he doesn't.
Those who missed the cut: R.A. Dickey (Toronto Blue Jays) and Matt Garza (Chicago Cubs)
Reliever: Mitchell Boggs, St. Louis Cardinals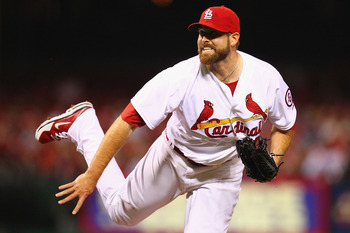 Dilip Vishwanat/Getty Images
Mitchell Boggs is but one of the hard-throwing, facial hair-clad men in the late innings of the St. Louis Cardinals bullpen. His partner in crime will come on the next slide, but let's focus on Boggs for now.
His beard actually matches the Red Birds' color scheme pretty well. The hair has hints of red inside, making the color coordination a nice touch.
What's unique about this style is the shape. Notice how it levels out towards the bottom of the mouth. Boggs must not be big on chops because he's made a conscious effort to shape against them.
Regardless of his disinterest in sporting chops (which are awesome, for the record), Boggs' beard is top notch.
Reliever: Jason Motte, St. Louis Cardinals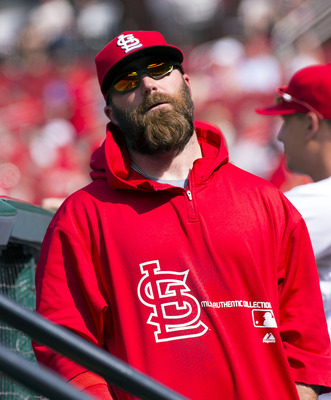 Scott Rovak-USA TODAY Sports
Jason Motte has been on the disabled list so far in 2013, but his beard will be back pitching the ninth inning for the Cardinals in the near future. His fellow beard-bearer Mitchell Boggs has assumed the closer's role until then.
Of the two, Motte's beard is much more impressive. It's unbelievably thick and the neck beard aspect of it gives it a ton more depth. It looks impenetrable, doesn't it?
That impenetrability is what makes Motte one of the better closers in the league. His mentality is infallible on the mound, and he rarely shows any sort of negative emotion. He's emotional after securing a save, at which point I would like to be nowhere near him.
The embrace he and Yadier Molina share after the final out is secured resembles a giant bear hug. It almost makes you feel bad for Molina.
Reliever: Dale Thayer, San Diego Padres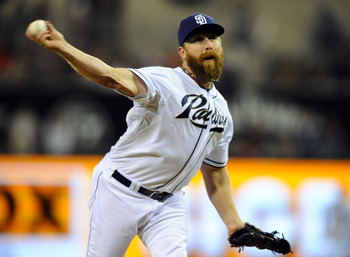 Christopher Hanewinckel-USA TODA
I'm going to go out on a limb here and say that Dale Thayer is the best reliever nobody's ever heard of. He and his incredible beard pitched to a 3.43 ERA in 64 games for the San Diego Padres last season, saving seven games and finishing 21 in total.
He's previously pitched for the New York Mets, but his beard hadn't taken shape until late last season. It first started as a hysterical mustache, one that definitely needs observing. Now, it's a full-fledged attempt at Brian Wilson's greatness.
Thayer's off to a good start again this season. He had never made a name for himself prior to donning facial hair, thereby supporting my theory that everyone's better with some whiskers.
Reliever: John Axford, Milwaukee Brewers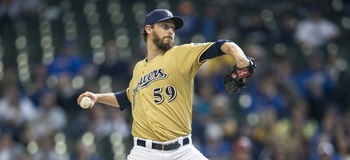 Tom Lynn/Getty Images
John Axford's facial hair may not be all that impressive now, but he makes our team solely because of his history of incredibly creative style. Just click here to refresh your memory.
Axford's previous style was one that represented his crafty style of pitching in the ninth inning for the Milwaukee Brewers. He's never struck out less than 10.5 batters per nine innings in his five-year career, so maybe it's something he should have stuck with.
He could be looking to turn over a new leaf with this newest style, though. He recorded a 4.67 ERA last season with the whirly-gig mustache, so a change of pace could work out for the former closer.
But, then again, maybe not. He has a 10.57 ERA over 7.2 innings in 2013.
Reliever: Joel Hanrahan, Boston Red Sox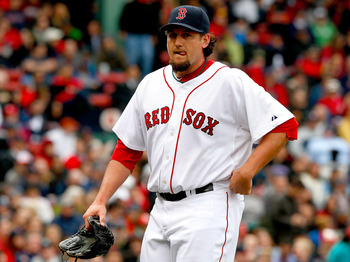 Jim Rogash/Getty Images
Joel Hanrahan has been one of the best closers in baseball over the past two-plus seasons, coming after several seasons of futility as a member of the Washington Nationals.
This change is undoubtedly (and, of course, logically) explained by his awesome goatee. It was previously a little more wild and untamed with the Pittsburgh Pirates, but there's no doubt he's looking to establish another new identity with the Boston Red Sox.
Unfortunately, we don't get to enjoy his goatee at the moment. He's on the disabled list with a strained right hamstring, though he's scheduled to come back on April 29. He may not return to his closer's role with Andrew Bailey waiting in the wings, however.
Reliever: Sergio Romo, San Francisco Giants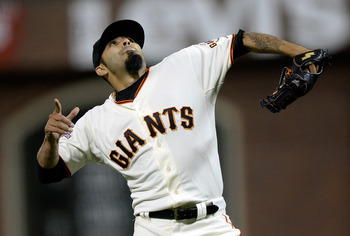 Thearon W. Henderson/Getty Images
Sergio Romo, the replacement closer for Brian Wilson, has done his best to soothe the minds of San Francisco Giants fans by beginning to grow stellar facial hair of his own.
Romo's hair is essentially a miniature version of Wilson's. It's dark, rigid and thick. It even goes down under the chin.
This style shows determination. Romo had to work hard to procure this beauty, just as he had to work hard to establish himself as a bona fide closer in the bigs. Prior to becoming the closer at the end of last season, Romo had saved just three games since 2008.
Those who missed the cut: J.J. Putz (Arizona Diamondbacks)
Closer: Brian Wilson, Free Agent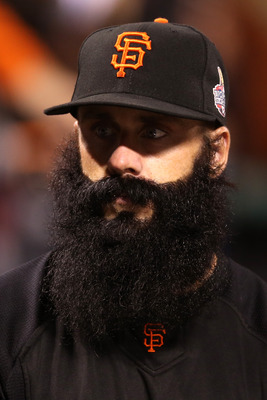 Christian Petersen/Getty Images
There you have it folks.
This beard needs no explanation. It is perfect—immaculate even.
It is the epitome of whiskers, making Brian Wilson the perfect candidate to close games for our 25-man facial hair All-Star team.
Keep Reading

Washington Nationals: Like this team?