Etienne Sabino: Video Highlights of the Former Ohio State OLB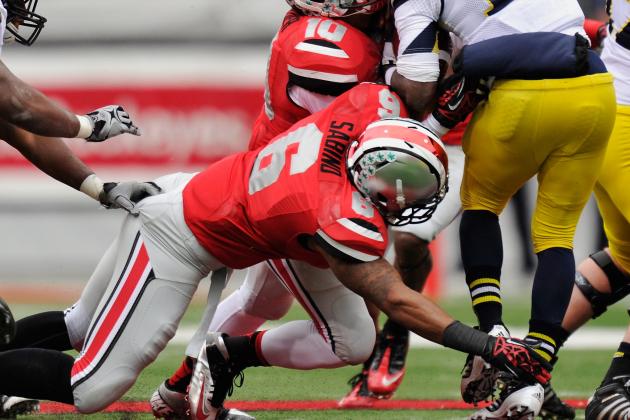 Jamie Sabau/Getty Images

Ohio State generally has a continuous flow of defensive players who succeed at the next level and linebacker Etienne Sabino plans to continue that tradition.
The outside linebacker has spent the last five seasons in Columbus honing his craft, culminating in one of the most memorable team seasons in Ohio State history. And that's saying something.
Sabino is certainly not a finished product, but that doesn't mean he's not going to be a major player in the NFL. He missed four games in 2012, but was on his way to the best season of his career.
Let's check out what Sabino has done best throughout his career with the Buckeyes.
Begin Slideshow

»
At 6'3", 237 pounds, Sabino has the size and skill set to play in both 3-4 and 4-3 schemes at the next level. That adds a nice boost to his draft stock. Not only that, but Sabino has the ability to play both inside and outside in the NFL.
Sabino was a do-it-all player for Ohio State and could continue to do the same at the next level for an NFL team.
Although Sabino only had four sacks over the last two seasons, he didn't get a whole lot of opportunities to rush the passer at Ohio State.
But that doesn't mean he can't do it.
Sabino has the size, length and ability to push the pocket against some of the Big Ten's finest. With a little coaching at the next level, he may just become a usable pass rusher for an NFL team.
One of the best characteristics Sabino possesses is his speed, especially from sideline-to-sideline.
That ability is something Sabino will need, especially if he wants to play inside linebacker for a 3-4 team in the NFL. This speed ability has allowed him to make some very interesting plays at Ohio State and could help cover up some holes in his game.
In my opinion, Sabino fits best as an inside linebacker in a 3-4 scheme or a weakside linebacker in a 4-3 scheme.
Either way, he's going to have to be able to track down ball carriers from behind. That's something he did very well at Ohio State. Watch in the video as Sabino is able to knife through open holes in the defense and make the play.
His routes to ball carriers are also very effective.
Leadership is one of the most underrated qualities a player can possess. In today's NFL, guys who have trouble with the law have issues staying on the playing field.
That's not a problem I expect from Sabino.
Sabino has kept his nose clean at an Ohio State program that is coming off major suspensions. He was voted a co-captain of the Buckeyes team his senior year and graduated a year early from his degree program.