10 Teams Who Are Too Excited About Spring Practice Progress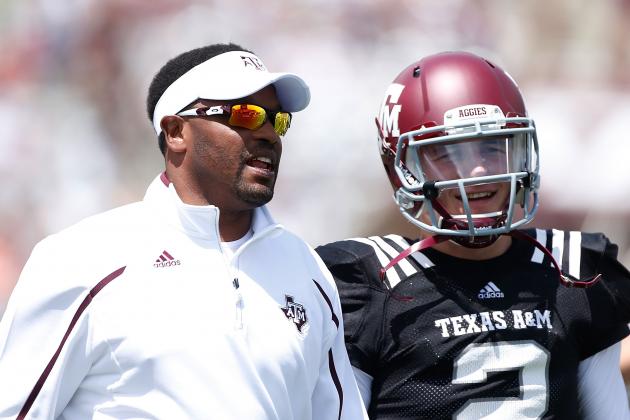 Scott Halleran/Getty Images

Spring is an interesting time in the college football universe.
It's the first chance to get a look at a team on the field, and optimism is at its highest before teams begin the regular season.
With spring practice wrapping up, and most teams looking forward to summer conditioning and fall practice, there are several teams that need to re-evaluate where they are at this point in the season.
Coming out of spring practice, most teams are positive, putting a positive spin on as much as possible and avoiding like the plague the serious issues that have already manifested themselves and need to be addressed.
The 10 teams on this list are the teams that have some serious concerns and need to tone down expectations just a bit heading into the summer.
Begin Slideshow

»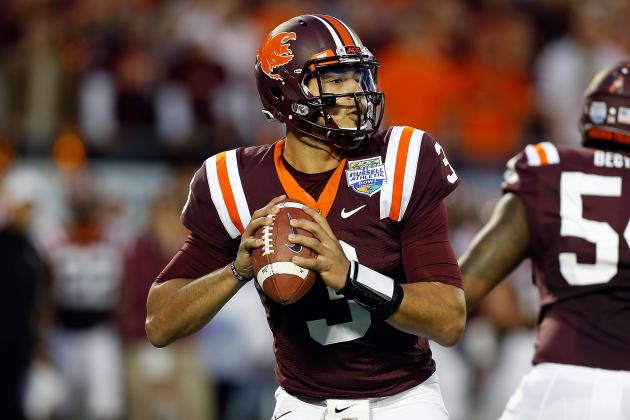 J. Meric/Getty Images

Logan Thomas is talented, athletic and inconsistent.
He finished last season with only a 51.2 percent completion rate and threw 16 interceptions.
On the bright side, he broke his own Va. Tech single-season record for total offense.
This season, he has even less talent around him, with only three other returning starters outside of Thomas.
The defense is going to be excellent, returning nine starters to a unit that was solid last season, and will present issues for just about every team they face in 2013.
The offensive inconsistencies are a big barrier to success, even if Thomas does play up to his potential, given the lack of experience on offense and the emergence of conference rival Miami.
With that offense, it is tough to see the Hokies hitting double-digit win totals next season.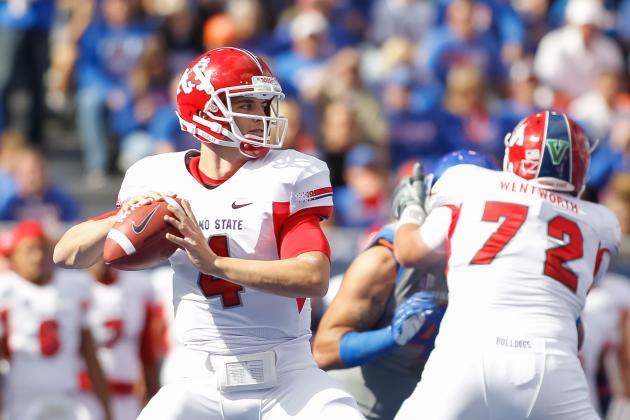 Otto Kitsinger III/Getty Images

This is one team that has a completely different reason for some caution than the rest of this list.
Boise State is returning only nine starters total but will have a better team than last season's in which they won 11 games.
The defensive line is going to be stout. Joe Southwick is back with a year of experience and tons of talent at wide receiver, and the schedule lends itself to another double-digit win season.
The lack of experience in the secondary should be a concern; however, it is the emergence of another team that should be of more concern to the Broncos.
Fresno State is going to be an improved team this season, challenging the Broncos for MWC supremacy, and given BSU's recent history of dropping one game per season to a conference rival, the Broncos have to prepare mentally and physically for this showdown.
It is early in the season, September 20, and BSU will still be adjusting to new starters and trying to get things nailed down.
While the Broncos are clearly the better team, Fresno State should be one of the biggest concerns in conference.
If Boise State gets past Fresno State and Washington in early-season meetings, one last run to a BCS game is a possibility, but it hinges on their performance against the Bulldogs.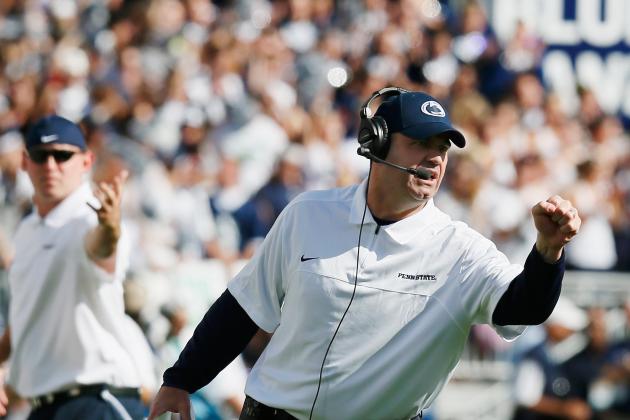 Rob Carr/Getty Images

Last season was a roller coaster for Penn State, dealing with transfers, NCAA sanctions and all kinds of messy media issues during the offseason.
But when football time rolled around, Bill O'Brien fielded a better team than most people outside of Happy Valley expected.
The Nittany Lions finished 8-4, with the second-best record in their division of the Big Ten, and go into year two of the O'Brien era with hope springing anew.
That won't last long.
The Nittany Lions will have an extremely inexperienced quarterback under center, as Matt McGloin has departed, leaving sophomore Steven Bench and JUCO transfer Tyler Ferguson to battle it out and try to prove that uber-recruit Christian Hackenberg does not have to start right away this fall.
And that's just the beginning for Penn State.
Gerald Hodges and Michael Mauti are gone, leaving a void not only in production on the defensive side of the ball, but also in leadership.
The two of them registered 204 tackles between them last season and were key components in the Lions' eight wins.
Then there is the schedule. PSU must travel to face an improving Minnesota and Indiana squads, as well as Wisconsin and Ohio State.
Eight wins is a stretch for this team in 2013.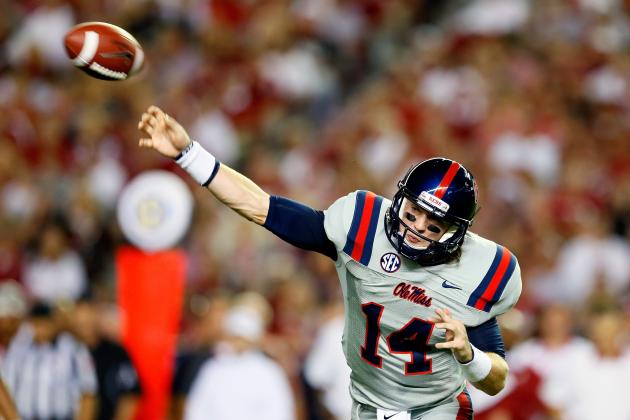 Kevin C. Cox/Getty Images

Before Ole Miss fans blow a gasket, please read on.
The Rebels are headed in the right direction and have now gotten away from being the doormat in the SEC.
That said, the team was 7-6 overall, with only three wins in the conference in 2012.
There are some major concerns for Hugh Freeze and the Rebels.
Bo Wallace, starting quarterback from last season, missed spring practice after offseason shoulder surgery, and has to prove that he is back to starting form. Besides his injury, he finished last season tied for most interceptions in the nation with 17.
If that number is not at least cut in half, the Rebels are going to have a similar season this year to last season.
Things are better, but with an offensive line that needs to improve, a secondary that could be compared to a sieve and a schedule to make men shudder, the Rebels are primed for disappointment this season.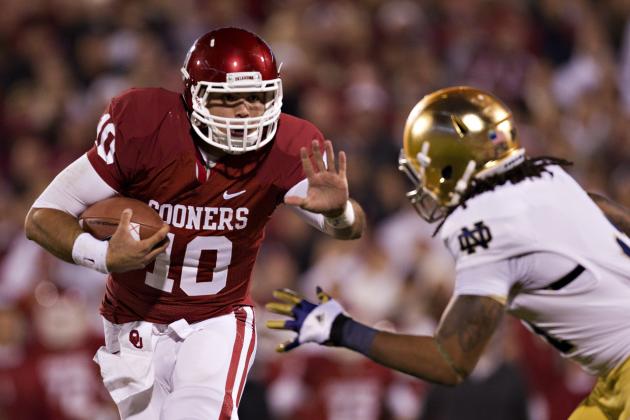 Wesley Hitt/Getty Images

The Big 12 is wide open this season, but if there is a favorite, it should be the Sooners.
Bob Stoops and his staff do a great job of recruiting and field a quality team every season.
However, here's the problem: There are some major concerns that are going to cause some issues early in the season for Oklahoma.
First, the transition from Landry Jones to (it looks like) Blake Bell at quarterback.
Bell has been primarily used as a short yardage rushing quarterback, and though he had a decent spring, he will need a few games to become acclimated to time as the starting quarterback.
While that's a question, the defense is a little bit more of a problem.
Three of the four starters in the secondary are gone from a defense that was top-30 in the nation last season.
The defensive line depth is scary; the front line is inexperienced, and linebacker experience is at a premium.
That defense is going to be an issue, especially early in the season, as the team adjusts to more 3-4 sets and several new starters.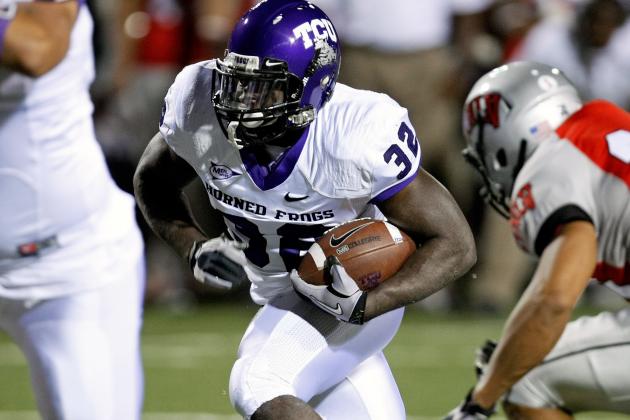 Ethan Miller/Getty Images

Last season, the Horned Frogs of TCU lost as many conference games (5) as they had lost in the previous five seasons combined.
Insert comment about superiority of BCS conferences here.
Moving onto this season, there is reason to be excited for the Horned Frogs, but anticipating a conference title might be a bit premature.
Quarterback Casey Pachall and running back Waymon James both look primed for solid seasons, and the defense returns nine starters.
Those are both excellent positives to take away from the spring for TCU, but that's about as far as it goes.
The defense was not that great last season, and while there should be some improvement, the Frogs are not going to cover all deficiencies of the offense with a solid—not elite—defense.
Gary Patterson's offense is returning only five starters, and the loss of offensive linemen Blaize Foltz and James Fry is going to be difficult to replace.
It will be another season of adjusting to play in the Big 12 for the Horned Frogs, but don't get carried away.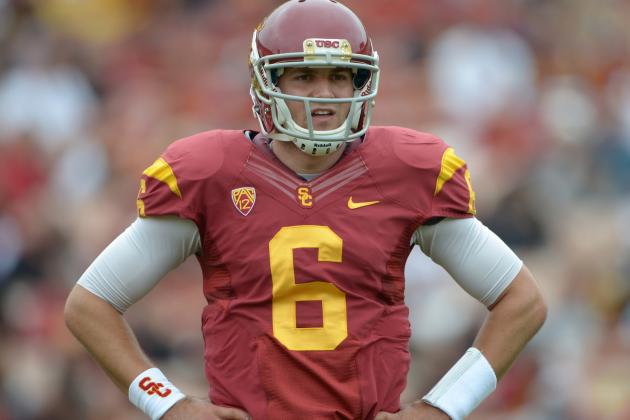 USA TODAY Sports

Three of four starters from last season's secondary at USC are gone, including T.J. McDonald and Nickell Robey.
The defensive line, which is going to be one of the best in the nation, will help mask some of the inexperience in the secondary, but not all of it.
Even more concerning, with quarterback Matt Barkley gone, the Trojans must turn to Cody Kessler or Max Wittek to lead the offense.
After spring practice, Kessler appears to have the inside track, but with Lane Kiffin calling the shots, there is no telling whether he will be able to knock Wittek out of the race for the starting position.
The Trojans have some talent on offense, with running back Silas Redd and wide receiver Marqise Lee returning, but the inexperience at quarterback is a major concern.
Competing in the Pac-12 South is going to be even harder this season than last, given the emergence of teams such as Arizona, UCLA and even Arizona State.
Another disappointing season is in the works for Lane Kiffin's squad.
Scott Halleran/Getty Images

Phil Steele has Texas A&M projected as a top-five team going into next season.
ESPN's Mark Schlabach has them in his top five.
Why?
Other than Johnny Manziel and an incredible offense, what do the Aggies have going for them?
Name the last team predicated on offensive firepower that won the SEC. Nobody in recent seasons.
Sure, Auburn had an excellent offense led by Cam Newton, and last season's Alabama offense turned out to be extremely productive, but the key piece of A&M's team that folks are missing is the defense.
Damontre Moore, Sean Porter and Jonathan Stewart are all gone, and thus far, nobody has appeared to have the big play potential on this season's team that any of those three guys had last season.
It's possible that Aggies score 60-plus points every game and just outscore every team they face.
However, that hasn't happened, especially in the SEC, in quite some time, so it's difficult to pick the Aggies so high when so much talent is gone from the defense.
That said, their schedule is very manageable. With the exception of Alabama and an LSU team that looks to have some major holes, there are no major challenges on the schedule.
So while there is concern about the defense, the schedule could compensate for those issues during the regular season, but it's difficult to see A&M winning an SEC title with the defense as is.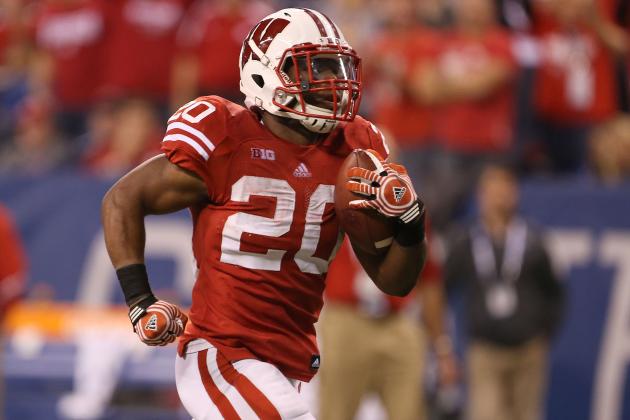 Leon Halip/Getty Images

The reigning three time Big Ten champs have some serious issues this season that should give pause.
The quarterback position is a mess, with Curt Phillips and Joel Stave fighting over the top spot on the depth chart.
The Badgers are running a new offense, have a new coaching staff and have some questions on defense, particularly transitioning into the 3-4 system from their 4-3.
New head coach Gary Andersen has some talent to work with, but implementing new systems on both sides of the ball, in a season where the Badgers games against Ohio State and Penn state actually matter, is a little bit scary.
Wisconsin has been nothing if not consistent over the past several seasons, but with a new coaching staff taking over, it would be wise to withhold judgement until we actually see UW take the field.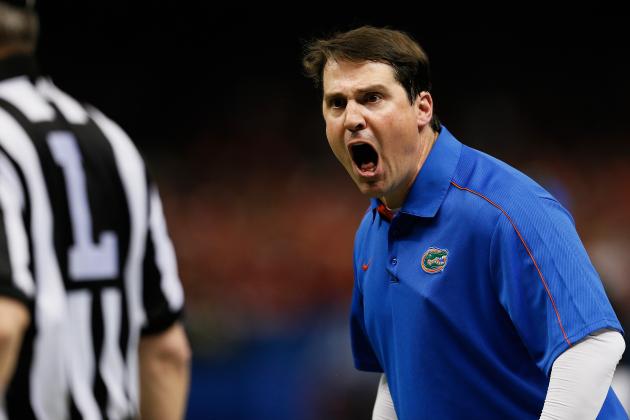 Kevin C. Cox/Getty Images

Florida lost five of the starting front seven on the defensive side of the ball, as well as two key players in the secondary, including safety Matt Elam.
On offense, the most consistent player returning is quarterback Jeff Driskel, which should be concerning given his inconsistencies at times last season.
Now he must operate without running back Mike Gillislee, tight end Jordan Reed and two of his starting offensive linemen from a year ago.
That's a concern.
Defensively, the Gators have tons of young talent in guys such as Ronald Powell, Marcus Maye and Darious Cummings, but there are questions all over both sides of the ball, which makes it difficult to see them being near as good as they were last season.