Pittsburgh Steelers: Final Full Round Mock Draft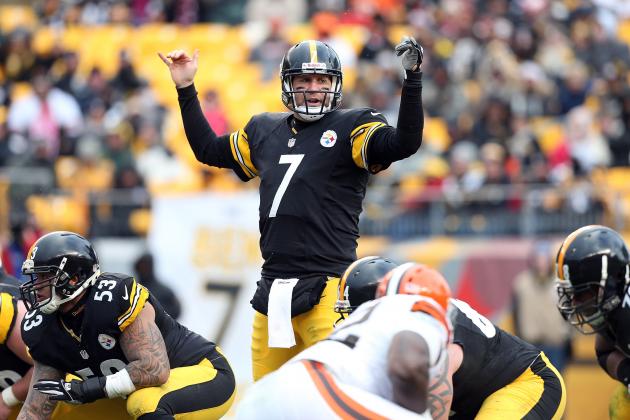 Karl Walter/Getty Images

The 2013 NFL Draft is finally here and it is time for everyone to get out their final attempts at predicting what is going to happen.
The Steelers have had a somewhat eventful offseason to this point and they still have a lot of question marks that need to be answered in the draft.
Here is my final shot at predicting what the unpredictable Pittsburgh Steelers are going to do in the 2013 NFL draft.
Begin Slideshow

»
Current Pick: Jonathan Cooper G North Carolina
Previous Pick: Jonathan Cooper G North Carolina
I have been championing the selection of North Carolina guard Jonathan Cooper for most of the offseason and I see no reason to change my pick now.
The only way I see the Steelers going in a different direction is if both Alabama's Chance Warmack and Cooper are already off the board at 17.
If that happens then I think the pick would be either Notre Dame tight end Tyler Eifert or even a surprise in Washington cornerback Desmond Trufant.
Current Pick: Sio Moore LB Connecticut
Previous Pick: Brandon Williams NT Missouri Southern
I still believe there is a very good chance that the Steelers take a nose tackle like Missouri Southern's Brandon Williams, Alabama's Jesse Williams or Ohio State's Johnathan Hankins in the second round.
The only reason I am changing my pick is because of all the years I have thought the team was going to take an NT early and every year they have gone in a different direction.
The Steelers have a ton of question marks at the linebacker position with Sean Spence being injured, Larry Foote getting older, Stevenson Sylvester not guaranteed a spot and Brian Rolle and Marshall McFadden as basic unknowns.
Sio Moore would give the Steelers the versatility to play outside or inside and would be a potential replacement for Foote in the future.
Current Pick: Stedman Bailey WR West Virginia
Previous Pick: Shamarko Thomas S Syracuse
Although the Steelers matched the offer sheet for Emmanuel Sanders, there has not been much optimism that the team will be able to get a long-term deal done with the receiver going forward.
The team needs to get at least one receiver in this draft to prepare for that potential loss, and Stedman Bailey is one of my personal favorite players this year.
Bailey has deceptive speed, is a good route runner and most importantly has great hands. Another attribute is the fact that Bailey was a great red-zone target in college, which is something Ben Roethlisberger will certainly appreciate.
Current Pick: Johnathan Franklin RB UCLA
Previous Pick: Brandon Jenkins OLB Florida State
In my previous mock draft I didn't have the Steelers taking a running back at all because I thought there was a very good chance that the team was going to get a deal done with Ahmad Bradshaw.
Now with the amount of cap space the team has left I don't see that deal happening, which means the Steelers are going to take a running back at some point.
Johnathan Franklin has been my favorite back in this draft and he could become a steal for the Steelers if he actually lasts until the fourth round.
Current Pick: Duke Williams S Nevada
Previous Pick: Chris Harper WR Kansas State
The Steelers have one of the best safety tandems in the league with Troy Polamalu and Ryan Clark with the only problem being that both are on the wrong side of 30.
The team lost backups Ryan Mundy and Will Allen this offseason, and will select at least one safety in the upcoming draft.
Duke Williams would be able to contribute on special teams and could develop into a potential replacement in the future.
Current Pick: Joe Kruger DE Utah
Previous Pick: Michael Williams TE Alabama
If the Steelers select an NT early in the draft then in my opinion that means they plan on moving Steve McLendon to defensive end.
Without that pick however, the Steelers are in need of quality depth at the DE position and Joe Kruger is exactly the type of player they like to take in the later rounds.
Kruger would need at least a season to develop, but he could become a possible major role player on the defensive line.
Current Pick: Tharold Simon CB LSU
Previous Pick: Rodney Smith WR Florida State
The Steelers seem intent on drafting a CB in the upcoming draft and honestly you can never have enough cover guys on the roster.
The team lost Keenan Lewis to free agency and they are one injury to Ike Taylor or Cortez Allen away from having William Gay start on the outside.
Drafting Tharold Simon won't remedy that situation if it comes to pass however, he is just the type of big corner the team likes to take the time to develop.
Current Pick: Michael Mauti LB Penn State
Previous Pick: Michael Mauti LB Penn State
As we get to the seventh round of the draft it really is anyone's guess who the team will grab in hopes of getting that steal.
Michael Mauti is as good a pick as any if he lasts this long because of his injury and if he stays healthy he could become a great pick.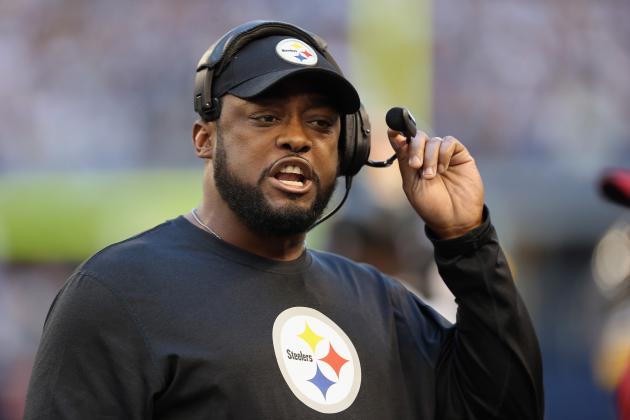 Ronald Martinez/Getty Images

If you didn't notice while reading my mock, I have the Steelers drafting five players that they have brought in for pre-draft visits. You can see all the Steelers pre-draft visits by going to Dave Bryan's Steelersdepot.com article. In years past I have gotten a lot of criticism from many readers about having so many of those players in my mocks.
Instead of having to answer every single question about it I am choosing to address it in this last slide. Going back to the 2009 season the Steelers have selected at least three pre-draft visits each year.
2012: 4
2011: 4
2010: 3
2009: 3
I know I have the team selecting five of these players in this draft however, this is only because I am just including Michael Mauti in the seventh round. In the seventh why not take a shot on a guy who they brought in for a visit?
I hope this clarifies the situation a little bit before people put me down for having so many of these players included in my mock draft.