UFC 159: Info and Predictions for Jones vs. Sonnen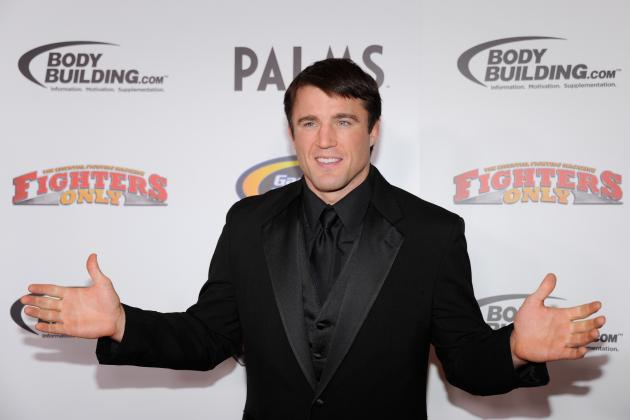 Ethan Miller/Getty Images

This Saturday the UFC will conclude a very busy April with UFC 159.
The event will mark the promotion's fourth event of the month, though just its first pay-per-view, and will feature a light heavyweight title tilt between challenger Chael Sonnen and champion Jon Jones.
Beyond the improbable main event that has both confounded and intrigued the masses, the card will play host to an 11 additional matches, spanning the main card, FX and Facebook.
From top to bottom, the card is very solid. There looks to be several competitive pairings and several more with the potential for fireworks. When it's all said and done, UFC 159 should prove an excellent way to cap off an incredible month of UFC activity.
Here you will find information about when and where to catch Saturday's action, previews for each of the night's bouts and predictions, made by yours truly, for every outcome.
Begin Slideshow

»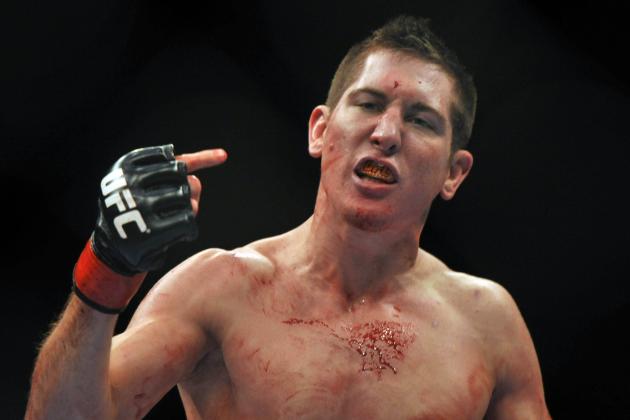 Joe Camporeale-USA TODAY Sports

How to Watch: Facebook at 6:35 p.m. ET
Preview
Since a relatively unimpressive stint on The Ultimate Fighter, Siler has transitioned well to the UFC. He went 3-0 to begin his tenure with the promotion, but lost a decision to Darren Elkins last time he competed. He will look to get back on track this weekend by beating up on UFC newcomer Kurt Holobaugh.
For his part, Holobaugh will enter the fight coming off the first loss of his career. He joined the Strikeforce roster back in January after winning his first nine contests, but was unable to handle Pat Healy.
Both Siler and Holobaugh have won most of their fights by submission, although the majority of Siler's losses have come the very same way. Still, I think his experience taking on a significantly higher level of competition than Holobaugh will have prepared him for everything the UFC newbie can toss at him.
Prediction
Siler def. Holobaugh via submission, Round 3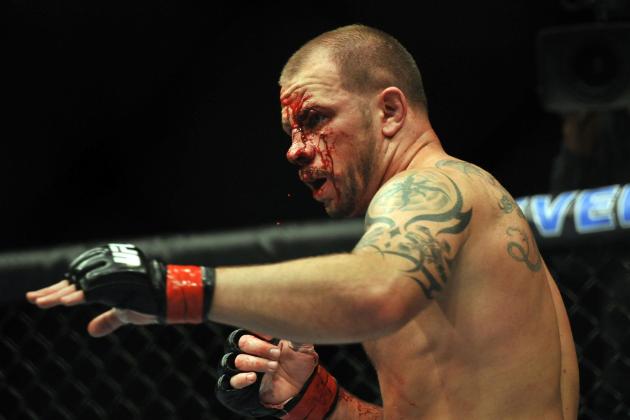 Joe Camporeale-USA TODAY Sports

How to Watch: Facebook at 6:35 p.m. ET
Preview
Both Catone and Head are tough, rugged competitors with records that belie their talent. Both are also coming off losses and will be desperate for a win, which gives the matchup some real potential to entertain.
More likely than a pretty display of technical prowess is a gritty, hard-fought battle of attrition. That type of bout suits both Catone and Head much, much better.
The outcome could go either way, but I'm looking for Catone to control to lion's share of the action with his wrestling. Head in no slouch in that department himself, but I give Catone the edge there, and expect him to exploit it just enough to eek out a closely contested decision.
Predition
Catone def. Head via unanimous decision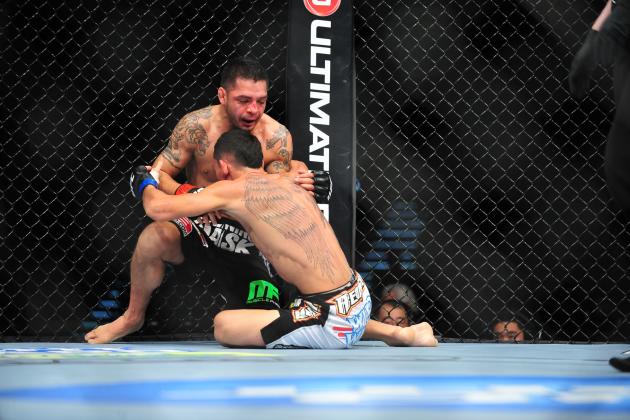 Gary A. Vasquez-USA TODAY Sports

How to Watch: Facebook at 6:35 p.m. ET
Preview
Is this what we would call a fight between two lovable losers?
McKenzie endeared himself to UFC fans during his run on The Ultimate Fighter. His specialized guillotine choke allowed him to make an impression inside the Octagon, an impression strengthened by the considerable measure of awkwardness he displayed outside of it.
He is 1-3 over his past four contests, and some believe that his very one-dimensional style has him well in over his head.
Speaking of being in well over one's head, is that what's going on with Garcia right now? He is 0-4 over his last four bouts, 1-5 over his past six, and the single win was a ridiculous decision over Nam Phan. Of course, his recent loss to Max Holloway was a bit of a rip off, so maybe it equals out.
The one question leading into this fight is, can McKenzie hit on his guillotine choke. If he can't, a knockout will almost certainly follow.
Prediction
Garcia def. McKenzie via TKO, Round 2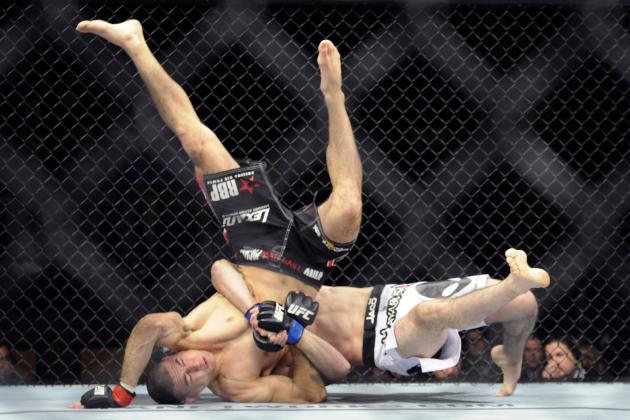 Josh Holmberg-USA TODAY Sports

How to Watch: FX at 8 p.m. ET
Khabilov made a real splash in his UFC debut, knocking out Vinc Pachel via suplex. But before you go thinking that it was a flash in the pan and the novelty of the finish has garnered Khabilov undeserved attention, remember that he is a Combat Sambo world champion. If Fedor Emelianenko taught us anything, it's that Sambo can translate pretty well to MMA.
Medeiros has not competed since June, 2010, but returns to MMA with a perfect 9-0 record intact. He is a strong wrestler who has exhibited solid striking as well, a product of his karate background.
While it wouldn't be wise to discount the Hawaiian in this one, Sambo World Championship trumps high school wrestling state bronze in my book. Plus, I just can't forget about Khabilov's last fight...
Prediction
Khabilov def. Medeiros via submission, Round 2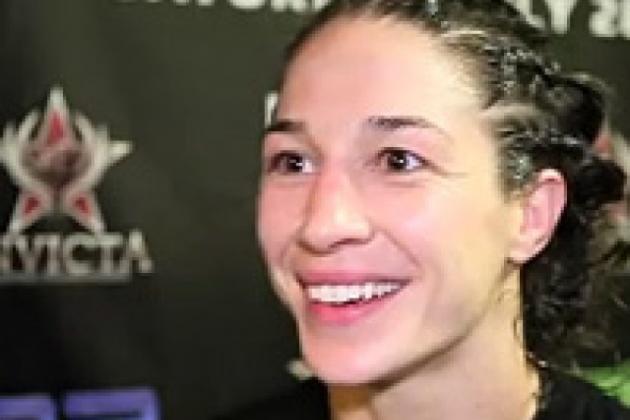 Photo by sherdog.com
How to Watch: FX at 8 p.m. ET
Preview
Gaff, an up-and-coming German fighter with a penchant for finishing fights, will face the greatest challenge of her career when she debuts in the Octagon opposite Sara McMann.
McMann is an Olympic silver medalist in freestyle wrestling, and will look to put her primary weapon to good use early and often in this one, in hopes of avoiding the fury of her aggressive opponent.
While Gaff is a legitimately dangerous fighter, one certainly worthy of a UFC roster spot, McMann's wrestling may simply be too good for her to get a W this weekend.
I'd also give McMann the experience edge, even if Gaff has 14 pro MMA fights to her six, simply because competing in the Olympics teaches a fighter what it means to compete against the absolute best on the planet.
Throw in that Gaff is more used to competing at flyweight than bantamweight, and the American looks like a solid option here.
Prediction
McMann def. Gaff via submission, Round 2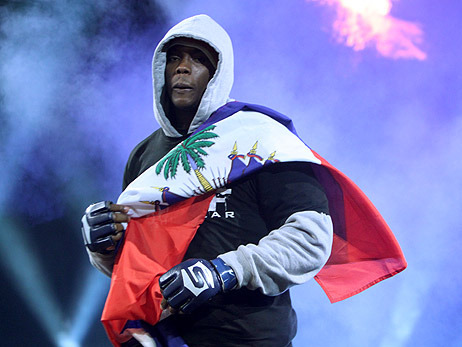 Photo by mmaweekly.com
How to Watch: FX at 8 p.m. ET
Preview
It took St-Preux's fighting acumen some time to catch up to his natural athleticism, but since hitting his stride back in 2010 he has looked seriously dangerous. Since that time the American has gone 9-1, largely under the Strikeforce banner, mixing in a solid count of knockouts with his decision victories.
Villante is another Strikeforce import who is currently rolling. The 28-year-old enters the UFC having won his three most recent contests, looking to assert himself into the light heavyweight fray.
This matchup could play out in a number of ways. Villante will probably look to use his wrestling to control the fight and keep the explosive St-Preux under wraps until the final bell. St-Preux will more than likely oppose his opponent's strategy by hunting for the knockout on the feet.
But while these guys have dissimilar strengths, both are relatively well-rounded, which lends a measure of the unknown to the bout. In the end though, I expect St-Preux to look the better fighter in his UFC debut.
Prediction
St-Preux def. Villante via unanimous decision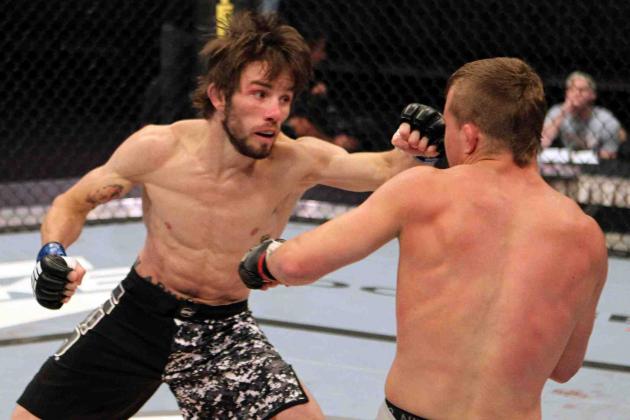 Photo by UFC.com
How to Watch: FX at 8 p.m. ET
Preview
Bedford looked unspectacular during his time on The Ultimate Fighter, but has made his nickname "Brutal" seem an understatement since.
In two fights with the UFC, Bedford has landed a pair of knockout finishes that made us seriously worried over the victim's well-being.
Caraway, who steps in for a late replacement for the injured Erik Perez, will be looking to rebound from a tough split decision loss to Takeya Mizugaki. "Kid Lightning" is a wrestler who usually looks to end fights with a submission, something that has given Bedford problems in the past.
While stylistically this one looks to favor Caraway, Bedford has been so impressive lately that it's difficult to go against him. Especially since Caraway takes the fight on very short notice.
Predicition
Bedford def. Caraway via TKO, Round 2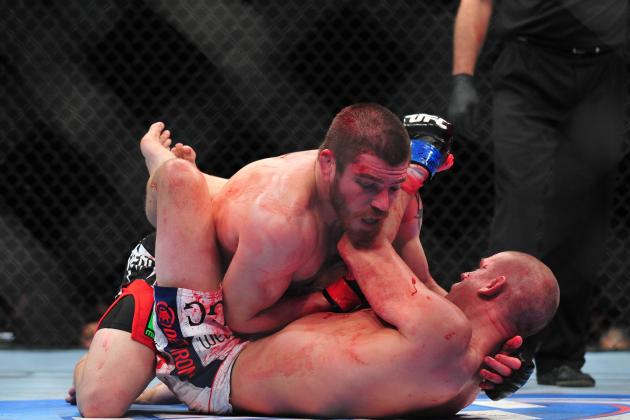 Gary A. Vasquez-USA TODAY Sports

How to Watch: Pay-per-view at 10 p.m. ET
Preview
If last weekend's UFC on Fox 7 card taught us anything, it's that we cannot discount Strikeforce lightweights as they transition to the UFC. And Healy, who was on the precipice of a title shot in Strikeforce before the promotion disbanded, is definitely no exception.
Miller is coming off an epic duel with Fight of the Night bounty hunter Joe Lauzon, a contest in which Miller edged out his opponent.
Since losing to Gray Maynard in 2009, Miller has gone 9-2. One of those losses came against Ben Henderson, the other against Nate Diaz.
This fight will likely be an exhausting grind, as both combatants like to relentlessly pressure their opponents. The tension may not produce Miller vs. Lauzon II, but it should still make for some solid action.
Prediction
Miller def. Healy via unanimous decision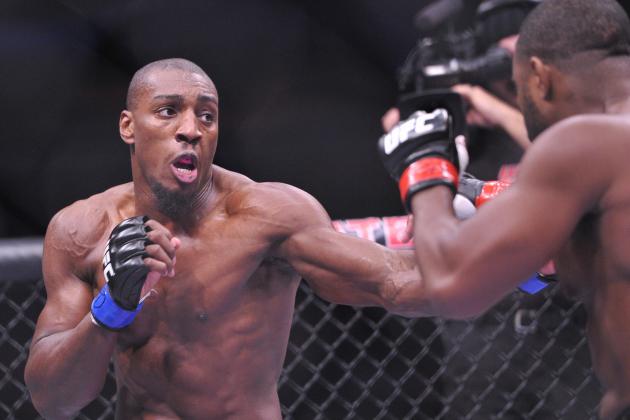 Mike Dinovo-USA TODAY Sports

How to Watch: Pay-per-view at 10 p.m. ET
Preview
A super-mature Twitter war between Davis and Magalhaes makes this light heavyweight tussle a grudge match. Beyond that, the pairing makes for a truly interesting clash of styles.
Neither participant is a particularly strong striker. While Davis has covered this fault by using his top-notch wrestling came to put opponents on the defensive, Magalhaes has utilized his world-class jiu-jitsu game.
The question is, will Davis, who decides where the fight takes place by virtue of his wrestling, chance it on the feet, or does he have enough confidence in his own grappling to try and shutdown the submissions of Magalhaes?
It's a question that will dictate the pace of the match, and will also play a roll in determining the winner.
For a thorough breakdown of the matchup, check out the assessment I conducted when the fight was first announced.
Prediction
Davis def. Magalhaes via unanimous decision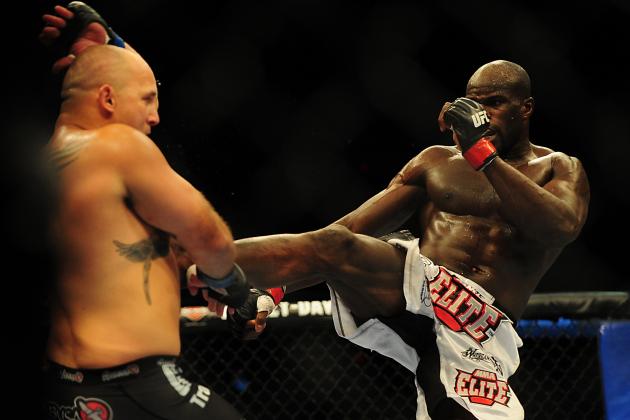 Anne-Marie Sorvin-USA TODAY Sports

How to Watch: pay-per-view at 10 p.m. ET
Preview
The two heavyweight journeymen will square off in a contest that has the makings of an entertaining standup battle.
While Nelson possesses an above-average ground game, he rarely puts it into practice, preferring to keep the action standing. The strategy works out for him more often than not, but he'll have to tread lightly against Kongo, a kickboxing terror.
The Frenchman's striking prowess has made him a mainstay near the middle of the UFC's heavyweight division, and currently has him riding a 4-1-1 stretch. Kongo has a tendency to mix in some wrestling with his strikes, but against Nelson he would be wise to keep his distance and look to pick his foe apart.
Stylistically, the matchup poses problems for "Big Country," who does much better when fighters brawl with him. Guys who keep their distance and stay methodical often find their hands raised over him.
If Kongo takes the right approach, it will be his fight to lose.
Prediction
Kongo def. Nelson via unanimous decision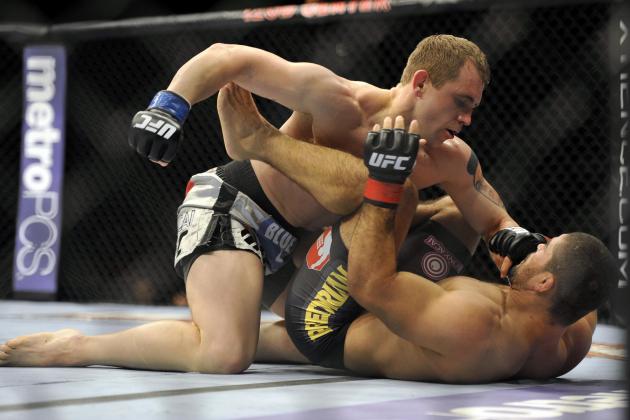 Joe Camporeale-USA TODAY Sports

How to Watch: Pay-per-view at 10 p.m. ET
Preview
Had Bisping won last time out, he would be waiting for his date with the UFC middleweight champion. But he lost, so now he gets Alan Belcher.
Belcher also would have done his career a big favor by winning last time out, but he too hiccuped and now finds himself paired with Bisping. Fate cruelly brought the two together instead of ushering them toward the title, but their respective losses are our gain, as the fight they put on should be a terrific one.
Both guys are standup specialists—Bisping a boxer, Belcher a muay Thai striker. Neither is one-dimensional, however, so the possibility of the action hitting the mat is very real as well. Who would have the advantage there (or anywhere) is uncertain.
I'm going with Belcher in an upset special.
Prediction
Belcher def. Bisping via unanimous decision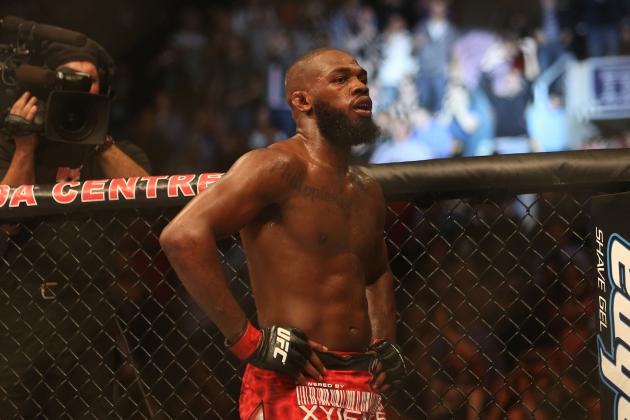 Tom Szczerbowski-USA TODAY Sports

How to Watch: Pay-per-view at 10 p.m. ET
Preview
Jones will enter the contest as a massive favorite, and for good reason. While Sonnen faltered twice against middleweight champion Anderson Silva, Jones has all but cleared out the light heavyweight class. And he's made it look relatively easy.
Sonnen's one real advantage is his wrestling, which is some of the best in the sport. Unfortunately, Jones is no slouch in that area, and he has the reach to negate much of Sonnen's wrestling and takedown attempts.
A Sonnen win would rank up there as one of the greatest upsets in the history of the UFC, just don't count on it.
Prediction
Jones def. Sonnen via submission, Round 3