New Jersey Devils: 5 Reasons They Will Bounce Back for the 2013-2014 Season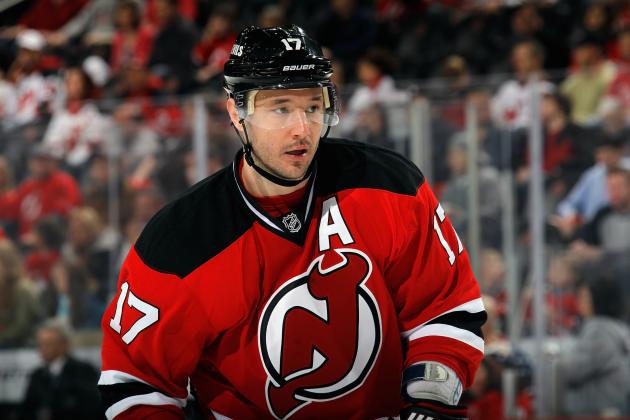 Bruce Bennett/Getty Images

With the New York Rangers defeat of the New Jersey Devils yesterday afternoon, the Devils have been officially eliminated from playoff contention this year.
Being one myself I have to say that Devils fans are the biggest spoiled brats in the NHL family, yet it is with good reason. This season will be only the fourth time in the last 25 years that the Devils won't be making any kind of run for the cup.
To put that in perspective look at their division rivals: The Philadelphia Flyers will be missing the playoffs for the seventh time in that same 25 year span; this season's Eastern Conference Champions Pittsburgh Penguins missed the post-season seven times; the New York Islanders will make it this year, but have been consistently under-performing as they haven't been in the playoffs for 16 of those years; and finally, their cross-river rival New York Rangers have missed the mark 10 times, and this season's outcome is still up in the air as they haven't clinched a playoff spot just yet.
Some fans are already calling for the firing of head coach, Peter DeBoer, who was thrown out of Sunday afternoon's game with 15 seconds left for yelling at the referees.
@nhldevils FIRE DEBOER!

— John Betz (@JohnBetz) April 16, 2013
Clearly, there is frustration throughout the entire organization.
However, some fans have already begun to accept the situation and move on.
Alright @nhldevils fans...its a new day and basically it is what it is and we have moved on. Three more games so #FinishStrong #NJDevils

— Laura Maikisch (@NJDevilsGirl701) April 22, 2013
I invite you to join the bandwagon of the latter fan because this team is so much more than what happened this season. Besides, shortened season Stanley Cup victories don't count, right? Or at least that's what I have been told since 1995.
So let's look towards next year, and see why the Devils will be back on top.
Begin Slideshow

»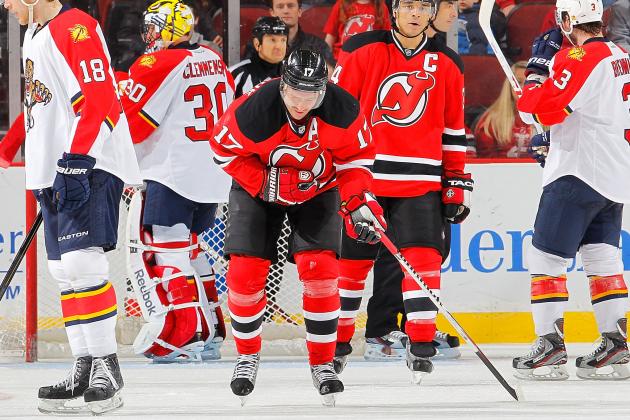 Jim McIsaac/Getty Images

It's a weak excuse to use injuries as a reason for missing a post-season or under-performing. That's the reason it's a team sport, right? The other players are supposed to make up for whichever player is sitting out.
However it can't be denied that the Devils were plagued by injuries from the start of the season.
It actually started with Adam Henrique missing the first few games while he was still healing from the torn ligament in his left thumb. Dainius Zubrus missed a far more substantial part of season due to surgery on his wrist.
When Martin Brodeur was out because of a sore back the Devils went 3-7-2 without him after starting the season at 10-3-4.
Then just two games (both victories) after Marty's return, Ilya Kovalchuk was forced to sit out with a shoulder injury, and the Devils went 1-6-4 without their star forward.
The captain, Bryce Salvador, has been out since April 10 when he was injured in a game against the Bruins, and will most likely not return this season.
It's not to say that one or two players make a team, but it shows that much more how this is truly a team sport. When a player goes down lines get changed and the whole balance and chemistry of a team is thrown off..
When Kovalchuck returned he was just about the only player who didn't get a point in the 6-2 domination over the Florida Panthers. Even Brodeur recorded an assist in that game. His level of play makes everyone around him better.
Missing the playoffs could actually be a positive for the injury laden Devils. Kovalchuck's shoulder will definitely be the number one concern, but having a nice long period of time to rest it and work it out as needed may be the best thing for the team.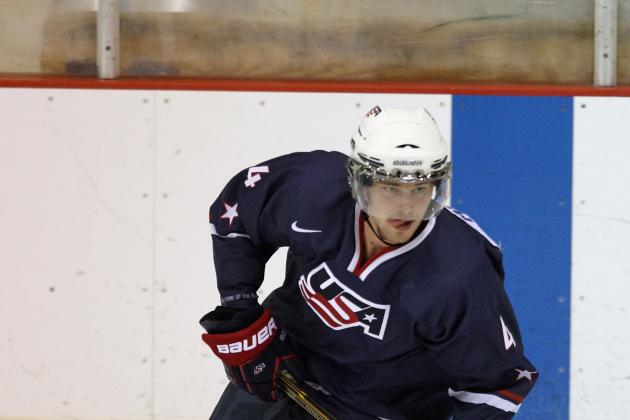 Bruce Bennett/Getty Images
Jon Merrill at USA Hockey Junior Evaluation Camp - Sweden v USA
To say the Devils are a little long in the tooth is certainly a true statement. The team's average age this season was 29.771, which made them the oldest team in the league.
Next season could potentially show some new young faces though if defenseman Jon Merrill and forward Reid Boucher are called up to play. Hopefully this will be coupled with defenseman Alexander Urbom and Adam Larsson getting more playing time.
Reid Boucher made quite a name for himself when he had a record-breaking season in the OHL this year by scoring 62 goals. The Devils could definitely use his offense, but don't count on GM Lou Lamoriello bringing him up before he is ready either.
Jon Merrill is the one to watch. According to HockeysFutures.com Merril "is a solidly built two-way defender with outstanding poise and hockey smarts. He skates well in all directions, shows no fear in rushing the puck up the ice and can quarterback a power play with his great distribution skills and shot."
While having experience is something that can't be replaced, sometimes a team needs that mentality of a young player who knows nothing more than he wants to go out there and play as hard as he can.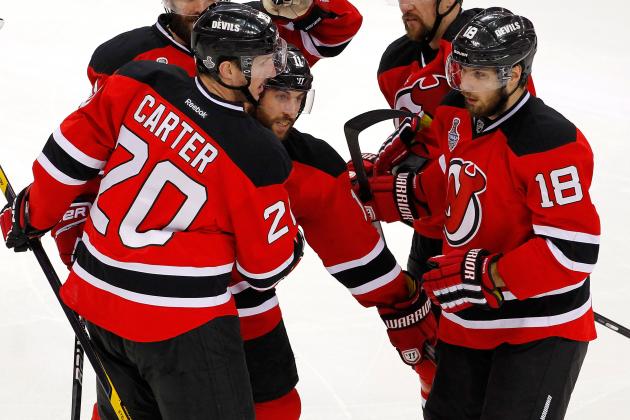 Paul Bereswill/Getty Images

Ryan Carter, Steve Bernier, and Stephen Gionta have been ablaze since last years playoff run. Thankfully, they are all signed through next season.
This year they didn't get to play together as much as Devils fans had hoped this year due to injuries, but when they did it was electric as always.
Carter and Bernier have 15 points this season, and Gionta is just one behind with 14, which just shows how well they work together as a line.
My favorite part of this line is Stephen Gionta. You would think the 6'3", 220 pound Bernier or even 6'1", 205 pound Carter would be the enforcer of this line, but it's actually 5'7" 185 pound Gionta who led the entire team in hits this season.
As Devils television announcer Steve Cangialosi said during one of the broadcasts, "if you don't love Stephen Gionta, then you don't love hockey."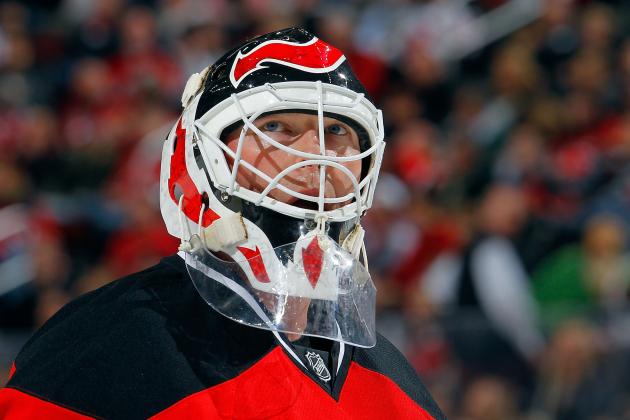 Jim McIsaac/Getty Images

With the 2013-2014 most likely being his last season, Martin Brodeur will not go down without a fight.
I imagine a whole Ray Lewis/Baltimore Ravens kind of scene where the players want to give Marty a legitimate shot at another championship.
While the comments about his age, weight, and personal life constantly circulate, it's hard to deny that Brodeur is the best goalie to play the game and a true legend.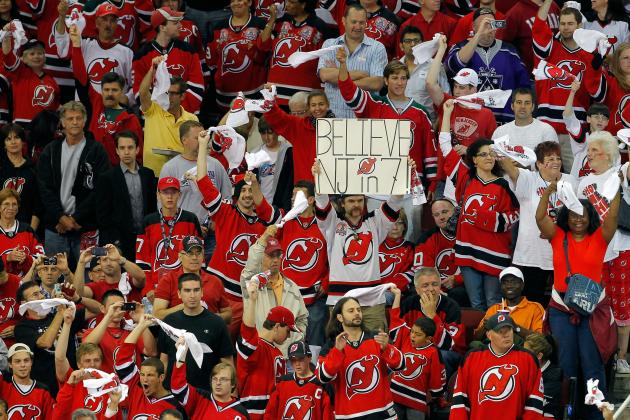 Paul Bereswill/Getty Images

Of course it takes time to truly build a solid fan base, and the Devils have finally reached that point.
When the Devils came to town the Rangers and Islanders had already claimed the hockey fans in the area, but there were the few who made the switch to Jersey's team.
One of those few was my grandfather who abandoned his Islanders right in the middle of their reign to root for his new home state team. A loyalty which was passed on to me, and which I will pass onto my children; you can see this is a growing trend when you attend a Devils home game.
The Devils have had a slew of sellouts which include their entire playoff run last year and every home game this season with the exception of two week-night games.
The players have continually thanked the fans for their support, and I believe they genuinely mean it.
I have no doubt that the Devils attendance will go anywhere but up.