NFL Draft Prospects Most Likely to Be Drafted Too High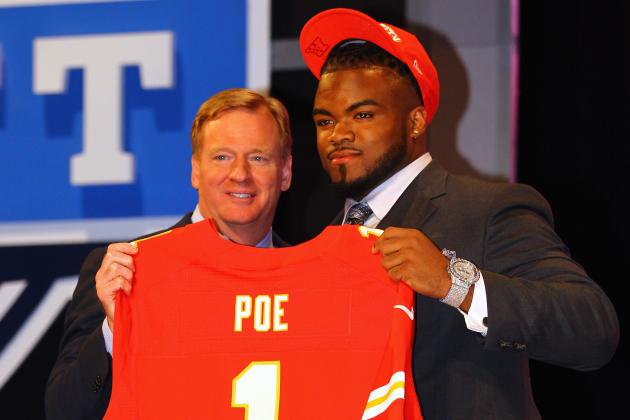 Al Bello/Getty Images
Which prospects will be taken too early in this year's draft?
Overdraft. Reach. Whatever word you want to use for it, every year there are players taken a little too high in the NFL draft.
Most of the time, a reach occurs when a team is attracted to a player's physical tools, ignoring his on-field production. The Raiders made a habit in the late Al Davis years of drafting players with fast 40-yard dash times, regardless at times of whether they were successful college players.
In other cases, a reach will simply be a case of one team valuing a player more than other teams—or at least, more than the public perception of the value of these players.
Therein lies one sticking point in such a list as the one I'm about to embark on: Ultimately, it's based on perceived draft slotting, with no knowledge of some of the most important aspects of such determinations (such as private meetings and medical records).
Character concerns, injury history, one-year-wonder status and other factors are sure to be cause for hindsight three years down the road.
Begin Slideshow

»
Hunt surely caught the attention of scouts at the scouting combine. He ran a 4.6 40-yard dash and put up 38 225-pound bench press reps, both of which ranked in the top five at defensive end.
At 6'8" and 277 pounds with 33.75" long arms, he has the ideal frame for a pass-rushing defensive end.
There are significant questions about his technique, though. He remains unpolished, having only started playing football in 2009.
Hunt had solid numbers at SMU, tallying 11.5 tackles for loss and eight sacks as a senior. However, he didn't play against great competition in Conference USA, which may have allowed him to get by on his athleticism and to get away with technique flaws that might doom him at the NFL level.
Here is just a sample of some of those flaws (via NFL.com):
Must be cognizant to play with bend due to his height, pops up off the snap and will stand upright during the play if tired, losing leverage. Agile for his size, but is still a linear athlete with questionable change of direction and flexibility. More mobile quarterbacks and quick running backs will elude him in the backfield. Turning the corner on his initial pass rush is a chore due to his bulk. Still learning the game, must find the ball consistently. ... Doesn't bring his body when he tackles and subsequently misses a lot. Ineffective bull rush due to not playing with leverage and lacks counters when his initial move fails.
If his immense athleticism can be honed into true football talent, the team that selects Hunt will be very pleased with the results. However, at 25 years old, and with such limited experience in the game, the chances of that happening are in jeopardy.
Projected: Late first round or early second round
True Value: Mid to late second round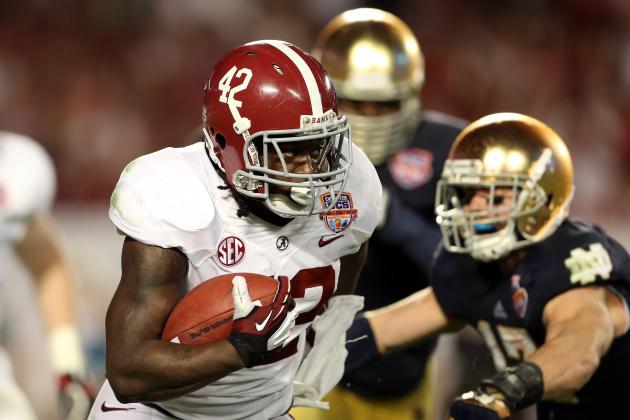 Streeter Lecka/Getty Images

Many draft experts predict that this could be the first draft in 50 years without a running back selected in the first round. If there's one running back likely to continue the trend, however, it's Alabama running back Eddie Lacy.
Former Alabama running backs Mark Ingram (2011) and Trent Richardson (2012) have been the first backs off the board in each of the past two years.
As of yet, Ingram hasn't proven worth his pick, averaging 3.9 yards per carry in his career. Richardson battled through injuries in 2012 and still produced 11 rushing touchdowns for the woeful Browns offense. He did as best he could when facing eight men in the box but averaged just 3.6 yards per carry.
Lacy is not guaranteed to flop—if he goes to the right team, he could be useful—but the overall value of running backs takes a big hit when players like Redskins running back Alfred Morris go in the sixth round and still manage to produce solid numbers. For that reason, it's hard to value a running back as a first-round pick unless that back is capable of breaking a game open on his own. Lacy, it appears, is not.
Projected: Late first round or early second round
True Value: Late second or early third round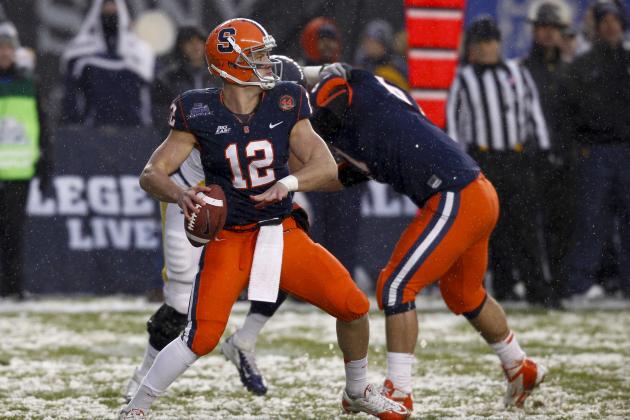 Jeff Zelevansky/Getty Images

Most draft experts called Nassib a second-round pick following the 2012 season. Now, they've begun coming out of the woodwork to declare him the top quarterback.
If he wasn't considered a top quarterback after a seven-game stretch in which he threw 15 touchdowns against only two interceptions, what could have happened to earn him such status in the four-month stretch since then?
That could be a testament to the uncertainty surrounding this entire class, but some overall inconsistency in his game makes it tough to assert him as a top quarterback.
That being said, if there's only one quarterback that gets overdrafted, it might be Nassib. With former Syracuse head coach Doug Marrone now manning the same spot with the Buffalo Bills, it's possible Nassib could be taken with a top-10 pick.
He may prove to be worth the pick with time, but as of right now, he's not a top-10 prospect.
Projected: First round
True Value: Second round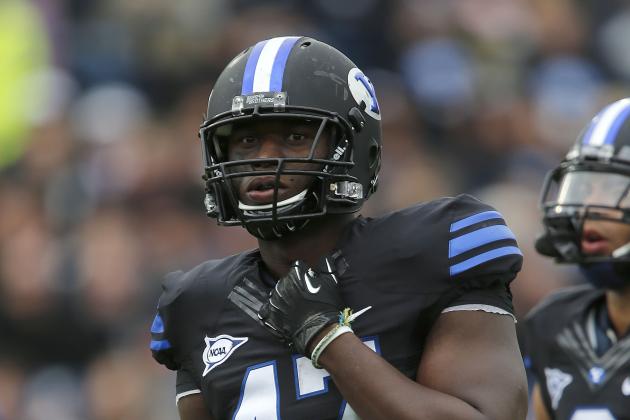 George Frey/Getty Images

Make no mistake—BYU defensive end Ezekiel Ansah brims with potential. He ran a 4.63 40-yard dash, finishing in the top 10 among defensive ends at the combine, and his 4.26 20-yard shuttle was a top-five finish. His frame is ideal for a pass-rushing defensive end at 6'5" and 271 pounds with 35" long arms.
Like with Margus Hunt, though, the question is whether Ansah can continue to grow as a football player with such limited experience. He has played football for three years and has just one season's worth of full-time experience under his belt.
Also similar to Hunt, Ansah had limited production against less than top-flight competition, registering 13 tackles for loss and 4.5 sacks in 2012 while facing just three ranked opponents all season.
Does the pure athleticism translate to the NFL level? That's the big unknown with many of these prospects, but add on top of that the questions over his commitment to football, and a team would take a calculated risk on Ansah as a top-10 pick, which is where he projects to go.
Projected: Top 10
True Value: Late first round or early second round
Athletic quarterbacks have higher value than ever before as a result of early success from the likes of Cam Newton, Robert Griffin III, Russell Wilson and others. The question is whether their skills translate to the NFL.
There are concerns that Smith played in a vertical spread offense that fully maximized his skill set. Whichever team takes Smith could tailor its offense to his skills, but it may not be that easy.
Smith lit it up in the first six games of the season (75.4 completion percentage, 8.8 YPA, 25 touchdowns, no interceptions) but took a step back down the stretch (67.1 completion percentage, 7.5 YPA, 17 TD, six INT).
NFL.com compares him to former Saints quarterback Aaron Brooks. That's not exactly a glowing comparison, as Brooks never once hit a 60 percent completion rate in a season or surpassed an 89 passer rating. Colleague Matt Miller compared Smith to Dolphins quarterback Ryan Tannehill, who has to deliver big-time in his second year to justify his status as a top-10 pick in 2012 and as the future of the Dolphins franchise.
Smith is certainly worth a first-round pick, but none of the quarterbacks in this crop have solidified themselves as being worthy of a top-five selection.
Projected: Top five
True Value: Mid to late first round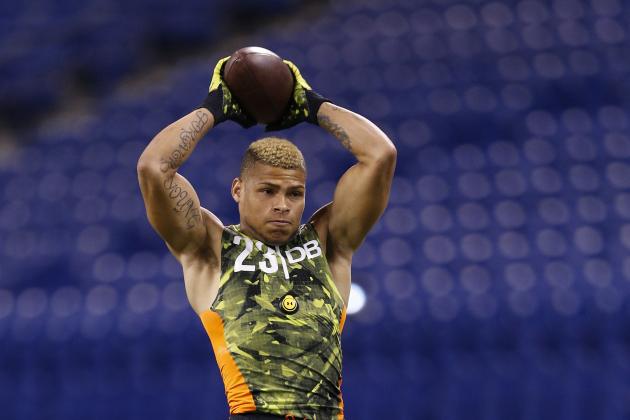 Joe Robbins/Getty Images

The "Honey Badger" figuratively and literally burned his chances of being a first-round pick by testing positive for marijuana enough times that LSU kicked him off the team.
Although Mathieu eventually worked his way back onto the team, he found himself on the wrong end of the law and was arrested for possession of marijuana.
He reportedly failed 10 drug tests at LSU, and that was despite the university offering assistance in getting him off drugs.
There's little doubt that if Mathieu keeps his nose clean, he can be a weapon for a defense as a ball-hawking defensive back. His ability to stay out of trouble, however, is in question as a result of his actions.
Will he continue to test positive in the NFL, where he'll be suspended for any infractions and could be under a microscope as a result of his past? A team selecting Mathieu before the second round would take a big gamble on a player who may not be available on a consistent basis.
Projected: Second round
True Value: Third or fourth round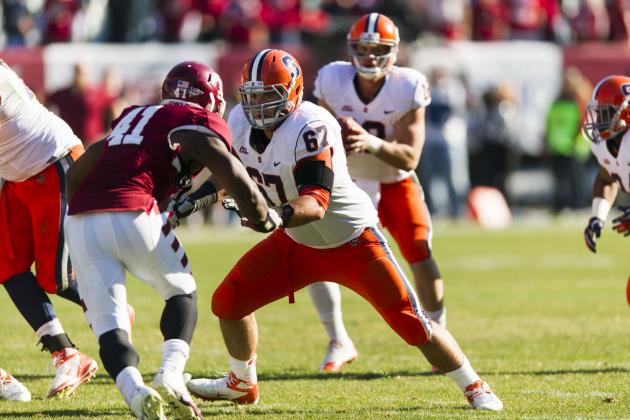 Howard Smith-USA TODAY Sports

Good offensive linemen are not hard to come by in this year's draft; in fact, analysts expect three tackles and two guards to be taken in the first 16 picks, nearly one-third of the group. After that run, though, is where things could get tricky.
There are questions and limitations for most of the other offensive linemen, and Justin Pugh's are that he lacks ideal length with 32" arms. Pugh is fundamentally sound, though, and might be best suited to move inside to guard. With questions about his positional fit going forward, a team will have to accept the risks either way.
Josh Norris of NFL.com regards Pugh as a second-round pick, and NEPatriotsDraft.com lists him as the 67th-best prospect in the draft.
Projected: Late first round
True Value: Mid to late second round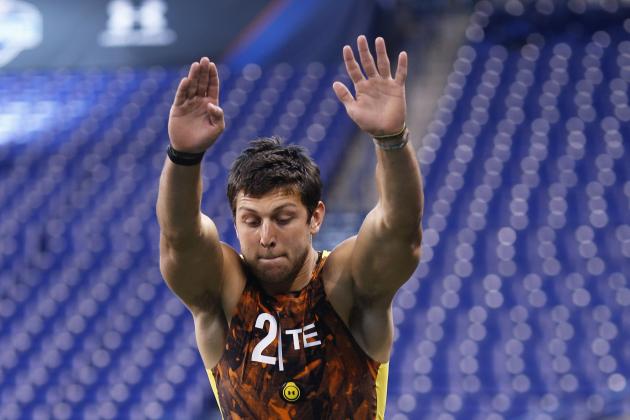 Joe Robbins/Getty Images

If there is one tight end worth a first-round pick, it's Tyler Eifert. He bursts with athleticism and ranked among the top five tight ends in every single exercise at the combine.
He really caught fire at the end of the season, with six catches in four of the final five games of the season. He has the size and wingspan a lot of coaches will love as a red-zone target, but he only found his way into the end zone four times in his senior year. He didn't see much top competition in that five-game stretch, or much of the season at all.
There is an increasing demand for elite pass-catching tight ends, which could lead to Eifert being taken in the first round. Eifert can line up out wide or in the slot, but he's not a great in-line blocking tight end. His skill set and potential are both similar to the Dolphins' Dustin Keller, a tight end taken at the end of the first round who has yet to live up to the billing.
Projected: Mid to late first round
True Value: Early second round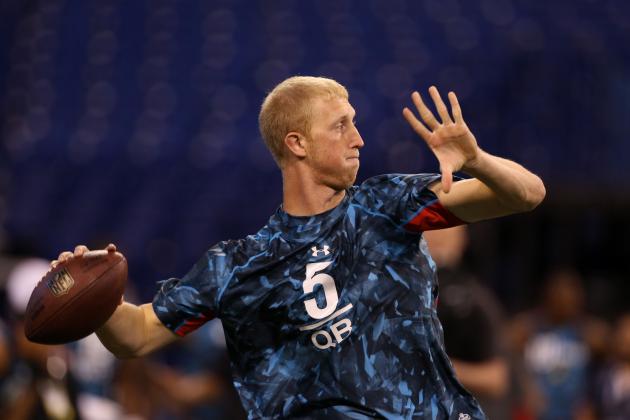 Brian Spurlock-USA TODAY Sports

Glennon's superior arm talent is sure to get a long look from scouts for teams looking to develop a quarterback of the future, but make no mistake: He is a work in progress.
Symbolic of his up-and-down performances in 2012, Glennon ranked 12th in the nation with 31 touchdowns and landed in a three-way tie for the most interceptions thrown (17).
His competition in the ACC was far from elite, yet he still served up two or more interceptions in five of 13 games in 2012.
There's no shame in being a pure pocket passer, but Glennon doesn't move well in the pocket and will need to have great protection from his offensive line.
Most pundits regard Glennon as a second-round talent, but if there is an early run on quarterbacks, a team may trade up to the end of the first round to select him. Considering his wild inconsistencies against subpar competition, a first-round pick might be too high a price tag.
Projected: Late first round or early second round
True Value: Late second round or early third round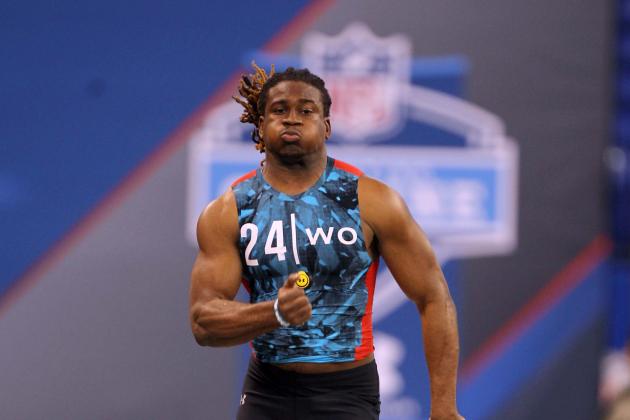 Brian Spurlock-USA TODAY Sports

Everyone will look for the next receivers in the mold of Julio Jones and A.J. Green, and if there's one receiver that fits the mold from a size and athleticism perspective, it's Tennessee's Cordarrelle Patterson.
That being said, there are a few key red flags with Patterson. The first red flag is he only played one year at the FBS level, and although he was dominant in that year, it remains to be seen whether he can continue that type of performance year in and year out.
The other red flag is that he apparently didn't interview well at the scouting combine. Bob McGinn of the Milwaukee Journal Sentinel reported that scouts from 10 different teams have concerns over Patterson's mental acuity, which jives with a report from Russ Lande of the National Football Post that Patterson didn't interview particularly well at the combine.
Physical specimens like Patterson can be hard to come by, but it means nothing unless their skills translate to the NFL and unless they can be taught along the way in making that transition.
Projected: Top 15
True value: Late first round