Brandon Sharpe: Video Highlights for Former Syracuse OLB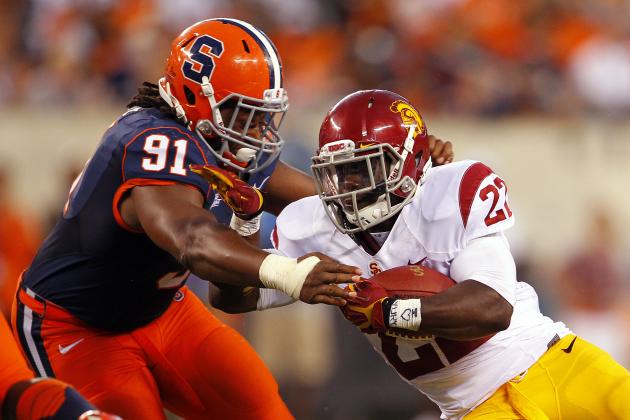 Rich Schultz/Getty Images

If the 2013 draft class has one thing, it's depth in the pass-rushers.
One prospect who hasn't been on a lot of people's radars is Syracuse defensive end/outside linebacker Brandon Sharpe. Sharpe, who became a full-time starter this past season, showed some promise for the Orange by recording a career-high seven sacks in 2012.
Those seven sacks were a half-sack less than he had in his previous three years combined.
Sharpe will most likely have to make the transition to outside linebacker in the NFL, which could be a problem for him. But let's see what makes Sharpe a force off the edge.
Begin Slideshow

»
Brandon Sharpe isn't the top pass-rushing prospect in the draft, but he surely did a great job of living in the opponents' backfields this year.
Sharpe recorded 15 tackles for loss in 2012 that resulted in 93 total lost yards for the Orange's opponents. His ability to create havoc in opponents' backfields is something that could land a player like Sharpe on an NFL roster in 2013.
Syracuse wasn't the most adept team at recording sacks last season, but one thing they did very well was create havoc for opposing QBs.
They were able to create such pressure because of the ability of Brandon Sharpe.
Even if Sharpe can't get to the quarterback, he almost always creates some sort of panic in the pocket for opposing quarterbacks. That culminated in 15 tackles for loss and seven sacks in 2012.
One of the things a lot of scouts and coaches look for in players who are undersized or less desirable is versatility.
Sharpe isn't just an edge-rusher. In Syracuse's defensive scheme, Sharpe was routinely asked to rush from the inside and out, succeeding at both. Watch in the video as Sharpe dominates the guard from Pitt on his way to sacking the quarterback.
There's no telling if this can continue in terms of pass-rushing at the next level, but he should still be able to play well against the run.
When you're not the fastest guy off the edge, you better have some other attributes that make you coveted by NFL teams. For Sharpe, that could be his strength.
Sharpe has shorter arms, but in terms of bull-rushing opponents, he's got to be one of the best.
Whether it be against tackles or guards, Sharpe has been able to move players off the line of scrimmage routinely. He'll have to display that if he wants to play at the next level.
Of all of the things Brandon Sharpe does well, playing the run has to be his best.
Sharpe does a great job of pushing the pocket and living in the opponents' backfields. Moving the line of scrimmage backward helps a ton in terms of run-defending.