Top 5 UFC Knockouts of April So Far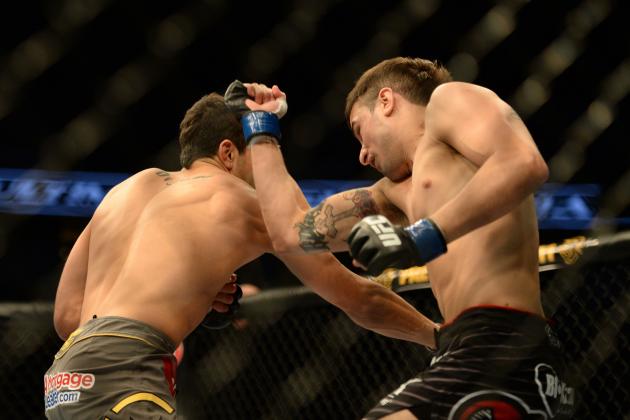 Kyle Terada-USA TODAY Sports

The month of April has provided three UFC events, so far, which have left fans with an abundance of knockout finishes. Look no further than this past weekend, when UFC on Fox had eight knockouts in one night.
Knockouts are probably the fan-favorite type of finish in a fight. Submissions can be sudden and exciting, but there is something that gets fans going when they see a violent end to a combative affair.
With that, let's take a look at the five best knockouts, so far, this month.
Begin Slideshow

»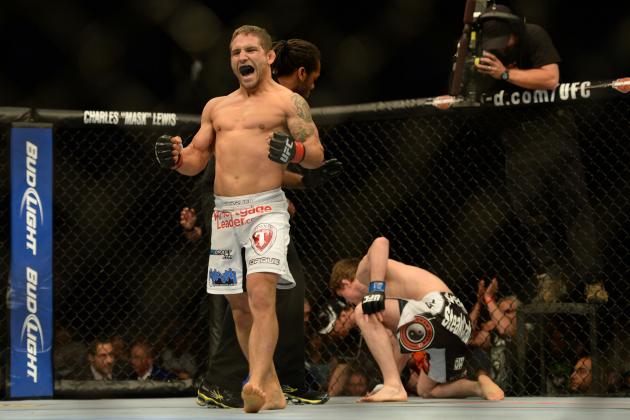 Kyle Terada-USA TODAY Sports

There were many knockouts this month, so obviously not all of them can make the top-five list. Here are the honorable mentions.
Conor McGregor def. Marcus Brimage via punches
Clint Hester def. Bristol Marunde via elbow
Travis Browne def. Gabriel Gonzaga via elbows
Anthony Njokuani def. Roger Bowling via punch
TJ Dillashaw def. Hugo Viana via punches
Joseph Benavidez def. Darren Uyenoyama via punch to body
Chad Mendes def. Darren Elkins via punches
Matt Brown def. Jordan Mein via punches and elbows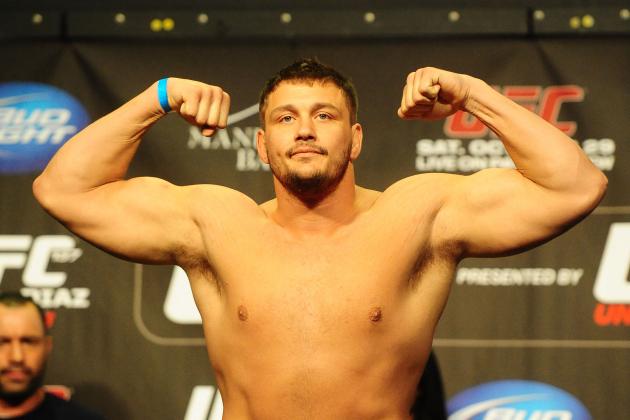 Mark J. Rebilas-USA TODAY Sports

UFC on Fuel TV in Sweden didn't see too many finishes on the day, but the knockout by Matt Mitione on British counterpart Phil De Fries was devastating, violent and spectacular.
Just 19 seconds into the round, De Fries rushed in and got caught by a Mitrione punch. That strike put De Fries on his butt, only for Mitrione to follow up and hammerfist the living daylights out of the British grappler.
This knockout was nothing too fancy, but its combination of quickness, violence and tenacity earned the fifth spot on this countdown.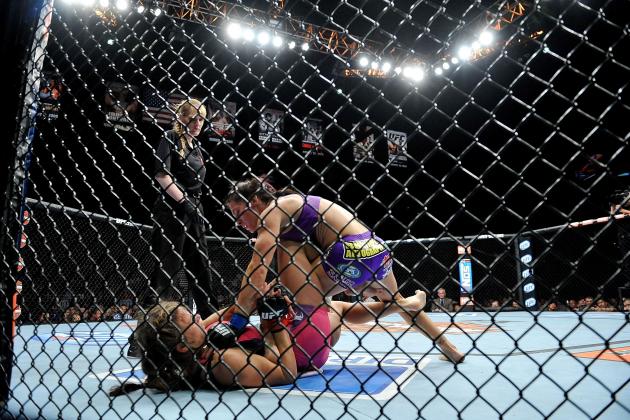 Gary A. Vasquez-USA TODAY Sports

The fight between Cat Zingano and Miesha Tate could make the top five fights of the month, so far, but Zingano's finish of Tate will earn her the fourth spot on this list.
Though there is some controversy to the stoppage, as referee Kim Winslow may have stopped the bout too early, it doesn't shield the fact that Zingano earned the stoppage impressively. After two-plus rounds of battering one another, Zingano caught Tate near the fence.
Zingano unloaded with a series of knees to the head. Stunned Tate went into survival mode while "Alpha" threw a barrage of elbows to the dazed "Cupcake."
Winslow stepped in on the obviously shaken Tate and called it. Controversy or not, Zingano effectively won in impressive fashion.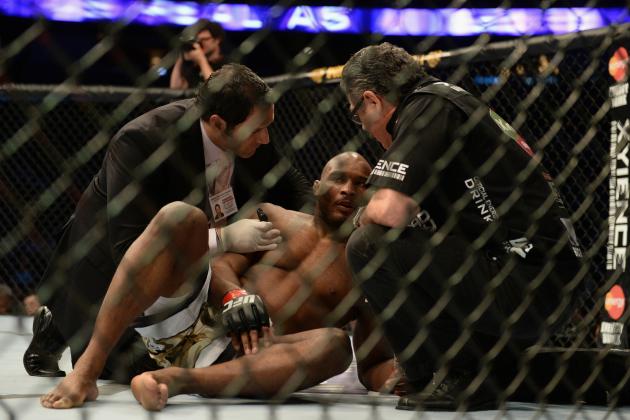 Kyle Terada-USA TODAY Sports
Clifford Starks was left in a heap.
If you missed the Facebook action from UFC on Fox this past weekend, then you missed a devastating flying knee knockout put on by Olympic silver medalist Yoel Romero.
The Cuban-born wrestler showed off his striking ability, as it took him under two minutes to put away Clifford Starks. Romero saw his opportunity and laid Starks out with the flying knee. A couple of punches later, the referee had to save the American from further damage.
It got co-knockout of the night honors, which is impressive seeing the amount of great knockouts that happened on the card.
Kyle Terada-USA TODAY Sports

This fight didn't win Knockout of the Night at UFC on Fox, but it certainly made ESPN's Top 10 the next morning. Though Myles Jury didn't get the bonus check, he did get a nice compensation prize from ESPN's exposure.
Jury took on Ramsey Nijem, a man who possesses good wrestling and powerful striking. Nijem is known to be a wild puncher, so Jury, a good counterstriker, waited for Nijem to bullrush him and caught the Palastinian-American square in the jaw.
The follow-up punches were unnecessary because Jury had already put his lights out. It was one of the most violent knockouts of the year so far.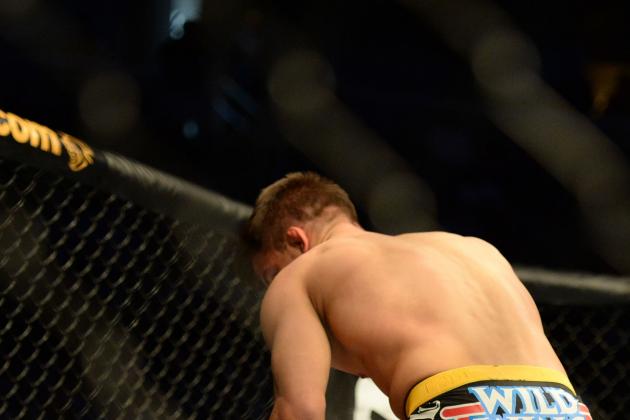 Kyle Terada-USA TODAY Sports

Nobody can challenge the toughness of a Diaz brother. Rarely are they finished in fights, and rarely are they outgunned on the feet.
Longtime veteran Josh Thomson was fighting for respect at UFC on Fox, as many fans did not give him much of a chance against the former title challenger. However, for two rounds, "The Punk" proved to be a superior fighter to the Cesar Gracie disciple.
Midway through the second round, Thomson uncorked a devastating head kick on Diaz that had him reeling. Thomson smelled blood and went for the kill, landing multiple punches to Diaz who turtled up in the corner.
The beating was so bad that Diaz's corner actually threw the towel as the fight was getting stopped. All that considered, this has been the best knockout, so far, in April.