2013 NFL Draft Predictions: 10 College Studs Who Will Go Undrafted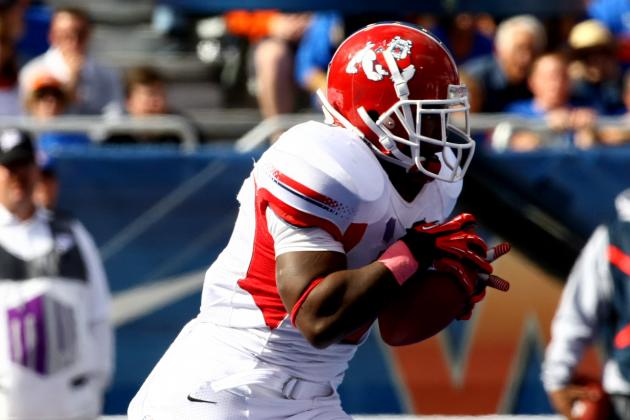 Brian Losness-USA TODAY Sports
Fresno State's Robbie Rouse's best shot at making it in the NFL is as an undrafted free agent.
For a multitude of reasons, many players who have very productive college careers fail to match that level of production in the NFL.
In some cases, a player's failure to succeed in the NFL can be a result of lacking motivation, injury issues or simply ending up with a team that isn't the right fit. In other cases, however, a player's skill set or measurables simply do not translate to next-level success.
The following 10 players fall toward the latter. While all 10 of these players had great collegiate careers, chances are each of them will fall outside the 254 draft selections later this week because their games are not as well suited for the NFL as they are for collegiate production.
That's not to say that these 10 players can't be successful NFL players—many undrafted free-agent signees end up making 53-man rosters each year—but they will have more of an uphill battle than the players selected in the draft.
All workout numbers are from the 2013 NFL Scouting Combine and found via NFL.com unless otherwise noted.
Begin Slideshow

»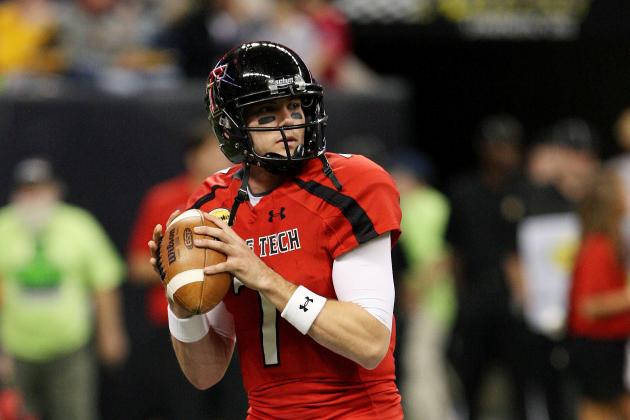 USA TODAY Sports

Seth Doege has been among the NCAA's leading passers over the past two seasons, completing a combined 69.3 percent of his passes for 8,209 yards and 67 touchdowns. But like many other recent Texas Tech quarterbacks, putting up gaudy statistics in the Red Raiders' pass-happy spread offense does not mean he will be drafted or make it as an NFL quarterback.
Looking beyond the statistics, his game tape indicates that he is not worth a draft selection. While Doege showed a mastery of completing short, quick and simple passes, he has little experience fitting downfield throws into tight windows. He also lacks arm strength and possesses poor pocket presence.
Doege really struggled to drop back from under center and complete downfield throws in both the East-West Shrine Game and the Texas vs. The Nation Game, an indication that his game is not well suited for the NFL. He deserves a shot to compete in a training camp, but there are many other quarterbacks in the 2013 draft class worth a late-round draft pick before Doege.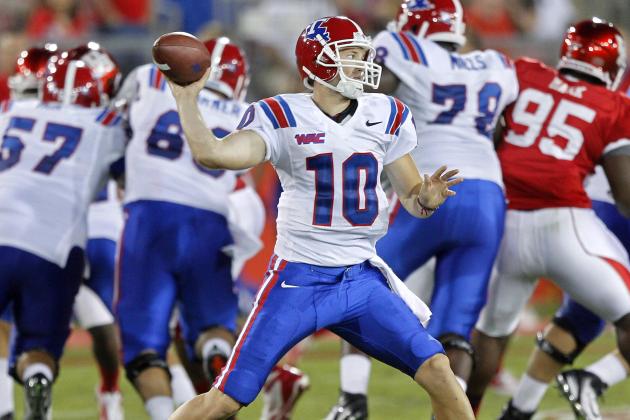 Bob Levey/Getty Images

Like Kellen Moore and Case Keenum one year earlier, Colby Cameron joins Seth Doege in the 2013 NFL draft class as quarterbacks who ranked among the NCAA's passing yardage leaders in their senior seasons but are likely to end up unselected in the draft.
Cameron completed 68.8 percent of his passes for 4,147 yards and 31 touchdowns with only five interceptions in 2012. Like Doege, however, Cameron benefited statistically from playing in a quick-passing spread offense at Louisiana Tech; he struggles to put zip on his downfield passes.
Cameron is a smart quarterback and an accurate short passer, but he doesn't have much experience or skill making tough NFL throws. He could make an NFL roster as a third-string quarterback and game manager, but he doesn't have the physical tools to warrant being selected.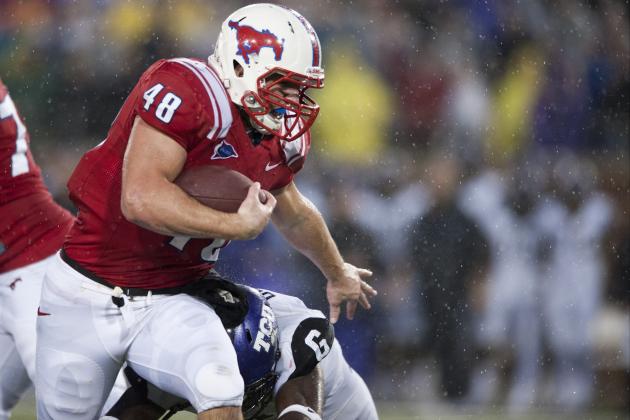 Cooper Neill/Getty Images

Zach Line is one of SMU's most productive running backs of all time (No. 2 in rushing yards, tied at No. 1 in rushing touchdowns) from a school whose alumni include Pro Football Hall of Famer Eric Dickerson, Craig James and Reggie Dupard.
But while Dickerson and Dupard were both first-round NFL draft picks and James was a first-round USFL draft choice, Line may not be worth a draft pick at all.
Line has very good size for a running back (6'0", 231 pounds), but he is not a bruising power back, while he also does not have the speed or quickness to run by defenders and make them miss. Although some project him as a fullback at the next level given his size, he does not have much blocking experience and would not be worth a draft pick as an inexperienced player at a fading position in the NFL.
Line is a hard runner who has a shot to make an NFL roster as a third-string back and special teams player, but at running back, one of the easiest positions to find undrafted talent, Line is not worth a draft selection.
Brian Spurlock-USA TODAY Sports

There is a lot to like about Fresno State's Robbie Rouse. He ran for 4,647 yards and 37 touchdowns in his Fresno State career, proving to be a physical runner with good quickness and receiving ability out of the backfield.
The problem for Rouse is that he simply may not measure up to being an NFL draft pick, in terms of both size (5'6", 190 pounds) and speed (4.8-second 40-yard dash at the NFL Scouting Combine). He will struggle at both running between the tackles and running away against the NFL's bigger, faster defenders, and he's unlikely to hold up in pass protection given his lack of height.
Rouse has surprising power for his size and could make some plays with his short-area quickness and hands, but his subpar measurables slot him as a likely priority free-agent signing.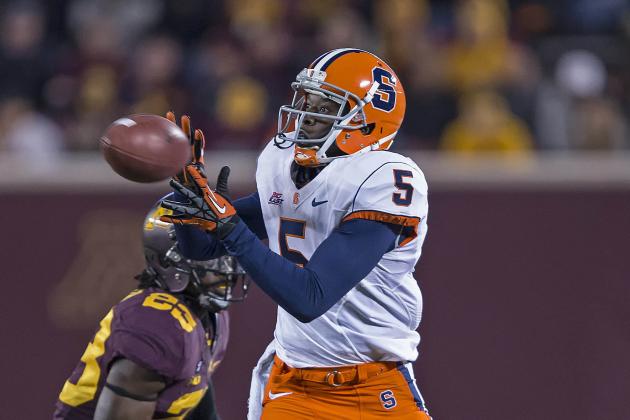 Jesse Johnson-USA TODAY Sports

Syracuse has some strong draft prospects likely to go in the draft's first two days this year, but one who will most likely be left on the outside looking in is wide receiver Marcus Sales, even though he had 132 receptions for 1,780 yards and 16 touchdowns in his collegiate career.
Sales has flashed brilliance at times, but inconsistency has been an issue. He does not have natural hands, and though he plays like an outside receiver, he does not have great measurables to play on the outside (6'0", 191 pounds, 4.56-second 40 at Syracuse's pro day, per NFL.com).
Additionally, Sales has some serious character questions after missing the entire 2011 season due to a drug suspension. For a player who will be a fringe draft pick anyway, Sales' checkered past all but assures he will have to make his way into the league through the free-agent ranks.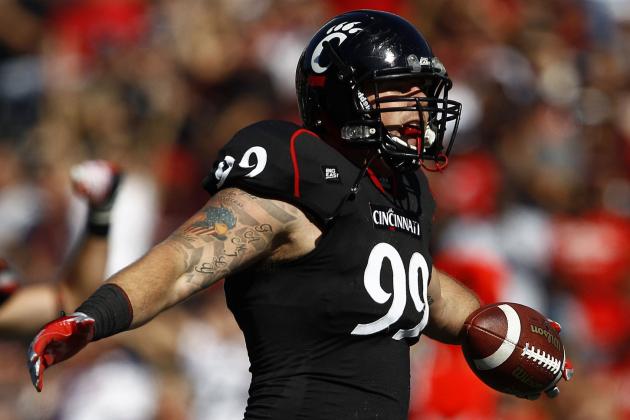 Frank Victores-USA TODAY Sports

Dan Giordano was a productive player for Cincinnati four years running, racking up 30 career tackles for loss and earning recognition on the All-Big East first-team defense in his senior season. However, he does not stand out enough in any one area to merit an NFL draft pick.
Giordano is good with his hands and had some pass-rushing success at Cincinnati, but he lacks the explosion and athleticism to be a pass-rushing specialist. He struggles as a point-of-attack run defender, tending to get driven back by stronger blockers.
He is a decent player, but he may have a tough time cracking an NFL rotation aside from being back-of-the-rotation depth and playing on special teams.
Giordano is a high-motor player who may be able to make some plays in the backfield with his good technique, but if he makes an NFL roster, it will most likely happen as an undrafted free agent.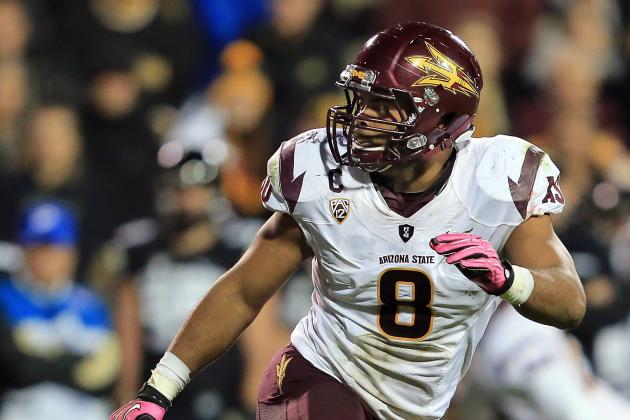 Doug Pensinger/Getty Images

Brandon Magee comes off a very productive senior season in which he had a team-leading 114 tackles, 12.5 tackles for loss and 6.5 sacks, as well as being named a second-team All-Pac-12 selection. The problem for Magee, however, is finding an NFL position.
He played everywhere from middle linebacker to pass-rusher at Arizona State, but at only 5'11" and 223 pounds, he is well undersized for both of those positions at the next level.
Magee is a good athlete who can make plays as a weak-side linebacker with his speed and lateral agility, but he can get overwhelmed by blocker size against the run and does not have great coverage skills for a player who is built more like a safety than a linebacker.
Magee's athleticism and tackling ability give him significant potential as a special teams player, but he is likely limited to playing there and could be a tough sell as a draft selection.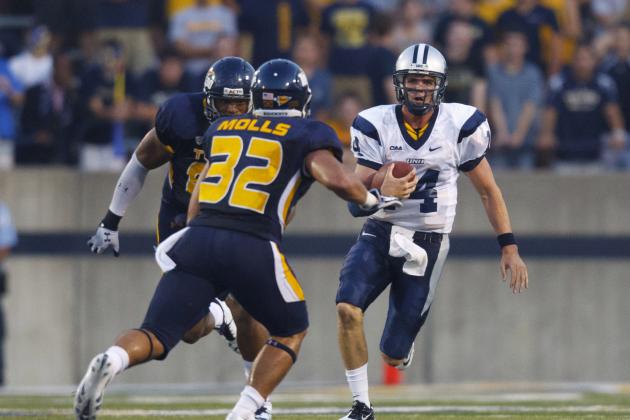 Rick Osentoski-USA TODAY Sports

Dan Molls had no shortage of production in his Toledo career, leading the nation as a senior with 166 total tackles and finishing his career with more than 400 total tackles. But while he was a tackling machine in the Mid-American Conference, his NFL upside is very limited.
He is an undersized linebacker at only 6'0" and 238 pounds and is a limited athlete. While he is an instinctive player, sound tackler and active defender, he is not a great blitzer and makes most of his plays downfield.
Molls has a definite shot to find a home on special teams, but even with all of his collegiate production, he does not project particularly well as an NFL middle linebacker and will likely be passed up in favor of bigger, stronger and more athletic playmakers at the position in the seven rounds of the draft.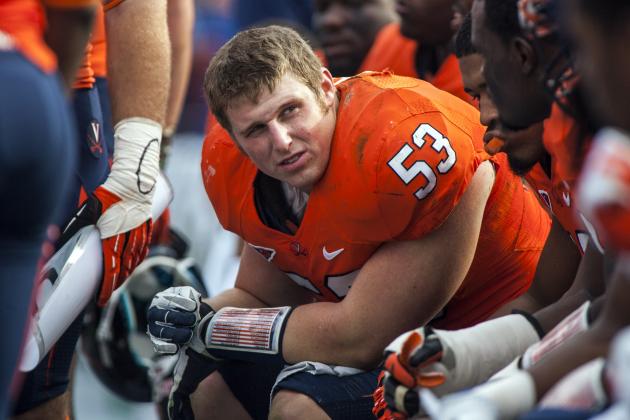 Peter Casey-USA TODAY Sports

Steve Greer was one of the best linebackers in the Atlantic Coast Conference last season, earning first-team All-ACC recognition as the leader of Virginia's defense. That said, the physical, run-stopping middle linebacker may have too many limitations in his game to warrant a draft selection.
Greer is both undersized (6'0", 231 pounds) and slow (5.0-second 40 at Virginia's pro day, according to The Sports Xchange). He struggled in pass coverage even at Virginia and could be a liability in that area in the NFL.
Greer is a good leader and instinctive football player, but his only likely home in the pros is on special teams. Given that, Greer should go undrafted.
Thomas Campbell-USA TODAY Sports

Darnell Taylor made a name for himself as one of the best players at the FCS level of college football over the past two seasons, earning All-American recognition in back-to-back years from the American Football Coaches' Association as well as back-to-back Southland Conference Defensive Player of the Year awards.
Taylor is an athletic safety who is very good at making tackles in run support and has potential as a strong safety and special teams player.
That said, as a smaller safety (5'11", 204 pounds) who needs to improve his coverage skills, Taylor's probability to be drafted is very low due to an ACL injury he suffered in the FCS Championship Game (according to The Sports Xchange).
If healthy, Taylor would have a fighting chance of being selected in the late rounds, but an injury should push him to undrafted free-agent status. However, he could develop into a good backup safety and special teams player if he can recover to full health.
Dan Hope is an NFL draft featured columnist for Bleacher Report. Dan will be a national draft correspondent for B/R during the 2013 NFL draft.