Alexis Davis vs. Rosi Sexton Head-to-Toe Breakdown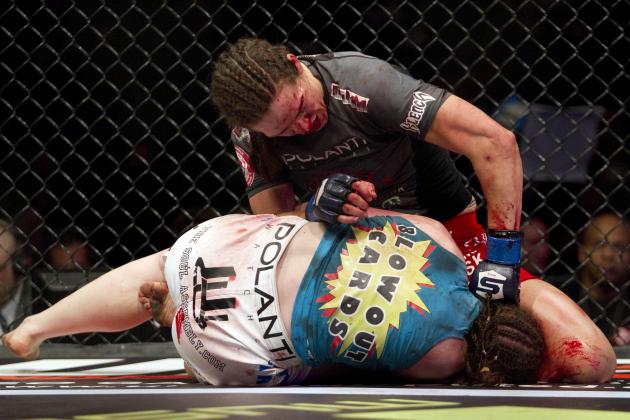 Greg Bartram-USA TODAY Sports

Alexis Davis (13-5) and Rosi Sexton (13-2) continue the string of female debuts in the UFC when they meet at UFC 161 in June.
Sexton will move up to bantamweight for this fight. She was highly ranked in the flyweight division during her time at 125 pounds.
Davis is currently ranked fifth in the UFC's official rankings. In MMARising's pound-for-pound rankings Davis ranks fifth, and Sexton comes in at 11th. It is a battle between two of the best veterans in the sport today.
With The Ultimate Fighter housing Ronda Rousey and Cat Zingano, this fight is unlikely to produce the next title challenger, but the winner will put herself in prime position for a contender's bout.
Here is your early breakdown for this women's bantamweight bout.
Begin Slideshow

»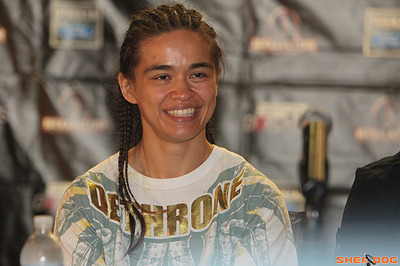 Photo Credit: Dave Mandel/Sherdog.com
Both of these women are primarily grapplers, but all fights start standing. Furthermore, neither of these two warriors back away from a good old-fashioned brawl.
Davis has continued to improve her striking throughout her career. She stood toe-to-toe with Sarah Kaufman in Columbus in 2012, but was busted up on the feet. Her stand-up looked better in January when she defeated Shayna Baszler.
Sexton has also developed her striking game, and even though she is the smaller fighter, she holds the advantage standing.
Why?
Power. Sexton has a natural power advantage. She hits hard. Davis is tough, durable, and likely won't be stopped, but Sexton has the ability to alter fights with her hard hitting. It is something to keep an eye on if they exchange.
Edge: Sexton
Photo Credit: Dave Mandel/Sherdog.com
Sexton opened her career with four straight submission wins, and she has added three more for a total of seven in her career. Davis also has seven submission wins on her pro MMA record as well.
Sexton holds a brown belt in jiu-jitsu, but the color of the belt is not the most important thing in MMA. When ground and pound is added to the equation, it can make a black belt fight like a blue belt. Unfortunately, that's not the case with Davis.
Davis holds a black belt in jiu-jitsu and trains with some of the best submission artists in the game at Cesar Gracie's Jiu-Jitsu. Her length and better training partners give her the edge on the mat. Nothing Sexton will present to her will trouble her on the canvas.
Her last performance was most impressive. Shayna Baszler is a qualified submission grappler who is one of Josh Barnett's pupils. Davis choked her unconscious. She is ruthless on the mat.
Edge: Davis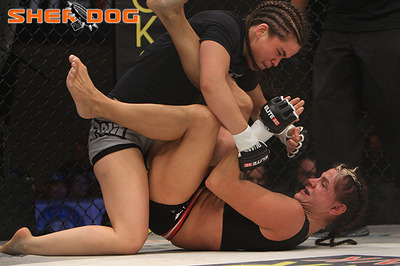 Photo Credit: Dave Mandel/Sherdog.com
Davis has more total fights and more fights in recent years, but Sexton has more experience in the world of MMA than most women fighting today.
Sexton's first fight was in 2002. She is one of the pioneers of the women's game. She's fought some of the top names including Gina Carano in Carano's second pro bout. She gave up a lot of weight in that fight, and was defeated by KO.
She has also battled another pioneer in Debi Purcell. That name is missing from newer fans of the sport, but she is one of the fighters who helped start women's trek into it.
Sexton has been around and seen a lot. She's been in and out of gyms honing her skills. It is nice to see one of the long time stars of the women's side of the sport get rewarded with a walk to the Octagon.
Edge: Sexton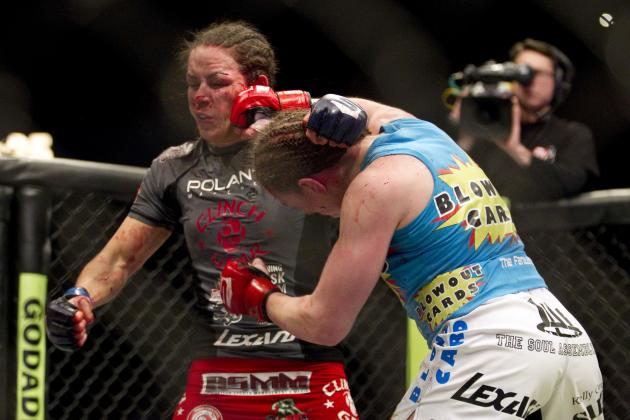 Greg Bartram-USA TODAY Sports

Davis' X-Factor: Avoiding Sexton's Power
Davis does not mind exchanging on the feet, and she will likely have a reach advantage to assist her in this fight. But she does not want to get involved in a straight-up kickboxing match with Sexton.
It is entirely possible Davis edges her out on the feet, but the power of Sexton has to be watched at all times.
Davis will be smart to stick to technical boxing on the feet. No brawling. Utilize her jab and keep Sexton on the outside until she is ready to clinch or shoot for a takedown. She doesn't want to make a mistake and eat a big power shot from Sexton.
Sexton's X-Factor: Davis' Strength Edge
Davis is the bigger fighter, and she will have a strength advantage.
That will play a big role in the clinch and on the mat. Sexton will have to manage this and pick her spots when she is involved in these positions. Davis' bigger body will force Sexton to exert more energy throughout the fight.
Technique will have to come into play in positions where Davis holds the strength edge. If and when she makes a mistake and leaves a small window of opportunity, Sexton must act fast.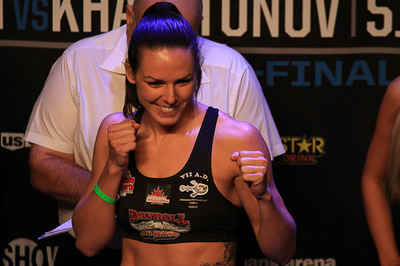 Photo Credit: Dave Mandel/Sherdog.com
If these two ladies were identical in size, I would be torn in whom to pick. That is how good these two are technically. Unfortunately, they are not.
Sexton is a flyweight. That is where she belongs, and hopefully she can find herself in Invicta FC fighting Barb Honchak for the flyweight championship by year's end. That is an exciting fight in its own right.
Davis will simply be too big and too strong for Sexton. Davis can muscle her around in positions where strength plays a vital role, and that includes being on top when it hits the mat.
Eventually, the hard work of trying to overcome Davis' strength will tire Sexton out. Davis' diligent work will pay off with a submission victory. Davis will move closer to a potential title shot, and show that she is one of the best women at bantamweight today.
Prediction: Davis defeats Sexton via submission (rear-naked choke) in the third round