Dispelling Myths Surrounding Key 2013 NFL Draft Prospects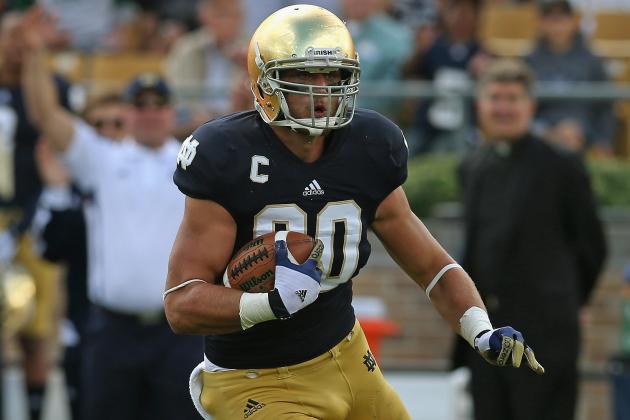 Jonathan Daniel/Getty Images
Is Eifert limited to only catching passes?
This is a pretty self-explanatory title for the slideshow. It's time to take a look at some of the more bothersome myths surrounding this year's key prospects. As with all myths, the ones in this article can be both negative and positive. For the sake of balance, I try to give a little bit of both.
So, without wasting too much time in rhetoric and unnecessary explanation, let's get straight to the good stuff.
Begin Slideshow

»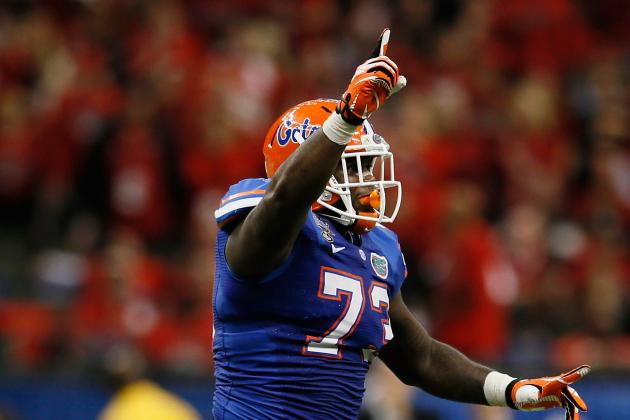 Kevin C. Cox/Getty Images

This myth is perpetuated over and over again in numerous mock drafts, yet the reasoning seems to be only half thought-out. Typically, a top-five defensive tackle should stand out above and beyond the competition. However, Floyd fails to do this in any area of his game worth looking at.
If you look at college production relative to the number of games played, Floyd ranks only fourth among his fellow interior linemen. But perhaps you're thinking his production is more specific to a guy who can penetrate the line and make plays in the backfield. Well, using a weighted formula that calculates that relative to the number of games played, Floyd finishes fourth in that category as well.
Another possible argument to make is that Sharrif is a great athlete with the physical tools to justify his very high potential. Well, in that area, he bumps up to third overall, which is only a slight improvement from fourth and in no way distinguishes him at the top of his position.
Floyd should be considered one of the best defensive tackles in this game and has earned the right to be drafted in the first round, but there really is nothing that has convinced me Floyd belongs anywhere near the top five overall. Sheldon Richardson is the best bet for a tackle to go in the top five.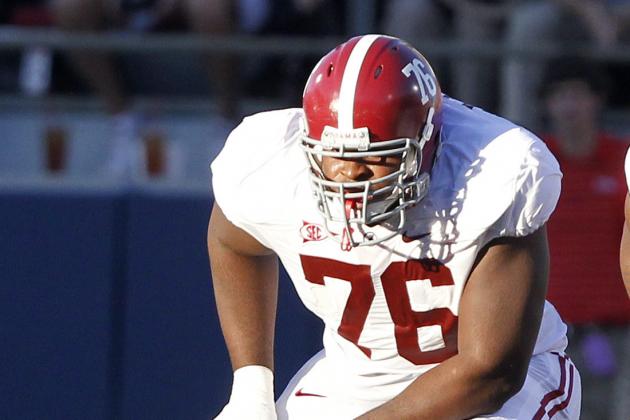 Butch Dill/Getty Images

It seems as though many talent evaluators prematurely jump to conclusions about a prospect based on a few surface observations. No, D.J. Fluker does not have the foot speed of a Matt Kalil or Eric Fisher, but that doesn't make him a poor pass-protector right off the bat.
From the film I've studied, Fluker makes up for his slower feet by using his extremely long reach. In fact, he may have the longest arms in the draft this year. Those anacondas measure in at nearly 37 inches long, which is absolutely ridiculous for a human being.
There are indeed games in which Fluker gets beat in pass coverage or gives up a sack, but turning an isolated play into a negative attribute is a bit lazy.
I will leave you with a quote from CBSSports.com:
Fluker has made 35 starts in his career, including all 13 games this season at right tackle. Through the regular season, he graded out at 98.3 percent, missing just 11 assignments in 653 plays. Fluker is second on the team in pancake blocks with 30 and allowed only four sacks from his position in 266 pass attempts. - Alabama football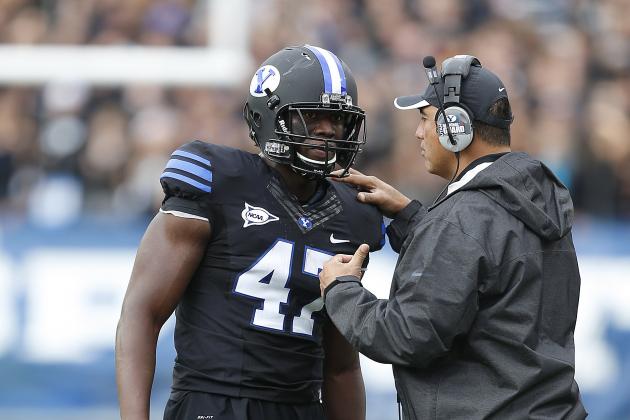 George Frey/Getty Images

Anytime a negative attribute of Ezekiel Ansah is pointed out, the natural response is to fire back with how inexperienced he is. Well, to that, I say Ansah is not the first or the only prospect in this draft with little experience, nor is he the only guy who looks raw on the field.
Being rough around the edges is absolutely understandable if that's what the issue seems to be. But what do you do when every flaw in a prospect's game seems to be chalked up to the idea that he just doesn't know any better yet?
What do you blame when a player consistently shrinks in competitive moments? Is inexperience the cause for a glaring lack of functional strength, balance and general clumsiness as well? And if so, where do you draw the line?
Ansah is often compared to another player who didn't play much football until college, Jason Pierre-Paul. But those comparisons are highly inaccurate. JPP produced pretty impressive numbers every year he played college football, whether he was at junior college or USF. He also demonstrated excellent coordination and body control and seemed to have natural playmaking instincts and a strong competitive drive.
Considering Ansah has spent three years in a big-time college football program and barely saw the field until his junior season, he has me worried.
Margus Hunt is another prospect who is inexperienced at football, yet he seems to show much more promise than Ansah. His athleticism and strength really pop out on film, while Ansah's athletic gifts seem hidden in his confusion and uncertainty—which, by the way, are not characteristics that show up on JPP's college film at all.
The idea that Ansah is an elite prospect based on athletic ability alone is clearly a myth. His flaws are not something to toss out as trivial. They will likely follow him throughout his career for years. Only by working hard and possessing the necessary drive as a competitor will he shed the issues that have haunted his college resume.
This makes Ansah a risky gamble anywhere in the first round.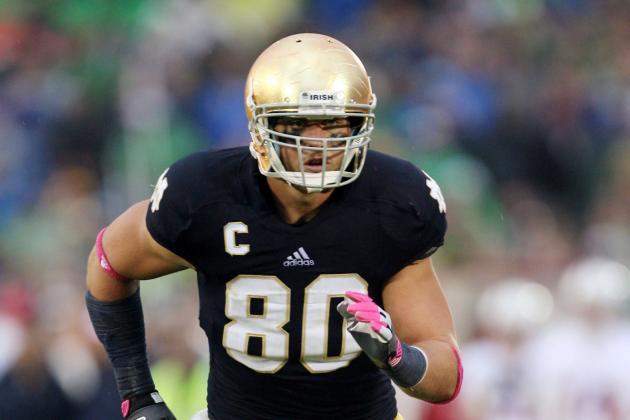 Brian Spurlock-USA TODAY Sports

I agree Eifert is not the best blocking tight end to come along in years, but to say he is an average blocker for his position does him a great disservice.
Eifert shows excellent effort in his blocks, especially when he's responsible for a key block on the play side of a designed run. In addition, he demonstrates ideal effort and desire to run down the field looking to make the critical block that could be the difference between a big run and a touchdown.
In terms of technique, he displays excellent hand placement while staying underneath himself and under control. He could, however, improve his knee bend and leverage at times.
Another impressive attribute is his functional strength and leg drive for such a lean pass-catching tight end.
All in all, I have yet to see a tight end in this class who has the combined effort, technique, leg drive and strength in blocking as I saw in Eifert. The only guys even remotely in his class in this area are Dion Sims of Michigan State and Travis Kelce from Cincinnati. Sims is stronger and has a much better anchor, while Kelce seems to have a nastier streak to his game.
But neither of those players, or any I've studied, have proved to be a noticeably better blocker than Tyler Eifert.
I would say he's a darn good blocker who will get better as he fills out and gains experience.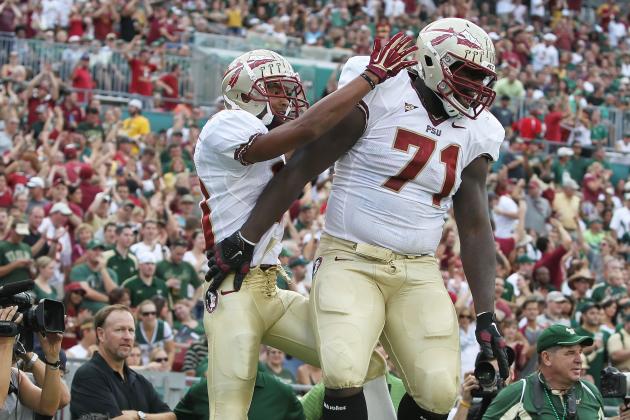 Kim Klement-USA TODAY Sports

Menelik Watson is another player with little experience on a football field. He is considered by most to be a first-round draft pick and could play left tackle at the next level.
Watson was considered a very talented athlete entering this class after having a basketball background and no prior football experience. He played just one year of junior college football before transferring to Florida State.
I may be crazy, but it seems as though everyone who's making mock drafts these days is putting Watson in the first round. Perhaps he is chosen there, but I sure hope it won't be because of his perceived athletic ability. This is a largely overrated portion of his game, and his pre-draft test numbers indicate that what was once thought of as his strength may now be his biggest weakness.
Watson actually scored the lowest measurables grade of any offensive tackle prospect in this draft. I think the myth regarding his remarkable athleticism should be dispelled once and for all. If he is truly a first-round prospect, I hope it isn't because of his perceived physical superiority.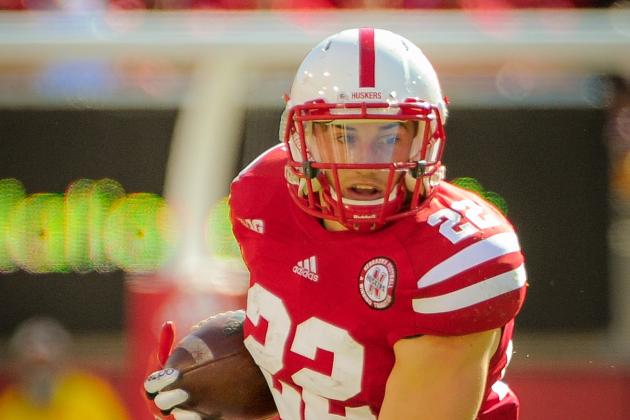 Eric Francis/Getty Images

We look at a running back like Rex Burkhead and we see a tough, hard-nosed runner who hits the hole going north and south. We also see a guy who never shies away from contact. Sure, those traits apply to his game to some degree, but he also has a very impressive physical skill set that's rarely, if ever, associated with his game.
Of all the running backs in this year's draft class, only two (Christine Michael of Texas A&M and Michael Ford of LSU) grade out as more explosive than Rex Burkhead. In fact, he ranks eighth overall among the most physically gifted prospects in this draft.
So just because Burkhead is a physical runner who fights for extra yards, don't assume he can't be fast and explosive as well.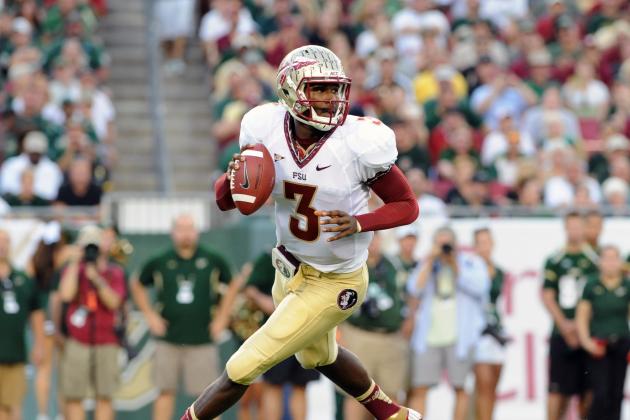 Al Messerschmidt/Getty Images

Sure, Manuel is a fantastic athlete, but he definitely doesn't stand head and shoulders above the rest of the competition as the most athletic at his position.
In a recent article on NFL.com, Cleveland Browns coach and former head coach at Auburn Rob Chudzinski compares E.J Manuel to Panthers quarterback Cam Newton. Newton is a former first-overall draft pick by the Carolina Panthers and is considered to be one of the best athletes in the NFL at his position.
Manuel, however, is not in that class of athlete. He never came close to lighting up the nation with his legs in the same way Newton did, nor does he even have the best tangibles in this draft class.
Geno Smith graded out with a better measurables score than E.J. It might not be surprising to hear Geno is the better athlete, but what may really surprise you is that Zac Dysert and Matt Scott also graded out higher than Manuel in measurables alone.
So even though I'm a big fan of E.J. Manuel as a quarterback prospect in this draft, I believe his athletic ability is being somewhat overrated and blown out of proportion. What makes this guy such a good prospect is not so much his athletic ability, but his accuracy, size and leadership first and foremost.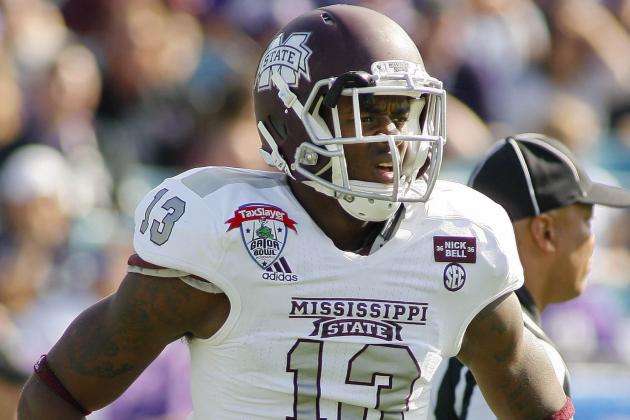 Phil Sears-USA TODAY Sports

It seems the majority of draft experts out there are under the impression that Johnthan Banks is not as good of a prospect as Xavier Rhodes. This came into vogue shortly after each player ran his 40-yard dash at the combine. Rhodes ran a 4.43, while Banks timed in at 4.61. Banks' relatively slow time essentially made him the forgotten man at corner, while Rhodes shot up draft boards across the nation.
The truth of the matter is, when you average out the three speed times taken at the combine, Banks actually ends up with the much faster time. This means he has the lateral speed and change of direction ideally suited for the cornerback position at the next level, which conversely, is rarely reliant upon running 40 yards in a straight line.
It's also worth mentioning that both prospects are fairly similar in size, Banks is one inch taller (6'2"), while Rhodes is a good 20 pounds heavier. This extra weight gives Rhodes the added strength to be perhaps the best press corner available. But that's where the advantages for him end.
Banks has proven himself as one of the most productive cornerbacks in the entire draft. In every statistical category I could find, Banks dominates over Rhodes. Even in comparing these two in tape study, the clear favorite was Banks.
If Rhodes is drafted before Banks on Thursday night, it will be a big surprise. But then again, even NFL teams can make mistakes on draft day. This would definitely be one of them.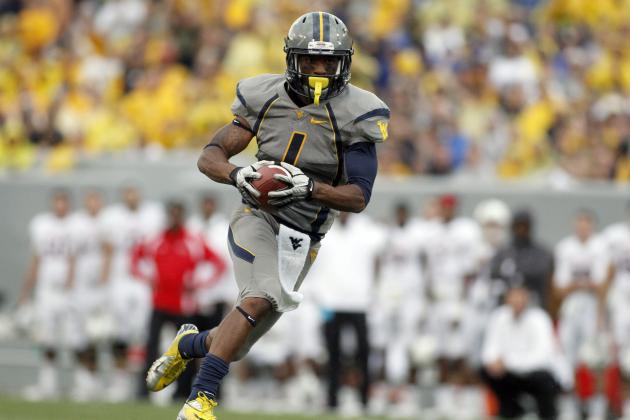 Justin K. Aller/Getty Images

When you hear a wide receiver prospect is 5'8", 174 pounds, the red flags tend to fly up instantly. When you hear that this same "shrimpy" pass-catcher is also considered to be a potential top-15 pick, then the natural reply would be, "When hell freezes over."
Well, it's time to get out your winter coats because this midget playmaker has a Thursday-night date with the top half of the first round.
One of the big concerns with a guy of his size is his durability. Well, it should comfort you to know that Tavon Austin has not missed a single practice in his entire career at West Virginia. This is remarkable considering how many touches Austin has had throughout his career, each one an opportunity to be knocked out of the game.
Austin's top-flight speed and world-class quickness also factor in to this unique situation. His playmaking instincts and ability to separate from nearly every cornerback in the NFL should allow him to thrive at the next level. He has the versatility and soft hands to excel in a creative offense looking to create unique mismatches.
Lastly, in a draft class void of can't-miss playmakers, Austin's stock only gains more value. This is the perfect year for a guy like Tavon Austin to make the most of a special opportunity and dispel any myth that he doesn't belong in the top 15 of this draft.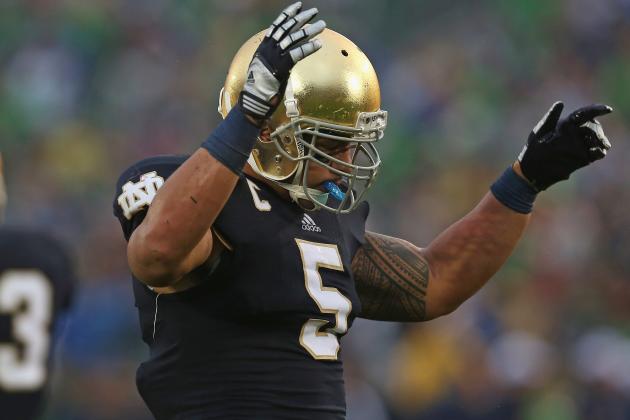 Jonathan Daniel/Getty Images

This myth really eats at me. It's as if a guy who has never had a bad game in his entire career can't fall flat on his face for once—albeit on the biggest stage of his life.
But when you sit down and watch Manti Te'o's career on film, you'll see the only thing that was exposed in the championship game was a guy who was possibly distracted and had a bad game against one of the most physical and talented offensive lines in the country.
When I compare tape of Te'o and Luke Kuechly, who was last year's Rookie of the Year and a former first-round pick, I have to give the edge to Te'o based on his fluidity and playmaking instincts. He also does a much better job shedding and avoiding blocks.
Sure, Kuechly racked up more tackles than pretty much anyone in college football, but watch the way he was protected by his line and allowed to roam free to the ball consistently.
Te'o, on the other hand, is much more of a self-made playmaker. He has to take on blocks and maneuver his way through all kinds of trash in order to make his plays.
The bottom line is this: Te'o belongs in the first round and will be a darn good pro. He may not be a flawless prospect and can even have a poor game from time to time, but it's imperative not to read too much into one game, or else some serious scouting mistakes will be made.
When the smoke clears, whichever team decides to draft Te'o in Round 1 will be acquiring a very good football player and an even better influence in the locker room.