Boston Red Sox: 5 Biggest Surprises so Far This Season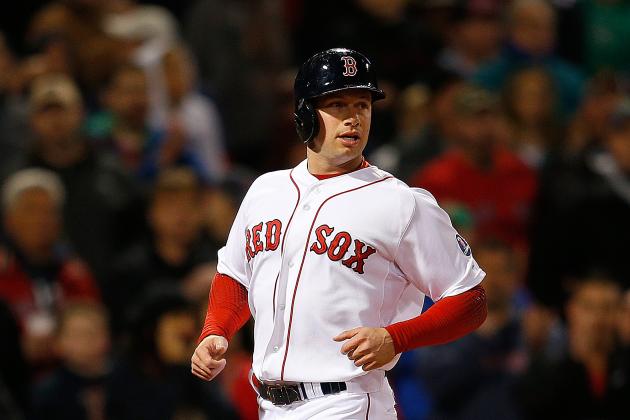 Jim Rogash/Getty Images
Daniel Nava's performance has caught many fans off guard
It's been a fun ride for the Red Sox so far. Several players have been injured, while others have stepped up in a big way, and the team as a whole has been surprisingly strong.
As the Red Sox try to remain contenders in a tough AL East, let's have a look at the biggest surprises thus far.
Begin Slideshow

»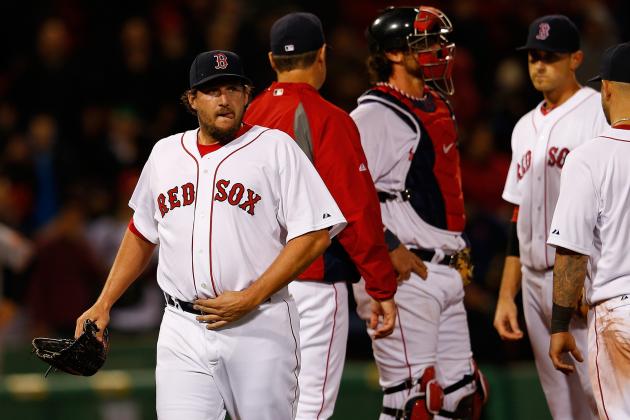 Jim Rogash/Getty Images

The Red Sox took a risk trading for Joel Hanrahan.
They traded a quality reliever in Mark Melancon, along with several other young players in exchange for the Pirates closer.
At the time, the Red Sox assumed they were getting the Hanrahan of 2011 who saved 40 games and posted an elite 1.83 ERA. That flame-throwing pitcher was one of the best, if not the best, closer in all of baseball.
Suffice it to say, Hanrahan's Red Sox career hasn't been pretty so far.
In five innings of work, Hanrahan has allowed six runs, good for an ugly 11.57 ERA. He's also managed to walk five batters and strike out only four.
After a string of horrible appearances, the Red Sox promptly sent Hanrahan to the DL to recover from apparent hamstring soreness that was causing him to pitch poorly.
While the numbers are ugly, it certainly isn't difficult to figure out what's wrong with Boston's closer. While his fastball still touches the mid-90s regularly and his slider has flashed quality break, his ability to command the baseball has vanished.
Just the fact that he's walked more batters than he's struck out is a sign of his lost command. Hanrahan is laboring through innings because he simply doesn't know where his pitches are going.
This isn't the guy the Red Sox traded for, and until his command improves, expect to see Andrew Bailey closing games in Boston.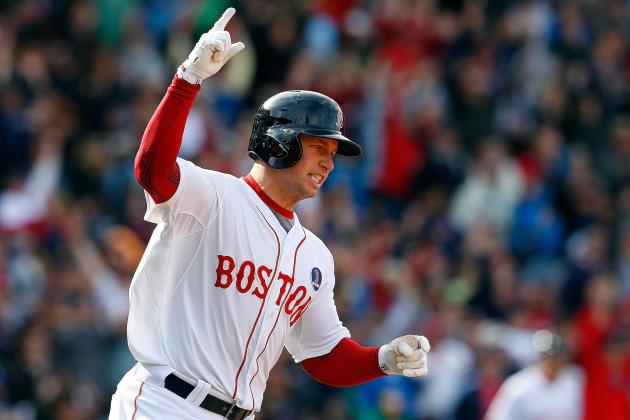 Jim Rogash/Getty Images

On a brighter side of the news, Red Sox outfielder Daniel Nava has been an absolute superstar.
The 30-year-old bench player has spent nearly his entire career in Boston's minor league system. He's managed to work his way up to the big show on a few occasions, but he has never performed like this before.
In 13 games, Nava has posted an incredible .357/.463/.667 slash line, along with four home runs and 14 RBI. If you project those statistics through the rest of the season, Nava will hit 45 home runs and 158 RBI.
While he obviously will not even sniff that level of production, those numbers are a testament to just how valuable he has been to the Red Sox so far this season. Hopefully, he can continue to produce at a high level.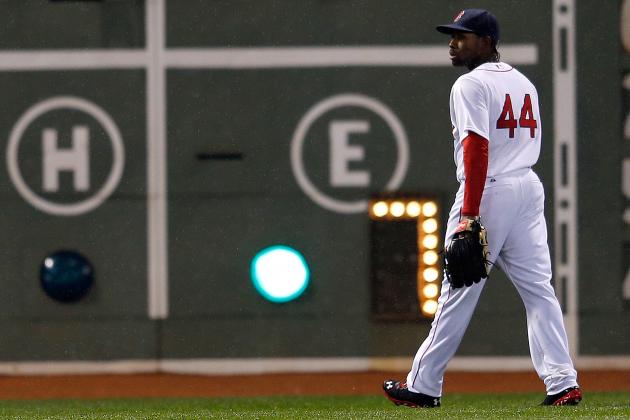 Jim Rogash/Getty Images
Bradley's first taste of Boston was brief
When Jackie Bradley Jr. entered the regular season, everyone expected him to dominate, and with good reason. In 28 spring training games, Bradley absolutely murdered pitchers in spring training, hitting a .419/.507/.613 slash line, tallying 38 total bases.
Bradley failed to carry that heat over into the regular season, however. He only hit .097 in 12 major league games for the Red Sox. Eventually, the Red Sox elected to demote Bradley to Triple-A to let him regain his groove. The move coincided with David Ortiz's return to action after a long stint on the disabled list.
Bradley is still an extremely talented player. Scouts have noted that he still has an above-average to plus hit tool and a very impressive plate approach. He should maintain an elite on-base percentage as a major league regular. Bradley is also a defensive specimen who should routinely compete for Gold Gloves.
Despite his wealth of talent, Bradley's youth betrayed him in his first major league stint. He was just drafted out of college in 2011, so it's impressive enough that he was able to make it to the big leagues so soon. With some time and coaching in the minors, the Red Sox will have a very special player on their hands.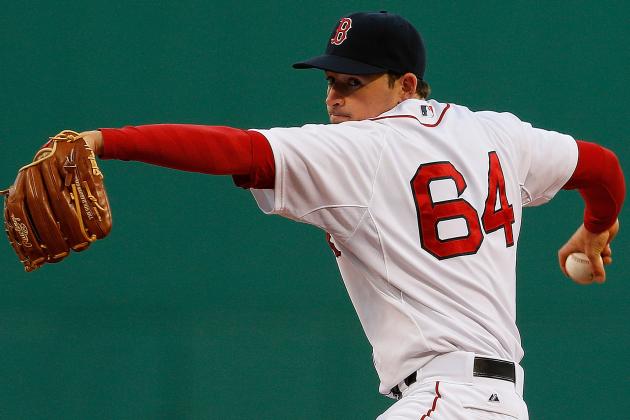 Jim Rogash/Getty Images

For those who haven't yet heard, prized Red Sox pitching prospect, Allen Webster, made his major league debut on Sunday night.
The 23-year-old was called up to augment the Red Sox pitching staff in preparation for a day-night double-header with the Kansas City Royals.
Webster certainly rose to the occasion.
In six innings of work, Webster threw 84 pitches, gave up five hits, one walk, two earned runs and struck out five batters. While his performance did not factor into the decision, Webster kept the Red Sox in the game during his entire outing. He gave way to the bullpen with a one-run lead.
Although the game resulted in a loss for the Red Sox, fans should still be very excited about Wesbter. In his six innings of work, the young hurler showed off a superb fastball that touched 97 on several occasions with very impressive life and late sink.
Webster also flashed a plus changeup and quality slider. Furthermore, for a young pitcher, he wasn't afraid to go right after hitters, delivering first-pitch strikes to all but four of the batters he faced.
While we shouldn't book him a spot on the All-Star team just yet, Webster is just the kind of young live arm any team would want on their roster. Look for this kid to make a huge impact in the future.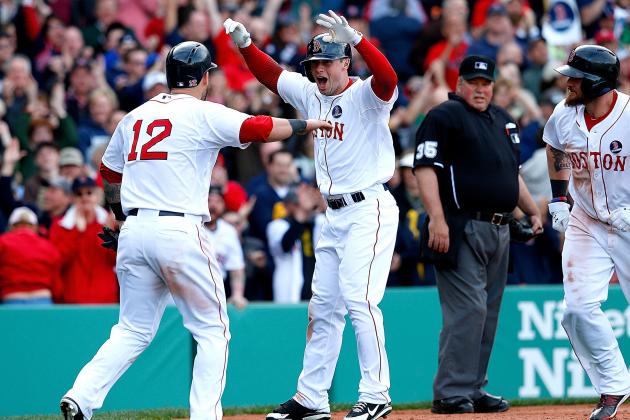 Jim Rogash/Getty Images

Despite a tragic chain of events in Boston over the past week, the Red Sox have still managed to keep on pumping out the Ws.
While they lost their 7-game winning streak in Sunday's double-header, the Red Sox should still be very pleased with their early-season results. They are currently 12-6 and are leading the AL East by one-and-a-half games. It should also be noted that the Red Sox are leading the American league with a plus-31 Run Differential (runs scored minus runs allowed).
The Red Sox have been an impressive team so far. But the question remains: How have they done so well and can they keep it up?
The Red Sox have tapped into an important key equation of winning. It's the old saying: Pitching and defense wins baseball games. Add some good on-base numbers to that idea, and you have yourself an excellent baseball team.
To that end, the Red Sox pitching staff has racked up major league leading 2.71 ERA and 9.82 K/9 rates. Much of that success can be credited to Boston's co-aces, Jon Lester and Clay Buchholz.
On the defensive side of things, the Red Sox currently rank second in the league in fielding percentage with .997 and sixth in the league with a quality 3.0 Ultimate Zone Rating.
And finally, the Red Sox rank fourth in the league with a .337 On-Base Percentage.
While they don't have the same wealth of expensive, big-name players they have in the past, they're doing everything right in nearly every facet of the game. At the end of the day, that's what counts. Time will tell if they can keep it up.
All Statistical information obtained from Fangraphs.com unless otherwise specified.