Final Regular-Season Grades for Each Phoenix Suns Player in 2013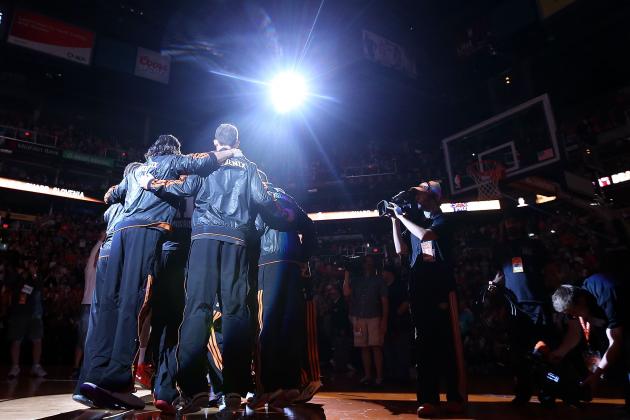 Christian Petersen/Getty Images

The Phoenix Suns closed out the regular season with a record of 25-57, good for last place in the Western Conference.
There were a few players who consistently helped the Suns win games, and even some who exceeded expectations, but in such a terrible season, it is only natural that so many players would struggle.
So, while the Suns had a few gems this season, the individual player reviews are overwhelmingly negative.
Here are the final regular-season grades for every Suns player.
Begin Slideshow

»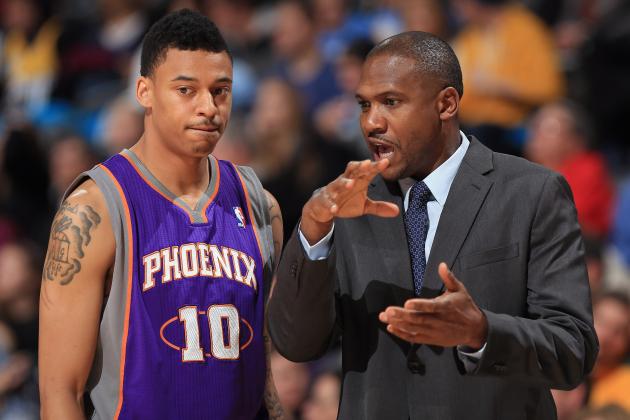 Doug Pensinger/Getty Images

Diante Garrett is the only Suns player who has played fewer than 150 minutes this season, so it is hard to assess him.
Garrett appeared in 19 total games for the Suns, with 10 of those games coming in the final months of March and April, when one might argue that the Suns were "tanking".
As the third-string point guard behind rookie Kendall Marshall, Garrett naturally didn't see much playing time even when he did get off the bench. However, he wasn't at all impressive in the limited time he received.
Garrett shot 16-for-49 from the field this season, which is just under 33 percent. He put up 2.1 points and 1.6 assists per game, had a PER of 9.0 and actually contributed a negative number of win shares.
Still, you have to cut Garrett some slack. If he put up these numbers while playing a solid 10-15 minutes every game I would have no problem failing him, but it is hard to judge someone who really only plays in the fourth quarter of blowout games.
Grade: Incomplete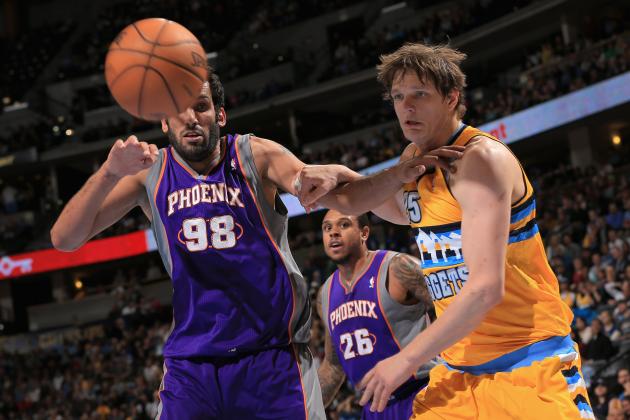 Doug Pensinger/Getty Images

After being acquired from the Toronto Raptors at the trade deadline, Hamed Haddadi has seen a considerable amount of playing time.
With Marcin Gortat and Jermaine O'Neal both missing some time due to injuries, Haddadi took over and played 13.8 minutes per game in 17 games.
At 7'2", Haddadi is a giant who is perfectly capable of being physical down low and blocking some shots. He grabbed 5.1 rebounds and blocked 1.2 shots per game for Phoenix—and also committed 6.9 fouls per 36 minutes.
However, that is really all Haddadi does. He is a big body to intimidate the opposing offense, and while he is great in that respect, he is not a special NBA talent.
He is slow, unable to execute a fast break and even in limited minutes you may see him panting and heaving on the court. He turned the ball over 4.1 times per 36 minutes with Phoenix, and his 46 percent shooting from the field is not impressive either.
Congrats to Haddadi for being a serviceable big man for the Suns in the second half. But you have to think that if he was just a few inches shorter, he might not have a spot in the NBA.
Grade: C+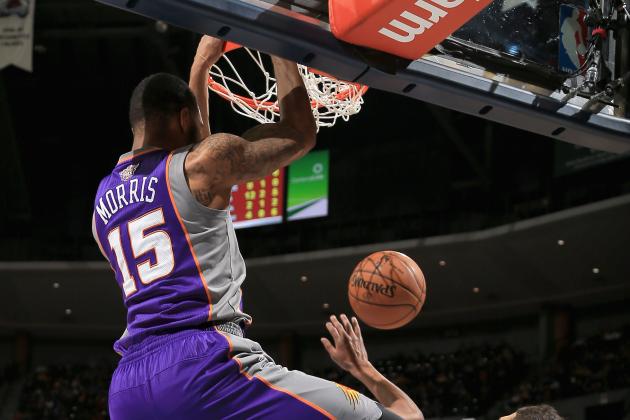 Doug Pensinger/Getty Images

Marcus Morris is the other NBA talent that the Suns traded for at the deadline.
Marcus didn't have as large a role on the Suns as many people initially thought he would, and his second half with Phoenix was much worse than his time in Houston.
Marcus played in 23 games for the Suns, and in 16.1 minutes per game he averaged 5.7 points, 2.5 rebounds and 0.8 steals while shooting 41 percent from the field and 31 percent from three-point range.
Because he just isn't a good defender, Marcus' shooting and great range are what make him special, and those are the aspects of his game that the Suns could really use. Unfortunately, after knocking down 38 percent of his three-point attempts in the first half of the season with Houston, his shot just hasn't been falling ever since.
Marcus can still have a future with the Suns, and hopefully he can put this cold streak behind him and continue to progress in all areas next season. But if he isn't able to take the next step and forever remains a role player, he will never be able to meet his original expectations as an NBA lottery pick two years ago.
Grade: C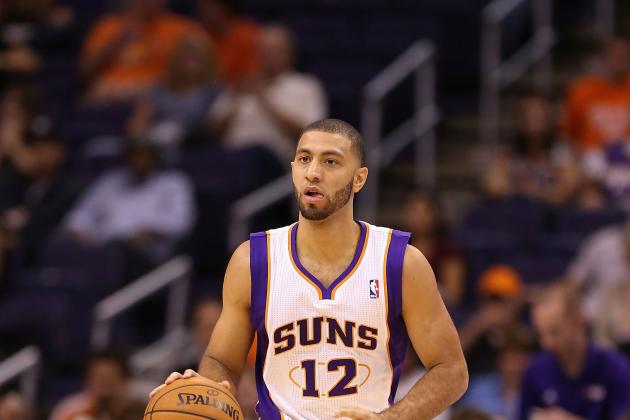 Christian Petersen/Getty Images

I am not angry that the Suns selected Kendall Marshall 13th overall in the 2012 NBA draft. Every draft selection is always a risk worth taking, and to be perfectly honest, there just weren't many better options available.
And while Marshall did start to get adjusted to the NBA, especially after Lindsey Hunter took over as coach, he has not performed nearly as well as many Suns fans had hoped he would.
As the backup point guard, Marshall averaged 3.0 points and 3.0 assists in about 15 minutes of play per game.
That doesn't seem so bad, but passing is practically Marshall's only strength. He shot a terrible 37 percent from the field, and knocked down 32 percent of his three-pointers. That three-point percentage doesn't seem so terrible, but keep in mind that most of those shots were wide open because the defense doesn't perceive Marshall as an outside threat (and rightfully so).
Marshall also isn't aggressive on offense. He almost never attacks the basket, and took just 14 free-throw attempts for the entire season. On defense, he has a lot of work to do, and right now he is completely incapable of containing starting NBA guards.
On the bright side, Marshall showed flashes of great potential in a few NBA starts. He started three NBA games this season and dished out double-digit assists in each game.
But passing cannot be his only great attribute if he wants a successful career in the NBA. Unless Marshall commits to defense and develops his shooting, he may never be a starting NBA point guard.
Grade: C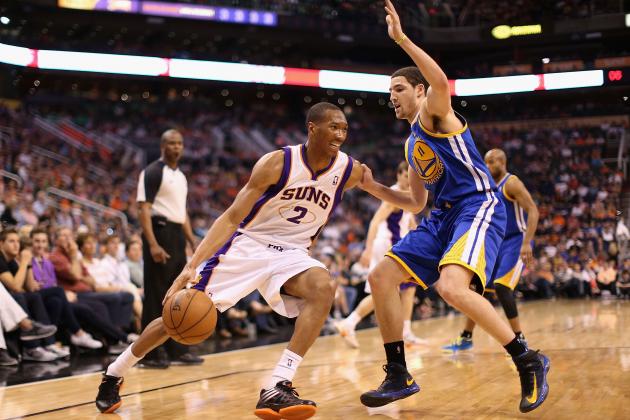 Christian Petersen/Getty Images

In the first half of the season, Wesley Johnson rarely saw playing time under coach Alvin Gentry.
But now that he has been given the chance to play, Johnson has blossomed in a starting role for Phoenix.
Wes started 21 games for the Suns at the end of the season, and he posted averages of 13.4 points and 3.2 rebounds in those games while shooting 43 percent from the field and 32 percent from downtown.
Johnson certainly has his faults. His shot selection is questionable, and there are games where he will take 15-plus shot attempts and still be unable to score 15 points.
But Johnson has had some fantastic games this season as well. He has topped 20 points three times, and in some cases has even been a go-to scorer for Phoenix. He has range, but also has all the length and athleticism required to get to the basket or be a solid defender on the other end of the court.
Johnson is still probably not a future star. In fact, he may not even necessarily be a future starter for Phoenix. But there is a reason he was a top-five pick in the 2010 NBA draft, and he has begun to showcase that great potential and talent in Phoenix.
If he keeps playing this way, he could be an important contributor to the Suns' success for several years.
Grade: B-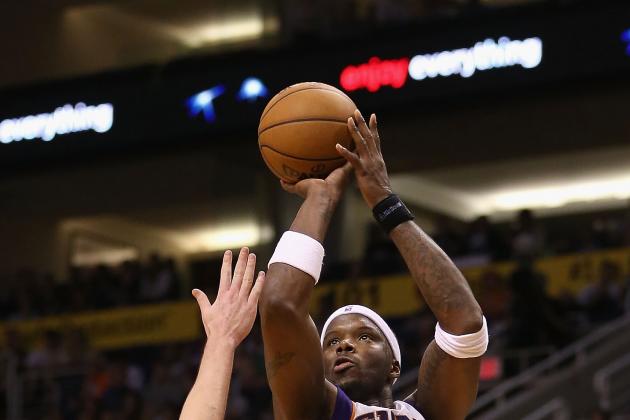 Christian Petersen/Getty Images

When the Suns signed Jermaine O'Neal to a one-year, $1.35 million contract this past offseason, he didn't exactly receive a warm welcome.
O'Neal had struggled in his past two seasons in Boston, where he played just 49 games and was unable to stay healthy. His All-Star days were long behind him, and he looked washed up.
This season, O'Neal was no All-Star. But even so, like many others before him, his career was revived in Phoenix.
O'Neal played 55 games this season as the backup center, putting up 8.3 points, 5.3 rebounds and 1.4 blocks per game. He also shot 48 percent from the field, and his 84 percent shooting from the free-throw line was a new career high.
It's true, O'Neal still had some nagging injuries that kept him from playing 60-plus games for the sixth time in the past nine years. But even so, his per 36 minute stats were back at the level they were at five years ago.
Furthermore, O'Neal was a great veteran for this young, rebuilding team. He never once complained about his limited role, and he never spoke out in frustration about the team's losing season.
He has a bad reputation for his involvement in the Pistons-Pacers Brawl several years ago, but this season O'Neal was nothing but a class act.
Grade: B+
Ronald Martinez/Getty Images

Going into the season, few people knew what to expect from P.J Tucker. After a short stint in the NBA with the Raptors several years ago, Tucker played on various teams in Israel, Ukraine, Germany, Italy and Greece.
Now, considering the fact that Tucker is making less than $1 million this season, it is impossible to say that the Suns made the wrong move given his production.
Tucker played 79 games this season and started 45, with averages of 6.4 points and 4.4 rebounds per game. Those numbers aren't amazing, but Tucker contributes on the court in a number of ways.
First of all, he is a lockdown defender. We're talking about a guy who held Kobe Bryant to four points on one-of-eight shooting. He is athletic, he has a huge wingspan and most importantly, he hustles more than anyone else on the court. There is a reason Tucker has the second-most offensive rebounds on the roster despite being 6'5".
And Tucker may not score often, but he is an efficient shooter. He shoots 47 percent from the field and a solid 31 percent from downtown. He can't be relied on as a consistent scoring option, but he is great in the fast break and certainly doesn't hurt the team offensively.
The Suns found a gem in P.J Tucker. He is only 27 years old, and yet, with his great determination and work ethic, he is probably the best "veteran" for the younger players on that team.
Grade: A-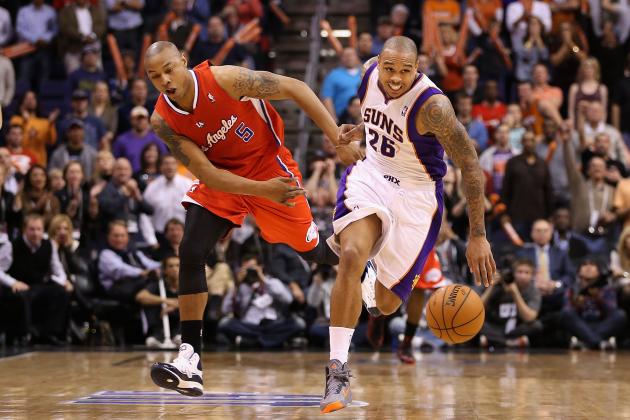 Christian Petersen/Getty Images

It might be difficult to remember, but Shannon Brown actually started 22 games at the beginning of the season. In fact, he was a regular part of the rotation under Alvin Gentry.
However, in the second half of the season, Brown completely lost his spot and found himself sitting on the bench for a lot of games.
Shannon Brown has talent, and he almost certainly isn't the worst player on this team, but what earned him a spot as a bench warmer is his poor shot selection and low shooting percentages combined with a lack of effort on defense.
After a fairly successful season with the Suns last year, Brown struggled with his shot in 2013, shooting just 28 percent from behind the arc, a new career low.
Brown can occasionally have a great game and explode for 20-plus points, just as Michael Beasley will do as well. But for every time Brown wins a game with great three-point shooting in the fourth quarter, the Suns lose two or three games because he takes bad shots and hurts the flow of the offense.
I wish Brown all the best, as he is a very athletic and talented player. However, he just doesn't fit in the team's future plans, and the Suns may release him this offseason.
Grade: F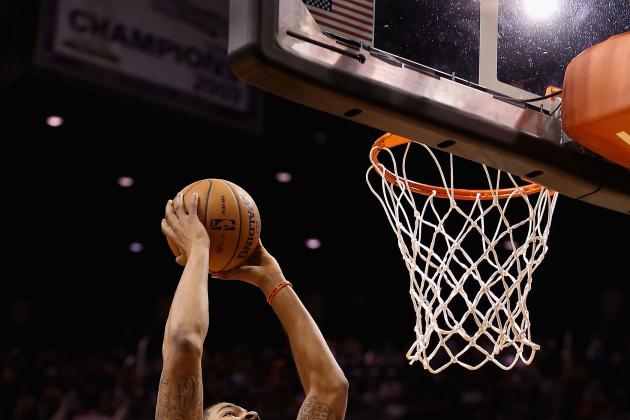 Christian Petersen/Getty Images

Markieff Morris finished the season with averages of 8.2 points and 4.8 rebounds per game, which, at first glance, appears to be just a slight improvement over his rookie year.
It is true, Morris is still not a very efficient shooter and his horrible defense is not praiseworthy, but he did show a lot of progression under Lindsey Hunter in the second half of the season.
After a few terrible months in December, January and February, Markieff finally became a consistent part of the starting lineup in March. From there, he had some great games.
In eight starts in April, Markieff averaged 11.8 points and 6.9 rebounds per game as a starter. He also shot 46 percent from the field, 92 percent from the free-throw line and knocked down 13-of-20 three-point attempts.
It's a small sample size, but it does give Suns fans hope and confidence in Markieff going forward. There are still many issues that Kieff will need to work on this summer, such as his defense.
However, he is a decent rebounder with a lot of range and is a bit of an all-around offensive player. Some declared him a bust, but if he can continue to develop his game, he could be a solid NBA starter for many years to come.
Grade: B-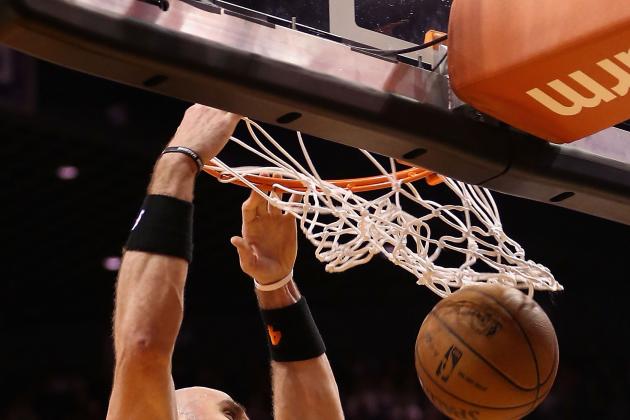 Christian Petersen/Getty Images

Marcin Gortat saw his numbers drop after Steve Nash left for the Lakers. In fact, he went from looking like a possible All-Star last season to being just an average starting center.
Gortat averaged 11.1 points, 8.5 rebounds and 1.6 blocks in 61 games before his season was ended with a sprained right foot.
His loss of production can not all be blamed on him. Goran Dragic is not Steve Nash, and the Suns did not always use Gortat as a weapon on offense. That is why his usage rate went down, and that is why he attempted about 2.5 fewer shots per game this year.
But some blame can be placed on Gortat himself, who clearly showed less of an effort on the court this season. He didn't fight as hard for rebounds, and he clearly wasn't pleased with the team's losing season and had some harsh words for the younger guys.
Gortat had a solid season, but more and more it looks like he isn't interested in being with the Suns long-term. There were many trade rumors concerning Gortat in February, and although nothing materialized, he may be shopped again this offseason.
Grade: C+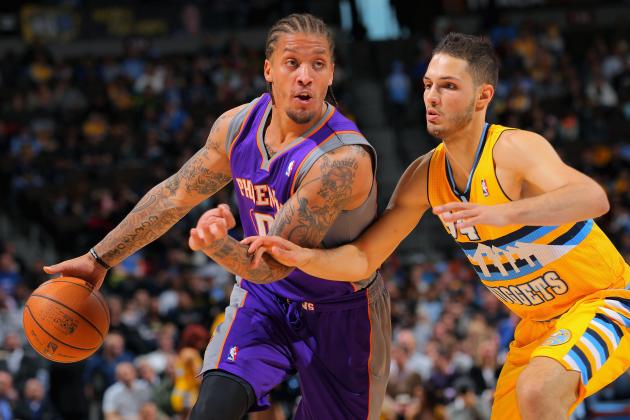 Doug Pensinger/Getty Images

After such a terrible season, you have to feel sort of bad for Michael Beasley. This may have been his last chance to be an impact player in the NBA.
On the other hand, it is just so frustrating to see all that talent and potential go to waste. Heat, Timberwolves and Suns fans alike are all wondering why Beasley can't just get his act together.
This season was by far the worst of Beasley's career. He shot a career-low 41 percent from the field and averaged just 10.1 points and 3.8 rebounds per game. Because of his poor play, he lost his starting spot just 20 games into the season.
Beasley is much like Shannon Brown in that he will occasionally go on a hot streak or have a great game. Beasley had 12 games with over 20 points, and in those games he can do no wrong.
But Beasley is usually nothing other than a liability on offense, as evidenced by his minus-2.5 offensive win shares. He is also lacking on the defensive end and committed 33 more turnovers than he had assists. Really, he was an all-around player this season, only he was terrible in every aspect of the game.
I really wish I had something more positive to say about Beasley, but the Suns expected much more out of a player they are paying $6 million each season. Expect Phoenix to get rid of him in any way they can.
Grade: F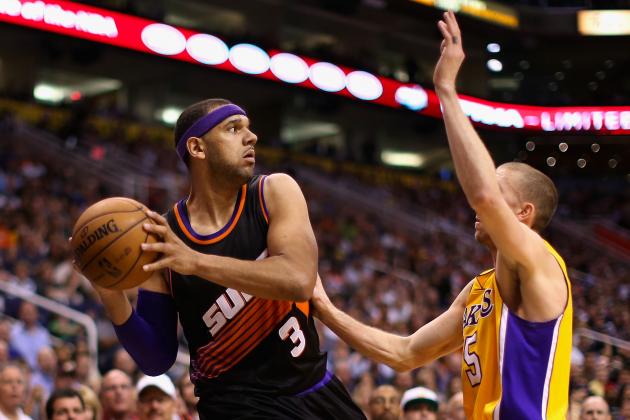 Christian Petersen/Getty Images

Jared Dudley had another solid season for the Suns, but he slowed down in the second half of the season. This drop in production is probably connected to Dudley's minutes being cut, but at one point he even averaged 15.5 points, 4.2 rebounds and 3.6 assists per game as a starter in December. Eventually, he lost his starting spot under Hunter and went back to being a role player/sixth man.
Dudley put up 10.9 points and 3.1 rebounds per game, and he also shot 39 percent from the three-point line, making him the team's only real sharpshooter. He always gives effort on both ends of the floor, he hustles and he is an above-average defender.
But that's really all you can say about Dudley. He is an all-around player, but he doesn't necessarily excel in any aspect and he will have quiet 10-15 points games most of the time. He is a great option off the bench and in the corner for three, but you can't expect him to be a go-to scorer. He just is what he is.
As the longest-tenured Sun, Dudley has become a veteran in the locker room, and that will probably hold true next season as well. Unless the team really wants a roster makeover, Dudley should have a role in Phoenix for the next few years while they rebuild.
Grade: B-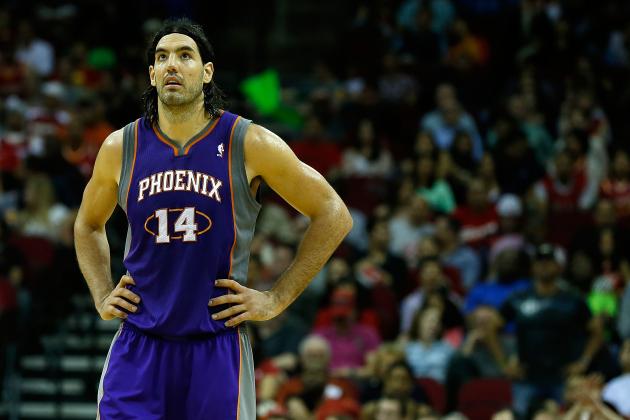 Scott Halleran/Getty Images

Once again, Luis Scola proved to be fascinatingly durable this season. He played all 82 games and now has missed just six games in six NBA seasons.
Scola saw his playing time decrease at the end of the season, but that was due to the team's "youth movement", not his lack of production. Scola put up 12.8 points and 6.6 rebounds per game this season, but if you take his per 36 minute stats, you will see that his production is about the same level it was at in his last season with Houston.
Scola is not a great scorer, but he is an all-around player and was one of the only consistent presences the Suns had this year. He has a great mid-range jump shot and some nice post moves around the basket, and sometimes he will score 20-plus points in a game, as he did 12 times this season.
His defense isn't horrid, but unfortunately he was forced to play center at the end of the season with both Marcin Gortat and Jermaine O'Neal out for some games. In those situations, Scola was easily bullied down low by bigger and stronger players.
At 32 years old, Scola's future with the team is in question. Channing Frye will be back next season and it may be wise to trade Scola in order to allow the Morris twins to develop with more playing time. However, if Scola is traded this summer, it is not because he did a bad job for Phoenix. It is only to create opportunities for the younger prospects, which is a move a rebuilding team has to make.
Grade: B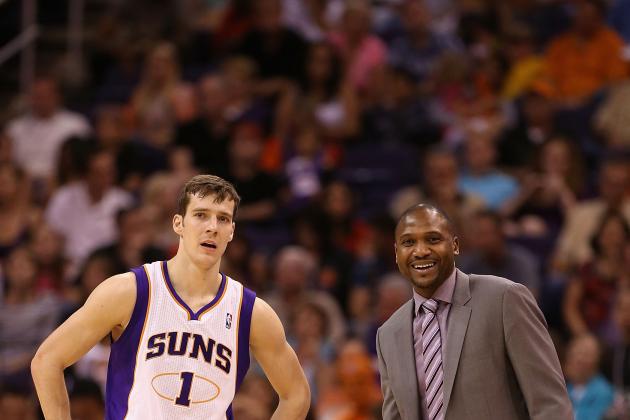 Christian Petersen/Getty Images

Goran Dragic may not be the primary scoring option that the Phoenix Suns need, but he has certainly proved to be a wonderful team leader and his great production should assure him a spot as the team's point guard of the future.
Dragic put up 14.7 points, 7.4 assists and 1.6 steals per game this season while shooting 44 percent from the field and 32 percent from downtown. Those statistics are not eye-popping, but Dragic is a very good all-around player and was just one of five NBA players this season to average at least 14 points, 3.0 rebounds, 7.0 assists and 1.5 steals per game.
And in the second half of the season Dragic was simply astounding. He averaged 16.1 points, 3.7 rebounds and 9.5 assists per game after the All-Star break, and he played at a level we have never seen before. He ran the offense efficiently and had multiple 30-point outbursts for Phoenix.
If he can continue to play at this level, Dragic could be a future All-Star. Now, the Suns just need to surround him with more talent, and they must try to assemble a great backcourt of Dragic and another explosive go-to scorer to build around.
Dragic couldn't lead the Suns to many victories, but he did have a fantastic season. In an otherwise dismal season, he was the most promising gem that still gives Suns fans hope for the future.
Grade: A