Spring Cleaning Chores for Every NBA Team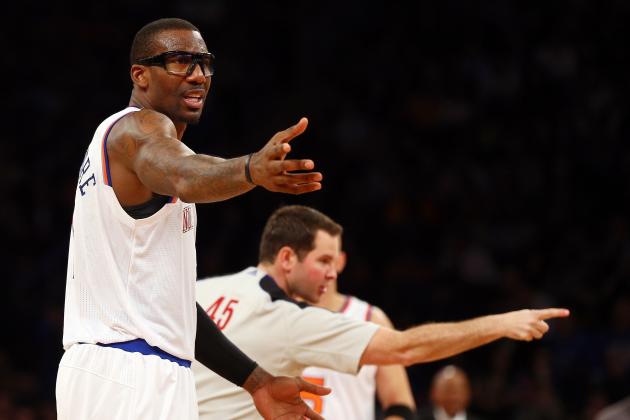 Elsa/Getty Images

The NBA playoffs are in full swing, but the offseason has already begun for half the league. For the other half, the offseason will begin sometime within the next eight weeks, and now isn't a bad time to start preparing.
Each NBA franchise will attempt to get better over the next few months by getting their house in order. Of course, some teams need to straighten up their living rooms, while others need a full renovation.
Here's a look at the spring (and summer) cleaning tasks for every NBA team.
All statistics courtesy of basketball-reference.com. All salary-cap projections and contract information courtesy of hoopshype.com.
Begin Slideshow

»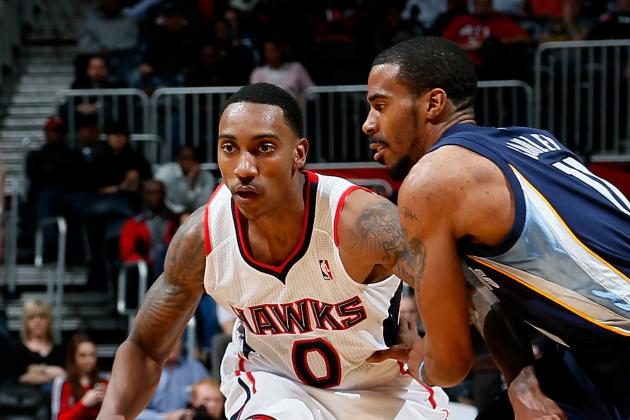 Kevin C. Cox/Getty Images

Whether or not Atlanta can somehow get past Indiana in Round 1, the Hawks are not a title contender. They will not become one with their current core, either.
There are 11 Hawks currently under contract that will become free agents this summer, and nearly $50 million will come off the books.
The temptation will be high for Atlanta to retain Josh Smith, an unrestricted free agent, and Jeff Teague, a restricted one. Smith is a very good PF, their leading scorer and one of the best defenders in the entire NBA. Teague is their starting point guard, a strong passer and is growing as a scorer.
Still, the duo—along with center Al Horford—has led the Hawks no further than the second round of the playoffs.
The Hawks must say goodbye to Smith, and make sure that they're only re-signing Teague for a price that fits a player of his caliber.
If he signs a large offer sheet, Atlanta should let him go, take the compensation picks and rebuild over the next couple of seasons through the draft.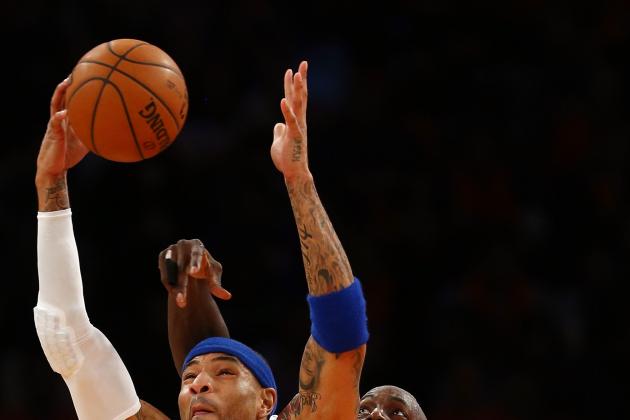 Elsa/Getty Images

Even if the Boston Celtics lose in Round 1, they must come back and try again next season.
They may be old, but the Celtics are in no position to rebuild.
Essentially every relevant player on their roster will still be under contract next season. Rajon Rondo will be back. Their cap space will be non-existent.
If Boston doesn't play well next season, they can try to move Paul Pierce or Kevin Garnett at the trading deadline. They can let Pierce walk in free agency and can begin rebuilding next summer.
Until then, this is simply a well-built, well-coached, well-led, experienced team that has no other choice than to keep trying to win a title.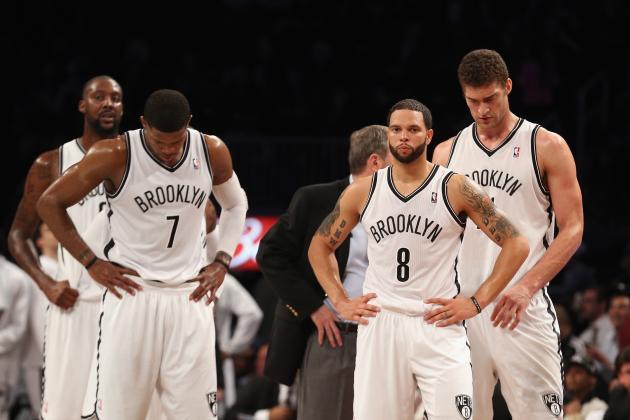 Bruce Bennett/Getty Images

Considering the money that the Nets can bring in playing in Brooklyn, paying the luxury tax isn't the end of the world.
However, with $89 million in payroll carrying over to next season, the Nets will hardly be able to add to their roster.
That's a problem. Deron Williams is deep into his prime, Brook Lopez has entered his, Joe Johnson is exiting his and Gerald Wallace is well past his.
The four of them are set to make $75 million a year through 2016.
In order to contend in the East with teams like the Miami Heat, Indiana Pacers and the Chicago Bulls (when healthy), Brooklyn will need to get significantly better. In order to do that, they need to move at least one of these four contracts.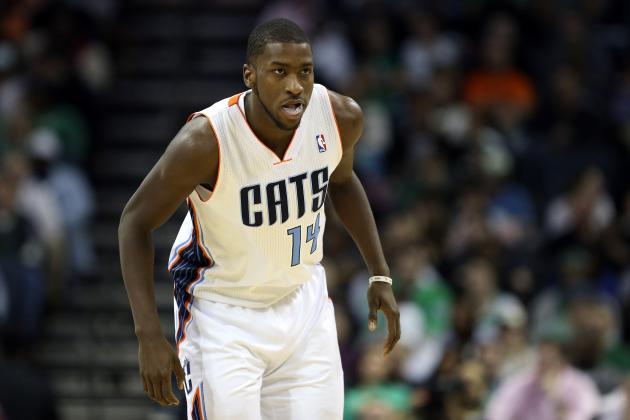 Streeter Lecka/Getty Images

Ideally, the Bobcats would sign a top-flight free agent this summer. They'll have over $30 million in cap space and have a need at just about every position.
However, no free agent of that caliber will sign with at Charlotte unless they are grossly overpaid, which would obviously be an unwise move.
So how does Charlotte improve? Find some old, beat-up goods on the free agency market and some younger, higher-quality goods on the trading block.
If the Bobcats retain their first-round draft pick (which will be no lower than No. 4), who will they add? Ben McLemore? Trey Burke? Nerlens Noel?
Sure, they could be good—maybe great—one day. So could Kemba Walker and Michael Kidd-Gilchrist. But the Bobcats cannot wait around any longer.
They've made the playoffs once in nine years of existence, and not yet has one of their eight lottery picks changed their fortunes.
Bruce Bennett/Getty Images

When healthy, the Bulls are as good a team as any in the NBA.
They have an all-world point guard in Derrick Rose, a top-three center in Joakim Noah, an All-Star swingman in Luol Deng and perfect role players everywhere else.
However, the Bulls' lack of durability has overpowered their incredibly strong roster.
Rose missed the entire regular season. Noah missed 16 games and Deng missed seven. Richard Hamilton missed 32 contests while Kirk Hinrich missed 22. Taj Gibson missed 17 and Marco Belinelli missed 23.
The Bulls still went 45-37 and are currently fighting for a spot in the Eastern Conference semifinals.
With some good repairs this summer, Tom Thibodeau's team will make a serious run at the title in 2014.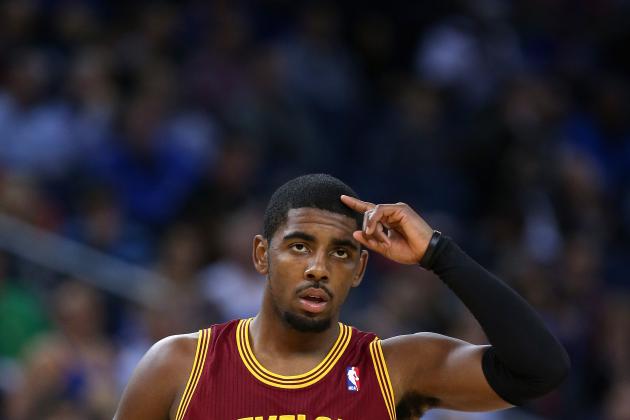 Ezra Shaw/Getty Images

Cleveland's 21-year-old star Kyrie Irving has two more years under contract before reaching restricted free agency.
If they do not extend Irving this summer, however, they'll regret it.
Sure, the Cavs could save money by paying Irving his rookie contract next season. But that decision would cost them a fortune in the long run.
Irving was an All-Star during his sophomore season, despite being riddled with injuries and his team losing far more often than they won.
In Year 3, Irving should be healthy and, by all measures, appears to be ready to become an all-NBA superstar. His team should also improve.
Whatever Irving will make if Cleveland extends him this summer will not be nearly as much as he will make if they wait until next year.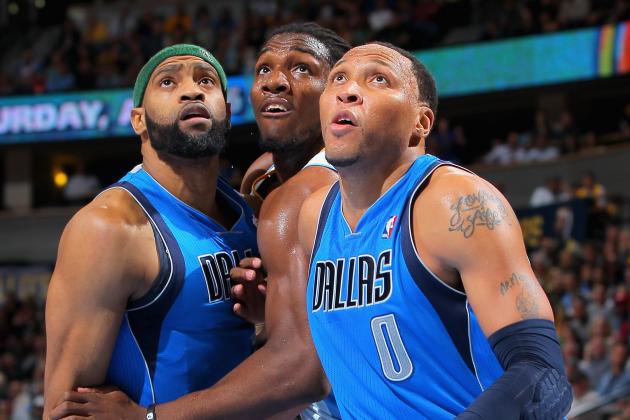 Doug Pensinger/Getty Images

Mark Cuban is an insanely competitive guy and is very unlikely to go into full rebuilding mode.
Too bad. It'd be a great move.
The Mavericks missed the playoffs this season. Considering that the teams that joined the party at their expense—Houston and Golden State—are much younger, there's no reason to believe they can return next season.
At least seven Mavs will hit free agency this summer, and they could potentially have zero players that they are financially committed to after next season.
That's literally a clean slate.
Dallas could play out next season with the aging Vince Carter, Dirk Nowitzki and Shawn Marion, but the Mavericks would be much wiser to move their aging stars and expiring contracts for young talent and draft picks.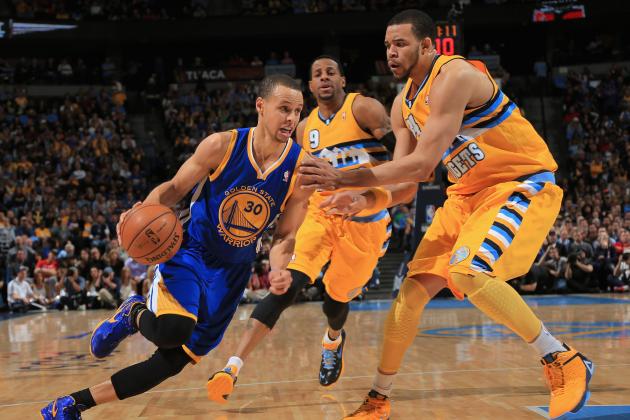 Doug Pensinger/Getty Images

A defense, that is.
The Nuggets are currently battling the No. 6-seeded Golden State Warriors in Round 1 of the playoffs. While Denver can still very much win the series, their lack of defense has shown through early.
Their defense isn't terrible, of course. If it was, they wouldn't have won 57 games. But there are two things in the NBA that win championships: Stellar defense and superstars.
Most champions have both. Some have one. Denver has neither.
The Nuggets' roster is far too deep and their team far too good to blow up just to add a superstar. Defense, on the other hand, would be a much easier addition.
In a summer where great perimeter defenders such as Tony Allen and Matt Barnes will hit the market, along with paint protectors like Al Jefferson, Andrew Bynum and Dwight Howard, the Nuggets would be wise to upgrade their defense.
A championship could be their reward.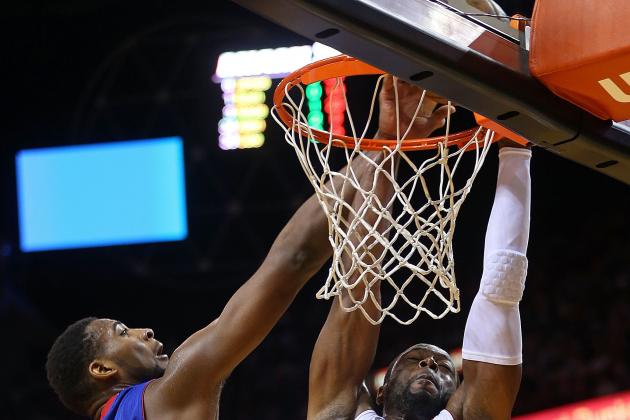 Mike Ehrmann/Getty Images

The Detroit Pistons have a strong foundation.
Greg Monroe and Andre Drummond is an excellent young frontcourt. They defend the paint, rebound and score, and they could potentially anchor a playoff team.
Beyond that, Detroit's upward growth will have to come from a difference-maker in the backcourt.
Brandon Knight is solid, Rodney Stuckey is decent and Will Bynum is nice. However, the Pistons lack a player who can score one-on-one, draw double teams, get to the line and make his teammates better.
With nearly $30 million in cap space this summer and a need at every position besides power forward and center, Detroit should pursue several top-tier free agents, from Josh Smith to Andre Iguodala, from Monta Ellis to JR Smith.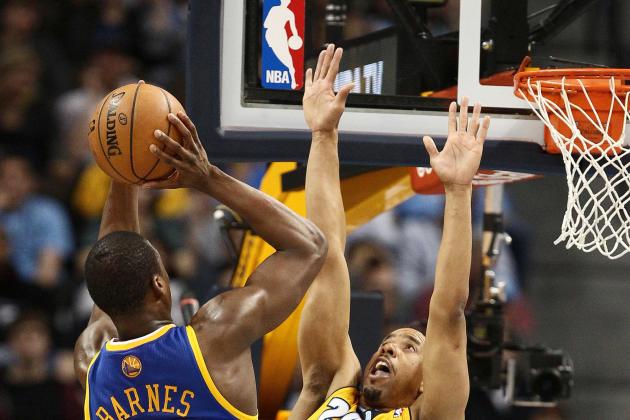 Isaiah J. Downing-USA TODAY Spor

The Warriors have had a full house of consistent contributors this season.
Stephen Curry, David Lee, Klay Thompson, Jarrett Jack and Carl Landry have all been superb, carrying the Warriors into the playoffs. Andrew Bogut, when on the court, has anchored the defense and added a dimension to the team.
The one dimension the team has really missed all season has been slashing and athleticism. After trading Monta Ellis and losing Brandon Rush to injury, the Warriors have lacked that extra gear.
Rookie Harrison Barnes has shown the potential to fill just that role. He has the ability to get to the rim off the dribble, fly through the air and finish emphatically, get to the line, score in the post and knock down outside shots for good measure.
Playing on such a crowded team of scorers has kept Barnes' potential as nothing more than just that this season.
After Barnes went for a career-high 24 points in only his second-ever playoff game—doing so with several highlight-reel plays—it's clear that Barnes is one summer of hard work away from developing the confidence and consistency to become a player that pushes Golden State from sleeper team to title contender.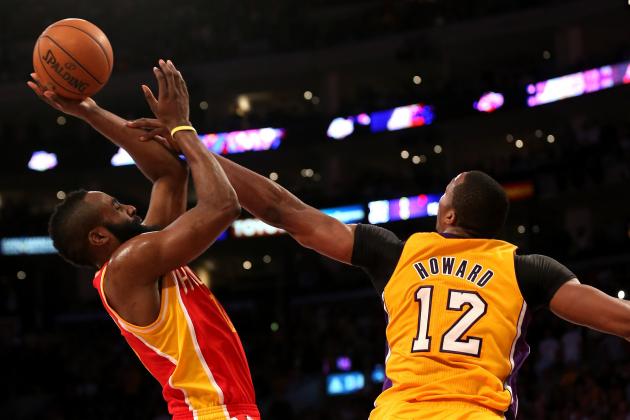 Stephen Dunn/Getty Images

It's rather amazing that the Houston Rockets made the playoffs this season.
Sure, they just missed it last year, and they added James Harden, Jeremy Lin and Omer Asik last offseason.
They also lost Luis Scola, Kevin Martin, Goran Dragic, Kyle Lowry, Courtney Lee, Chase Budinger and Samuel Dalembert. With all due respect to their additions, the Rockets appeared to be losing depth, shooting, facilitation, interior defense and post scoring while gaining one-on-one scoring.
Clearly, Harden was more than that. He became an MVP-level player, and the Rockets rode him to the postseason. With the Beard locked up through 2017 and the youngest roster in the league, Houston should not only be a playoff team for years to come; they should also be a great free agent destination.
Frankly, it's hard to imagine Houston not signing one of this summer's top big men. They have the need, the money ($35 million in cap space), the big-market appeal, the superstar in place, the potential and the big-man legacy (see: Yao Ming, Hakeem Olajuwon, Moses Malone, Elvin Hayes) to lure either Dwight Howard, Andrew Bynum or Al Jefferson.
As a matter of fact, Bynum and Jefferson should be Houston's backup plan at this point.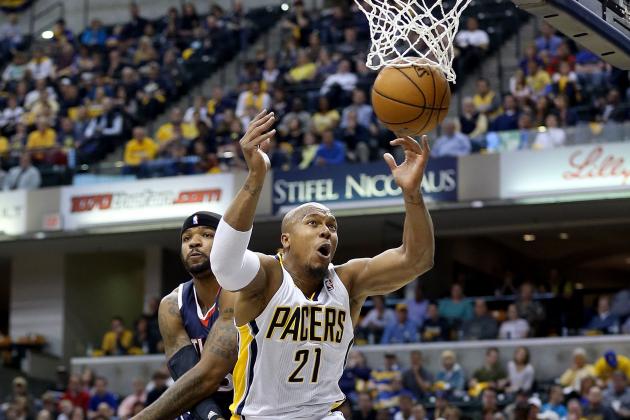 Andy Lyons/Getty Images

Indiana went 49-32 this season without its now-former franchise player, Danny Granger.
The Pacers are strong and deep at every position. They have size, toughness, quickness, defensive skill and a great coaching staff. And they have a real chance to improve this summer.
David West's $10 million contract will come off the books, and Indiana will have the money to pursue just about anyone.
Upgrading on West with a bigger, more athletic, more skilled power forward such as Josh Smith or Al Jefferson (both could play the 4) is an option, as is adding an OJ Mayo, Monta Ellis or JJ Redick as a sixth man.
The Pacers are extremely close to joining Miami and a healthy Chicago team as the third true title contender in the East, and they can make that jump by getting better without losing anything this offseason.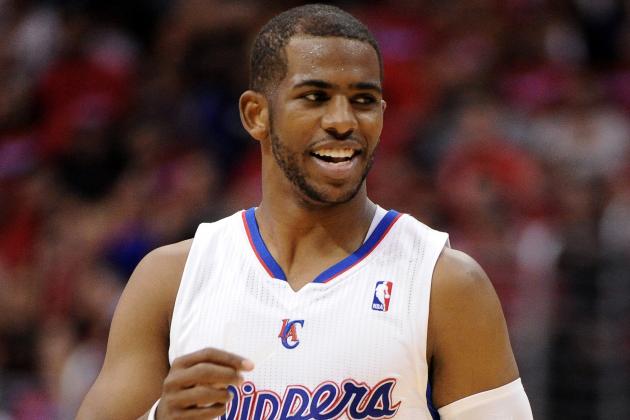 Harry How/Getty Images

The Clippers are one of the most simultaneously overrated and underrated teams in the NBA.
They are extremely overrated in the sense that they are widely considered to have the deepest bench in the league, a superstar power forward in Blake Griffin and a bright future as Los Angeles' new No. 1 team.
They are underrated because, despite the media attention showered upon them, hardly anyone considers them a title contender.
The reality is that the Clippers are essentially a better version of the old New Orleans Hornets. Chris Paul, the NBA's best point guard and third-best player (in terms of PER and win shares), runs everything.
His ability to completely dictate the flow offensively and create the best shot possible in the halfcourt or on the break while locking down everything up high defensively and getting more steals than anyone are the No. 1, 2 and 3 reasons that LA is so good.
Paul is a free agent this summer, and while he's good enough to lead the Clippers to a championship, he's good enough to lead many teams to a title.
It's simple: The Clippers can't let Paul sign elsewhere. If he walks, they'll again become Los Angeles' laughingstock.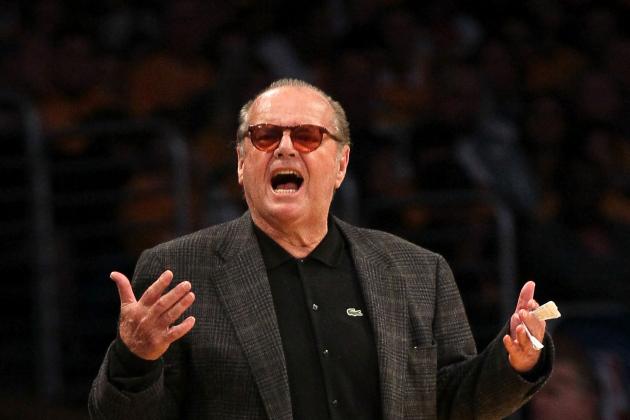 Stephen Dunn/Getty Images

The Lakers essentially have three choices this summer: amnesty Kobe Bryant, amnesty Pau Gasol or trade Pau Gasol and his contract.
Amnestying Bryant just seems wrong. He's one of the greatest Lakers ever and he's badly injured.
Amnestying Gasol seems even more wrong. He's making $11 million less than Kobe and will actually be on the floor.
Trading Gasol would be the best thing to do, but the hardest to accomplish. Who's going to want a 33-year-old making $19 million?
The Lakers will likely do none of the above, and in the meantime are very likely to attempt to re-sign Dwight Howard.
Financial responsibility? No, the Lakers will just pay tens of millions of dollars in luxury-tax money to again be a mediocre team.
Forget it, common sense, it's Tinseltown.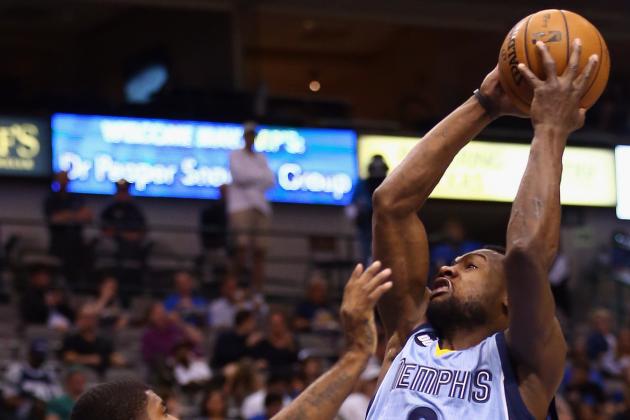 Ronald Martinez/Getty Images

Amazingly, the Rudy Gay trade made Memphis better. Well, they at least played better for the remainder of the season. Well, at least the regular season.
The fact is that regardless of what Memphis' record was before and after shipping Gay to Toronto, the Grizzlies are missing his ability to slash, score and run the floor.
Come playoff time, winning without a go-to scorer is next to impossible, and that's precisely the position they're currently in against the Clippers in Round 1.
This is the best window Memphis will have to win a title. The powers of the 2000s (LA Lakers, Utah, Dallas, Phoenix) are all fading into mediocrity and the Grizzlies are coming off their best-ever record at 56-26.
Their current core will remain intact for two more seasons.
If the Grizzlies are to take the step from very good to elite, they must add a scoring wing to their rock-solid defensive lineup.
They could bring back OJ Mayo, sign Monta Ellis, JR Smith or Andre Iguodala or make some kind of move to add athleticism, offense and ball-handling to their core.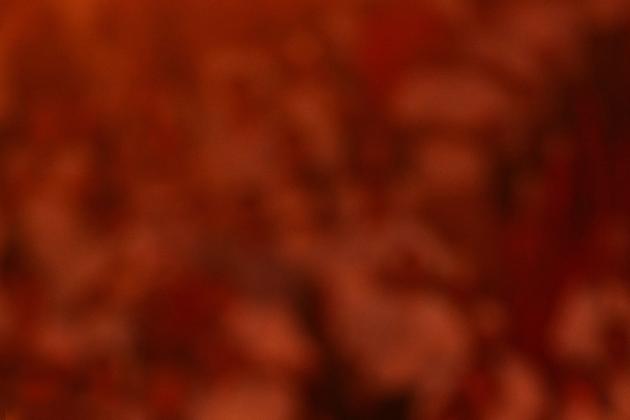 Mike Ehrmann/Getty Images

If the Heat play their best, no team in the NBA can beat them in a seven-game series.
It's just one of the quirks of basketball that no other major professional sport in North America possesses: When you have the best talent and that talent plays at its best, you are unbeatable. Maybe you'll lose a game here and there, but you won't lose a series.
Miami's run won't last forever. It's possible that injury will strike, or that Dwyane Wade will decline, or that LeBron will pull a Jordan and go play center field for the Marlins (they could really use him).
Even if none of these things happen, several of their current veteran role players will become free agents after next season, while Wade, James and Bosh will all have opt-out options.
The future is unpredictable, so the Heat must focus on only one thing this spring and summer: winning a second consecutive title and gearing up for a third.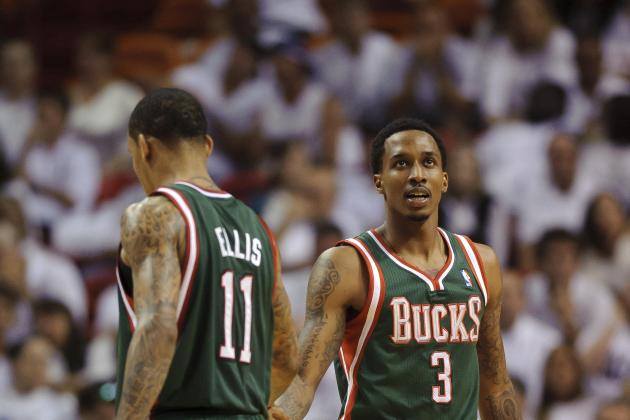 Steve Mitchell-USA TODAY Sports

The Bucks have some high-wattage scoring in their backcourt. Monta Ellis, Brandon Jennings and JJ Redick combined to average 49 points per game this season as three of the team's four leading scorers.
Even with all the spark they provided, however, their lack of efficiency cost Milwaukee.
Ellis shot 41.6 percent from the field. Jennings shot 39.9. Redick converted 40.3 percent of his attempts.
The Bucks have several things going for them. They have one of the league's deepest frontcourts, making them an elite offensive rebounding and shot-blocking team. They also have knock-down perimeter shooters at the forward position, and of course have the previously-discussed quick, explosive backcourt.
So why was Milwaukee only 38-44 this season? They shot 43.5 percent from the field.
With Ellis and Redick hitting free agency this summer, Milwaukee will have the money to add the efficient scoring they need, whether it be in the backcourt or the frontcourt.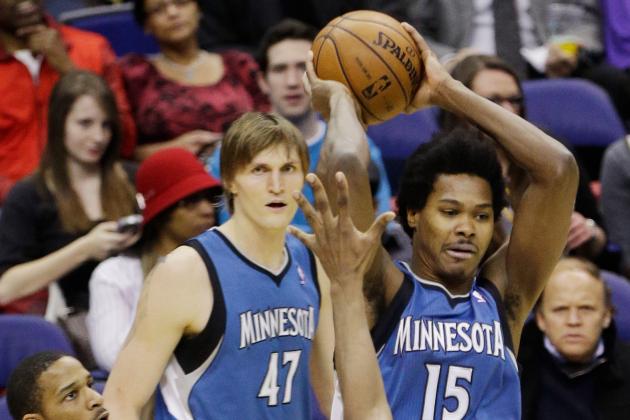 Rob Carr/Getty Images

After so many people predicted the Timberwolves to crash the NBA playoff party in 2012-13, the most common excuse for this missed projection was their terrible injury problems.
While no one could have expected Kevin Love to miss the season, the fact is that everyone should have seen this coming.
No roster featuring Brandon Roy, Ricky Rubio, Andrei Kirilenko and Nikola Pekovic is going to stay healthy. So while the injury bug is a convenient scapegoat, this team's management is 100 percent responsible for building such a fragile team with no backup plan.
Sure, Minnesota could spend their summer "reinforcing their drywall" or something, but the reality is that these guys are simply going to remain injury prone.
What Minnesota can do is put together a bench unit that will be able to keep the team afloat when injuries strike.
That and hope they're at least a little healthier next season.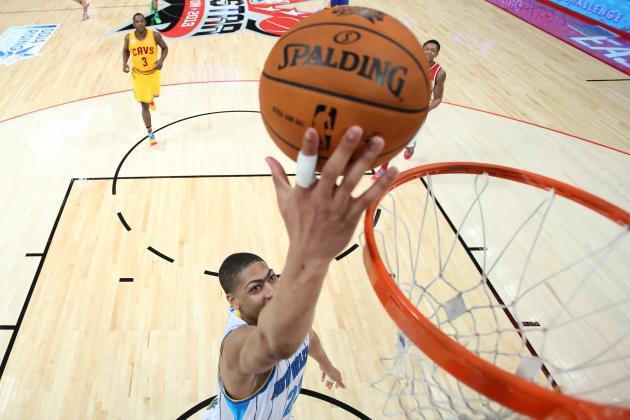 Ronald Martinez/Getty Images

The New Orleans Pelicans have a new name, new jerseys and some incredibly talented, relatively new players.
Under a nasty outer layer lies an exciting future.
New Orleans must spend its offseason showing off its clean new look, refining the games of its young stars such as Anthony Davis, Greivis Vasquez and Ryan Anderson, getting the Eric Gordon situation straightened out and showing off their sparkly clean new product to free agents.
If New Orleans is allowed to grow as a group, both by management and their own bodies, the Pelicans will be dangerous for years to come.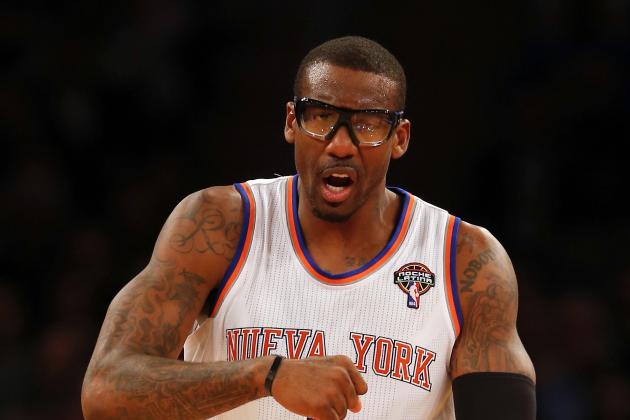 Elsa/Getty Images

Make no mistake about it: Mike Woodson's New York Knicks are a very good team.
They could still be much better.
The highest-paid player on the team is Amar'e Stoudemire, who is a shell of his former self. Theoretically, even a weakened "STAT" would provide this team with the low-post scoring it needs to complement its excellent three-point shooting. However, the Knicks are better with Stoudemire off the court than on it.
This means that its time to throw him onto the open market and accept anything in return.
Anything. Even a late first-round pick, even if the Knicks still have to pay the bulk of Stoudemire's contract.
It's one thing when your old, beat-up Toyota is sitting out in the garage doing no harm, but it's another when it's costing you more than your new Porsche.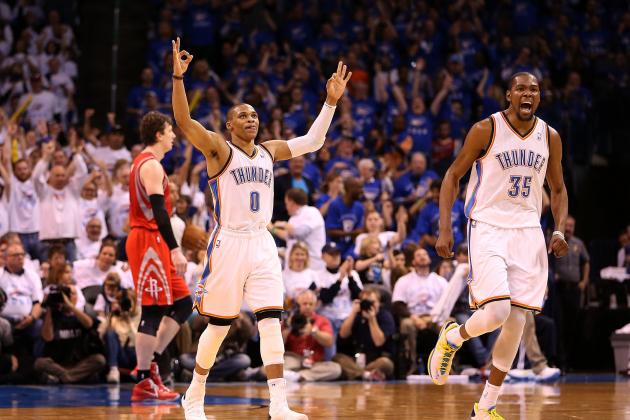 Christian Petersen/Getty Images

There's no such thing as a perfect team in the NBA. Even if there were, the Thunder are not it. Given that, there really isn't much the team needs to—or should—do this offseason.
They may not win the NBA championship this year. If they do not, it will be their third season as a real title contender and third season falling short. This may lead to panic amongst fans, but it cannot cause the same reaction for the front office.
The fact is that as long as Kevin Durant, Russell Westbrook and Serge Ibaka are under contract—which is for three seasons after this one—the Thunder will be a championship contender.
They can make tweaks to their roster here and there, but they have the leadership, the coaching, the forward-thinking management and the youth to dominate the league for years.
That's a very special thing, and they owe it to themselves to relax and regroup no matter what happens this spring.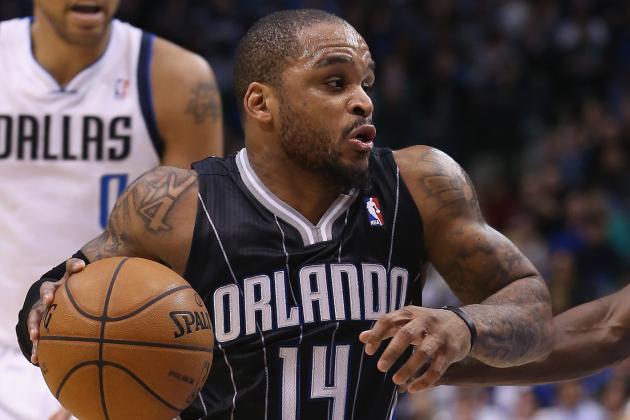 Ronald Martinez/Getty Images

The Orlando Magic had the worst record in the NBA this season but do not have the league's worst roster.
Nikola Vucevic, Glen Davis, Andrew Nicholson and Tobias Harris make for a promising young frontcourt. while Moe Harkless and Arron Afflalo are a strong duo at small forward.
The glaring weakness on this team is in the backcourt.
Jameer Nelson is a decent point guard, but his scoring efficiency shattered when he was asked to carry the offensive load this season. JJ Redick was traded at the deadline, and Beno Udrih is a free agent.
The Magic may not be able to lure any top-tier free agents in the backcourt, but an almost guaranteed top-three pick will be a start.
They should be able to land Trey Burke or Ben McLemore, either one of whom would give them a potential star.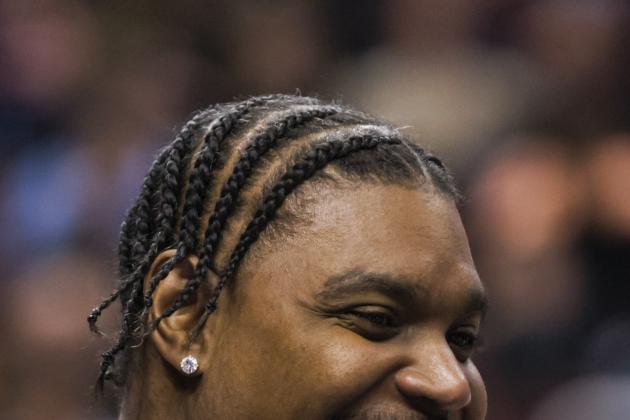 USA TODAY Sports

Last season, Philadelphia was able to grab the eighth seed in the playoffs and upset the Derrick Rose-less Chicago Bulls in Round 1 despite their lack of a frontcourt.
This was due to the best perimeter defense in the league and a deep backcourt. After losing Lou Williams, Andre Iguodala and Jodie Meeks in the offseason and failing to adequately replace them, the Sixers were banking on their new all-NBA center Andrew Bynum to carry them.
Bynum never played for the Sixers, though, and now he's a free agent.
Re-signing Bynum would be an option, but Philadelphia may be better suited to go after hustle rather than talent.
David West, Paul Millsap, Brandan Wright and JJ Hickson are all great potential fits at power forward, while the 11th overall pick in a deep center draft class makes their losing season more worthwhile than an average one would have been.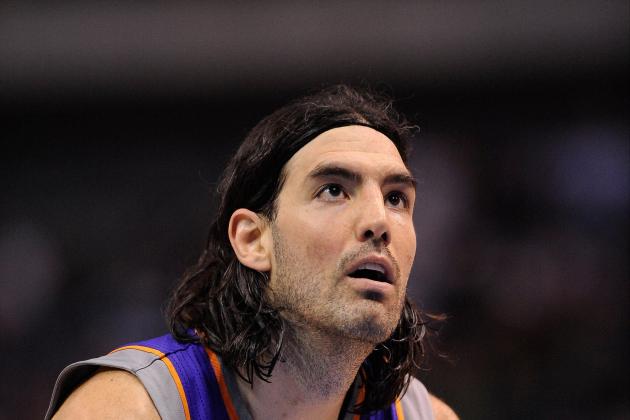 USA TODAY Sports

Phoenix was the worst team in the Western Conference this season. Worse than that, they lack the youth and upside of other losing teams such as New Orleans, Sacramento, Portland and Minnesota.
The problem is that Phoenix has a large number of average—Goran Dragic, Marcin Gortat, Luis Scola—to mediocre—Michael Beasley, Jared Dudley, Shannon Brown—players, and not one person on their roster looks like a future star.
Compounding this issue is the fact that Wesley Johnson is the only significant contract coming off the books next season.
In other words, Phoenix is not good, not young and not in position to add a star via free agency.
It seems inevitable that the Suns will be bad next season, so the smartest move would be to truly bottom out. They need to move Gortat, Dudley or other "assets" that are simply costing them money in order to get younger, free up cap space and truly start fresh.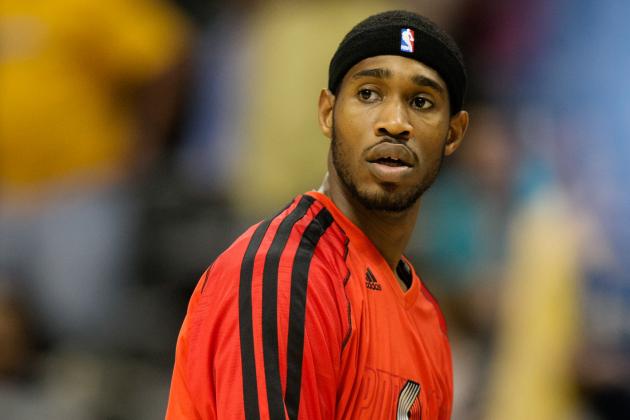 Chris Humphreys-USA TODAY Sports

LaMarcus Aldridge, Damian Lillard, Nicolas Batum, JJ Hickson, Wesley Matthews.
That's one of the better starting fives in the NBA. Yet Portland lost nearly 50 games this season.
This is because their team was exactly five deep. Amongst their starting five are their five leading scorers, four leading rebounders, two leading assist getters, five leading steal getters and three leading shot blockers.
Because of this, four of their five starters averaged 35 minutes a game or more. This led to fatigue and injury. Coach Terry Stotts hardly had a choice, however, because Meyers Leonard, Eric Maynor, Luke Babbitt, Will Barton and Victor Claver hardly can be called a viable unit.
Portland has far too young and too skilled a core to waste. Adding bench depth is a no-brainer this offseason.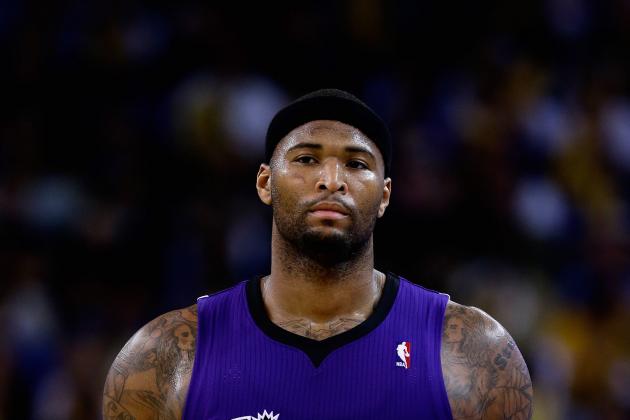 Ezra Shaw/Getty Images

Less is more.
That should be Sacramento's mantra this offseason. Less players. Less potential. Less questions about moving.
The Kings have no shortage of high-potential young players but don't appear to be heading in any particular direction. This is because for all the youth and talent they have, they have a lack of defined roles for anyone.
The trade they made this season was a start. They sent away Thomas Robinson, another high-potential youngster, along with Francisco Garcia for Patrick Patterson and Toney Douglas. Both Patterson and Douglas have limited upside, but they play hard, defend hard and embrace their roles.
They are the opposite of DeMarcus Cousins, Tyreke Evans and Marcus Thornton.
Perhaps it will take a new coach. Perhaps it will take new personnel. Perhaps it will take a decision being made about the where this team will play long term.
Whatever it takes, the Kings need find a way to focus on smart roster construction, high-character players and getting everyone to buy into a system.
Ezra Shaw/Getty Images

The Spurs are the NBA's most successful franchise that never lands big-time free agents.
Well, they may just be the NBA's most successful franchise, period, but that's beside the point.
After the 2012-13 season ends, regardless of whether the Spurs win their fifth title in 15 years or not, San Antonio will enter an important transition year. Manu Ginobili will become a free agent, Tiago Splitter will hit restricted free agency and the young Western Conference powers will continue to gain ground on San Antonio.
Sure, the Spurs could stay away from free agency, retool a little and come back and contend again next season as they always do. But they can't do that forever.
This summer is the time to add a player who will keep them dominant for years to come. Josh Smith, Andre Iguodala, Paul Millsap and Al Jefferson is a sample of the top-tier, under-30 free agents available.
It's hard to imagine any of them saying no to playing with Tony Parker, Tim Duncan, Kawhi Leonard and Gregg Popovich.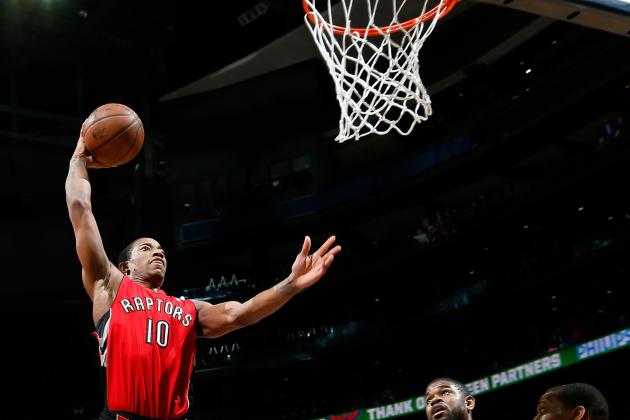 Kevin C. Cox/Getty Images

The Raptors were not a very good team in 2012-13. They won only 34 times and didn't dominate in any facet of the game.
However, they also lost a ton of close games, added Rudy Gay and put themselves in position to make the playoffs next year.
The Raptors have some real talent across the board. Kyle Lowry, DeMar DeRozan and Terrance Ross comprise a high-potential backcourt.
Gay, Landry Fields and Alan Anderson give them great depth at small forward. Amir Johnson, Jonas Valanciunas and Andrea Bargnani are a long, offensively gifted trio in the frontcourt.
Yes, the Raptors lack interior defense, three-point shooting and the veteran experience to be a really good team, but you don't need to be really good to make the Eastern Conference playoffs.
Doing so next season would put Toronto in a much better position to upgrade their roster next summer. For now, they must horde young talent and trust that they'll evolve.
Kevin C. Cox/Getty Images

Essentially every veteran on Utah's roster will become a free agent this summer. That includes Al Jefferson, Paul Millsap and Mo Williams, or the core of their team.
What did that core do for Utah this season though? They missed the playoffs, and had they made it would have likely gotten swept, just as they did last season. It's clear that the Jazz are not headed towards a championship with these players.
The youth on their roster is much more enticing. Derrick Favors, Enes Kanter, Gordon Hayward and Alec Burks could one day be one of the biggest, baddest defensive starting lineups in the league.
With two first-round picks this year, the Jazz can address the point guard position and add depth. They can then build a veteran bench around their new young core, and enter next season younger, better defensively and at a lower payroll than this year.
Retaining any of their big free agents won't only stall their rebuilding process; it won't even help next season.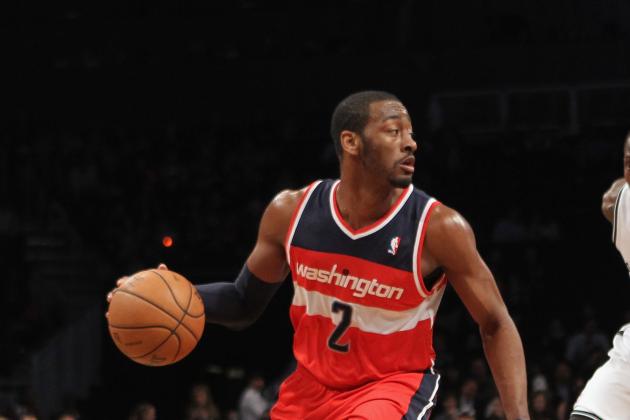 Bruce Bennett/Getty Images

When John Wall was healthy, the Washington Wizards went 24-25. Without him, they were 5-28.
This says a few things. Of course, it says that Wall is one of the most valuable young players in the league, but it says more than that. It says that the Wizards can be a winning team next season if they do the right things this summer.
First, Washington must get rid of the bad parts. They did so with JaVale McGee last year and Jordan Crawford this year. They now have an overabundance of mediocre wing players, and should use one or two of them to move up in the draft or acquire future picks.
Second, the Wizards must help the good parts grow. They need to make the right lottery pick to complement Wall and Bradley Beal and allow the trio to work together extensively this summer.
If they do these two things, the Wizards could be the surprise team of 2013-14.