Power Ranking the UFC on Fox Fight Cards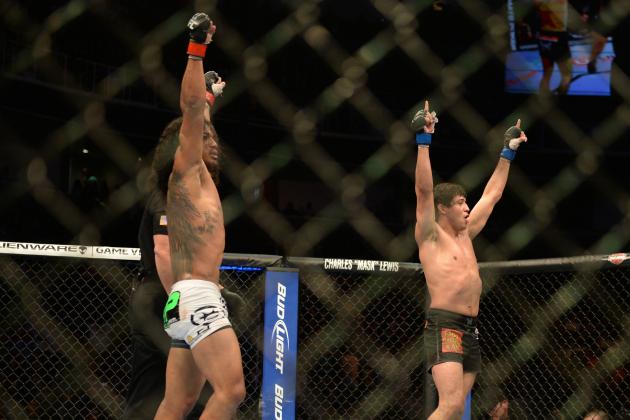 Kyle Terada-USA TODAY Sports

UFC President Dana White weighed his options carefully when choosing which major broadcast network to team up with in 2011.
In the midst of heavy talks with NBC, White wisely waited for the Fox network to make the UFC a long-term offer, and then inked a deal that changed the complexion of the company forever.
Since signing a seven-year deal with Fox, the UFC, which broke ties with Spike TV, has put on several shows on FX and seven fights on Fox.
The UFC had never been aired on a major broadcast network before the inaugural event at UFC on Fox 1. With Junior dos Santos and Cain Velasquez as the main attraction, the event generated record-breaking numbers and ended a tremendous success.
Here are the power rankings for the UFC on Fox cards.
Begin Slideshow

»
The main card of UFC on Fox 3 produced three enthralling fights, including a slick guillotine choke from Nate Diaz on Jim Miller in the night's main event.
Roland Delorme and Karlos Vemola each pulled off submissions in undercard bout's that aired on Facebook.
But five of the six bouts that aired on Fuel TV ended in unanimous decisions, a fact that made the night relatively uneventful and unsatisfying.
Consecutive unanimous-decision wins from Rory MacDonald, Alexander Gustafsson and Benson Henderson at UFC on Fox 5 put a damper on an otherwise exhilarating night.
Scott Jorgensen got things started in style when he choked John Albert with one second left in the first round of their bout that aired on Facebook.
Then, in the last fight that aired on FX, Yves Edwards flattened Jeremy Stephens with a vicious combination of punches and elbows.
Although MacDonald, Gustafsson and Henderson each scored convincing wins, each fighter had opportunities to finish, but each failed to do so.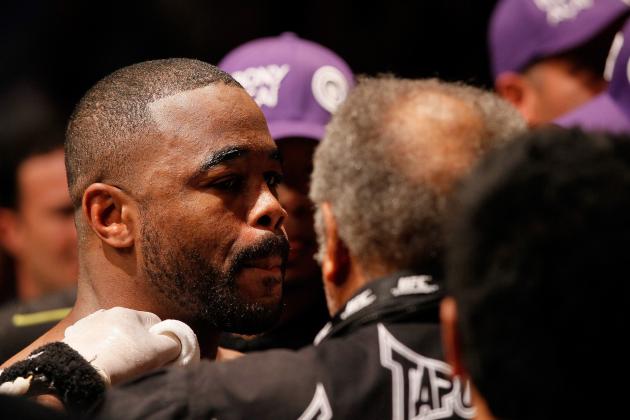 Kevin C. Cox/Getty Images

On a card stacked with talent, it was disappointing to watch the three most important bouts go to a judges' decision at UFC on Fox 2.
Chris Weidman, Chael Sonnen and Rashad Evans each scored decision wins, although only "Suga" could say he won convincingly in the night's main event against Phil Davis.
Lavar Johnson floored the seemingly unbreakable Joey Beltran in the first bout that was aired on Fuel TV to pick up the Knockout of the Night bonus.
But Charles Oliveira definitely stole the show when he nailed a first-round reverse calf slicer on Eric Wisely. Oliveira garnered the Submission of the Night bonus, pocketing $65,000 alongside Johnson.
In the meat of a solid lineup of fights, T.J. Grant, Ricardo Lamas and Anthony Pettis each unleashed entertaining beatings that helped make the night a hit.
In a barnburner, Grant KO'd the surging Matt Wiman with elbows and punches on the last preliminary bout that aired on FX.
In the first fight of the main card, Lamas halted the hype that surrounded Erik Koch with a ferocious second-round TKO from several barrages of punches and elbows.
Pettis then took home the Knockout of the Night bonus when he landed a picturesque body kick that led to an impressive TKO win over perennial contender Donald Cerrone.
But the Fight of the Night bonus went to John Dodson and Demetrious Johnson for their captivating main even bout for the flyweight title.
Johnson used his slight speed advantage to come from behind and prevail in a back-and-forth clash for the 125-pound strap.
In what was certainly the most entertaining main card in UFC on Fox history; four straight fights got finished in thrilling fashion on the main card at UFC on Fox 4.
Mauricio "Shogun" Rua capped the excitement in the main event by TKO'ing Brandon Vera in the fourth round of an aesthetically pleasing battle.
Lyoto Machida and Mike Swick also scored memorable KOs against Ryan Bader and DeMarques Johnson, respectively.
Then, in the bout that was named Fight of the Night, Joe Lauzon stormed back to submit Jamie Varner with a triangle choke in a back-and-forth war.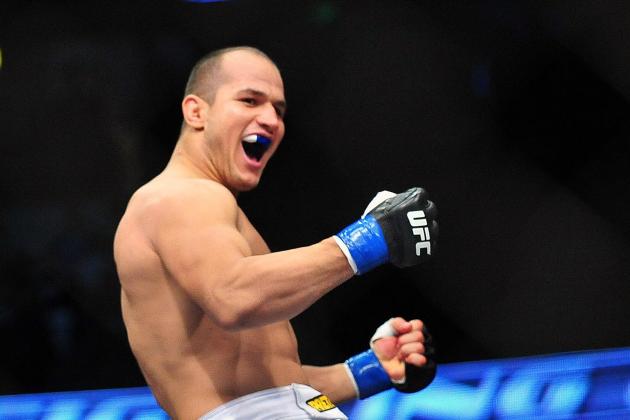 Gary A. Vasquez-USA TODAY Sports

The UFC on Fox 1 marked a groundbreaking day for the company that Dana White took over in near shambles in 2002.
White meticulously selected Junior dos Santos and Cain Velasquez to represent the UFC in the main event of the company's first ever experiment with a major broadcast network.
With plenty at stake, White's maneuver paid off, and Dos Santos and Velasquez, who fought for just 64 seconds, lured 8.8 million viewers to tune into the main event (per MMAjunkie.com). It marked the most-watched live hour of MMA in the history of the United States.
Aside from "Cigano's" shocking KO win over Velasquez, Ricardo Lamas and Dustin Poirier helped put an exclamation point on the night with slick submissions of Cub Swanson and Pablo Garza, respectively.
Arguably the best card of 2013, the main card of UFC on Fox 7 started with a bang when Matt Brown took out Jordan Mein in a bout that was named Fight of the Night.
In the next fight, Josh Thomson stunned fourth-ranked Nate Diaz with a head kick and relentless ground-and-pound for a TKO late in the second round. Thomson became the first man to finish Diaz by form of KO, taking home the Knockout of the Night bonus as a result.
Daniel Cormier took the safe route and earned a conservative win over Frank Mir in the night's co-main event.
Benson Henderson and former Strikeforce champ Gilbert Melendez then went toe-to-toe in an unforgettable clash for the lightweight belt. A resilient Henderson used his speed and striking advantages to nip the feisty "El Nino."
But the success of UFC on Fox 7 wasn't solely defined by the excitement produced on the main card. Truth be told, the night was already a hit in the eyes of the fans after six of the first eight bouts ended with KOs.
At UFC on Fox 7, each of the following fighters won by KO or TKO: Romero (flying knee and punches), T.J. Dillashaw (punches), Anthony Njokuani (punch), Joseph Benavidez (punch to the body), Myles Jury (punch), Chad Mendes (punches), Brown (punches and elbows) and Thomson (head kick and punches).