Houston Rockets vs. Oklahoma City Thunder: Postgame Grades and Analysis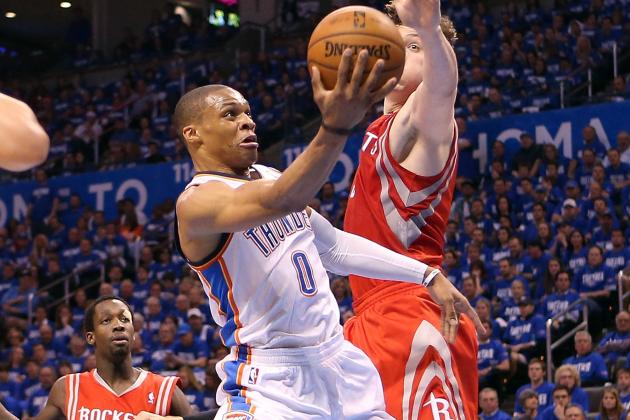 Christian Petersen/Getty Images

Whoever was supposed to remind the Houston Rockets that they had a playoff game against the Oklahoma City Thunder absolutely dropped the ball Sunday night.
The Thunder throttled, dominated and beat down the Rockets, 120-91, in Game 1 of the first-round series at Chesapeake Energy Arena.
The Rockets kept it close until the end of the second quarter, when the Thunder went on a mini-run to grab a 13-point lead at halftime.
Russell Westbrook was two rebounds away from a triple-double in the series opener, with 19 points, 10 assists and eight rebounds. Kevin Durant and Serge Ibaka combined for 41 more points, with Ibaka shooting an impressive 7-of-11 (63.6 percent) from the field.
James Harden had 17 points at the half, but ended the night with just 20. The Thunder's defensive pressure was too much for the Rockets' high-flying offense to overcome all night long.
Jeremy Lin struggled against Westbrook's dominant defense, accounting for just four points on 1-of-7 shooting.
For the sake of this series, let's hope the Rockets can put this one behind them and get ready for Game 2 on Wednesday.
Begin Slideshow

»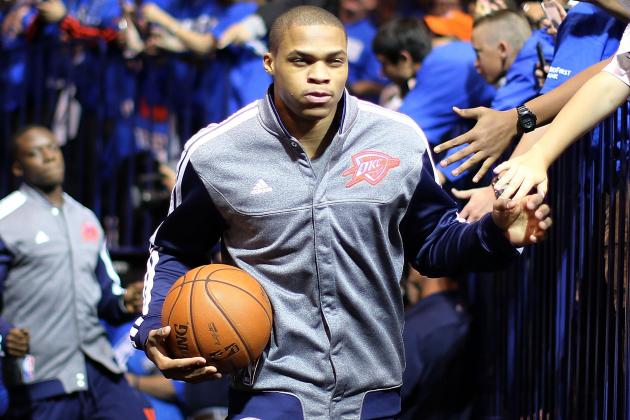 Christian Petersen/Getty Images

Russell Westbrook, OKC PG
Russell Westbrook came out like a man on a mission in the first half, with 10 points, seven assists and seven rebounds.
His near-triple-double in the first two quarters was a major reason why the Thunder were able to pull ahead by a comfortable margin at the end of the first half.
He found open teammates, created offense for everyone on the court and attacked the basket with efficiency.
Westbrook ended the night after just 30 minutes of action with 19 points, 10 assists and eight rebounds. He was the efficient and intelligent point guard the Thunder needed him to be, and they hope he'll be that kind of leader throughout the playoffs.
Overall Grade: A-
Jeremy Lin, Houston PG
Jeremy Lin was M.I.A. in the first half, with four points on 1-of-6 shooting and three turnovers. He was inefficient and careless on offense, and Westbrook abused him on the other side of the ball.
Unfortunately for the Rockets, Lin never really woke up. He ended the night with five personal fouls, four turnovers and scored just four points on 1-of-7 shooting.
It wasn't the kind of Linsational night the Rockets needed. His defense on Westbrook was rather lacking as well.
The Rockets are hoping he can reestablish his aggressive and explosive play from the regular season starting with Game 2 Wednesday.
Overall Grade: D-
Kevin Jairaj-USA TODAY Sports

Thabo Sefolosha, OKC SG
Defense wasn't the only thing Thabo Sefalosha contributed to the game. He actually accounted for nine points, four rebounds and two assists.
His defense was as good as you can ask for against a superstar of James Harden's caliber.
If he can continue to bring the lockdown defense he is known for, while also efficiently scoring the ball, the Thunder are going to be that much harder to compete with and beat.
Overall Grade: B
James Harden, Houston SG
Without Harden's 17 first-half points, the Rockets would've been down a billion at the half, instead of just 13.
With that being said, Harden didn't have that great of an overall game, scoring just three points in the entire second half.
The bearded wonder hasn't been that great in his return trips to OKC this season, scoring just 37 points on 9-of-37 shooting this season so far.
Moving forward, the Rockets will need Harden to be more aggressive getting into the paint and also facilitate better for his teammates.
Defensively speaking, Harden wasn't the force he usually is. He forced just one steal, and he wasn't a factor bringing help-side defense on Durant and Westbrook.
Overall Grade: C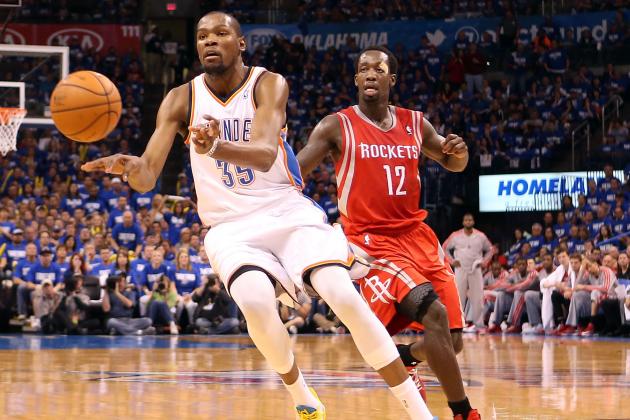 Christian Petersen/Getty Images

Kevin Durant, OKC SF
James Harden who?
Kevin Durant proved that he can easily lead the the Thunder to postseason dominance without Harden on the roster, and he did so early on, with 14 points, four rebounds, two assists and two steals in the first half.
Durant was afforded the luxury of much rest, relatively speaking, logging just 34 of action. He ended the night with 24 points (7-of-15 shooting), six rebounds and four assists.
He was explosive around the rim and did a great job of hitting big shots in the first half. It's encouraging to see Durant continue to develop into the vocal leader that he needs to be for this young Thunder team.
Overall Grade: A-
Chandler Parsons, Houston SF
With Jeremy Lin and James Harden most often under the spotlight, Chandler Parsons is certainly the X-factor for the Rockets in this postseason series.
Unfortunately for the Rockets, Parsons didn't have the kind of impact they needed from the forward Sunday, especially on the defensive side of the ball against Kevin Durant.
Like most of the Rockets players, Parsons went just 1-of-5 from deep and finished with nine points in 25 minutes. The Rockets can't win if he isn't shooting efficiently around the perimeter—there's just no way around that.
Parsons did all he could defensively against Durant, but he has to find a way to conserve his energy on defense so he can still be a factor on the offensive side of the ball. Nine points and three rebounds just isn't going to cut it in this playoff series.
Overall Grade: C-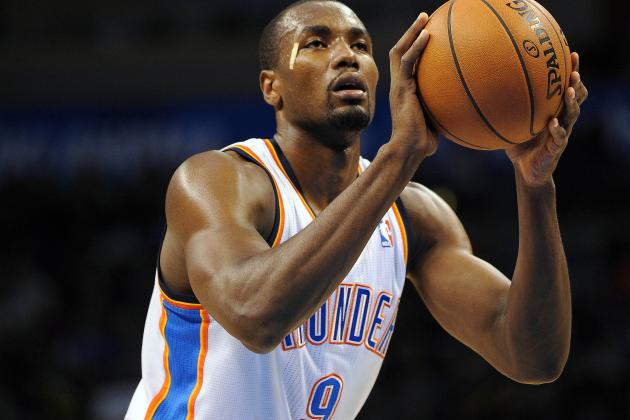 Mark D. Smith-USA TODAY Sports

Serge Ibaka, OKC PF
There were times when Serge Ibaka looked capable of being a legitimate star player, hitting mid-range jumpers in isolation 15-plus feet away from the basket.
Ibaka had quite an impressive night overall, with 17 points, seven rebounds and three blocks. He shot 7-of-11 from the field and even knocked down a three-ball.
The best part of his game was his work on the defensive side of the ball. He impacted nearly every play Rockets play in the paint with his strong defensive presence.
If Ibaka continues to shoot the ball at such a high efficiency and the Rockets can't find ways to get him out of the paint, or in foul trouble, things are not going to be pretty for Houston to end the season.
Overall Grade: A-
Greg Smith, Houston PF
The Rockets may want to consider inserting someone not named Greg Smith into the starting power forward position.
It's not that Smith was awful, with six points and three rebounds. It's just that he's not an explosive athlete and doesn't bring that much versatility to the floor.
He couldn't handle Serge Ibaka on the defensive side of the ball, and he wasn't able to have any kind of impact on the offensive glass.
Smith also turned the ball over three times in 17 minutes and will need to step his game up to warrant the significant minutes against OKC.
Overall Grade: D-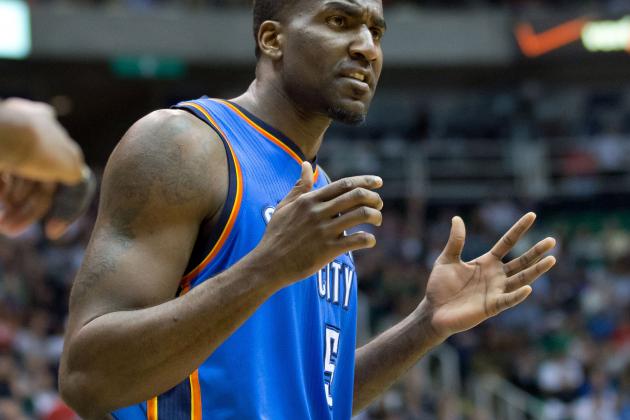 Russ Isabella-USA TODAY Sports

Kendrick Perkins, OKC C
The most impressive highlight of the night came when Kendrick Perkins threw a lob to Serge Ibaka on a fast break midway through the third quarter.
It was that kind of game for Perkins. He did exactly what the Thunder needed him to do, and though he ended with just four points and four rebounds, he also accounted for three steals and a block in 19 minutes.
Perkins' presence in the paint and hedging out on the perimeter on picks was a difference-maker for the Thunder.
Overall Grade: B
Omer Asik, Houston C
Omer Asik was out-hustled and out-worked by a more physical Perkins all night long.
He couldn't get easy looks around the rim. When he did get the ball in the paint, it often ended with a fumble and turnover on his end.
Asik ended the night with nine points, seven rebounds and two assists but wasn't a dominant force in the paint. It's clear that Asik doesn't have a polished offensive game, but that doesn't mean that he can't have an impact around the rim.
The Rockets need to the incorporate pick-and-roll offense with him earlier on against the Thunder. Without production from their starting center, the Rockets are going to have a very hard time even competing in the series.
Overall Grade: C+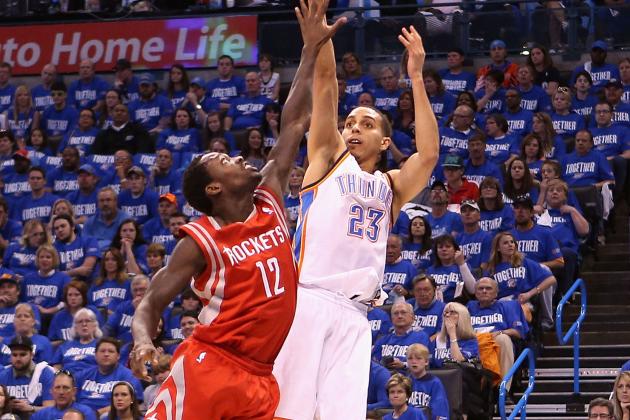 Christian Petersen/Getty Images

Kevin Martin, OKC SG
This is where James Harden would've been last season, and while Kevin Martin's performance wasn't that impressive—with a majority of his points coming in scrub time—the Thunder certainly didn't miss Harden here.
In his 26 minutes, Martin accounted for 16 points and five rebounds, but he shot just 33 percent (5-of-15) from the field.
If the Rockets bench shows up in this series, Martin will have to have a much larger impact when it counts, not just late in the fourth quarter when the B-teams are in.
Overall Grade: B-
Carlos Delfino, Houston SG
Carlos Delfino was one of only three Houston Rockets players in double digits, with 10 points.
Delfino, however, went just 2-of-7 from deep and wasn't anything to write home about on the defensive side of the ball, which isn't shocking.
Overall Grade: C+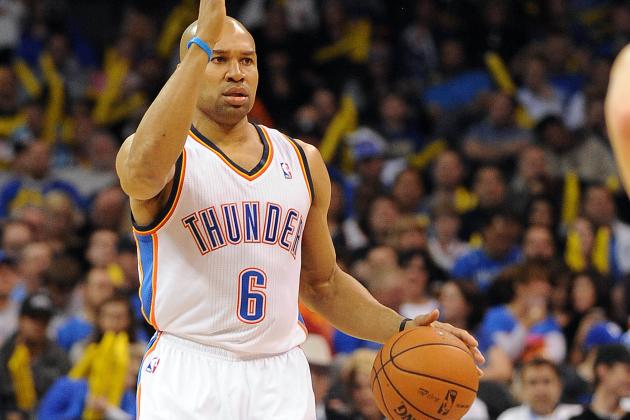 Mark D. Smith-USA TODAY Sports

Thunder Bench
It's rare that every bench player makes it into a playoff game, but that was the case for OKC Sunday night.
The Thunder bench accounted for 47 points, and did so on 18-of-33 shooting.
Nick Collison was perfect from the field (4-of-4) with eight points, five rebounds and four assists. And Derek Fisher added nine points on 3-of-4 shooting from beyond the arc.
You know it's a blowout when DeAndre Liggins and Hasheem Thabeet combine for five points on 100 percent shooting.
Overall Grade: A-
Rockets Bench
The oddest thing about Houston's bench rotation was that Francisco Garcia played just 12 minutes.
In those 12 minutes, he added eight points on 2-of-4 shooting. Aside from Garcia, Patrick Beverly (11 points) and Carlos Delfino (10 points), the Rockets didn't get much production from their second unit.
Terrence Jones did grab an impressive eight rebounds in 18 minutes, but he didn't have any significant impact on offensive side of the ball.
The Rockets have to beat the Thunder with their depth—specifically Beverly, Jones, Garcia and Delfino—for any shot in the first-round series..
Overall Grade: C+