Milwaukee Bucks vs. Miami: Postgame Grades and Analysis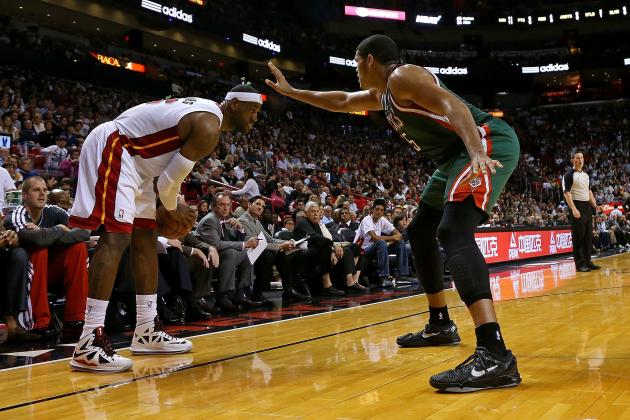 Mike Ehrmann/Getty Images

Erik Spoelstra's Miami Heat understand that nothing is going to be given to them, but if they come out and do what LBJ did in this game, they reinforce that they have not only a great starting five and elite trio, but also a vastly underrated bench with many role players who perfectly occupy their roles within the Heat's rotation.
The Heat did just that tonight in Game 1 against the Milwaukee Bucks, and it wasn't all just the big three, though they were brilliant to be sure. The Heat open the game in a tightly contested match. They led by just six at the half, over a Bucks team that was relying heavily on its gunner Brandon Jennings.
But LeBron James ended up being too much. And the Heat did end up taking Game 1 as expected by a score of 110-87.
The Heat jumped out on a 7-0 run to begin the game and established the tone early as they got out in transition on their home court. It was enough to prove they were ready to start their eventual and likely sweep of this Bucks team.
For Miami, it was often about the play of guys like Mario Chalmers, Udonis Haslem, Shane Battier, Norris Cole, Ray Allen and Chris "Birdman" Andersen. You know, the guys on their team other than the three who so frequently appear on the screen.
That supporting cast is far better than anticipated, and it is one of the reasons why Pat Riley is regarded as one of the best GMs in the Association. The game grades Miami's players received tonight are a further reflection of how well balanced and how good this team is and can be.
Begin Slideshow

»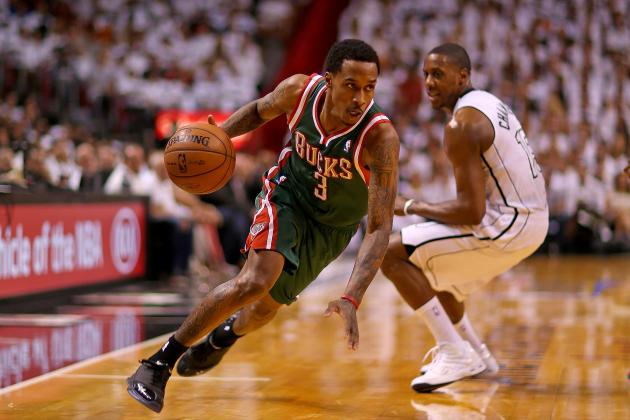 Mike Ehrmann/Getty Images

Brandon Jennings, as he does so often, went bonkers in the first half and helped the Milwaukee Bucks match buckets with the Heat for 24 minutes. By the intermission, Jennings was 6-of-14 from the floor for 18 points and the Bucks were just down by six points.
Jennings effectively played shoot-first play from the 1-spot, while also getting his teammates involved enough to keep the offense team-oriented.
Jennings had just two assists, but a lot of that was because his teammates were missing shots. The Bucks shot just 41.5 percent from the floor in the game.
Jennings' variety of crossovers and solid handle reminds this writer of Kenny Anderson, who like Jennings was a lefty point guard capable of both elite scoring and great ball distribution. Jennings is Milwaukee's biggest advantage at any position (and truly their only), but tonight proved it just isn't quite enough to keep a No. 8 team competitive against the defending champions.
Jennings heated up in the second quarter after his Bucks started the quarter 3-of-14 from the floor, mostly accomplished because Jennings was catching his breath on the bench after his torrid start to the game.
Jennings finished with 26 points on 8-of-20 shooting (including 4-of-10 from behind the arc), but the Bucks are going to have to have some unexpected performers to swing more than a single game in this series.
The Heat time-share of Chalmers and Cole helped keep it closer, hitting 6-of-9 combined, but they had just two assists both from Chalmers.
The position isn't as weak for Miami as the stats often indicate though, given LeBron James and Dwyane Wade's mammoth roles within the Heat's offensive schemes. The Heat just hope to neutralize Jennings enough to do what they did tonight three more times.
Grades:
Brandon Jennings, MIL: A
MIA:
Mario Chalmers (23 minutes): D
Norris Cole (29 minutes): C-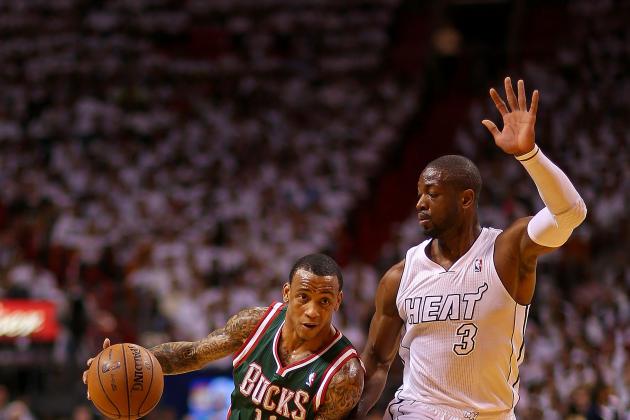 Mike Ehrmann/Getty Images

Monta Ellis helped Jennings a good bit in the first half. He hit 4-of-9, then started the second half with a three-pointer to cut the Heat lead to three.
Ellis had 11 points at that point, and it appeared the Bucks were well on their way to getting back into the game the rest of the way and potentially stealing Game 1 at American Airlines Arena.
But a three by Mario Chalmers and follow-up putback by Dwywane Wade put the clamps on that, and the Heat were up by eight.
Wade presents a lot of problems for Ellis at the 2-guard. They aren't disparate in height really, but Wade is much thicker in his upper body and able to finish over Ellis, often bullying him. That principle was what allowed Wade to get in near the basket to pull up for mid-range.
Ellis continued to rely mostly on jumpers and transition buckets, but finished with 22 points and helped the Bucks...
But it didn't end up being enough for the underdog Bucks. The Heat just had too many advantages at too many different positions.
In the end, the Bucks were able to compensate for a lot of shortcomings in the backcourt, but it was a lot more Jennings than Ellis most of the game. That notwithstanding, Ellis is the 1b option on the Bucks behind Jennings, and he had a fine game.
Wade didn't have his best night, but he did what was necessary to fulfill his role on a night when James was being dominant once again. When the Heat don't need 30 from Wade, they call on him for what they do require.
Wade scored 16 points on 5-of-12 from the floor in addition to his five assists and five boards. The fact that it was Wade who had the highest plus/minus on the team at plus-26, however, indicates his impact was very understated for the 32 minutes he was on the court.
Grades:
Monta Ellis, MIL: A
Dwyane Wade, MIA: A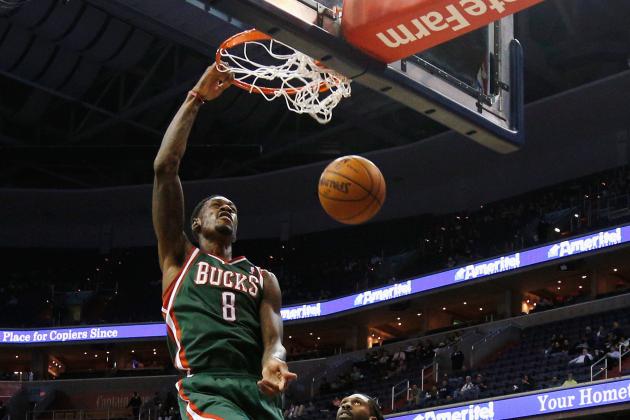 Rob Carr/Getty Images

MILWAUKEE: Larry Sanders (covering Udonis Haslem) and Luc Richard Mbah a Moute vs.
MIAMI: Chris Bosh, LeBron James and Udonis Haslem (Chris Andersen, See Sixth Man)
This play was a switch on the Bucks part to do something about LeBron James. The defensive switches varied, but they featured mostly the former UCLA small/power forward of the Bucks.
For the Bucks' first bucket, Luc Richard Mbah a Moute gets an offensive rebound for a outback, exploiting an area at which the Miami Heat have been very weak at not only this season, but also last year during their title run.
Chris Andersen is getting paid less than a million per season yet posting a Player Efficiency Rating of 17.4 in 17 minutes per game off the bench, and his understated value will be addressed in the sixth man slide.
Starting center is kind of a weak spot for the Miami Heat, not because they have a poor one, but because they do not have one.
(See Next Slide For Grades)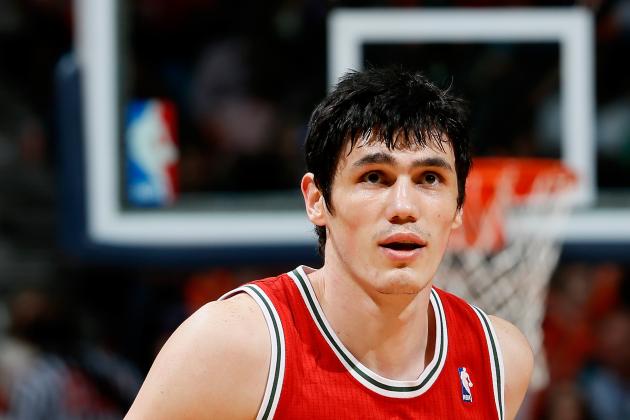 Kevin C. Cox/Getty Images

While Bosh is weak, it really isn't possible to stress this enough. The Heat are one of the worst rebounding teams in the league.
At center for Miami, Bosh may even allow Mbah a Moute to set career-high marks. Tonight, Mbah a Moute wasn't really just covered by Bosh. Bosh also found his way onto Larry Sanders most of the night, who isn't really a offensive weapon the Bucks really seek to feature ever either.
Sanders scores off putbacks and backdoor cuts for lobs, while Mbah a Moute offers a little less with just an occasional opportunistic bucket when the defense is lagging off him to pay more attention to Brandon Jennings and Monta Ellis in the backcourt.
Ersan Ilyasova is a player who had a breakout second half to last season, when he averaged over 18 points and nine rebounds per game over the last two months of the season.
It had prompted the Bucks to trade No. 1 overall pick from the same draft in exchange for Ellis, which shaped the face of the team to what it has become.
Since that time, Ilyasova has been mediocre soup and is a big part of why the Bucks disappointed those who touted their prospects as far better.
Mbah a Moute's outback didn't get his teammates going as the Heat continued to outscore Milwaukee 8-4 to make the score 15-6 as the game reached the 7:45 mark of the first quarter, and the game had already taken its shape.
The mismatches at the forwards spots, including Mbah a Moute on the best player in the league in reigning MVP from last season, LeBron James.
Grades for Post Players:
Miami:
LeBron James: A+
Chris Bosh: B
Udonis Haslem: D
Milwaukee:
Ersan Ilyasova: F
Luc Richard Mbah a Moute: C+
Larry Sanders: D (Ejected)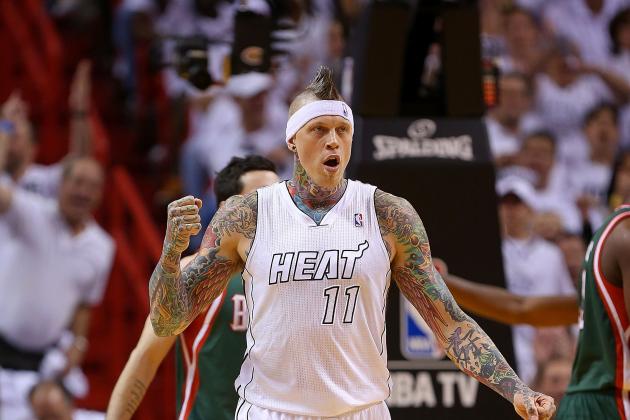 Mike Ehrmann/Getty Images

When Birdman checked in, the Heat were up by six points 23-17 with about two minutes left in the first quarter. And Andersen's energy impacted the game in ways the Bucks' sixth man Redick's does not.
It's difficult to call Birdman a sixth man, but in the sense that he makes the biggest impact off the Heat bench, we have to. Though it was Ray Allen who scored 20, it was Birdman who changed the game for the Heat the most.
The Heat are counting on re-signing Andersen, but teams will still coming for a guy who can play center, while blocking shots and making hustle plays which essentially help the team win a lot more games.
Miami's 23-game win streak may have been because LBJ was playing legendary ball, but Andersen played no small role in starting to help Erik Spoelstra clear up some issues that had been plaguing the Heat all season.
Birdman's acquisition coincided with the beginning of the run. The Heat were plus-8 with Andersen on the court, and his high mark reflects that. No other bench player had a better plus/minus than Birdman.
Redick, meanwhile, was a non-factor in the first half. He checked in during the first quarter, but played just five minutes for the Bucks before heading back to the bench for most of the second period.
At the half, he had one nice dime to his name, and he missed his two shots from the top of the arc and the right baseline. The Bucks were plus-2 for Redick's time on the court, but it wasn't because he did much.
Grades:
J.J. Redick, MIL: C-
Chris Andersen, MIA: A+ (see: hustle making the difference)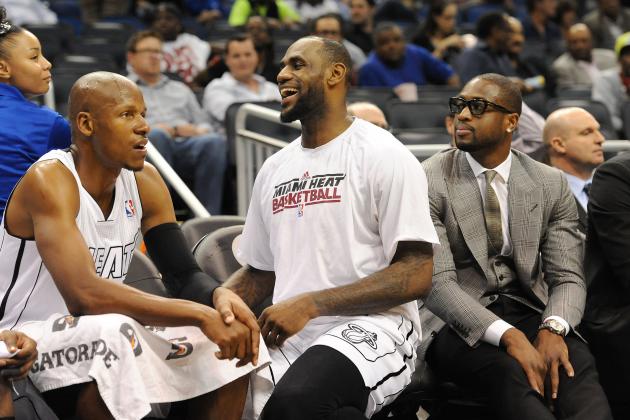 Gary Bogdon/Getty Images

Chris Andersen checked in early, but his role decreased in the second and third quarters. No other Heat players played major roles though, and the bench contributed 23 points compared to the starters' 87.
The Heat don't rely heavily on these guys, and they more or less did give Erik Spoelstra what he both expected and required, which was enough to help provide gap minutes while Miami's starters rested. That's basically all coaches ask of their benches.
Ray Allen caught fire and ended up with 20. But this isn't anything you don't know he's capable of doing for the next 200 years.
Allen is one of the league's best bargains, and he is perfect example of a guy whose value is greatly disproportionate to his value due to his desire to win titles at this point in his career.
Milwaukee used its bench sparingly too. Midway through the third quarter, the Bucks had just six points off the bench, which was causing them to gradually allow the Heat to pull away in the third.
Ekpe Udoh scored a couple of garbage buckets, but John Henson, Mike Dunleavy, Marquis Daniels and Mike Dunleavy all shot 1-of-9 combined through most of the way through the third quarter—a point at which the game was more or less decided.
Henson got it going far too late in the fourth, and he's a talented player whose upside is almost immeasurable.
The former Tar Heel's minutes were mostly a result of Larry Sanders, who was ejected for the second time this season against the Heat, this time for trying to strike fear into the core of Udonis Haslem with some overt and vulgar jawing.
But jawing won't get it done. And Henson's upside can't compensate for a center who could potentially have won both Most Improved Player and Defensive Player of the Year.
To that end, the playoffs are about winning, not upside, nor planning for the future.
In their rather ineffective minutes, the majority of the buckets were late ones in the fourth quarter during garbage time. At the point at the end of the third they had just six.
The Bucks are going to need a lot more from their bench if this is to become anything other than a quick and brutal sweep by LBJ, Wade and a Heat team whose classic greatly exceeds a team whose "Fear the Deer" mantra is usually followed by a sardonic chuckle.
Not-so-Bold Prediction: After winning Game 1, Miami is reeling off three more to end this series 4-0.
Benches:
Milwaukee: D (First Half: B+, Second Half: F)
Miami: A