Ranking the NBA's Most Fun Teams of the Past 20 Years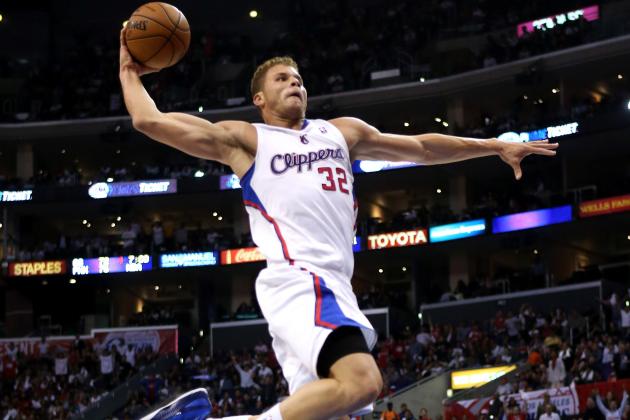 Stephen Dunn/Getty Images
How do this year's "Lob City" Clips stack up against the most entertaining squads of the last two decades?
From the 72-win Chicago Bulls team of 1996 to the "Lob City" Los Angeles Clippers of 2013, the NBA has offered no shortage of excitement through the last two decades.
Along with the 1980s, the last 20 years of basketball have been a basketball fan's dream. Highlighted by the dominance of Michael Jordan, the mid-to-late 1990s showed fans things they've never seen before on NBA hardwood.
The new millennium was ushered in by three consecutive Los Angeles Lakers title seasons. Where do those Kobe Bryant- and Shaquille O'Neal-led Lakers rank among the all-time entertainers?
No team has ever topped that 72-10 record, but is any roster since 1993 capable of upstaging the Bulls dynasty on this list?
Certainly a LeBron James club will have a mark to make here. But where?
Find out next, as we rank the most entertaining teams of the last 20 NBA seasons.
Stats used from Basketball-Reference and NBA.com/Stats.
Begin Slideshow

»
Record: 38-2
Points Scored: 77.4
Points Allowed: 60.6
The record books say the 2011-12 Kentucky Wildcats weren't an NBA team, but there isn't much else supporting that argument.
The 'Cats lost twice en route to the national title, and won their games by almost 17 points on average. The entire starting lineup of Marquis Teague, Doron Lamb, Michael Kidd-Gilchrist, Terrence Jones and Anthony Davis all opted for the NBA after the season. Four of the five (with Lamb being the exception) were first-round selections.
This Kentucky roster was possibly the closest to an NBA lineup the NCAA has seen in the last two decades, so they've earned an honorable mention spot on this list.
Record: 55-27
Points Scored: 96.7
Points Allowed: 92.0
Through Jan. 27, 2008, the Houston Rockets stood at 24-20 and 10th in the Western Conference standings.
Then, Tracy McGrady and Co. supplied us with one of the most entertaining stretches of basketball this generation has ever seen.
After a 22-game winning streak—one that stood as the second-longest all time until the Miami Heat's recent 23-game run—Houston was suddenly 46-20 and the best team in the West.
T-Mac was second on that roster with 21.6 points per game, only to Yao Ming who suffered a season-ending injury during the streak. Rafer Alston, Luis Scola and Shane Battier were also leading scorers on that 2007-08 roster, one that was ultimately ousted in the first round of the playoffs by the Utah Jazz.
Despite their disappointing fate, these Rockets showed us that any roster is capable of pulling off a historic run, and that earns them a spot on the most fun teams since 1993.
Record: 52-30
Points Scored: 96.2
Points Allowed: 92.0
For much of the team's first few decades in the NBA, the New Jersey Nets failed to establish a true identity. They were never among the worst in the league, but weren't a playoff mainstay, either. This all changed in 2001.
Led by one of the 2000s best point guards in Jason Kidd, and a fiery surrounding cast of Richard Jefferson, Kenyon Martin, Keith Van Horn and Kerry Kittles (and Brian Scalabrine), the Nets reached the NBA Finals for the first time ever.
The team connected on 63 alley-oop dunks that year, and Kidd logged eight triple-doubles.
They breezed through the Eastern Conference during the 2002 postseason, losing just five games through the first three rounds. They then met the Los Angeles Lakers in the NBA Finals and were swept away in four games.
The precise offensive attack led by Jason Kidd and the league-best defense headed by Kenyon Martin supplied Nets fans with perhaps the most fun season New Jersey ever saw, and one one of the most entertaining of the last 20 years.
Record: 27-23
Points Scored: 86.4
Points Allowed: 85.4
Until 1999, only one eighth seed had ever won a postseason series. The '98-99 New York Knicks changed that and then some.
In the lockout-shortened season, the Knicks finished 27-23 and were one game away from finishing ninth and missing out on the postseason altogether. But once they got in, Jeff Van Gundy's squad made history.
They upset the Miami Heat in the first round, winning the five-game series 3-2. Momentum carried them to a four-game sweep of the Atlanta Hawks, and a triumph in six games over Reggie Miller's Indiana Pacers—a series that included Larry Johnson's famous four-point play.
What solidified the Knicks' underdog status was the absence of Patrick Ewing, who was sidelined through much of the postseason with an Achilles injury.
Allan Houston and Latrell Sprewell carried much of the scoring load, Charlie Ward manned the controls, and Kurt Thomas and Marcus Camby acted as enforcers during Ewing's absence.
They lost out on the ultimate goal, dropping the finals four games to one against the San Antonio Spurs, but the legendary playoff run is perhaps the most memorable in franchise history, and definitely one of the NBA's most fun in recent memory.
Record: 45-37
Points Scored: 97.2
Points Allowed: 97.3
Before there were Kevin Durant and Russell Westbrook (more on them later), there were Vince Carter and Tracy McGrady.
The 1999-2000 Toronto Raptors finished with 45 wins, which is still good for the third-best season in Raps history. They were led by a 23-year-old Carter and 20-year-old T-Mac—one of the most explosive and youthful duos the game has ever seen.
The two swingmen—a pair of third-cousins—led Toronto in scoring that year. Carter dropped 25.7 per game, and McGrady 15.4, primarily off the bench.
Both players rocked PERs over 20 and shooting percentages of more than 45 percent. The two combined for 74 slam dunks that year.
For a franchise that hasn't enjoyed much success—or excitement—through its 18 seasons, Carter and McGrady made this one of the most enjoyable.
Record: 64-18
Points Scored: 96.8
Points Allowed: 90.2
In an era of the NBA that was defined by its stars, the Detroit Pistons managed to dominate without a single one.
Chauncey Billups, Richard Hamilton, Tayshaun Prince, Rasheed Wallace and Ben Wallace led the way for Detroit through much of the mid-2000s. They won the title in 2004, but their 2005-06 campaign was their most fun to watch.
They won a franchise-record 64 games, and Detroit's offense was its third-most efficient of all time. Four starters average at least 14 points per game, Ben Wallace grabbed 11.3 boards that season. Billups dished out over eight dimes per contest.
Fans piled into the Palace that year, as Detroit finished first in attendance numbers with 883,040.
Unfortunately, there's not much left in Detroit from the last of its glory years, but the highlights remain as proof that those under-the-radar Pistons teams of the 2000s—especially the '05-06 crew—live on forever.
Record: 56-26
Points Scored: 94.7
Points Allowed: 90.4
Outside of the shooting guard position, the 2000-01 Philadelphia 76ers lacked a player who could score the basketball well. Luckily for them, that 2-guard was Allen Iverson.
In the 25-year-old Iverson's MVP-winning season, he dropped 31.1 points on average and added five assists and four rebounds per contest. He racked up two 50-point games and scored 40 or more points 15 times that year.
It's not outrageous to say that Iverson was the man responsible for Philly's finals trip that season. Although it was unsuccessful, The Answer provided us with countless memories that season—some memories that helped identify that generation of the NBA.
The 76ers were a team that relied way too heavily on one player to win a championship, it turned out. But that did make for as entertaining a season as any—one fun enough stack up against the coolest of the last 20 seasons.
Record: 57-25
Points Scored: 110.9
Points Against: 103.8
An often-overlooked team of the 1990s is the Orlando Magic, who were playoff mainstays through the mid-'90s courtesy of the phenomenal pairing of Shaquille O'Neal and Penny Hardaway.
In 1994-95, Orlando put up a remarkable 111 points per contest. Led by Shaq's 29 points per game and Hardaway's 21, the Magic ran all the way to the NBA Finals, where they'd were swept away by the Houston Rockets.
The 111 points were largely a result of playing at the fifth-highest pace in the league that season. But along with the high number of possessions, Orlando's offense was the most efficient in the league.
O'Neal shot 58 percent from the field, and Hardaway 51. Dennis Scott and Nick Andersen led the way with three-point clips of 43 and 42 percent, respectively.
Shaq would join the Los Angeles Lakers after the following season, and Hardaway would give Orlando just four more seasons of production before injuries and a lucrative trade offer from the Phoenix Suns stole him from the Magic.
This young Orlando roster never got a chance to develop together but reached the NBA Finals in a fun stretch of basketball—one that won't go unrecognized on this list.
Record: 57-25
Points Scored: 106.1
Points Allowed: 105.1
After dealing away Carmelo Anthony in 2011, the transformation of the Denver Nuggets is in full swing just two seasons later.
The Nugs played at the second-highest pace in the NBA and scored the most points on average. Led by a high-flying, fast-break attack, Denver finished with the sixth-best record in the West—with a roster consisting of just one player over the age of 30.
Six players averaged double-digit scoring. Kenneth Faried made huge strides in his second NBA season—the 23-year-old racked up 127 dunks. The team connected on almost 150 alley-oop jams in 2012-13.
Denver has transitioned from an isolation-heavy offense led by Carmelo Anthony to a team-oriented, rapid-paced brand of basketball that translated to one of the most fun seasons we've seen in recent memory.
Record: 40-26
Points Scored: 97.5
Points Allowed: 95.0
Year 1 of "Lob City" wasn't as successful as the most recent edition, but still exciting in its own right.
When it was learned the Chris Paul was teaming up with Blake Griffin and the Los Angeles Clippers, expectations instantly rose through the Staples Center ceiling for the first time in what seems like forever.
Our first taste of Lob City ended with a second-round playoff exit, but was filled with several highlights that will withstand the test of time. Griffin's posterization of Kendrick Perkins comes to mind.
Griffin received a total of 43 lobs for dunks in 2011-12 from an array of guards including Paul, Mo Williams, Chauncey Billups and Randy Foye.
DeAndre Jordan wasn't left out of the fun either. In his first year after being re-signed for the long term by the Clips, he dunked the ball home 156 times.
It wasn't the best version of Lob City, but its entertainment value alone is good enough for a spot on this list.
Record: 47-19
Points Scored: 103.1
Points Allowed: 96.9
It's easy to forget now, but just a year ago James Harden was the third option on the Oklahoma City Thunder.
Alongside Kevin Durant and Russell Westbrook, the trio will go down in recent history as one of the best to link up. Durant won the scoring title with 28 points, and Harden averaged 17 points off the bench to win Sixth Man of the Year. Westbrook's 24 points and six assists were good enough to earn him All-NBA Second Team honors.
The season was Harden's coming-out party of sorts. He averaged just 12 points on 44-percent shooting the year prior, but improved that clip to 49 percent in 2011-12 as his minutes jumped from 27 to 31.
The team lost out to the Miami Heat in the finals, but that doesn't take away from the three-headed offensive monster it strutted out on a nightly basis. After Harden was dealt to the Houston Rockets to be their first option, the harsh restrictions of the NBA salary cap became reality for Oklahoma City.
They'll surely compete for championships in the near future with KD and Westbrook in charge, but not in the same fashion as when their home-grown "Big Three" was in tact.
Record: 64-18
Points Scored: 104.5
Points Allowed: 96.7
Not very long ago, Seattle basketball fans had reason to be excited. Their Sonics were headed by the duo of Gary Payton and Shawn Kemp, and the George Karl-led roster won 64 games in 1995-96.
The Glove and Reign Man were the Sonics' leading scorers that season—both at a shade under 20 points per game. Payton averaged 7.5 assists and three steals for Seattle, while Kemp pulled down 11.4 boards.
It was Kemp's penultimate campaign as a Sonic—he was dealt away to the Cleveland Cavaliers before the 1997 season, breaking up the effective pair with Payton.
The '95-96 SuperSonics played at the third-highest pace in the NBA, and scored at the eighth-highest efficiency in basketball.
They were faced with the ultimate nightmare that postseason, when they met the 72-win Chicago Bulls—the team that will forever overshadow the '96-96 Sonics—in the NBA Finals. Seattle managed to steal two games, but lost the series in six.
Twelve seasons later, the Sonics were no more. But the 1995-96 season remains as one of the most pleasant memories in the minds of the Seattle NBA faithful.
Record: 61-21
Points Scored: 104.6
Points Against: 97.0
The Sacramento Kings may not be sticking around much longer, but about a decade ago, they were a yearly threat in the Western Conference.
2001-02 was their best season together, a campaign that ended in Game 7 of the Western Conference Finals against the Los Angeles Lakers—after a Game 6 that may have been the worst officiated game in NBA history.
It's not a stretch to say that the 2002 NBA Finals should have featured Mike Bibby, Chris Webber and the Kings. Thanks to some shady calls and unlucky breaks, however, they were ousted a round early.
Nevertheless, Sacramento's 2001-02 campaign goes down as one of the most fun of the last two decades. Webber dominated—he averaged 25 points, 10 rebounds and five assists—Peja Stojakovic shot 42 percent from three-point land, and Bibby added 14 and five dimes.
Their month of January sealed their fate as a championship contender, when the Kings went 11-1 by shooting 48 percent from the field and 42 from the arc.
The Kings may not have much NBA history left to make—and it's a shame that the 2002 team wasn't able to get the chance—but this season was as entertaining as any.
Record: 66-16
Points Scored: 100.3
Points Against: 91.4
The 2008-09 Cleveland Cavaliers season is still the winningest of LeBron James' career.
The team won 66 games and pounded teams by about nine points on average. LeBron scored over 28 points per game and wasn't yet the villain that he would soon find himself portrayed as in a few seasons.
This edition of LeBron's Cavs were a fun group. There was an innocence about the James surrounding cast that made it easy to pull for Cleveland that season. Zydrunas Ilgauskas was in the twilight of his career in Cleveland and desperately chasing a ring, Mo Williams was facing the pressure of living up to expectations as LeBron's sidekick, and 26-year-old Anderson Varejao's motor was second to none.
And how could we forget their fun pregame photo-op and baseball routines?
It was James' second-to-last season as a Cav, and it ended just how his final one would—with a Game 6 loss in the playoffs.
Record: 69-13
Points Scored: 103.1
Points Against: 102.4
The Chicago Bulls chased their fifth NBA title in 1997, a year removed from a record-setting 72 win-season. Coach Phil Jackson wanted the team to take a slow approach to the campaign, with not much left to prove, but the Bulls did just the opposite.
They got off to a scorching 17-1 start and stood at 68-10 with four games remaining in the season—a 4-0 finish away from back-to-back record seasons. Chicago ultimately finished 2-2 over those four, but 69 wins is still the second-highest total in franchise history to date.
Michael Jordan headlined the Chicago roster with 29 points per game, and Scottie Pippen added 20 with 6.5 rebounds. Steve Kerr's .464 mark from beyond the arc was second in the NBA in 1996-97.
Chicago went on a 16-4 run in the postseason to successfully defend its title, as Michael Jordan earned his fifth ring at age 33.
Record: 62-20
Points Scored: 96.7
Points Against: 89.6
The 1997-98 Chicago Bulls season was the last Chicago campaign with Phil Jackson at the helm and Michael Jordan leading the way. They'd won titles five out of the previous seven years—this one would be no different.
It was an emotional run in that the basketball world presumed it would be MJ's last NBA action. Bulls players knew that nothing would be quite the same after '98, and it was made a lot more interesting when Scottie Pippen was forced to sit out 40 games with an injury.
Jordan scored a less than career-average but league-leading 28.7 points per game, and Pippen added 19 per contest in 44 games. Steve Kerr contributed 45-percent three-point shooting, and the Bulls found themselves in the finals for a third straight year.
They faced the Jazz, and won in six games. Jordan took home his fifth MVP award in his final Chicago season, and the Bulls' farewell tour ended just the way everyone knew it would.
It's what made this one that much sweeter to watch.
Record: 62-20
Points Scored: 110.4
Points Against: 103.3
The Mike D'Antoni-led Phoenix Suns never did win a title, but the 2004-05 season was the closest they got.
The roster had a little bit of everything. At 30, Steve Nash ran the offense brilliantly by scoring 16 per game while dishing out 12 assists. At center, 22-year-old Amar'e Stoudemire dominated by adding 26 points and nine rebounds a contest.
On the wings, Joe Johnson and Quentin Richardson scored 17 and 15 points per game, respectively. Johnson's 48-percent clip from downtown was good for second league-wide.
Shawn Marion was the team's second-leading scorer—he averaged 19 points while pulling down 11 boards.
D'Antoni's seven-seconds-or-less offense was perhaps never carried out better than it was in this season. Those 110 points per game were tops in the league, as was the offensive efficiency of 114.5.
There's not much to say about the team's defense, because, well, there wasn't any.
All that offense, however, led the Suns to the Western Conference Finals, where the San Antonio Spurs showed them an early exit after five games. Despite having the one of the best offensive seasons in league history, the lack of defending is what ultimately did them in once the opponent became as formidable as San Antonio.
Still, the 2004-05 Suns team was one of the most fun-to-watch groups the NBA has run out.
Record: 67-15
Points Scored: 100.8
Points Against: 92.3
Heading into 1999, the Los Angeles Lakers had been held title-less since the Showtime Era. They had yet to make the Shaquille O'Neal-Kobe Bryant pairing mesh successfully, and they'd called upon Phil Jackson to right the wrongs that had developed over the previous three seasons.
Needless to say, Jackson got it to work.
Along with 30 points and 14 rebounds per game, a 27-year-old Shaq also posted four assists and three blocks. Kobe scored 23 points per contest on 47-percent shooting.
Jackson's triangle offense served the entire team well, as L.A. finished the season with three separate winning streaks of 11, 16 and 19 games—and finished three wins shy of 70.
They then went on a postseason run that had them on the ultimate stage with the Indiana Pacers in the NBA Finals—where they won in six games.
If all that doesn't make for a fun season, then I don't know what does.
Record: 56-26
Points Scored: 101.1
Points Allowed: 94.6
Two years in, the Lob City project in Staples Center is right on track.
The Los Angeles Clippers have successfully put on a show for a second straight season, only with better team production in 2012-13.
The team went on a 17-game winning streak to close out the 2012 calendar year. With all the troubles the Los Angeles Lakers suffered through in 2013, there was little doubt that the Clippers were the talk of Staples this season.
Blake Griffin led the way with 18 points per game—and 202 slam dunks—and Chris Paul added 17 points with 10 assists.
The addition Jamal Crawford paid huge dividends right from the beginning of the season. Crawford will be in Sixth Man of the Year conversations after posting 16.5 points per game in 29 minutes.
Five Clips scored in double figures on the season. DeAndre Jordan's .643 field-goal percentage was tops in the league, and the Clippers are looking to make an extended postseason run as the West's fourth seed.
It's a new era of NBA basketball, and the Clippers could be the most entertaining part about it.
Record: 66-16
Points Scored: 102.9
Points Allowed: 95.0
Let's be honest: Any team with a 28-year-old LeBron James would likely make this list. Dwyane Wade, Chris Bosh and Ray Allen are enough to make this group contend for the top spot.
James averaged an insanely well-rounded 27 points, eight rebounds and seven assists. He shot 57 percent from the field and 40 percent from three-point range. After a slow start, Wade managed to score 21 points on average and Bosh a respectable 16.
The team went on a nearly record-breaking 27-game winning streak from February to March, ensuring the best record in the NBA.
Wade and James consist of the scariest two-man fast break in NBA history. Along with enough talent to construct an All-Star roster, their impeccable chemistry would have you believing they've played together for much longer than their three seasons.
Through the first two seasons of the "Big Three" era in Miami, the offense was talented but unpolished. In 2012-13, the Heat's attack is terrifying for opponents. Instead of LeBron or Wade operating out of isolation, James runs sets as an imposing point-forward and led the team to the second-highest offensive efficiency.
The team's postseason run is in progress, but it's hard to remember a more favored title favorite.
Love them or hate them, the Heat have put on a show for NBA fans this season—one that any other roster wouldn't be able to give us.
Record: 72-10
Points Scored: 105.2
Points Allowed: 92.9
The 1995-96 Chicago Bulls were coming off a disappointing playoff failure a season before, in which Michael Jordan joined the team halfway through after coming out of retirement.
Two years removed from their last championship, Chicago was set on making immediate changes and returning to greatness in 1995-96.
The Bulls won 72 games that season and lost 10 times.
Statistically, Chicago ran out the most efficient offense and defense. Jordan, Scottie Pippen and Toni Kukoc all posted PERs higher than 20 (MJ's was 29.4).
The team finished the regular season winning 12 of its last 14, and enjoyed a 16-3 playoff run to bring the Larry O'Brien trophy back to Chicago.
No NBA team has matched the Bulls' 1995-96 win output, and there's a chance nobody ever will. Perfect teams hardly ever exist in professional sports, but these Bulls were the prototype.
If you like watching good basketball, a 72-win team sounds pretty enjoyable. That's what makes these Bulls the most fun NBA club of the last two decades, and possibly of all time.
Follow me on Twitter at @JSDorn6.