Oregon Football: 5 Weakest Positions to Worry About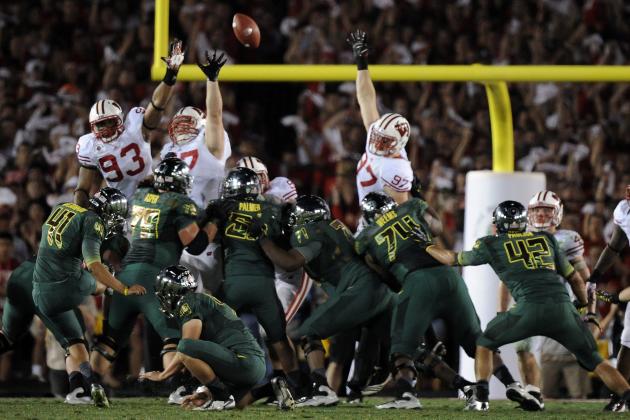 Harry How/Getty Images
Though this kick was made, Alejandro Maldonado has been largely inconsistent.
"Weak position" is a relative term when it comes to the 2013 version of Oregon football. Fans probably aren't worried about the linebacker spot in the same way that, say, Colorado fans are worried about their team's entire defense.
But that doesn't mean this group is without flaws. Some of them, like place-kicking, have been the chief reason for the Ducks failing to return to the title game.
Keep in mind that a weak position doesn't necessarily mean the spot has bad players who aren't ready for college football. Sometimes it's a lack of depth. In other cases, it may be a lack of experience.
Every single unit has a chance to be above-average in 2013, and some positions, such as the secondary, will likely be among the nation's best. But there are several questionable spots that must be addressed if the Ducks wish to knock Stanford off the Pac-12 perch.
Here are the five weakest positions as we approach the spring game, though again, to be fair, any one of these spots could ultimately prove to be a strength by the time bowl season rolls around.
Begin Slideshow

»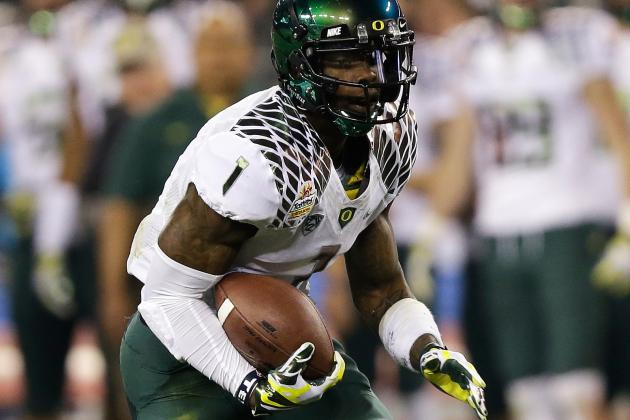 Ezra Shaw/Getty Images
WR Josh Huff is a sure thing. Everyone else, we'll see.
On a team with so much talent, it's hard to come up with positions that you'd call "weak." Again, that's a relative term when it comes to the Ducks' wide receiver group. There are a lot of teams that would love to have this group of guys.
Still, there are some major question marks, and despite the fact that some could be addressed before the season, they still exist now.
For example, after Josh Huff, who can take over a game? Bralon Addison appears poised for a breakout year, and we're aware of what De'Anthony Thomas can do from the slot. There's young talent to spare with guys like Dwayne Stanford and B.J. Kelley.
But beyond Huff, there isn't anybody whom you'd feel confident in if he were matched up against an elite corner. That may change by the time the season rolls around and we're able to see what kind of improvement guys have made.
But given the lack of experience and the fact that so many other positions are loaded, the receiver spot squeaks on to this list as one of the five weakest positions on the team.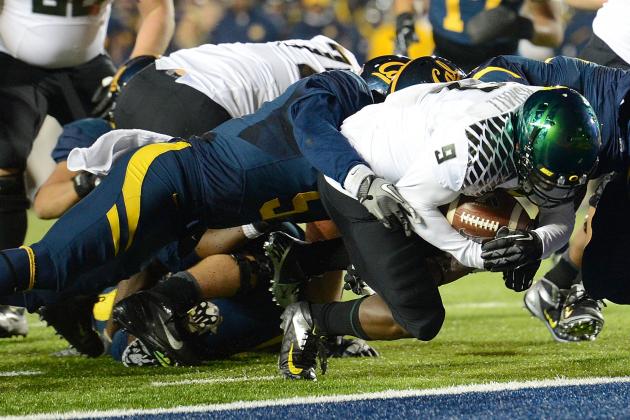 Thearon W. Henderson/Getty Images
How improved will Byron Marshall be in year two.
The running back position, which was so loaded back in 2010, has been hampered by the recent transfers of Dontae Williams, Lache Seastrunk and Tra Carson. Well, at least the depth has been affected. Production? Not so much, thanks to LaMichael James and Kenjon Barner.
But with those two greats gone, the Ducks will now rely on De'Anthony Thomas, who splits time at slot receiver, and Byron Marshall, a true sophomore coming off a promising first season.
All-everything Thomas Tyner will arrive in the fall, but it's hard to predict exactly what he'll contribute. In any case, he's an unknown commodity at the moment.
An injury to either Thomas or Marshall would be devastating, and while it would be a safe prediction to think that both guys can carry the load, the lack of depth is a major issue.
If Marshall improves, DAT can handle 15 carries a game and Tyner picks things up quickly, running back will instantly become one of the strongest positions on the team. But right now, with only three scholarship backs on the roster (although Ayele Forde initially walked on), the backfield makes the list.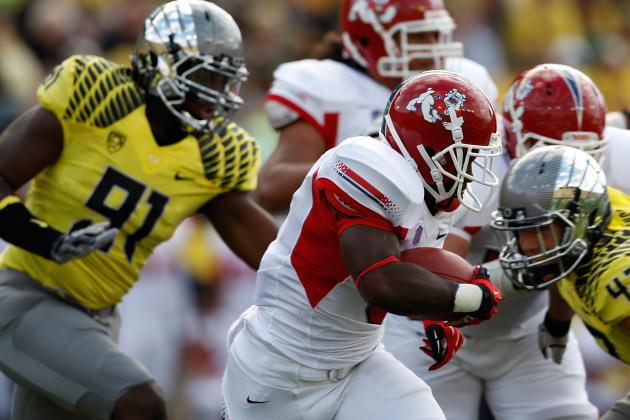 Kevin Casey/Getty Images
Tony Washington (left) takes over for Dion Jordan.
Dion Jordan did a lot of great things for the Oregon Ducks.
He proved that you can successfully change positions and dominate your new one. He solidified the notion that versatility is an important trait to have in football. And finally, he proved that having a guy who can effectively rush the quarterback, stuff the run and drop into coverage can change the fortunes of an entire defense.
So, Tony Washington, good luck!
In all seriousness, while Jordan's numbers didn't pop off the charts this past season, his presence alone allowed Oregon to do so many different things on defense. Washington now steps into that role with a lot to prove.
Fortunately for him, he was able to gain valuable experience throughout the 2012 season, which included a start in the Fiesta Bowl. He has the frame and athleticism to step in and make plays immediately. His backup, Christian French, is also poised to be an effective man in the regular rotation.
But a (likely) top-five NFL draft pick being replaced by a guy who has everything to prove makes the drop-end position one of the weakest heading into next season.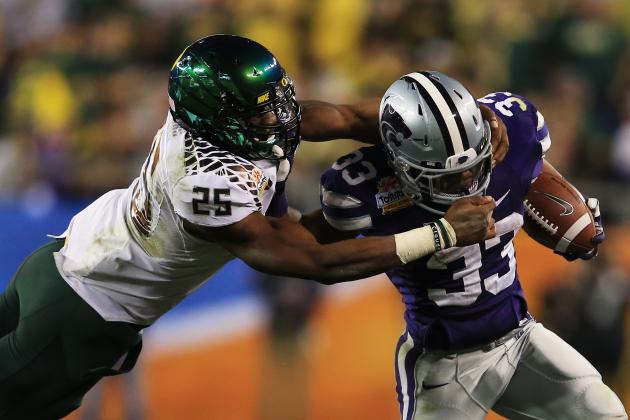 Doug Pensinger/Getty Images
Linebacker Boseko Lokombo
Similar to the wide receiver spot, linebacker is a position with one proven commodity (Boseko Lokombo) surrounded by many talented unknowns.
And anytime you replace a couple guys like Kiko Alonso and Michael Clay, there are bound to be some growing pains with new faces.
On the plus side, many of the guys competing for the two openings have experience from the 2012 season. There's also junior college transfer Joe Walker, who could see the field early on.
But heading into the season, many fans will be nervous about the linebacker position, and rightly so. Nobody aside from Lokombo has shown the look of being the next dominant Oregon linebacker, which isn't to say nobody can become that guy, but so far, the question marks largely outnumber the sure things at the spot.
As I've said so many times before, the Ducks have more depth than ever before, and the 2004 squad would probably take this group of linebackers in a heartbeat. But there's little doubt that right now, in 2013, linebacker is a position of concern.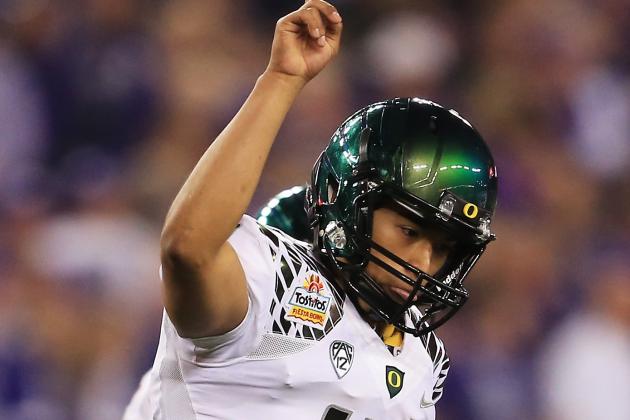 Doug Pensinger/Getty Images
K Alejandro Maldonado may not see the field again.
The top spot on this list should come as no surprise. Place-kicking struggles have been well-documented, so I'm not going to harp on poor Alejandro Maldonado, the source of many Ducks fans' angst.
But there's also the matter of four-year starter Jackson Rice being replaced by either Maldonado or Dylan Ausherman at punter. Ausherman, who transferred in from junior college before last season, appears to be the favorite to win the job. But while fans could normally count on Rice, nobody will know what Ausherman brings to the table until the first game.
At kicker, Matt Wogan will join the team in the fall, and he brings with him a strong resume. However, like Ausherman, he is a complete unknown until he steps onto the Autzen turf for his first field-goal attempt. No matter what Wogan did in high school, kicking in Autzen in front off 55,000-plus fans who've experienced nothing but heartbreak over missed field goals is no easy task.
Can you imagine the pressure he'll face with that first kick, even if the game is a blowout? A miss, especially at a distance under 40 yards, will instantly create thousands of "here we go again" thought bubbles.
Without a doubt, kicker (and punter) is the weakest position heading into the 2013 season, and while the other positions on this list may not cause fans to worry per se, this one most certainly will.