Position by Position Matchup Guide for San Antonio Spurs vs LA Lakers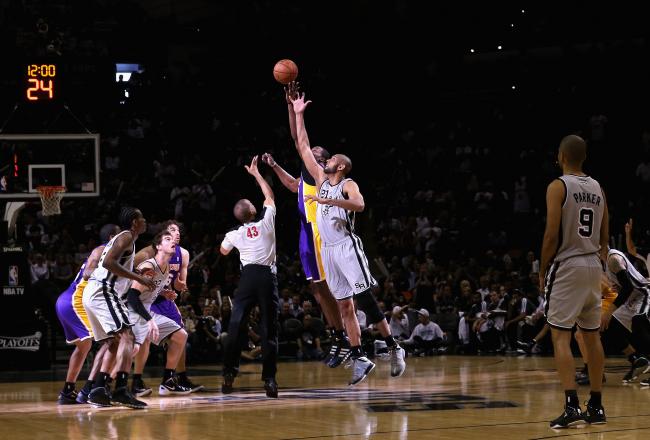 Ronald Martinez/Getty Images
The NBA world was given a pleasant surprise recently after lucky seeding resulted in a first-round matchup between two fierce rivals.
The San Antonio Spurs and the Los Angeles Lakers have been two of the most dominant Western Conference forces over the past decade—and while their dynasties are beginning to crumble, the 2013 Playoffs signify what may be these teams' final shot at a title for years to come.
History has revealed a pattern in which the winner of any playoff series between these two squads has advanced to the NBA Playoffs—and with the teams meeting in the postseason for the first time since 2008, both will look to strike first, with the hopes of keeping the streak alive.
While the second-seeded Spurs remain the favorites, having finished the regular season with the more impressive record in addition to their Game 1 victory, the No. 7 Lakers' roster features a plethora of stars, even without their leading scorer, Kobe Bryant.
The Spurs, too, enjoy a talented roster, with multiple contributors possessing the capability of taking over.
In a battle of two star-studded rosters, the victor of this series may come down to which team possesses the stronger group of players.
Point Guard
The point guard duel features two potential Hall of Famers in Steve Nash and Tony Parker. Nash is in the latter stages of his career, but has still proven to be a valuable contributor despite his age.
For the Spurs, Tony Parker commands the point guard duties, and while his experience classifies him as a veteran, Parker remains fairly young compared to Nash. At 30, Parker has plenty of good years ahead of him, with his current season being the best of his career.
Though the pair may be viewed as equals—the matchup may prove to be more lopsided than people would think.
Nash's poor defensive abilities will be exposed at the hands of Tony Parker during this opening round. While Nash has habitually struggled on the defensive end, Parker's speed and offensive ingenuity will spell doom for the L.A. floor leader.
This season alone, Parker has thrived during times in which he shares the court with the former Suns star. His 109.6 offensive rating while Nash is on the court is a significant improvement over the 88.8 rating he holds during times in which Nash sits on the bench.
Parker has given opposing guards trouble throughout the season, and Nash should be no exception.
At the same time, Nash possesses extraordinary offensive talent—namely his shooting and passing abilities. As one of the league's most dominant distributors, Nash's role is mainly that of a passer, though his incredible shooting talents allow for him to be a dangerous scoring option as well.
Still, Parker has proven himself as one of the league's top point guards, and an aging Steve Nash simply will not measure up to the San Antonio star.
Advantage: San Antonio Spurs
Shooting Guard
The shooting guard position would not be up for debate, had Los Angeles' star wingman, Kobe Bryant been able to appear.
Do to an Achilles injury, the veteran star will miss the remainder of the season, opening the room for discussion about which team possesses the better shooting guard.
For the Spurs, Danny Green starts, allowing Manu Ginobili to come off the bench. The starting situation in L.A. remains a bit more complicated, with the team still experimenting in wake of the flood of injuries.
Jodie Meeks had been given the starting duties prior to Nash's return, with Steve Blake starting as the point guard. However, Blake lined up alongside Nash in Game 1, after proving to be dominant in the final few games of the regular season.
He lit up San Antonio in the final regular-season matchup, though Danny Green certainly left his mark on the city of Los Angeles as well.
Many plays end with an open Green, and the young shooting guard has already established that he has LA's number.
Blake's two 20-plus point outings to end the regular season show that he may be more than meets the eye, but overall, Blake still remains a player more suited to come off the bench.
Green, on the other hand, has proven to be a legitimate role player for the Spurs. As both a lockdown defender and a three-point specialist, Green has been a pleasant surprise, and his contributions have a grand effect on how the offense flows, considering the numerous amount of plays that end with the ball in his hands.
However, his streaky shooting has earned him a notorious reputation, with his disappearance in last year's Western Conference Finals being the most cited incident in which Green proved to be detrimental to the squad.
Still, Green is a more proven talent, and more capable of dominating on both ends.
Advantage: San Antonio Spurs
Small Forward
The small forward position on both teams is filled by a player whose strengths lie on the defensive end, though they are not offensively inept.
Metta World Peace has become a crucial role player for the Lakers, trusted to be a major contributor on the boards and defensively. Offensively, World Peace has proven to be a capable three-point shooter, as well as an inside presence, especially when he is motivated.
Kawhi Leonard of the Spurs shares similar duties, being the team's most trusted perimeter defender as well as a consistent contributor on the glass.
He too has proven to be excellent from long range, and his improvement with driving allows for him to be dangerous inside as well.
Years ago, while World Peace was still Ron Artest, he may have found himself winning individual matchups, but his age has limited his abilities, whereas Leonard is an emerging talent who will only grow. With a veteran's demeanor, San Antonio's small forward will have a major impact on their performance—and should be able to outplay his Laker counterpart on both ends of the floor.
Leonard proved what he is capable of on both ends, and if he maintains this level of production, the Spurs have the stronger small forward.
Advantage: San Antonio Spurs
Power Forward
With both frontcourts filled with talented players, the most interesting matchup may end up being that of the the two veteran power forwards, Pau Gasol and Tim Duncan.
Gasol had struggled early in the season, but as the European big man begins to find his rhythm, he becomes increasingly dangerous. Offensively, he possesses a handful of deceptive post moves—and he has become an important factor on the boards.
Tim Duncan has also shown his value as an offensive genius, though he has stepped up defensively in areas that Gasol hasn't. He has been a leader on the rebounding end, and his passing has been top notch.
Against Duncan this season, Gasol has struggled greatly, especially as of the late. Shooting a combined 10-33 in his past two games against the Spurs, his offensive struggles have become an area of concern, and while he has shown ways to contribute elsewhere, one can only wonder how far the Lakers can go with one of their key contributors struggling.
Meanwhile, Duncan keeps on rolling. His resurgent season has propelled his name atop All-NBA talks, and Duncan—being no stranger to the postseason—has the potential to give L.A. nightmares. His Game 1 performance was strong, and he is fully capable of outdoing it.
Even the talented Pau Gasol remains a step below the surging Duncan this season.
Gasol is extremely talented, but Tim Duncan has been too good.
Advantage: San Antonio Spurs
Center
Though Tim Duncan will give Pau Gasol issues in the low post, the Lakers have another big man capable of troubling the Spurs' frontcourt.
Dwight Howard has established himself as one of the top players in the current generation, and even in an disappointing season, Howard has proven himself a key player.
In the wake of the Bryant injury, Howard has stepped up, and after commanding offensive control while being a leading rebounding force, he is undoubtedly one of the top players between these two teams.
Tiago Splitter will be the Spurs' top option to contain the rebounding champion, and in previous years, the thought of that matchup would reduce many Spurs fans to tears.
However, Splitter has shown a vast improvement this season, and while he remains second class compared to Howard, he can still put up a legitimate fight.
This guy will be the heart and soul of LA's team in this series.
The true battle will be a combined duel of the post tandems, but when focusing on the center spot alone, Howard holds the significant advantage.
Advantage: Los Angeles Lakers
Bench
The San Antonio Spurs are often praised for their incredible depth, though the same cannot be said for the Lakers. L.A., who often focuses on their starting lineups, has struggled to find bench production, though their current roster has a handful of contributors resting on the sidelines.
Antawn Jamison provides the squad with a talented veteran, who is capable of stretching out the floor while making big plays. Jodie Meeks is a legitimate shooter, while Earl Clark has shown flashes of talent throughout the season.
Even so, it would be hard to argue against the Spurs here.
Manu Ginobili leads the crew, and while the veteran guard has been injured throughout the year, his Game 1 performance indicates that he is ready to contribute at a high level again. Aside from their sixth man, the Spurs have valuable assets in Gary Neal, Boris Diaw (when he returns from injury), and Cory Joseph—who has exhibited confidence recently, making him a player as opposed to an afterthought.
Even Matt Bonner showed his ability to contribute off the bench, notching 10 points in the first game.
The stars may be found in the starting ranks, but bench production can be crucial to a run, and the Spurs have the clear advantage when it comes to their reserves.
Advantage: San Antonio Spurs
All stats were taken from NBA.com.
This article is
What is the duplicate article?
Why is this article offensive?
Where is this article plagiarized from?
Why is this article poorly edited?

San Antonio Spurs: Like this team?