The first game of the NBA playoffs is a chance for teams to come out and make a statement, and the Indiana Pacers did just that with a definitive 107-90 win over the visiting Atlanta Hawks.
Frank Vogel and his Pacers showed why they are the best defensive team in the league and that this series will go to the higher seed.
Both teams came in with their own struggles.
The Pacers had gone .500 over their last 10 games, including a three-game losing streak to end the regular season.
But this is the playoffs; the rugged postseason. The Pacers have home-court advantage, and they went 30-11 at Bankers Life Field House this year.
An impressive first half led to a devastating second half for ATL
This was a playoff game that catered to the Indy squad almost too perfectly, from the energy of the crowd to the fact that Indiana was taking good shots and controlling both the pace and the glass.
George Hill and Lance Stephenson are showing that they are in fact a very good and underrated backcourt, and though Stephenson doesn't post elite numbers, he makes key plays. The TNT broadcast quoted Vogel saying, "He's a gamer."
The Pacers have quite a few such players, and the fact that these guys clicked in unison led to the Pacers leading by as much as 16 points late in the second quarter before an Atlanta run closed the gap at the midway point.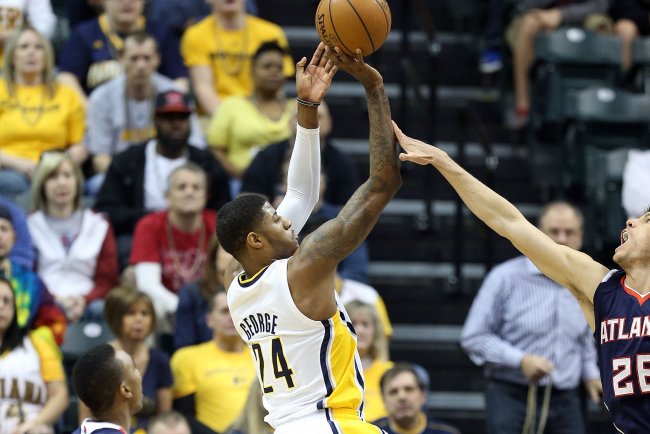 Andy Lyons/Getty Images
The Pacers came out in the second half to go on a big run, and in the third quarter saw Paul George approach a triple-double by the game break at the 5:39 mark of the quarter.
The gifted 6'8" shooting guard is an elite athlete whose talents allow for an inside/outside game, which features the first-time All-Star taking it to the rim—often, and hard. George's 3-of-13 shooting would ordinarily indicate a bad shooting night, but the misses were often non-calls, tough late-shot-clock attempts and botched pick-and-rolls that resulted in forced shots.
Paul George had already tasted success vs ATL
The rest of the time, he was just getting to the line and flat-out knocking them down. George hit 17-of-18 from the stripe, and his hustle was infectious.
George ended up with an all-around effort that produced a 23-point, 12-assist, 11-rebound triple double.
Paul George: 2nd triple-double in playoff game in Pacers history. Other was by Mark Jackson in 1998.

— ESPN Stats & Info (@ESPNStatsInfo) April 21, 2013
The Pacers were left with a huge advantage due to George.
The Pacers were more aggressive and took it right into the heart of the Hawks defense at Al Horford, Josh Smith and Ivan Johnson. They rendered the Indy team with an interior effort but were outclassed.
If Paul George plays his best, can Indy defeat Miami?
The fourth quarter saw Indy come in with a 14-point lead, and Pacers power forward David West rested a tweaked ankle from the second quarter.
Tyler Hansbrough came in and drew multiple ovations for his hustle, grabbing an offensive rebound off his own free-throw miss, hustling and helping the Pacers build a fourth-quarter lead that stayed in double digits as the Hawks continued their cold second-half shooting.
Hansbrough's hustle and hard work off the bench can't be overstated, as he helped the other Pacers reserves score 24 points. Though the Hawks bench managed 27 points, much of it was the addition of meaningless garbage-time buckets.
If the Hawks have any positional advantage in this series, they are mostly negated by Indiana's intense playoff defense.
But Jeff Teague was able to have a decent night, anyway, despite the Hawks shooting 51.4 percent from the floor.
Teague scored 21 points on 7-of-14 shooting as the game approached its final two minutes.
But the Hawks fouled too often, allowed 15 offensive rebounds and missed seven of their 12 free throws.
These blunders added up too heavily, and against a good fundamental team like Indiana, too many miscues will equate to a double-digit loss as we saw here in Game 1.
The Hawks will look to make some adjustments, not the least of which will be to figure out how to keep George from getting to the rim.
When Paul George plays like this, the @pacers are a scary good team. #TripleDoubleTime

— ESPN (@espn) April 21, 2013
They have to settle how they are going to approach the defensive pressure of the Pacers' pesky backcourt, and how they are going to handle the height of Roy Hibbert and sweet shooting of David West.
That sounds like a lot of work.
Who will win Game 2 on Tuesday?
Vogel's Pacers adhered to his winning strategy and, not surprisingly, are 22-4 when they manage 100 points in a game, put up 107 points and lead by 12 points after the first period.
They never looked back in Game 1, and this series should be decided in no more than six games, likely ending in five.
Game 2 will be held from Bankers Life at 7:30 p.m. ET and aired on NBA TV.