UFC on Fox 7 Results: Questions Answered and Lessons Learned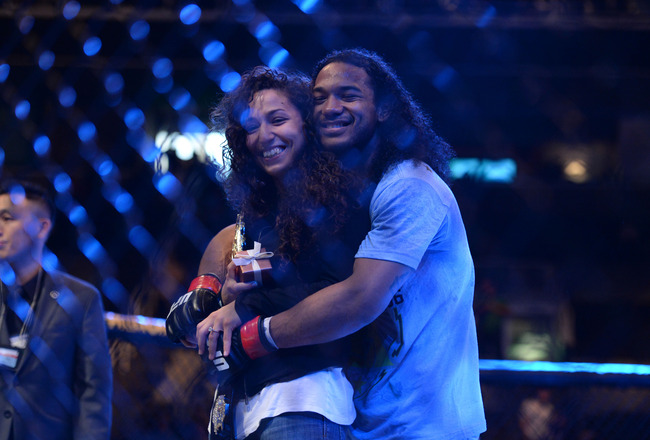 Kyle Terada-USA TODAY Sports
UFC on Fox 7 last night turned out to be the best Fox card the promotion has put on in its brief history on the network. It was packed with finishes, with eight of the 12 fights on the night ending by way of stoppage.
The night was full of plenty of intrigue and surprises, as well, and was capped with a controversial split decision in the main event—a lightweight championship fight between Ben Henderson and UFC newcomer Gilbert Melendez.
Other fights of note include the much-hyped heavyweight Daniel Cormier making his UFC debut against Frank Mir and Nate Diaz returning to the cage for the first time after his defeat to Henderson in December.
Daniel Cormier Should Drop to 205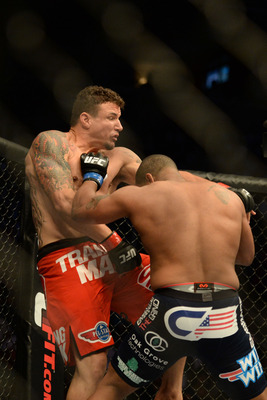 Kyle Terada-USA TODAY Sports
Daniel Cormier's underwhelming performance at UFC on Fox 7 has everyone questioning whether he should drop to 205 pounds. The fighter himself has said that it was the "jitters" that got the better of him, as he cruised to a convincing, though less-than-thrilling victory against Frank Mir in his UFC debut.
The unanimous decision in Cormier's favor was treated with boos from his own home crowd in San Jose, California. As the winner of the Strikeforce Heavyweight Grand Prix, much was expected of him on his UFC debut, but he failed to show any of the ferocity that has become the hallmark of his close training partner, and UFC heavyweight champion, Cain Velasquez.
It's hard to judge a fighter from just one fight, and Cormier himself has said that he failed to perform at his best. But heavyweight is a busy division, and the weight class below has a champion struggling to find fresh contenders. Now that he has Frank Mir out of the way, it would make much more sense for Cormier to go down and face Jon Jones.
Ben Henderson Wears a Precarious Crown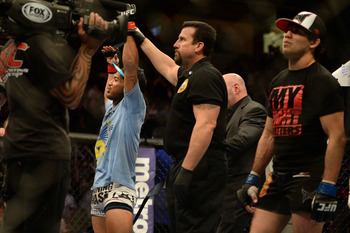 Kyle Terada-USA TODAY Sports
Benson Henderson is riding close to the edge and has retained his bet with another controversial split-decision victory.
After his last two wins against Frankie Edgar, we thought he'd stamped his authority on the lightweight division with a much more convincing performance against Nate Diaz in December. But he rode his luck once again against Gilbert Melendez with a decision that proved hugely unpopular with the crowd.
Not even the sight of Hendo on bended knee proposing to his girlfriend did much to win them over.
Team Alpha Male Has the Best Little Guys in the World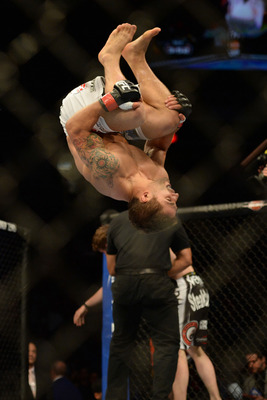 Kyle Terada-USA TODAY Sports
The little men that UFC bantamweight Urijah Faber has gathered under his Team Alpha Male banner have come away as the real story of UFC on Fuel 7. All three of the team's men came away with noteworthy wins, proving that all three are among the top contenders in their division.
Chad Mendes showed once again why he's one of the best featherweights out there, finishing Darren Elkins by first-round TKO. It was the third first-round finish in the three fights following his loss to the 145-pound champion Jose Aldo, putting him right back in the contenders race.
Alpha Male's flyweight Joseph Benavidez also scored a finish, his second straight win in his two fights following his title loss to Demetrious Johnson.
And bantamweight TJ Dillashaw also scored a finish, a first-round TKO of Hugo Viana. That's his fourth win in a row and has now put him in the top 10 in the division, where we could see a clash with his training partner Faber.
Josh Thomson Is a Contender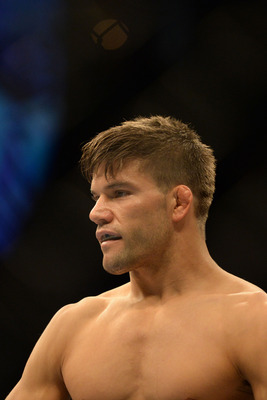 Kyle Terada-USA TODAY Sports
At 34, Josh Thomson has beaten one of the UFC's most dangerous lightweights, Nate Diaz. The win will surely make him a top-10 fighter in one of the promotion's most stacked divisions.
He's the first person in the UFC to ever finish Nate, and he did it in convincing style. Controlling the whole fight on his feet and never straying from his game plan, Thomson finished the younger Diaz with a brutal head kick in the second round.
That win has put the whole division on notice, earning him a big-name opponent next.
Nate Diaz's Time as a Lightweight May Have Come to an End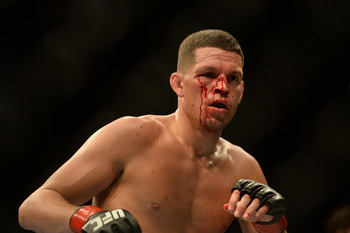 Kyle Terada-USA TODAY Sports
Even before entering the cage against Josh Thomson, Nate had suggested he was done fighting at lightweight. The weight cut was getting too much for his maturing body, but considering how badly he had done at 170 pounds, it's hard to imagine why he'd want to return to that division.
But for Nate, having fought and failed against champion Ben Henderson, fighting men like Josh Thomson seems hardly worth it. Making 155 pounds is getting more difficult, and it's hard for him to make that cut against opponents he doesn't feel motivated to fight.
That suggests, after losing to Thomson, the man who plays by his own rules will likely go back up to 170 pounds.
Caesar Gracie Jiu-Jitsu Have to Learn to Deal with Heartache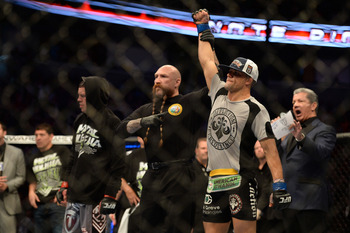 Kyle Terada-USA TODAY Sports
The great night Team Alpha Male had on Saturday couldn't stand in starker contrast to the defeats suffered by Caesar Gracie Jiu-Jitsu.
Gilbert Melendez has already said he was "heartbroken" over his loss to Benson Henderson at UFC on Fox 7, and that sentiment can be writ larger when it came to the sight of Nick Diaz throwing in the towel to save his younger brother Nate from a Josh Thomson beating.
It's been a long time now since we've seen a Caesar Gracie Jiu-Jitsu victory, and after the latest UFC event, the team will once again return to north California to lick their wounds.
Keep Reading