LA Lakers vs. San Antonio Spurs: Game 1 Postgame Grades and Analysis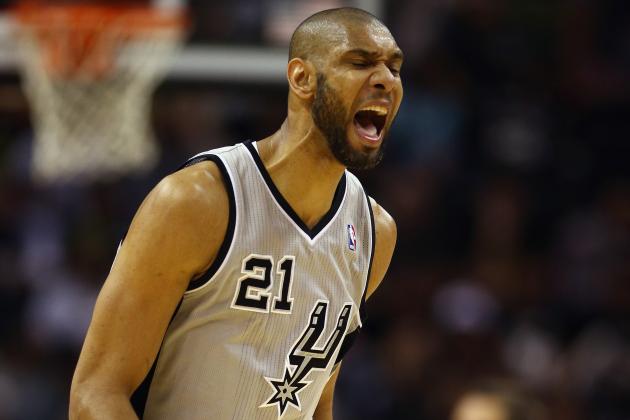 Ronald Martinez/Getty Images
The Spurs shook off the rust and burned with playoff intensity.
The San Antonio Spurs kicked off their first-round series with the Los Angeles Lakers on Sunday afternoon, and home-court advantage was in full force as the Spurs strolled to a 91-79 win.
Injury questions abounded for both teams, as Tony Parker has dealt with a sore neck and Manu Ginobili has been slowed by a balky hamstring, among other ailments.
For L.A., Steve Nash has been sidelined by a sore hammy of his own, but all three stars managed to play in Game 1, though with varying degrees of success.
The Spurs' Big Three came up huge, as Manu Ginobili and Tony Parker scored 18 points apiece. Tim Duncan finished with 17 points and 10 rebounds. The shooting display was forgettable as they went a combined 20-of-49 from the field, but the Lakers couldn't find enough to take advantage.
Dwight Howard and Pau Gasol combined for 36 points and 31 rebounds, but it wasn't enough to get past the Spurs.
Los Angeles scored the game's first bucket, but the Spurs went up 4-2 and never relinquished the lead. San Antonio ended the first quarter up by nine. Tthey maintained that lead and headed into the locker room up 45-37 at halftime.
Both teams shot just 42 percent through two quarters, but the Spurs attempted seven more field goals than L.A.
The Lakers got within four points in the third quarter, but San Antonio closed the frame on an 8-2 run over the final 90 seconds. All eight points were scored by the supposedly hobbled Ginobili, and the lead ballooned to 13 heading into the fourth.
The Lake Show never challenged San Antonio in the fourth, as the Spurs cruised to victory and sent their fans home smiling.
Turnovers crippled the Lakers, as they coughed the ball up 18 times, twice as often as Gregg Popovich's squad. They also shot just 3-of-15 from three-point range and couldn't sustain any momentum.
Mike D'Antoni will have to find a way for his team to score more than 79 points, but the Spurs are also unlikely to shoot 37.6 percent from the field for the entire series.
Now let's take out our red pen and hand out grades for Game 1.
Begin Slideshow

»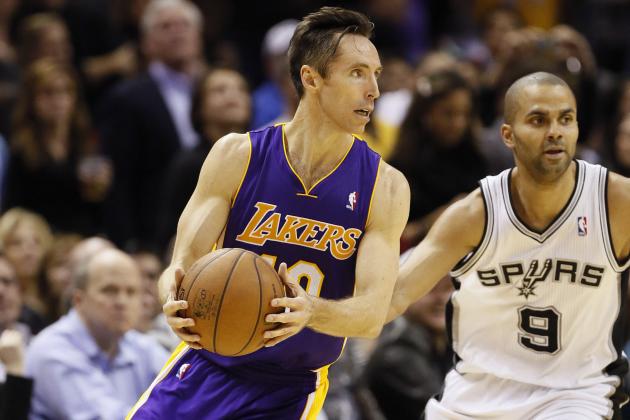 USA TODAY Sports

Tony Parker, PG, Spurs: A-
Parker struggled mightily from the field in the first half, scoring seven points on 3-of-12 shooting. At least he tallied six dimes in that span.
The Frenchman got things going in the second half. He shot 5-of-9 to finish with 18 points.
Parker created all sorts of headaches for the Lakers as he dished eight assists. His penetration in the paint vexed L.A. to such a degree that Kobe Bryant tweeted about it. I doubt Mike D'Antoni was checking his timeline, however.
Parker also snagged three steals, and his sore neck didn't seem to bother him. He kept his head on a swivel and helped lead San Antonio to victory.
Steve Nash, PG, Lakers: C+
Steve Nash had not played since he exited a game against the Sacramento Kings on March 30 after playing only two minutes.
Nash managed to start Game 1, but the sore hamstring clearly affected his play. Nash lacked lift on his jump shot and displayed little explosiveness in attacking the Spurs D.
He scored 16 points, but those came on 6-of-15 shooting. He also tallied only three assists. On the positive side, he did finish with a plus-2 rating.
If Nash can't play at a higher level due to his sore hammy, the Lakers are doomed and will be lucky to avoid an embarrassing sweep.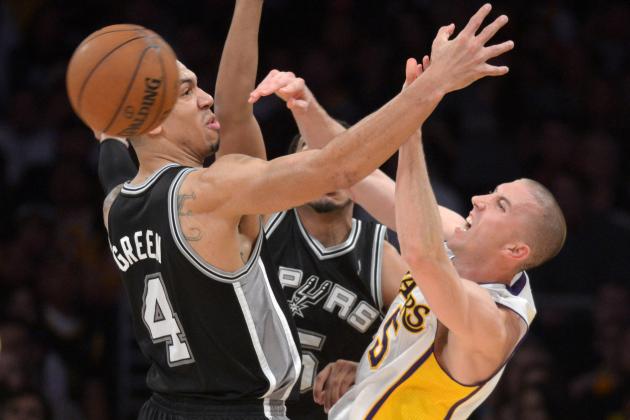 USA TODAY Sports

Steve Blake, SG, Lakers: C+
Blake turned in a decent performance, with his best contributions actually coming on defense. Blake was a kleptomaniac with four steals, and the 6'3" guard even came up with a pair of blocks.
While he scored a dozen points, he shot just 5-of-13 from the field. He also committed three turnovers and nearly fouled out.
Blake looked good down the stretch of the regular season while Steve Nash was sidelined, but he failed to carry that momentum into Game 1.
Danny Green, SG, Spurs: C
Green was not a factor as he could not find his shot this afternoon. He scored six points on 2-of-6 shooting in his 25 minutes and added four boards and a steal.
Green is capable of hitting threes in bunches, but he isn't in playoff mode quite yet.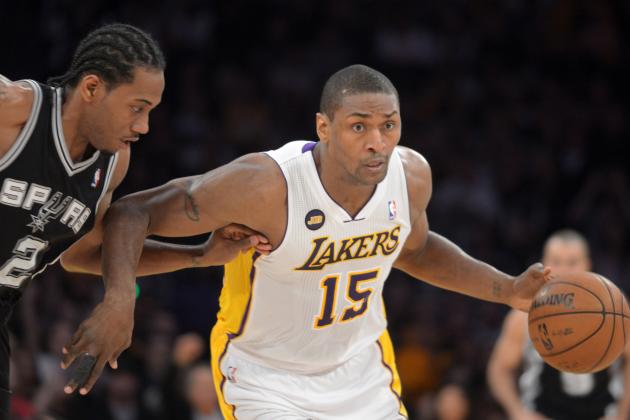 USA TODAY Sports

Kawhi Leonard, SF, Spurs: B+
Leonard beasted on the glass from the first whistle, snagging five boards in the first quarter.
The second-year player scored eight points and hauled in 11 rebounds, not to mention tallying two assists, two blocks and two steals.
This was a solid all-around performance from Leonard who has really blossomed this season.
Metta World Peace, SF, Lakers: C
World Peace never got going in this game, struggling from the field and even blowing a few defensive-help assignments, leading to easy buckets for Tim Duncan.
MWP finished the afternoon with just five points on 2-of-9 shooting.
He did grab six rebounds (including three offensive), dished a couple of assists and also finished with a team-high plus-4 rating. Despite his overall competence on defense, it could not compensate for his no-show on offense.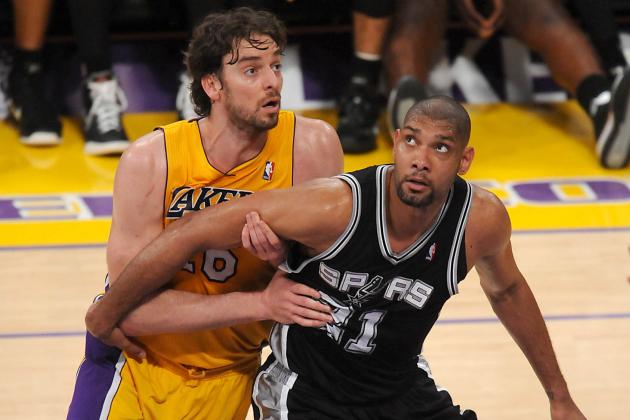 Jayne Kamin-Oncea-USA TODAY Sports

Tim Duncan, PF, Spurs: A-
It would have been a great sight to watch Tim Duncan battle Kobe Bryant, but it wasn't meant to be. Kobe's Achilles betrayed him, thrusting Timmy into the spotlight as the sole incredible veteran to celebrate.
Duncan turns 37 years old on April 25 and still posted an MVP-caliber season. He carried that momentum directly into Game 1.
Despite lacking efficiency with his 6-of-15 afternoon, Duncan's 17 points, 10 boards and three steals powered the Spurs past solid showings from the Lakers frontcourt.
Duncan's intelligence and savvy in the middle did plenty to help hold the Lakers to just 79 points.
Pau Gasol, PF, Lakers: B+
Gasol turned in a solid first half, scoring six points, grabbing 10 rebounds and even dishing six assists. But he struggled from the field in the early going, shooting just 3-of-9 and missing all three of his shots in the second quarter.
Bill Simmons stated on ESPN's halftime show that he did not like the shots Gasol was taking. Kobe Bryant agreed, tweeting out, "What I would say if I was there right now? 'Pau get ur a— on the block and don't move till u get it,'" He appended the hashtag "realtalk" to that.
ESPN's sideline reporter Heather Cox also stated that Kobe texted Gasol some "words of wisdom and adjustments" at halftime.
Gasol scored 10 in the second half and finished with a game-high 16 rebounds, but it was not enough to carry the Lakers to victory.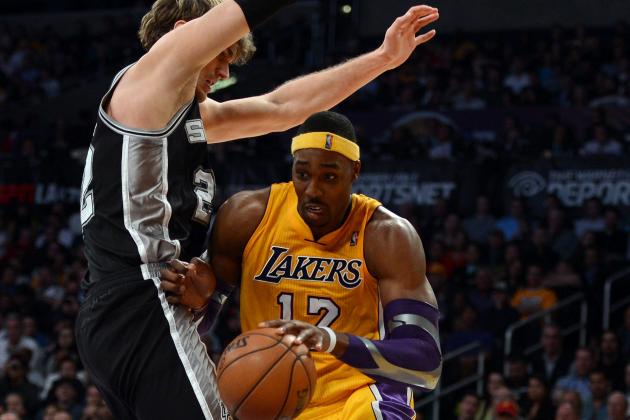 Harry How/Getty Images

Dwight Howard, C, Lakers: A-
Howard carried the Lakers through the first half with 14 points and seven rebounds. He even made both of his free throws. Somehow, Dwight personally missed more free throws this regular season than the entire Spurs team.
Howard finished up 4-of-8 from the charity stripe as the Spurs never needed to deploy the so-called hack-a-Dwight strategy.
Howard finished up with 20 points, 15 rebounds and a pair of blocks. If it weren't for Tim Duncan and Splitter, Dwight might've gone for 30 and 20. Howard also coughed up four turnovers.
One memorable highlight came when Howard threw down a tremendous slam on an alley-oop, skying well above the rim and flushing the finish.
Dwight picked up his fourth foul with two minutes left in the third quarter. Though he did not foul out, both his minutes and aggressiveness were limited down the stretch.
Tiago Splitter, C, Spurs: C+
Dwight Howard blanketed Splitter and held him without a field goal on 0-of-4 shooting.
Splitter did contribute in other ways, with four rebounds to go with four dimes on the back of the Spurs' excellent ball movement. He also avoided the hack-a-Dwight strategy that some expected, committing only one personal foul.
Though Splitter was a team-low minus-6 rating, he held Dwight Howard to merely good stats instead of incredible stats. The bend-but-don't-break strategy worked as the Lakers backcourt couldn't supplement their strong play up front.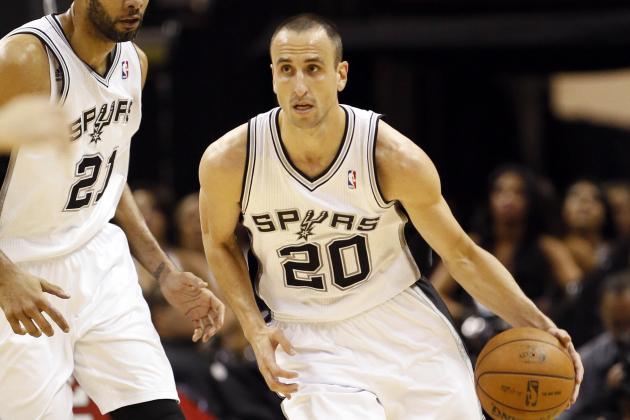 USA TODAY Sports

Manu Ginobili, SG, Spurs: A
Manu Ginobili told Mike Monroe of the San Antonio Express-News that he'll play limited minutes in the playoffs. He also predicted that he wouldn't do much on offense, saying, "I'm not going to probably be a factor scoring-wise, but I'm going to try to be solid, create for my teammates, play good defense and help."
Well, it appears that he was just playing possum. Ginobili finished with 18 points and led a Spurs bench that outscored the Lakers 40-10.
The 35-year-old looked vintage at times, such as his three-point play in the final minute of the first half on an assist from Tony Parker. If this is the level the Argentine will be playing at for the remainder of the series, the Lakers can start booking tee times at the country club.
Jodie Meeks, SG, Lakers: C-
Jodie Meeks tweaked his ankle in the second quarter but was able to return.
He still failed to contribute much despite playing 20 minutes. Meeks scored four points and lost a couple of turnovers as well. Without Bryant in the lineup, the Lakers desperately need some of their role players to erupt with big games.
It doesn't look like they can expect much of that from Meeks in this series.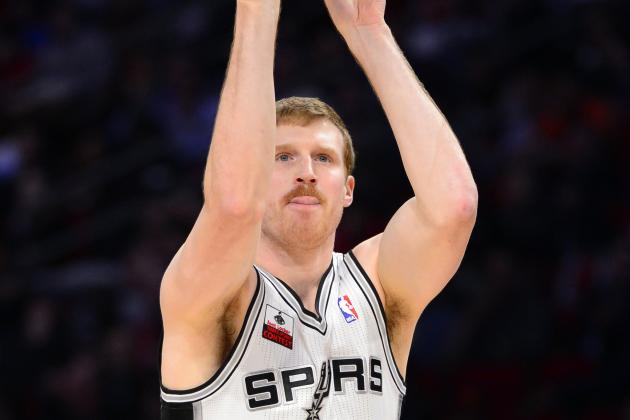 Bob Donnan-USA TODAY Sports

Rest of Bench, Spurs: B
Matt Bonner, also known as the Red Mamba, was the only Mamba on court for Game 1. Kobe Bryant tweeted about it during the game since he wasn't on the sideline with his team.
Bonner scored 10 points and snatched five boards. His trey with just over four minutes remaining extended the lead to 16 and drove a dagger into the Lakers.
Cory Joseph played well in his 11 minutes, with four points, two boards, an assist and a steal. Gary Neal added six points and a rebound in 15 minutes, though he shot just 2-of-7. Nando de Colo added two points of his own.
San Antonio has a fairly anonymous bench, but they all play smart basketball and serve as efficient role players.
Rest of Bench, Lakers: D
Antawn Jamison led the team in free-throw attempts with six, but still totaled only six points.
Earl Clark saw limited action and accumulated no stats. He somehow finished with a woeful minus-16 rating.
Darius Morris missed his only shot and had no impact.
Without Kobe, the Lakers will need better contributions from Jamison and Clark if they want any shot at taking down the Spurs.