Occasionally the UFC will present a non-pay-per-view event on one of the Fox family channels, and it will bring about a lot of grumbling from fans. Those concerns are usually about how the promotion saves all of its good fights for their pay per view cards.
UFC on Fox 7 was not one of those events. In fact, it could be debated that the event from San Jose was the best card of 2013 and maybe one of the best events from start to finish in UFC history. Yes, it was that good, and yes, it was free.
Be On Time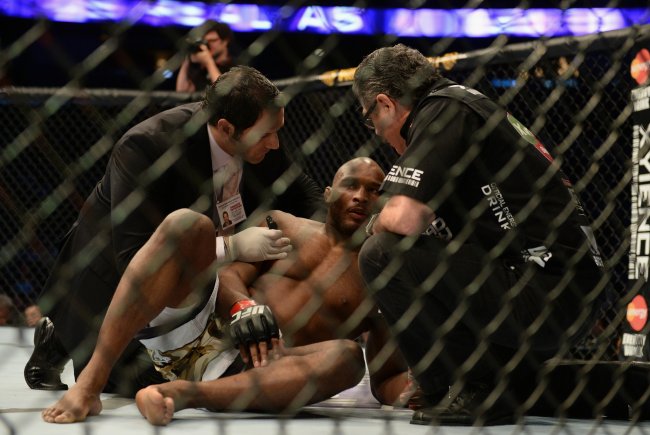 Kyle Terada-USA TODAY Sports
I've always wondered what possesses someone to purchase a ticket for a UFC event and then not show up for the early portion of the card. Maybe I'm just a tightwad, but if I'm forking over the amount of cash charged for a UFC ticket, I'm lined up outside an hour before the doors open so I'm sure I am planted in my seat long before the first fight.
Getting your money's worth is just one reason to get to the event on time. Yoel Romero, Anthony Njokuani and T.J. Dillashaw gave fans another reminder of why you get your butt into your seat on time and plan your bathroom breaks well.
The first three fights on the card lasted less than 15 minutes, with all ending via pretty spectacular knockout. If UFC president Dana White had been in a tweeting mood, you probably would have received at least three "Holy S**t" tweets from the boss in your timeline.
Just think, if you decided to arrive fashionably late or thought the early fights were going to be less than spectacular, you missed it. Bad decision, folks, bad decision. I hope you all learned your lesson.
Joseph Benavidez's Win Shows Just How Good Demetrious Johnson Is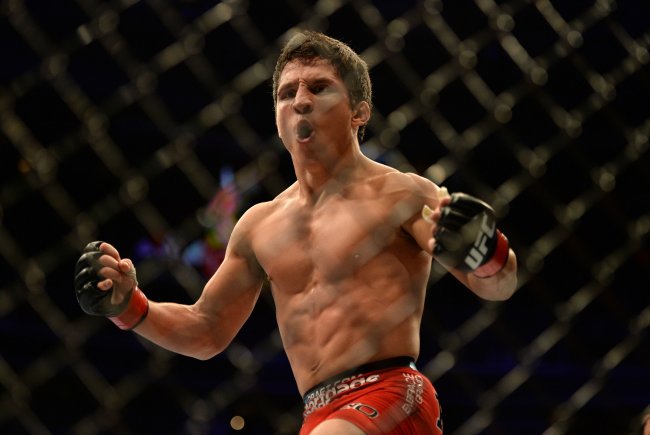 Kyle Terada-USA TODAY Sports
I know that John Moraga was booked to face UFC flyweight champion Demetrious Johnson, but let's be honest, the only reason that fight was made was because you cannot have Joseph Benavidez fight Johnson for the title in every fight.
On Saturday night, Benavidez showed why he is the No. 1-ranked fighter in the division, handling No. 8-ranked Darren Uyenoyama with no problem.
Benavidez was on another level in this bout, totally controlling every aspect of the fight. The fight showed just how good Benavidez is and also highlighted how next-level the talent of champion Johnson is.
Where Benavidez was able to catch Uyenoyama seemingly at will, he didn't have that type of luck when he lost to Johnson at UFC 152. A quick glance at the FIghtMetric numbers confirms that fact. Against Uyenoyama, Benavidez landed 37 percent of his attempted significant strikes. Against Johnson that number dropped to 18 percent.
The reason: Johnson was all "now you see me, now you don't" when Benavidez was looking to land his strikes.
Is Myles Jury Ready To Be Looked At as a Threat?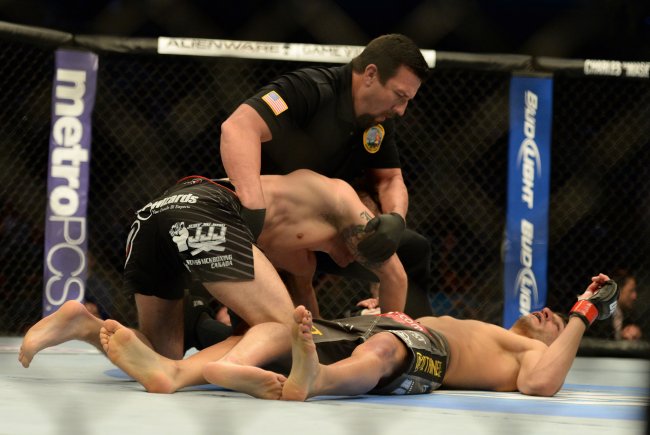 Kyle Terada-USA TODAY Sports
Myles Jury came in to UFC on Fox 7 on an 11-fight winning streak with two of those wins taking place inside the Octagon. He left with a record of 12-0 and more buzz than he had when he showed up in San Jose.
In his fight against Ramsey Nijem, Jury did what good fighters always do: find a weakness and exploit it. Nijem's weakness was his reckless punches. Those punches came in wide, leaving Nijem wide open for a counterpunch.
That counter came at the 1:02 mark of Round 2. It left Nijem's eyes rolled in the back of his head as he fell to his back, landing on the Bud Light logo in the center of the Octagon.
The 24-year-old Jury is still developing, but he has shown promise in his last two UFC wins.
Did Francis Carmont Get Some California Love from the Judges?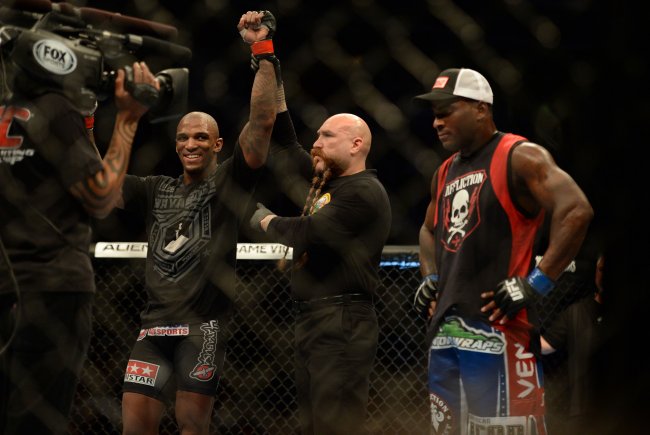 Kyle Terada-USA TODAY Sports
Francis Carmont entered UFC on Fox 7 on a nine-fight winning streak, with four of those victories coming inside the Octagon. He made that five in a row when he was awarded a unanimous decision win over Lorenz Larkin. I say awarded, well, because let's face it, he probably did not deserve his latest victory.
Larkin out-landed Carmont 36 strikes to 13. Larkin also thwarted nine of 11 takedown attempts, including an impressive extended defense in the first round where Carmont had Larkin's leg thrown over his shoulder and still could not take him to the mat.
The decision was greeted by boos from the crowd and Joe Rogan commented that the decision was "interesting."
I guess interesting could be one word for it. "Wrong" could be another, but you know what they say about letting it go to the judges.
Fortunes Can Change in an Instant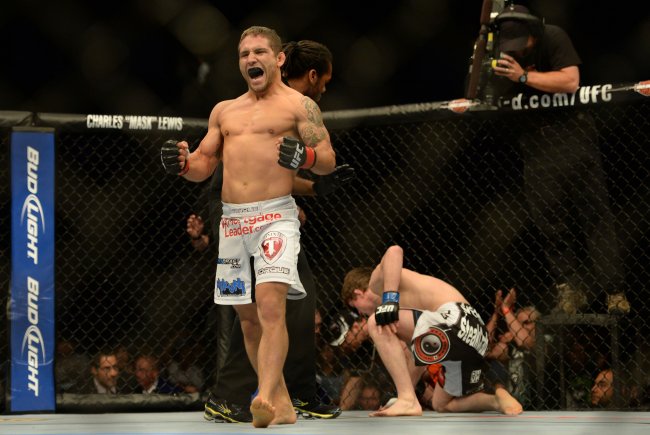 Kyle Terada-USA TODAY Sports
One minute a fighter is riding a five-fight winning streak and looking like a pretty safe bet for inclusion in the top 10 of his weight division, the next minute (well, minute and eight seconds), that fighter is knocked out and looking at a long climb back through the division. Such was the case for Darren Elkins at UFC on Fox 7.

There's not a whole lot of shame in losing to Mendes—after all, he is the No. 1-ranked fighter in the featherweight division—but the loss shows just how fast fortunes can change in MMA. It is a brutal and unforgiving sport where five straight wins can be erased in just 68 seconds.
Duane Ludwig as Missing Link?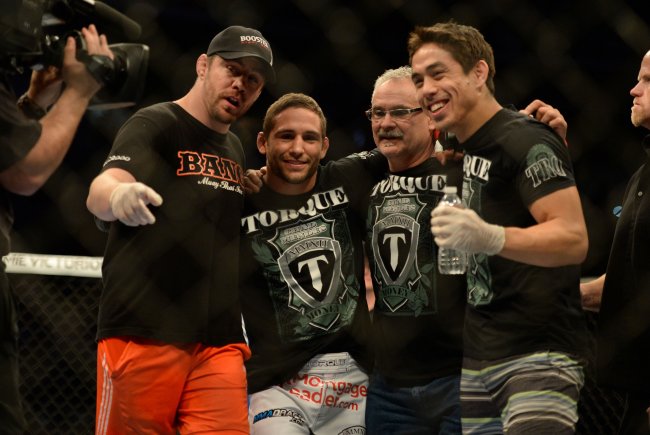 Kyle Terada-USA TODAY Sports
Team Alpha Male went three-for-three at UFC on Fox 7, with each of those fights ending via TKO, and at least some of that credit should go to the camps new striking coach Duane "Bang" Ludwig.
Alpha Male has had knockouts in the past, but most of the camp's reputation has been built on their wrestling prowess. It looks like that is going to begin to change with the help of Ludwig.
Following his victory over Darren Elkins, Chad Mendes was quick to give props to Ludwig, telling Joe Rogan during his in-cage interview, "I'm feeling great, with Duane here in my corner, with Team Alpha Male, helping us out, I think that was the missing link, and we're killing it, it's feeling great."
Whatever they are paying Ludwig over there, he has already earned his money and more.
Jordan Mein Learns a Painful Lesson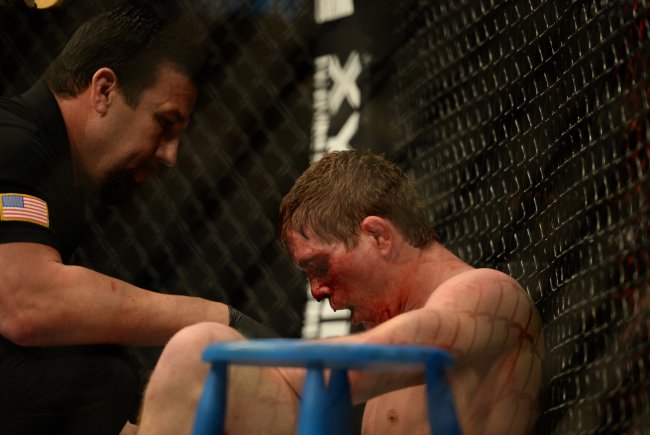 Kyle Terada-USA TODAY Sports
Jordan Mein learned an important lesson on Saturday night: He is in the big leagues now, and every fight is very dangerous.
Mein had his chances against Matt Brown, but in the end, the UFC veteran proved to be too much for the youngster, with Brown ending the fight via TKO at the 1:00 of Round 2.
By no means did Mein look bad, but his youth and aggression may have gotten the best of him. There's no doubt that he will be back and that he will be a force in the welterweight division in the years to come. After all, he is still only 23 years of age.
Is the Diaz Style Becoming Outdated?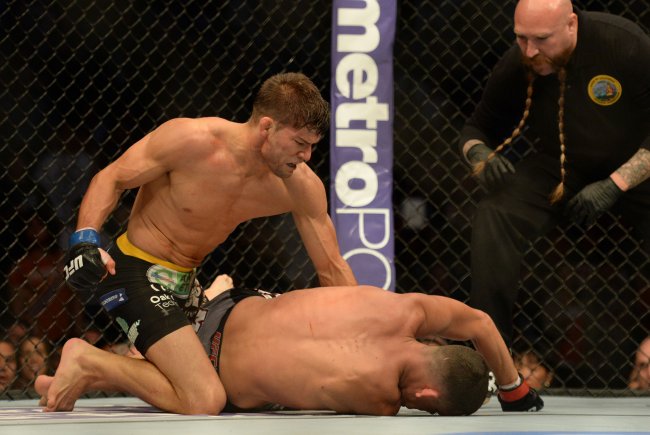 Kyle Terada-USA TODAY Sports
It happens. At some point, every impressive offense is figured out. Carlos Condit gave fighters the blueprint for how to deal with the aggressive nature of the Diaz brothers' attack. On Saturday night, Josh Thomson took that defense to the next level.
Too many times, opponents of the Diaz brothers have fallen into the trap of engaging them in a stand-up war, exactly where the Diaz brothers want the fight to take place. They use verbal taunts and pre-fight talk to get inside the heads of their opponents, which makes an all out brawl a likely scenario.
Condit and Thomson did not buy into the histrionics, and it worked out well for them. They kept their cool, but more importantly they kept their distance.
Thomson added a wrinkle to his plan that Condit did not: low kicks to get Diaz thinking. Once Thomson established those low kicks, he waited. When he saw his opening, he placed his shin right across the head of Diaz leaving him looking for the number of the bus that just hit him.
It was a brutal kick. Thomson followed up with a ground-and-pound attack that left Diaz's corner throwing in the towel at the very moment the referee was bringing the fight to a close.
Daniel Cormier Passes His First UFC Test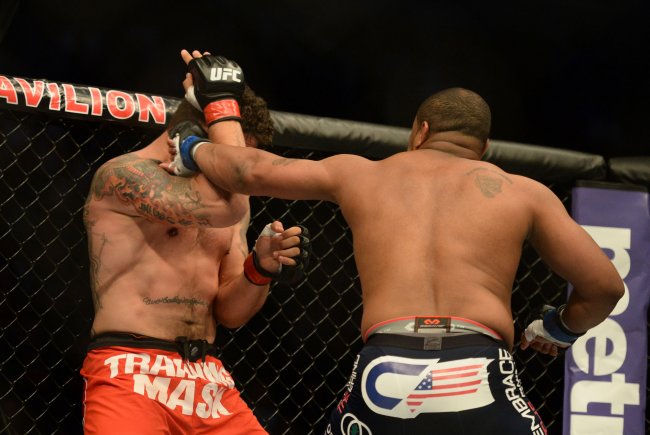 Kyle Terada-USA TODAY Sports
Frank Mir walked into the Octagon on Saturday night looking all kinds of buff. Daniel Cormier did not.
The pronounced difference in physical appearance was just that, a difference in physical appearance. When it came to functional strength, sometimes known as man strength, Daniel Cormier had that. Mir did not.
Cormier used that strength to push Mir against the fence during their fight, and whenever there was an opening, he landed heavy body shots that could not have been enjoyable for Mir.
The fight brought boos from the crowd, and I guess that is understandable, given that they had just seen a whole heap of fights end via stunning knockouts. However, some of us did appreciate what Cormier accomplished over the course of his three-round fight, and that was making a former UFC heavyweight champion look pretty pedestrian.
Really, CSAC?
The California State Athletic Commission has long been thought of as one of the more dysfunctional athletic commissions in the US (check FightOpinion.com for more on this), but to name a Cesar Gracie Jiu-Jitsu student as a judge in a fight with an individual who sometimes trains with Gracie is just awful.
The Judge who went against Ben is a Cesar Gracie affiliate student, how did he get picked to judge?

— Julius Henderson (@Simply1Julius) April 21, 2013
The judge in question, Wade Vierra, scored the main event between Benson Henderson and Gilbert Melendez in favor of sometime-Gracie affiliate Melendez. Vierra should have never been judging this fight, and for that both he and the CSAC should take the blame.
The CSAC should be fully aware of the background of their judges and their possible affiliations. For his part, Vierra should have been up front and backed out of judging the main event to avoid a conflict of interest.
It is hard to imagine the fallout had the decision had gone to Melendez.
As an FYI, if you were wondering, Vierra was not a judge in the Nate Diaz bout.
Just a quick note: UFC matchmakers Joe Silvan and Sean Shelby are really good at their jobs. Next time you whine about one or two "bad" fights, look back on this free fight card, remember how great it was and thank those two men.