Carolina Hurricanes: Evaluating Each Forward Line Entering the Offseason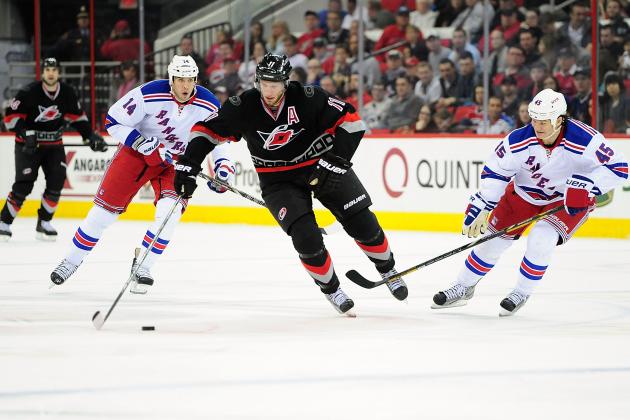 Grant Halverson/Getty Images

When the Carolina Hurricanes added Jordan Staal and Alexander Semin to the fold last summer, they expected to put forth one of the league's best offenses in the 2013 season.
They expected their goal-scoring prowess to make up for a fragile, rag-tag defense on the opposite end. They expected youngsters like Zac Dalpe, Drayson Bowman and Jeremy Welsh to excel alongside such highly-established stars. And, most of all, they expected to make the playoffs.
Entering the final week of the lockout-shortened 2013 campaign, they already know that final goal, this year's most important goal, will not be accomplished. As for the reason why, Kirk Muller & Co. can point to the first two goals—two optimistic expectations that proved to be the quintessential downfalls of this shockingly disappointing season.
The 'Canes' offense did not rank among the league's best, as 14 other teams scored more in 2013 than the Hurricanes' 2.62 goals per game. And the promising, youthful forwards who were supposed to bring depth and freshness to the unit failed miserably, leaving Carolina completely reliant on their top six and desperately undermanned when injuries struck.
As the club now begins to look ahead to next October's new season, they have a difficult and brutally harsh summer of player evaluations ahead of them. Which forward lines should be trustworthy and reliable moving forward? Which forward lines need a massive shake-up? We break down how each trio stands at the end of this season on the coming slides.
Begin Slideshow

»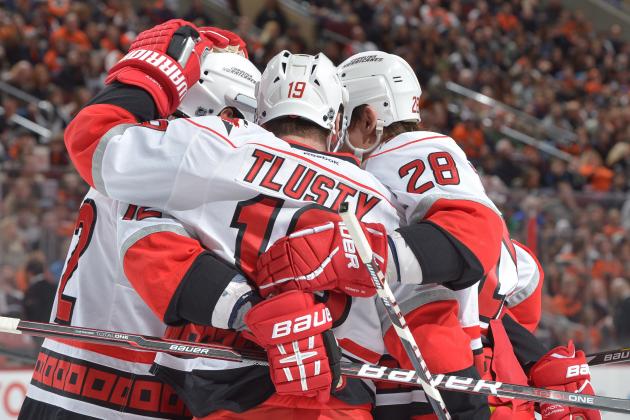 Drew Hallowell/Getty Images

Evaluation:
There's absolutely no need to mess with this trio of domination in the coming summer.
The combination of Semin, Staal and Tlusty have been together since the season's beginning and accounted for a larger portion of the Hurricanes' goals than perhaps any other team on the continent. They each rank second, first and third, respectively, on the team in both scoring and plus/minus rating.
Moreover, the 'Canes aren't just scoring often with this first line on the ice—they're also being efficient. In terms of on-ice team shooting percentage, Staal (12.06 percent), Semin (11.78 percent) and Tlusty (10.76 percent) occupy the three highest rankings on the team.
Staal, with three years left at a team-high $8.25 million salary, and Semin, who signed a five-year, $35 million extension last month, are both locked up long-term. Tlusty has one more season remaining at only $1.6 million before becoming an RFA, but GM Jim Rutherford may look to sign him to an extension and increase that figure this offseason—the 25-year-old leads the 'Canes in goals despite being, by far, the youngest of the three.
Season Stats:
| | | | | | |
| --- | --- | --- | --- | --- | --- |
| | GP | G | A | Pts | +/- |
| Alexander Semin | 43 | 12 | 31 | 43 | +14 |
| Eric Staal | 45 | 18 | 31 | 49 | +9 |
| Jiri Tlusty | 45 | 21 | 13 | 34 | +18 |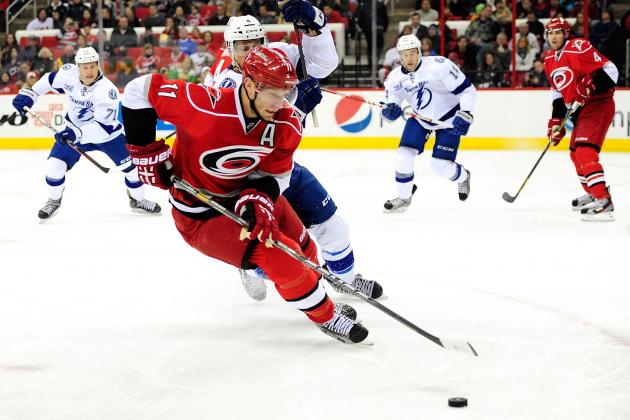 Grant Halverson/Getty Images

Evaluation:
While the bottom six is undoubtedly the biggest concern with Carolina's offense moving forward, there's no way to say that the second line hasn't also been a major disappointment.
After the aforementioned first-line players, Jordan Staal and Skinner do rank fourth and fifth, respectively, on the team in scoring. Much of that was done with the inferior Patrick Dwyer at left wing as well, as Ruutu only returned from a December hip surgery well after the halfway point of the season.
The plus-minus statistics, however, paint a different and far worse picture. Skinner and Staal rank, amazingly, last and tied for second-to-last among all league forwards in that category. In fact, 20-year-old Skinner hasn't had a single game in the positive since Feb. 28.
Although the duo's PDO is atrociously unlucky—932 for Skinner and 940 for Staal—they both will need to improve drastically next season. In the meantime, though, the trio has a good shot to stick together until at least next September's training camp.
Season Stats:
| | | | | | |
| --- | --- | --- | --- | --- | --- |
| | GP | G | A | Pts | +/- |
| Tuomo Ruutu | 14 | 2 | 4 | 6 | -7 |
| Jordan Staal | 45 | 9 | 19 | 28 | -19 |
| Jeff Skinner | 39 | 13 | 10 | 23 | -20 |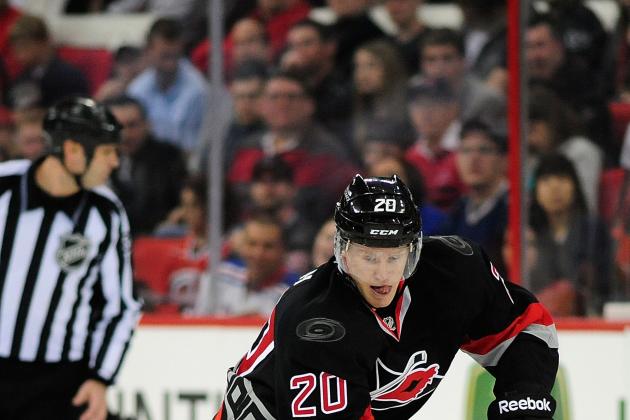 Grant Halverson/Getty Images

Evaluation:
Riley Nash has been one of the brighter spots in the Hurricanes' 2013 campaign, emerging from the shadows as possibly the franchise's most successful AHL-to-NHL transition of the season. He's chipped in offensively, proved responsible and disciplined defensively (just four penalties in 31 games) and potentially earned the permanent third-line center spot vacated by Brandon Sutter last June.
Patrick Dwyer's season has been one of many ups and downs, but his long-term fill-in on the second line—a role the 29-year-old defensive forward simply isn't built for—was admirable nonetheless. In a full season, this scoring pace would've easily set a career high for him; while that increased playing time did lead to some unusual defensive lapses from the hard-working forward, he's still worth keeping around at only $625,000 annually.
Chad LaRose, conversely, is a longtime Hurricane whose time in Raleigh will hopefully soon expire. The 31-year-old gritty winger has proved he's well past his prime, struggling through concussion problems this season and becoming virtually invisible on the box score. As one Saturday caller on FM 99.9's postgame show The Aftermath said, "The 'Canes need more players willing to work hard in the trenches...like Chad LaRose used to be."
As one of the team's few 2013 UFAs, LaRose should be on his way out come July. Free agents who could fill his spot next year alongside Nash and Dwyer include Edmonton's Ryan Jones, Nashville's Brandon Yip, Dallas' Eric Nystrom and Colorado's Chuck Kobasew.
Season Stats:
| | | | | | |
| --- | --- | --- | --- | --- | --- |
| | GP | G | A | Pts | +/- |
| Chad LaRose | 32 | 2 | 2 | 4 | -4 |
| Riley Nash | 31 | 4 | 5 | 9 | -4 |
| Patrick Dwyer | 43 | 7 | 7 | 14 | -8 |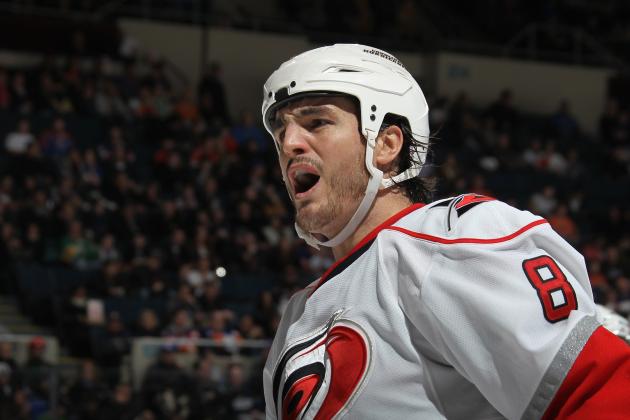 Bruce Bennett/Getty Images

Evaluation:
The 'Canes' fourth line has taken a beating lately, with both Tim Brent and Drayson Bowman out for the season and the team only dressing 11 forwards on many nights.
But it needs a complete makeover and revitalization to a man heading into the fall.
Blanchard has done his job well in six games since his call-up, accumulating four fights compared to just one on-ice goal against. Wallace, Westgarth and Brent are all veterans making no impact at all, however, and Bowman's expected breakout campaign just never developed.
Next season, the club must make their bottom line tougher, grittier and even harder-hitting, or they must add speed and youth and look to find some offense. The combination is currently stuck in between those two types, a trio of low-minute players insufficient at fulfilling either of those roles.
The options for available fourth-line forwards are extremely plentiful—that's the good news. Unfortunately, though, the options for available and useful fourth-line forwards are much slimmer, and Rutherford will need to trade and sign carefully to, in a matter of three months, give an identity to this line.
Season Stats:
| | | | | | |
| --- | --- | --- | --- | --- | --- |
| | GP | G | A | Pts | +/- |
| Nicolas Blanchard | 6 | 0 | 0 | 0 | 0 |
| Tim Wallace | 25 | 1 | 1 | 2 | -8 |
| Kevin Westgarth | 29 | 0 | 1 | 1 | -1 |
| Tim Brent (injured) | 29 | 0 | 3 | 3 | -3 |
| Drayson Bowman (injured) | 37 | 3 | 2 | 5 | -7 |