UFC on Fox 7 Results: 5 Fights for Jordan Mein to Take Next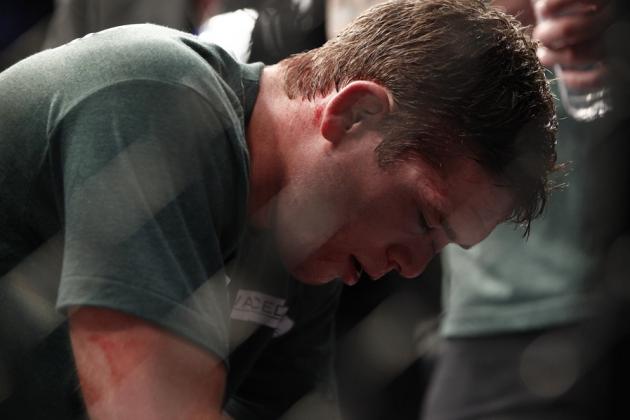 Jordan Mein - Esther Lin/MMAFighting
For the first time in his young career, Jordan Mein looked his age at UFC on Fox 7 on Saturday night.
After impressing in his UFC debut, the 23-year-old prodigy found himself completely overwhelmed by surging welterweight contender Matt Brown.
Part of the problem was Mein's striking defense. Instead of keeping his hands up and circling out of danger, Mein constantly dropped his hands in panic mode and moved straight back.
This eventually cost him in the second round, as Brown opened up with knees from the clinch and finished with elbows on the ground to earn the TKO stoppage.
Mein has a wealth of experience considering his age. He has competed in well over 30 professional MMA bouts. His coaches should be able to chalk this up as a learning experience and go back to the drawing board.
There is plenty of time for Mein to make the necessary adjustments to come back as a much improved version of the fighter who stepped into the cage on Saturday night.
Here are the five fights he should take next.
Begin Slideshow

»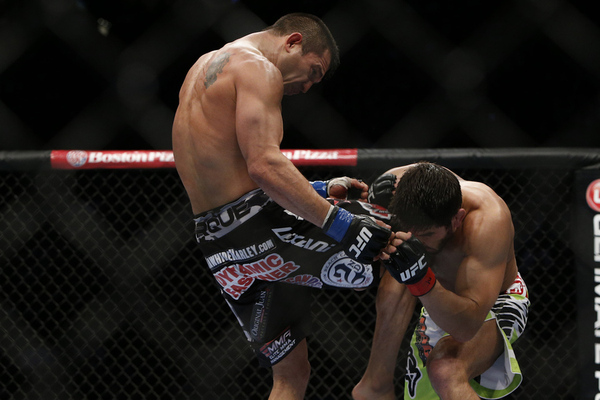 Bobby Voelker - Esther Lin/MMAFighting
A bout between Mein and fellow Strikeforce castoff Bobby Voelker wouldn't grab headlines, but it would definitely make for a fun fight.
Voelker was recently defeated by Patrick Cote in a controversial decision.
This fight would represent a fresh start for both Mein and Voelker and give them an opportunity to reinvent themselves in the UFC welterweight division.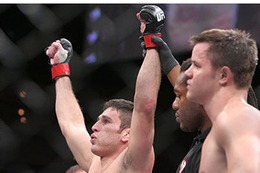 Amir Sadollah - Scott Petersen/MMAWeekly
Amir Sadollah has been plagued by inconsistent performances inside the Octagon.
He is currently 3-3 in his last six bouts. At UFC on Fuel 5, he lost a unanimous decision to Dan Hardy.
Both Mein and Sadollah are good strikers who love to incorporate a bunch of kicks in their stand-up.
If Sadollah is healed up from his recent injury, this bout makes a lot of sense in the welterweight division.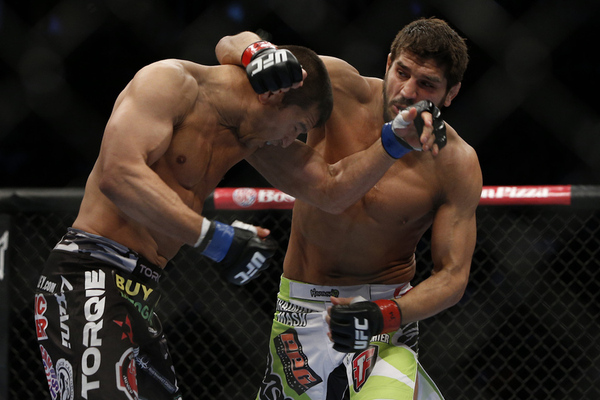 Patrick Cote - Esther Lin/MMAFighting
Patrick Cote is pretty fortunate not to be on a three-fight losing streak.
After losing to Cung Le at UFC 148, Cote was knocked out by Alessio Sakara at UFC 154.
Luckily, the referee was paying attention and he disqualified Sakara for illegal strikes to the back of the head.
After his DQ win over Sakara, Cote went on to defeat Bobby Voelker in a controversial decision.
A win over Mein would erase doubts about the past couple of bouts and prove Cote is in the UFC to stay.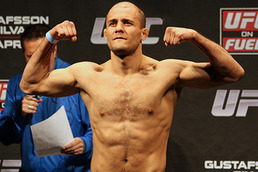 Siyar Bahadurzada - Esther Lin/MMAFighting
A year ago, Siyar Bahadurzada burst onto the scene as quite possibly MMA's next great knockout artist after his 42-second destruction of Paulo Thiago.
Unfortunately, the celebration was short-lived, as he was defeated soundly in his second outing by South Korean grappler Dong Hyun Kim.
Mein and Bahadurzada are both fighters who thrive on pushing the pace and getting an early finish.
What's not to love about this fight?
Mike Swick Esther Lin/MMAFighting
Like Mein, former middleweight contender Mike Swick also fell victim to the Matt Brown war wagon.
It only makes sense to put the two scrappy welterweights against one another and see who rebounds.
A bout against Mein would be a dangerous fight for Swick, who is already 1-3 in his last four fights. With that said, Swick's fast-paced and overaggressive style presents a lot of problems for Mein, who continues to show porous striking defense.