Ranking the 10 Best Defensive Teams in Baseball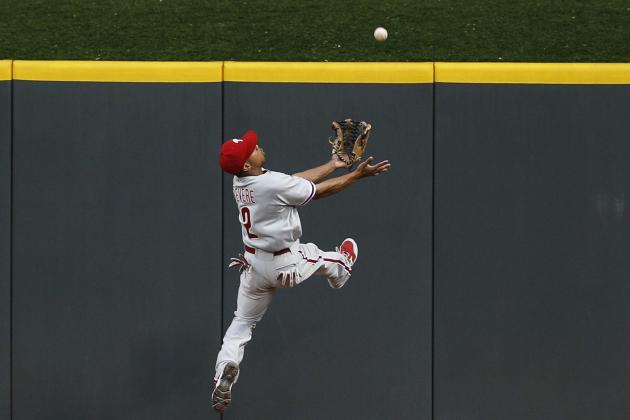 Joe Robbins/Getty Images

Who is the best defensive team in baseball today? If you asked some baseball fans, I'm sure you would get a myriad of answers.
The team with the best cumulative fielding percentage as of Sunday is the Detroit Tigers at .997. You could argue that the Tigers are the best defensive team in the majors based on that statistic.
So, for posterity's sake, I am going to rank the teams for this list in order of how they placed in fielding percentage before play on Sunday. I'm also going to use the range factor (RF) statistic to point out specific players who hold the most defensive value for their team at a specific position.
Range factor is calculated by dividing putouts and assists by the number of innings/games played at a selected position. The uniqueness of the RF statistic is that it can only be measured in an oranges-to-oranges comparison. Meaning which, you cannot compare an RF rating of a center fielder to a shortstop. But you can compare among players at a like position.
So, with that said, here are the 10 best defensive teams in baseball as of April 21.
*Stats courtesy of MLB.com
Begin Slideshow

»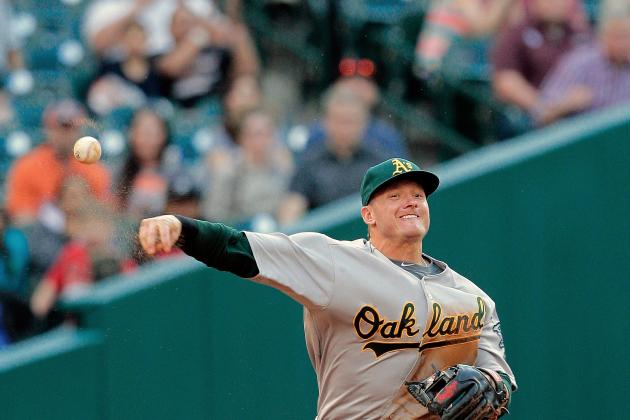 Bob Levey/Getty Images

A team's defensive prowess is often overlooked when measuring cumulative success. That is one aspect of the A's' game that should be recognized as they start play Sunday, leading the AL West with a 12-6 record.
The A's roster is full of capable defenders. Josh Reddick, the 2012 AL Gold Glove winner for right field, is currently ninth in the majors with a 2.14 RF. Another player who has made some early contributions is third baseman Josh Donaldson, who has a .980 fielding percentage and ranks eighth in the majors with a 2.78 RF at his position.
Two players to watch out for as well are second baseman Eric Sogard, (second in the majors for second baseman with a 5.33 RF) and Coco Crisp, who has been errorless in the field and is third in the majors for center fielders with a 2.92 RF.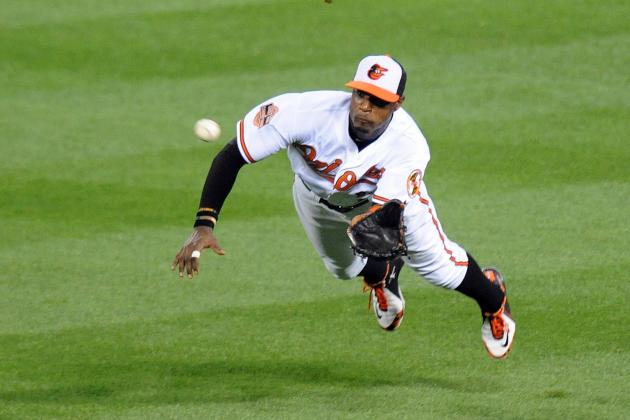 Mitchell Layton/Getty Images

The Orioles entered the 2013 season with high expectations and hopes for a second consecutive postseason berth. If they are going to accomplish that feat, they will have to get steady defensive contributions from their Gold Glove winners from 2012 as well as the rest of the team.
Baltimore cleaned up at the 2012 Gold Glove ceremony, nabbing three awards. Adam Jones, (center field) J.J. Hardy, (shortstop) and Matt Wieters (catcher) all received Gold Gloves for their excellent play in 2012.
So far this season, the Orioles have seen key contributions from Jones, Hardy and Wieters as well as former Gold Glove winners Nick Markakis and Nate McLouth. Both Markakis (2.25 RF) and McLouth (2.46 RF) are ranked in the top 10 for range factor at their respective positions.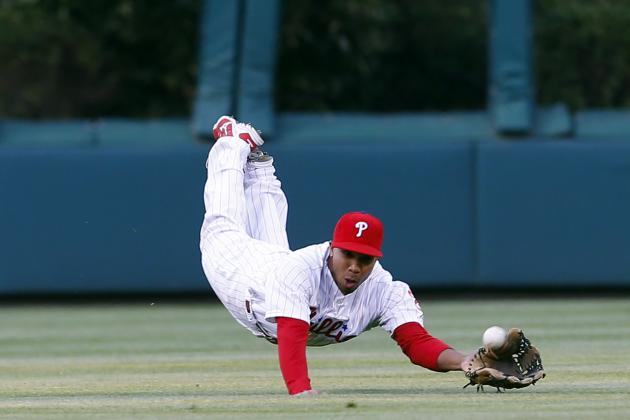 Rich Schultz/Getty Images

The Phillies find themselves in quite a predicament in 2013 being in the same division as the Atlanta Braves and the Washington Nationals. If they are going to have a chance at contending this season and improving on their 7-11 record going into play on Sunday, they will need to shine in all aspects of their game.
One player who is hoping to provide a defensive spark for the Phillies is center fielder Ben Revere. Revere has already had several spectacular plays for the Phillies this season and currently ranks fourth in the majors for center fielders with a 2.83 RF.
The Phillies have also received defensive contributions from 2012 NL Gold Glove winner at shortstop Jimmy Rollins in addition to the seemingly healthy duo of Ryan Howard (8.69 RF, ninth in majors for first baseman) and Chase Utley (5.24 RF, fourth in majors for second baseman).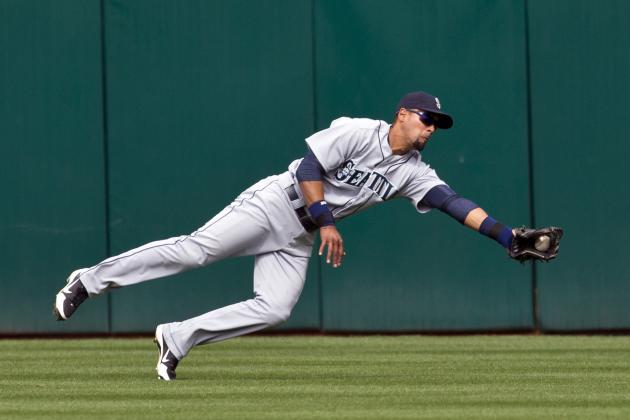 Jason O. Watson/Getty Images

The Mariners have had several Gold Glove winners throughout their years of existence in the majors. Players such as Harold Reynolds, Ken Griffey Jr., Jay Buhner and the venerable Ichiro Suzuki have all taken home their share of Gold Glove hardware over the years.
The 2013 Mariners have several players with the potential to add their names to the list. Former Gold Glove winner left fielder Franklin Gutierrez (2.43 RF) and catcher Jesus Montero (8.36 RF) both rank in the top 15 in the majors for their respective positions in the range factor category.
Another Mariner, Joe Saunders, has shown his ability to field, as he currently sits sixth in the majors for pitchers with a 2.50 RF.
The Mariners will need all of these players to continue their good defensive play if they have any chance at having a decent season.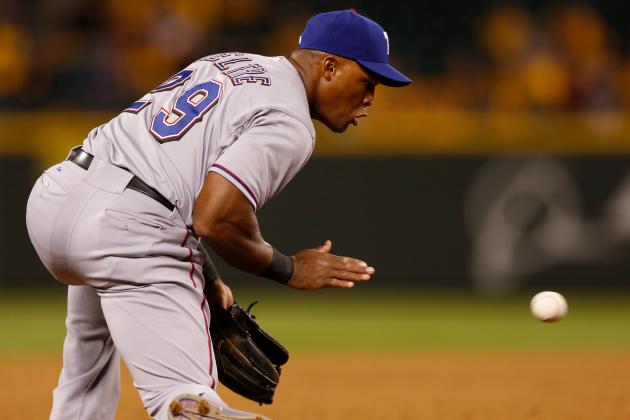 Otto Greule Jr/Getty Images

For many years, the Rangers were known to be a one-dimensional slugging team. That trend has changed in recent years, as Texas has had its share of defensive stars.
One player who has contributed both offensively and defensively for the Rangers is third baseman Adrian Beltre. The 2012 AL Gold Glove winner for third base finished the season with a .974 fielding percentage and 2.36 RF, which ranked 11 for third baseman in 2012. Beltre had a good season in the batter's box as well, as he hit .321 with 36 home runs and 102 RBI.
Second baseman Ian Kinsler, (5.19 RF), first baseman Mitch Moreland (8.47 RF) and catcher A.J. Pierzynski (8.93 RF) are all in the top 15 in the majors in range factor through play on Saturday. If these players continue to play well defensively, there is a good chance the Rangers will finish the 2013 season as one of the best defensive teams in the majors.
Jim Rogash/Getty Images

There should be a memo sent out to all 30 major league teams stating not to hit the ball to the left side of the Tampa Bay infield. The reason why is because the Rays have two capable fielders in shortstop Yunel Escobar and third baseman Evan Longoria.
Both Longoria (2.69 RF) and Escobar (4.35 RF) rate in the top 10 in range factor in the majors. The Rays have also received significant defensive contributions from Desmond Jennings (2.47 RF) and starting pitcher Alex Cobb (2.67 RF).
In the ultra-competitive AL East, having a strong defensive squad could be what it takes to land the top spot in the division.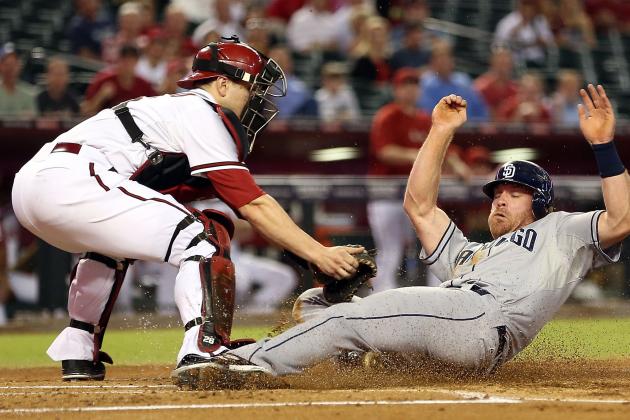 Christian Petersen/Getty Images

You could argue that the Diamondbacks have one of the best defensive infields in the game. The defensive prowess begins behind the plate with Miguel Montero, who has not committed any errors entering play on Sunday. His 9.13 RF is also fifth best in the majors.
The infield also boasts capable defenders at first base, Paul Goldschmidt (9.82 RF), and shortstop, Cliff Pennington (4.40 RF). Both Goldschmidt and Pennington are ranked in the top 10 for their respective positions in range factor.
The Diamondbacks will need a complete defensive team effort if they are going to be able to contend in the NL West this season.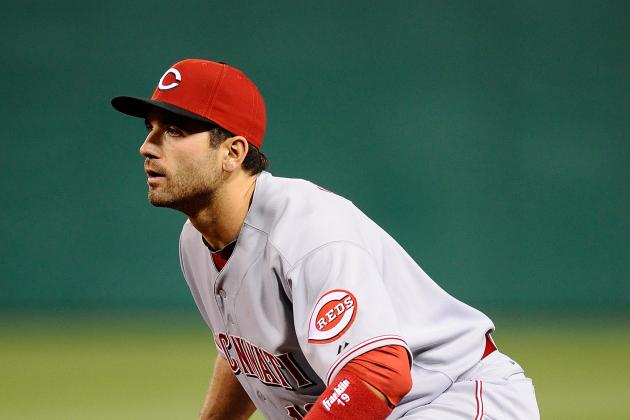 Joe Sargent/Getty Images

The Reds are expected to contend this season for the NL Central crown and will most likely succeed at doing so with strong defensive play.
Cincinnati has several players who are near the top of the league in range factor. Ryan Hanigan, 9.42 RF, is currently third in range factor among catchers in the majors. He is joined by first baseman Joey Votto (8.83 RF), second baseman Brandon Phillips (4.50 RF), third baseman Todd Frazier (2.65 RF) in the infield and right fielder Jay Bruce (2.33 RF).
Each of these players were ranked in the top 15 for their respective positions in range factor entering play on Sunday.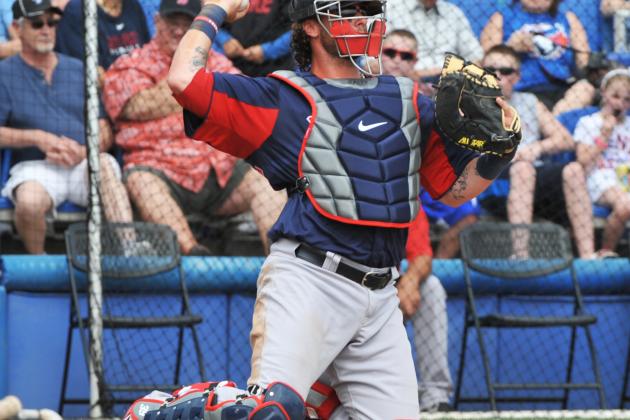 Al Messerschmidt/Getty Images

The Red Sox have several capable defenders on their roster. They have been led defensively in the early going by Jarrod Saltalamacchia (9.55 RF), who is best in the majors in range factor among catchers.
Boston has also received contributions from former Gold Glove winner Shane Victorino, whose 2.44 RF is fourth best for right fielders in the majors. If former Gold Glove winners Dustin Pedroia and Jacoby Ellsbury can return to their old strong defensive ways, the Red Sox could finish 2013 as one of the best defensive teams.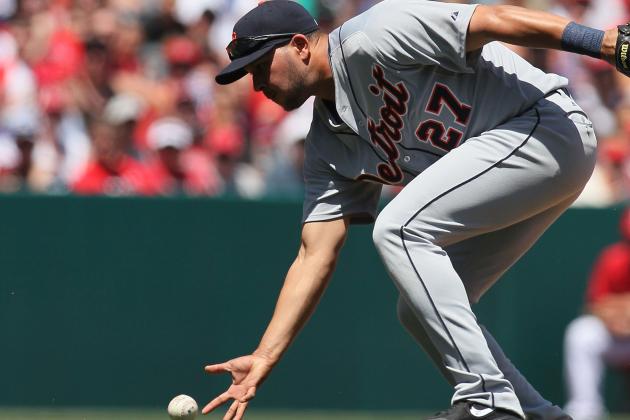 Victor Decolongon/Getty Images

The Tigers are expected to be one of the teams vying for the AL pennant this season. If they are going to accomplish that feat, they will need strong defensive play from everyone on their active roster.
Detroit has received strong defensive play from catcher Alex Avila (9.50 RF), who is the second-best catcher in range factor in the majors.
The Tigers have also received defensive contributions from shortstop Jhonny Peralta (4.38 RF) and right fielder Torii Hunter. (2.00 RF)