UFC on Fox 7 Results: Top 10 Featherweights in the UFC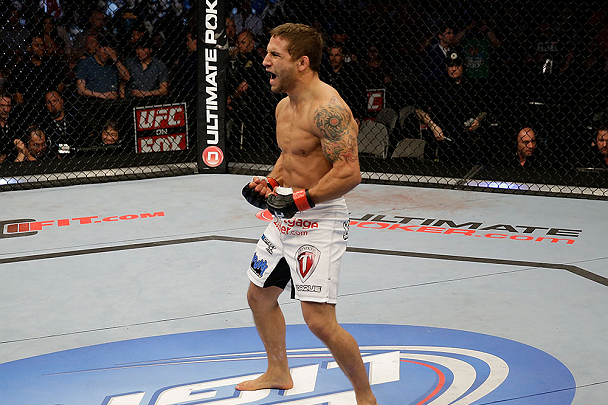 Photo by Josh Hedges/Zuffa LLC/Zuffa LLC via Getty Images
UFC on Fox 7 only featured one featherweight bout, but it involved the top contender in the division.
Chad Mendes took on Darren Elkins in the final preliminary bout of the evening. Elkins was riding a 5-0 record in the featherweight division into the fight and was trying to make a case for being an elite 145-pounder.
Mendes had other ideas. He established himself as the top featherweight contender by finishing Elkins in just 68 seconds. Mendes has looked nothing short of fantastic since his title loss to Jose Aldo in 2012.
The rest of 2013 will feature stunning fights in the division.
This is a look at the top 10 featherweights inside the organization right now.
Begin Slideshow

»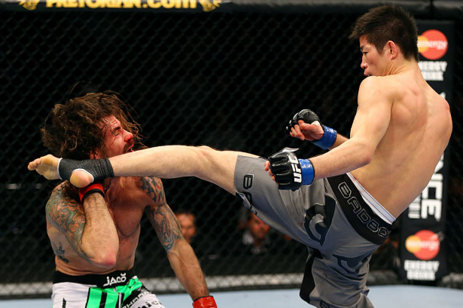 Photo by Al Bello/Zuffa LLC/Zuffa LLC Via Getty Images
Hatsu Hioki may have lost to back-to-back fights, but his performances did not go unnoticed.
Hioki was 2-0 in the UFC until he lost a decision to Ricardo Lamas. The fight in June 2012 pitted two of the best against one another, and they had a solid fight for 15 minutes. Hioki followed that up with a strong performance against Clay Guida, where the judges didn't see the value in what he did. It was a shame.
Some may look at his back-to-back losses and put one of the other talented featherweights just outside of the top 10 ahead of him. And they have a valid reason for doing so, but it would be wrong.
Hioki's performances earn him a spot in the top 10 of the division, and he deserves to remain in the mix. Another win or two should push him right back up in to the upper tier of the division.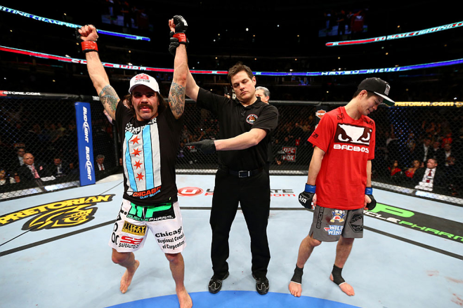 Photo by Al Bello/Zuffa LLC/Zuffa LLC Via Getty Images
Clay Guida made a successful featherweight debut against Hatsu Hioki at UFC on Fox: Johnson vs. Dodson.
The decision was controversial to say the least, and in the interest of full disclosure this author scored it for Hioki as well. However, the official result is a Guida win, and that can't be ignored.
Despite his recent outing, Guida has long been a factor inside the Octagon. He holds wins over top fighters like Rafael dos Anjos, Takanori Gomi and Anthony Pettis. And he had a fun fight with UFC lightweight champion Benson Henderson in November 2011.
Guida may have lost some favor with his recent bouts against Gray Maynard and Hioki, but he is still a talented fighter who is capable of beating most opponents. He picked up the win over Hioki, and he is a top-10 featherweight right now.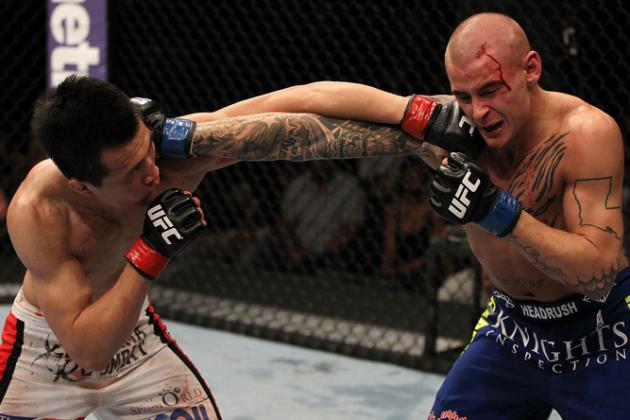 Photo by Josh Hedges/Zuffa LLC/Zuffa LLC via Getty Images
Dustin Poirier is 1-2 in his last three fights, but we must look at how he performed to see why he remains in the top 10.
Poirier tapped out to Chan Sung Jung in May 2012, but it was a thrilling fight. The two contenders battled it out for just over three rounds of action before "The Korean Zombie" submitted him. Poirier followed that up by submitting Jonathan Brookins with a d'arce choke in December.
In February, Poirier met Cub Swanson in London. He had his moments in the fight but ultimately lost a decision.
Losing to two contenders like Jung and Swanson in competitive bouts should not eject him from the top 10. Poirier is still a young fighter with plenty of time to make another charge up the divisional ladder. We will see him back in the Octagon later this year.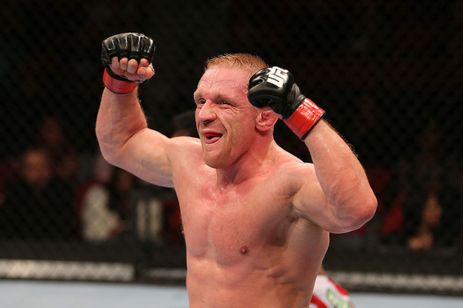 Photo by Ezra Shaw/Zuffa LLC/Zuffa LLC via Getty Images
Dennis Siver is 2-0 at featherweight, and both of his victories came in 2012 by way of decision.
Siver defeated Diego Nunes in his featherweight debut and then Nam Phan at UFC on Fox: Henderson vs. Diaz. Those wins put him in the top 10 of the division.
Cub Swanson and Siver seem to be on a collision course for later this year, and that fight will likely put the winner in the top five. It is an important contender's bout in the division even with a crowded title picture.
Siver's diverse striking has looked great at 145. His body type is much more suited for this division. The striker will have his hands full with Swanson when they meet, but it could turn into a memorable stand-up war.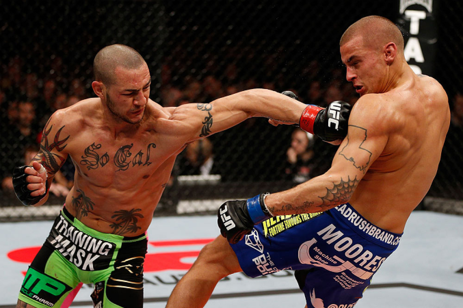 Photo by Josh Hedges/Zuffa LLC/Zuffa LLC via Getty Images
Under normal circumstances, Cub Swanson would not be sixth. This merely shows that featherweight may be the most stacked division in the UFC right now.
Swanson is on a four-fight win streak. After losing to Ricardo Lamas in 2011, Swanson has turned things around.
The Jackson MMA fighter started off 2012 with a KO of George Roop, followed it up with a TKO of Ross Pearson in the summer and finished the year with a KO of Charles Oliveira. It was a decisive year for Swanson that put him into the title picture.
In February, Swanson fought another contender in Dustin Poirier. The fantastic fight went to the scorecards, and Swanson was able to take the decision.
The title picture is currently filled to the brim, but Swanson is not far off. He is still a fight or two away, but he will be on the short list in case an injury occurs in one of the title bouts.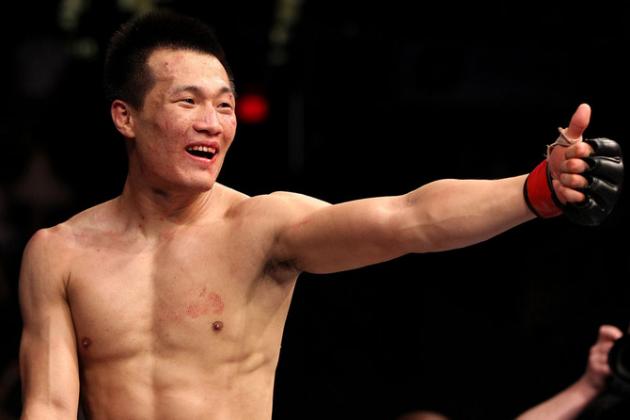 Photo by Josh Hedges/Zuffa LLC/Zuffa LLC via Getty Images
Three consecutive wins for The Korean Zombie have put him in a title eliminator with Ricardo Lamas later this year.
After closing out his WEC tenure on back-to-back losses including a contentious decision loss to Leonard Garcia, Jung has gone a perfect 3-0 inside the Octagon.
The Korean Zombie used a twister to submit Garcia in his debut, knocked out Mark Hominick in seven seconds and finished Dustin Poirier with a d'arce choke in a Fight of the Year candidate in 2012. Those finishes will earn almost anyone a title shot.
He will get a chance to earn a shot at the featherweight crown by defeating Lamas, but it will be no easy task.
By the time the fight rolls around, Jung will have been out of the Octagon for more than a year. One can only hope he won't suffer from too much cage rust.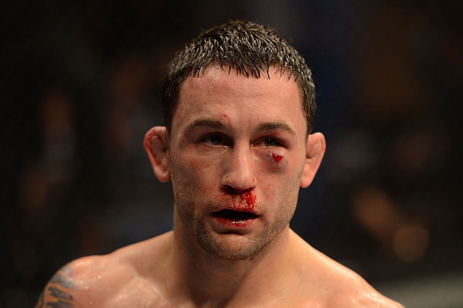 Photo by Donald Miralle/Zuffa LLC/Zuffa LLC via Getty Images
Frankie Edgar has lost his last three fights, but all were razor-thin decisions in title fights.
Edgar made his 145 debut in 2013 against Jose Aldo for the strap, but Aldo did enough to get ahead on the scorecards and ride the fight out to a decision. However, Edgar came on strong in the later stages of the fight and made it close.
Edgar is pound for pound one of the best fighters on the planet. He is an incredible fighter to watch with heart for miles. It is rare for a fighter to lose three fights in a row and still maintain one of the top positions in a division. If Edgar went back to lightweight, he would likely be a top-three contender there as well.
In his next outing, Edgar will take on Charles Oliveira at UFC 162.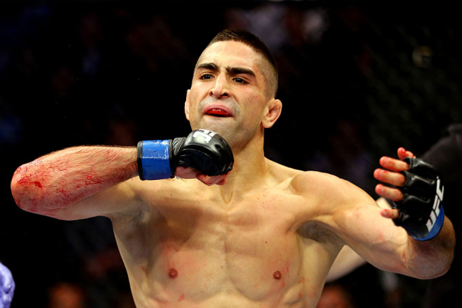 Photo by Al Bello/Zuffa LLC/Zuffa LLC Via Getty Images
Ricardo Lamas has quietly risen up the ranks in the division and is sitting on the precipice of a title shot.
Lamas made his featherweight debut in his first UFC fight and has yet to lose. What is even more impressive is how he has made his run at 145.
Lamas TKO'd Matt Grice, set Cub Swanson back with a submission loss, took a decision from Hatsu Hioki and TKO'd former top contender Erik Koch. No other contender has Lamas' resume in the division, and he will fight Chan Sung Jung at UFC 162 with a title shot on the line.
When discussing who should be the No. 1 contender, you are splitting hairs between Lamas and Chad Mendes, but with a win over Chan Sung Jung, Lamas would be one fight away.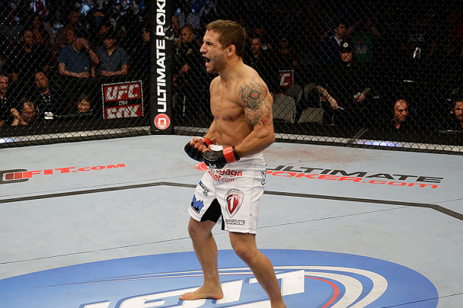 Photo by Ezra Shaw/Zuffa LLC/Zuffa LLC via Getty Images
Chad Mendes has re-established himself as the top contender to Jose Aldo's crown.
Mendes ate a knee from Aldo that sent him out of the fight at UFC 142, but since then he is 3-0 with three knockouts. He has only been in the cage for a total 3:34 in those fights.
He rebounded with a body-shot KO of Cody McKenzie at UFC 148, finished late replacement Yaotzin Meza in 1:55 back in December and torched Darren Elkins in 1:08 on Saturday. Mendes has been on a tear.
There should not be any question that he is back in title contention, but with Aldo lined up to face Anthony Pettis later in the year, Mendes may have to take another fight. If so, it will be for the next crack at Aldo's crown.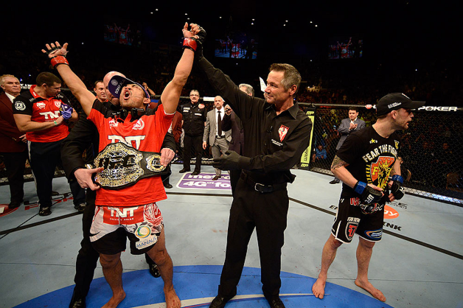 Photo by Donald Miralle/Zuffa LLC/Zuffa LLC via Getty Images
Jose Aldo is the champion of the division, but he is not just No. 1 because of that.
He has already beaten three of the top 10, and all of the other top contenders have since diminished during his reign atop the division.
Aldo has crazy knockout power, amazing takedown defense and a submission game that has gone unused in the cage. He is a complete fighter who has killer instinct that is second to none.
In his last fight, Aldo took care of business against Frankie Edgar. He won a clear-cut decision, but he allowed Edgar to close out the fight strong and make a case for a rematch down the line. Against top contender Chad Mendes, Aldo finished him with one second remaining in the first round with a vicious knee.
Aldo will fight Anthony Pettis later this year.