5 Dream Scenarios Already Becoming Reality for MLB Teams in 2013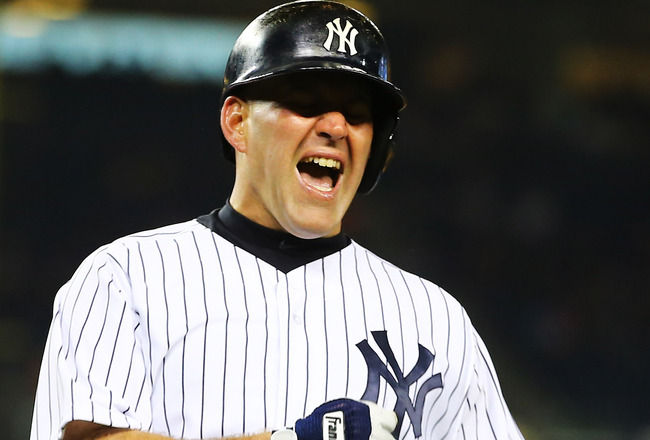 Kevin Youkilis has helped to quiet the critics in New York.
Al Bello/Getty Images
Dreams and baseball go hand-in-hand.
As kids, most of us dreamed of playing for our favorite teams growing up, spending hours in the backyard pretending to be wearing that uniform as we stepped to the plate or toed the rubber with the game on the line.
Of course, we played the part of the hero by getting the game-winning hit or locking down the victory with a game-ending strikeout. Hey, it was our dream after all.
But dreams aren't limited to children.
While most players will tell you that they're living the dream simply by playing in the major leagues, they too have dream scenarios that they play over again and again in their heads—scenarios that aren't much different from the ones we had as kids.
Teams have dream scenarios as well—whether it be a group of players taking the next step in their development and pushing the team to another level on the competitive ladder or simply silencing the critics who say that "Team X" is too old or lacks the talent to contend for a playoff spot.
For a handful of teams, those dream scenarios are quickly becoming a reality.
So do your best to stay quiet—the last thing we want to do is wake them up from their dreams—and let's take a look at five teams who are already living the dream in 2013.
Boston Red Sox: A Return to the Land of Contenders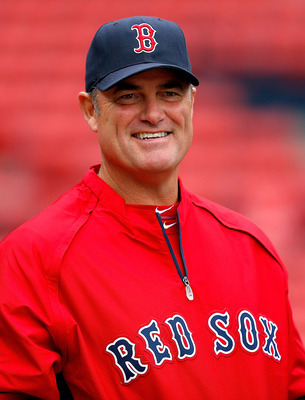 John Farrell has given the Red Sox plenty to smile about.
Jim Rogash/Getty Images
If we are being totally honest, Boston's dream scenario began when Bobby Valentine was fired as the team's manager after the 2012 season—a dream that only got better when the announcement of his replacement was made:
Source: @redsox hire John Farrell as next manager. Farrell served as the RedSox's pitching coach from 2006-2010. es.pn/XECzdo

— SportsCenter (@SportsCenter) October 21, 2012
Whether it has been Farrell's familiarity and preexisting relationships with many of the key pieces on the roster from his earlier stint in Boston or merely Valentine's removal from the equation, Boston (12-6) has gotten off to its best start in years.
After the disaster that has surrounded the team for the past year-and-a-half, both the team's front office and Red Sox Nation would have been satisfied to see the team make a return to respectability in 2013.
Under Farrell's watchful eye, though, it seems as if this year's squad is capable of being much more than respectable—this year's squad is a contender for a playoff spot.
There's a different vibe surrounding the team than there has been in a few years. When baseball feels more like a job and less like a game, there's almost no chance of a team finding success on the field. Farrell has changed that.
No longer do the Red Sox look like people who dread having to go to work. The team is playing inspired baseball, and the joy has returned to Beantown—even when the mighty Papi strikes out.
Colorado Rockies: A Decent Starting Rotation
Jhoulys Chacin is pitching like an ace in Colorado.
Justin Edmonds/Getty Images
It's never been a question of offense for the Rockies, who ranked sixth in baseball with 758 runs scored in 2012 and sit second overall this year with 104, trailing only the Cincinnati Reds.
It's been a question of where the team was going to get quality starting pitching.
Apparently, the answer lied in a pair of starters who were limited to a combined 17 starts last year and a journeyman who had made a total of nine starts since the end of the 2010 season, missing all of 2012 as he recovered from shoulder surgery.
Jhoulys Chacin, Jorge De La Rosa and Jon Garland have been nothing short of excellent, performing nearly as well as any front half of the rotation as you'll find in baseball.
| | | | |
| --- | --- | --- | --- |
| | W-L | ERA | WHIP |
| Chacin | 3-0 | 1.46 | 0.89 |
| De La Rosa | 2-1 | 2.82 | 1.03 |
| Garland | 2-0 | 3.32 | 1.00 |
| Totals | 7-1 | 2.45 | 0.97 |
Their dominating performances, coupled with Colorado's potent offense (second in MLB with 104 runs scored), has allowed the early struggles of fellow starters Jeff Francis (1-1, 8.25, 2.33) and Juan Nicasio (2-0, 5.31, 1.62) to be far less damning than they would have been only a year ago.
Colorado has come a long way since staking a claim to the title of "worst rotation in baseball" only a year ago.
| | | | | |
| --- | --- | --- | --- | --- |
| | W-L | ERA | WHIP | BAA |
| 2012 | 29-68 | 5.81 | 1.63 | 0.304 |
| 2013 | 10-2 | 3.73 | 1.27 | 0.249 |
Instead, thanks to having both the offense and pitching clicking at the same time, Colorado can now stake a claim to the title of "best record in baseball," something the 13-5 Rockies share with the Atlanta Braves.
Even the most optimistic and devout Rockies fan couldn't have dreamed up this scenario.
Kansas City Royals: Rebuilding Comes to an End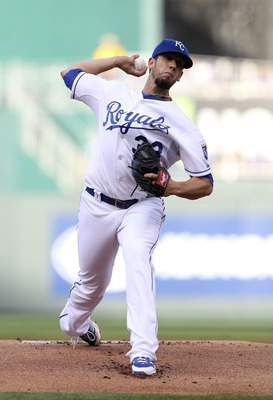 James Shields has helped move the Royals along.
Ed Zurga/Getty Images
After years of middling results on the field but promises of a better tomorrow as the team stockpiled one big-time prospect after another—only to see more middling results once those prospects arrived on the scene—Kansas City has finally emerged from a seemingly never-ending rebuilding process.
For the first time during his 13-year tenure as owner of the Royals, David Glass gave GM Dayton Moore the ability to go out and add payroll. The moves Moore made—signing Ervin Santana as a free agent, re-signing Jeremy Guthrie and trading for Wade Davis and James Shields—have paid off in a major way.
No longer does the team have to try to pass off pitchers like Bruce Chen and Luke Hochevar as legitimate front-of-the-rotation types to a fanbase that was growing increasingly frustrated with the team's efforts to improve.
That foursome of starting pitchers that Moore bought into the fold has been nothing short of excellent so far in 2013:
| | | | |
| --- | --- | --- | --- |
| | W-L | ERA | WHIP |
| Davis | 2-0 | 2.25 | 1.31 |
| Guthrie | 2-0 | 3.86 | 1.21 |
| Santana | 2-1 | 2.48 | 1.07 |
| Shields | 1-2 | 3.00 | 1.11 |
| Totals | 7-3 | 2.95 | 1.16 |
Even when you include Luis Mendoza's numbers (0-1, 6.17, 1.29) in the equation, the Royals' starting rotation has still been one of baseball's more successful rotations, with the eighth-lowest ERA (3.29) and sixth-lowest WHIP (1.16) in the game.
The team's 10-7 record finds Kansas City alone in first place atop the AL Central, despite the relative lack of production from big bats like Eric Hosmer, Mike Moustakas and Salvador Perez.
Once those bats awaken from their slumber, it will only make the pitching staff's job easier—and put an era of rebuilding firmly in the team's rear-view mirror as it looks to play its way into the playoffs for the first time since 1985.
New York Yankees: Staying Healthy and in Contention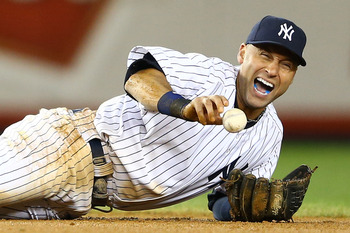 The Yankees have been able to overcome adversity despite missing their captain.
Al Bello/Getty Images
Of the more than 50 experts that B/R, CBS Sports, ESPN and Yahoo! Sports polled for their preseason predictions, only six picked the Yankees to make the postseason. Out of those six, only one, ESPN Stats and Information's Mark Simon, picked the team to win the AL East.
It's understandable why fans and experts alike were quick to dismiss the team.
The Yankees boast one of the oldest rosters in baseball and started the season with four key players that composed a huge chunk of the team's offense—Curtis Granderson, Derek Jeter, Alex Rodriguez and Mark Teixeira—on the disabled list.
Replacing their production wasn't supposed to be easy, especially with three of the four players tasked with that job arriving in New York on the downside of their careers and coming off mediocre 2012 campaigns.
| | | | | | |
| --- | --- | --- | --- | --- | --- |
| | BA | OPS | R | HR | RBI |
| Hafner | 0.228 | 0.346 | 23 | 12 | 34 |
| Nunez | 0.292 | 0.330 | 14 | 1 | 11 |
| Wells | 0.230 | 0.682 | 36 | 11 | 29 |
| Youkilis | 0.235 | 0.745 | 72 | 19 | 60 |
| Totals: | 0.238 | 0.734 | 145 | 43 | 134 |
But filling the void left by the injured stars has been no problem for the three newcomers to the Bronx. Travis Hafner, Vernon Wells and Kevin Youkilis have combined to hit .310 with 12 home runs, 27 RBI and 29 runs scored.
The team's 84 runs scored rank seventh in baseball (third in the AL), and its combined .806 OPS leads the AL, trailing only Colorado for the top mark in the game.
More importantly, the Yankees sit four games over .500 with an 11-7 record—the same record that the team had after 17 games last year.
The only difference?
Last year, that record put the Yankees in a four-way tie for the AL East lead. This year, the Yankees sit alone in second place, two games behind a resurgent Boston squad.
Considering how badly things could have gone for the club without its four injured All-Stars, that the Yankees remain one of the better teams in baseball is as close to a dream scenario as they could have hoped for.
Texas Rangers: A Starting Rotation That Stands on Its Own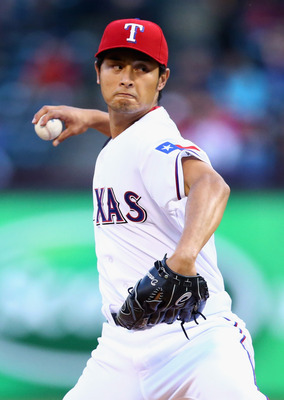 Yu Darvish has established himself as the ace of the staff, even if that's not technically his role.
Ronald Martinez/Getty Images
During the offseason, there were three major topics that came up when discussing the Texas Rangers: Josh Hamilton's departure, Nolan Ryan's future and the team's need to add a front-of-the-rotation arm to the mix.
Whether it was Zack Greinke and Kyle Lohse on the free-agent market or R.A. Dickey and James Shields via trade, Texas was linked to nearly every big-name pitcher that was available this past winter. Texas failed to acquire any of them.
As the early results show, the Rangers were wise to pass on them all. The team's starting rotation, which was essentially average in 2012, is much more than that in 2013, despite being filled with many of the same faces from a year ago:
| | | | |
| --- | --- | --- | --- |
| | W-L | ERA | WHIP |
| 2012 Rangers | 72-55 | 4.30 | 1.30 |
| 2012 MLB Average | 58-59 | 4.22 | 1.32 |
| 2013 Rangers | 8-6 | 3.06 | 1.14 |
| 2013 MLB Average | 6-6 | 4.09 | 1.32 |
Numbers don't lie, and the team's 2013 rotation has been excellent.
The scary thing for the opposition is that those numbers are skewed by Matt Harrison's awful numbers, due largely in part to a back injury that required surgery to repair and has him sidelined until after the All-Star break.
Take a look at the rotation's numbers without Harrison's 8.44 ERA and 1.97 WHIP included:
| | | | |
| --- | --- | --- | --- |
| | W-L | ERA | WHIP |
| Yu Darvish | 3-1 | 2.03 | 0.79 |
| Justin Grimm | 1-0 | 2.70 | 1.50 |
| Derek Holland | 1-1 | 1.64 | 0.77 |
| Alexi Ogando | 2-1 | 3.32 | 1.32 |
| Nick Tepesch | 1-1 | 3.07 | 1.23 |
| Totals | 8-4 | 2.44 | 1.04 |
That certainly doesn't look like a starting rotation that needs a front-of-the-rotation starter to solidify things, does it?
So far, the dream of having a starting rotation that can not only stand on its own, but give the team a chance to win, is alive and well in Texas.
Keep Reading