UFC on Fox 7 Results: What's Next for the Winners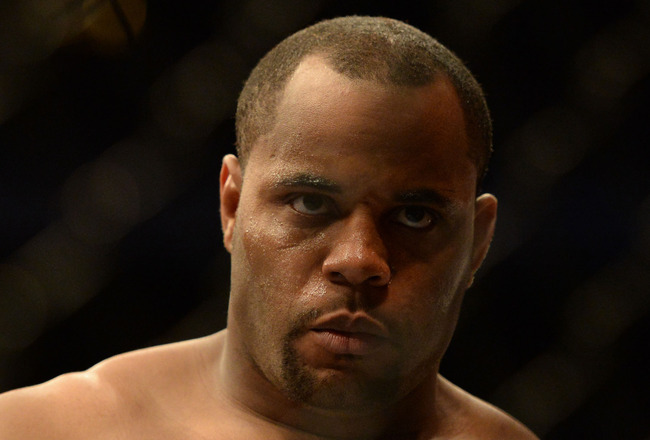 Kyle Terada-USA TODAY Sports
On Saturday night, the UFC delivered a package to Fox. Inside was some of the top fighters from nearly every weight class on the roster, a group which delivered an incredible eight knockouts through the 12-fight event.
It's not about where you've been. It's about where you're going. For that reason, we must look ahead to the next matchups.
UFC lightweight champion Benson Henderson and Daniel Cormier count themselves as the biggest winners of the evening; however, there was significant excellence flowing from the likes of Chad Mendes, Joseph Benavidez, Matt Brown, Josh Thomson and the rest of the fighters who had their arms raised.
Here is a look at what's next for every winner from UFC on Fox 7.
Yoel Romero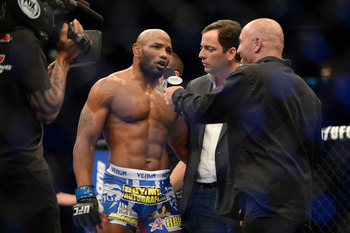 Kyle Terada-USA TODAY Sports
From time to time, fighters will spend a minute or two circling and trying to find their range, and in the first meaningful exchange of the bout, it's lights out. That's exactly what happened in the opening bout between middleweights Yoel Romero and Clifford Starks.
Seemingly out of nowhere, Romero abandoned his wrestling game and threw a stunning flying knee that left Starks stiffened on the canvas. It briefly looked like Starks would recover, but Romero peppered him with a few punches, and it was all over.
This was a much-needed win for Romero, who entered the UFC after a 19-month layoff. He last competed in his big league debut in a losing effort to Rafael Cavalcante.
Next up: Romero should face Clint Hester, who also scored a highlight-reel knockout in his promotional debut last weekend.
Anthony Njokuani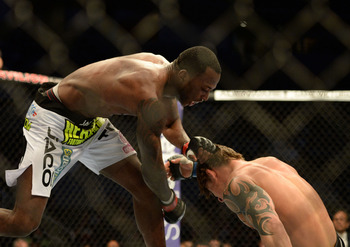 Kyle Terada-USA TODAY Sports
Coming into UFC on Fox 7 with a miserable 3-5 run, Anthony Njokuani utilized crisp striking to knock out a debuting Roger Bowling on Saturday night.
It's clear that Njokuani knew his job was on the line, as he was a clearly motivated man once the cage door locked. This was the best that the Nigerian has looked in his six-fight tenure with the UFC.
With a performance like this, Njokuani shouldn't have to worry about fighting on the Facebook prelims in his next contest.
Next up: Njokuani should face Reza Madadi, who competed earlier this month and pulled off an incredible comeback win over Michael Johnson.
T.J. Dillashaw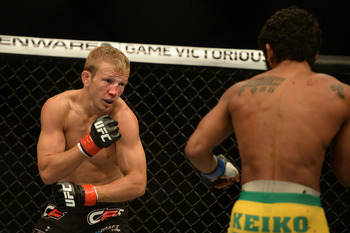 Kyle Terada-USA TODAY Sports
Bringing in coach Duane Ludwig has been a tremendous move for Team Alpha Male. In consecutive fights, the striking game of pupil T.J. Dillashaw has improved exponentially. On Saturday night, "The Viper" earned his second stoppage in five weeks after laying out Hugo Viana on the FX prelims.
Dillashaw now sits at 4-0 since being upset by John Dodson in the Ultimate Fighter 14 Finale, although his opponents haven't had much name value. It's time that the dark horse gets a crack at a ranked bantamweight.
Next up: Dillashaw should meet Brad Pickett sometime this summer. Pickett competed earlier this month with a split-decision win over Mike Easton.
Despite Pickett requesting a matchup with Michael McDonald, Dillashaw is the better option, considering his current momentum.
Jorge Masvidal and Myles Jury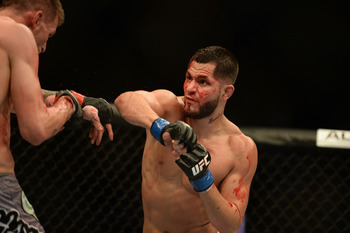 Kyle Terada-USA TODAY Sports
Jorge Masvidal may have only given his performance on Saturday night "a five or six" out of 10, but the one-time Strikeforce contender saw his arm raised after a very tough fight with Tim Means.
Masvidal has won four of his last five, with the sole loss coming in a title bid against Gilbert Melendez. Tonight, he passed a stiff challenge in the form of Means and will graduate to tougher competition.
Next up: The man who should stand across the cage from Masvidal also fought at UFC on Fox 7: Myles Jury.
Jury is an undefeated lightweight who has won a trio of UFC contests against Ultimate Fighter alumni. On Saturday night, he put Ramsey Nijem to sleep with a second-round KO which improved his professional record to 12-0.
Joseph Benavidez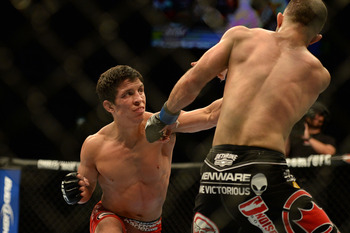 Kyle Terada-USA TODAY Sports
It has got to be disheartening for the Flyweight division when its No. 1 contender can't even get off of the preliminary card.
Joseph Benavidez has the sort of well-rounded attacks that gives men nightmares. He is incredibly speedy, yet powerful. Not only that, but he can knock you out, submit you or grind away on a decision victory at will.
Next up: Benavidez should face the winner of a planned matchup between Demetrious Johnson and John Moraga. It's clear that he is the best guy in the division not currently holding a title, so a rematch with "Mighty Mouse" looks to be in order.
Francis Carmont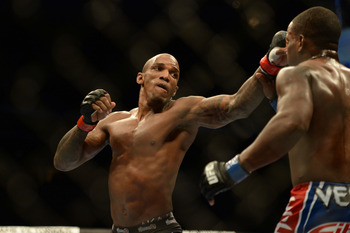 Kyle Terada-USA TODAY Sports
Wins like the one he picked up on Saturday night aren't exactly dominant, but there is no denying Francis Carmont his unblemished 5-0 record inside the Octagon. At UFC on Fox 7, Carmont won a unanimous decision against Lorenz Larkin.
It is time for Carmont to get a serious step up in competition. You can only win so many fights before being given a ranked opponent, right?
Next up: Carmont should face the winner of UFC 162's Mark Munoz vs. Tim Boetsch matchup.
Chad Mendes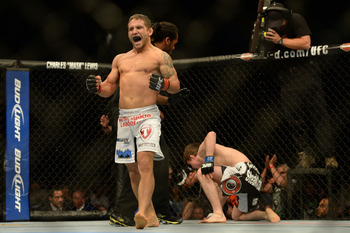 Kyle Terada-USA TODAY Sports
Team Alpha Male's Chad Mendes is in a bit of a holding pattern. Despite the fact that Mendes is the top-ranked featherweight not holding a title, Jose Aldo has his next two fights planned at this point, and neither of them involve "Money."
On Saturday night, Mendes butchered the surging Darren Elkins in a fight that was his third consecutive TKO that took less than two minutes. If that's not an indicator that this dog is ready to eat, I don't know what is.
Next up: Mendes should be fighting someone like Ricardo Lamas, Frankie Edgar, The Korean Zombie, Cub Swanson or Dennis Siver due to their rankings. Unfortunately, all of those men have scheduled bouts on the docket. For that reason, let's see about rebooking Mendes against his original UFC on Fox 7 opponent: Clay Guida.
Matt Brown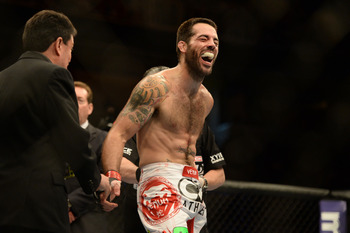 Kyle Terada-USA TODAY Sports
Five wins in a row for Matt Brown seemed like a pipe dream at the start of his current streak. After all, the tough-as-nails brawler had earned only one victory in his last five fights.
Now, Brown has the scalps of Mike Swick and lava-hot prospects Stephen Thompson and Jordan Mein sitting on his mantle. With that kind of momentum, there is no denying "The Immortal" a shot at a ranked welterweight. However, most of the top guys at 170 pounds who are coming off of a win already have their next dance partner, so Brown might fight a recent loser.
Next up: Matt Brown should fight Martin Kampmann. Both men are incredibly technical and aggressive with their stand-up game. This is the sort of brawl that would draw comparisons to Griffin vs. Bonnar.
Josh Thomson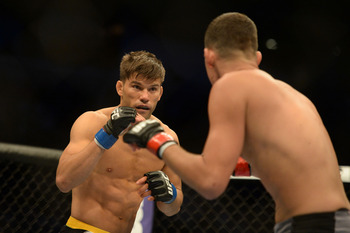 Kyle Terada-USA TODAY Sports
If any of the Strikeforce imports shined on Saturday night, it was former champion Josh "The Punk" Thomson. Utilizing a series of solid kicks, this lightweight stud became the first man to ever finish Nate Diaz due to strikes.
Thomson just put a beating on a man who challenged for gold only one fight ago. It's possible that we will see him in his own championship opportunity this time next year if he can get past one of the division's elite grapplers in his next matchup.
Next up: Josh Thomson should face the winner of Jim Miller vs. Pat Healy, who compete at next weekend's UFC 159 event.
Daniel Cormier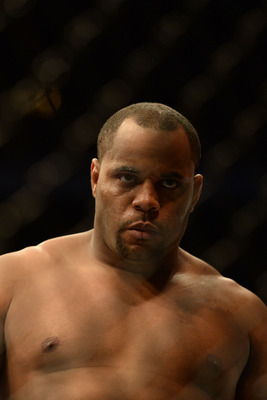 Kyle Terada-USA TODAY Sports
If this is the guy who is supposed to drop down and dethrone Jon Jones at light heavyweight, consider me unconvinced. The Olympian did a good job of bullying Frank Mir around the cage for three rounds, employing brutal body shots along the way. That being said, few were impressed by the performance turned in by "DC."
Recently, Cormier stated that he would be interested in taking a tune-up fight at 205 pounds instead of immediately challenging for the belt like he said back in January.
Next up: Daniel Cormier should face Alexander Gustafsson sometime this summer. Gustafsson is still one big win away from a crack at the belt, so this fight makes sense as a title eliminator.
Benson Henderson
Kyle Terada-USA TODAY Sports
The UFC lightweight champion officially has three title defenses under his belt after defeating Gilbert Melendez via split decision in last night's main event. It was the second time where fans viciously booed a successful defense for Henderson, as the partisan crowd clearly believed that Melendez should have been the victor.
At last night's UFC press conference, Dana White confirmed that a rematch would not take place, and that the winner of a UFC 160 matchup between Gray Maynard and T.J. Grant will determine the next man in line for a crack at 155-pound gold.
Next up: Henderson will face the winner of Gray Maynard vs. T.J. Grant. However, a rematch with Melendez is the only real option. When Chael Sonnen and Brian Stann immediately claim live on Fox that Melendez should have won the decision, choosing to not give a rematch is a major error.
Keep Reading