5 Fights for Daniel Cormier to Take Next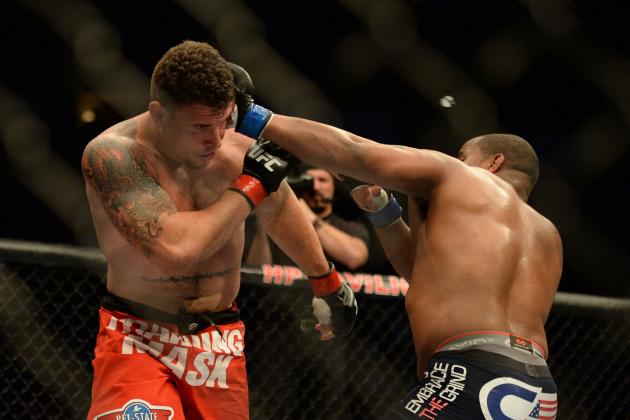 Kyle Terada-USA TODAY Sports

On a night full of knockout finishes, Daniel Cormier's dominating unanimous-decision victory over Frank Mir fell a little flat for some fight fans.
Cormier made his UFC debut riding a wave of hype, and the expectation was that he'd tear through Mir like tissue paper, and when that didn't happen, his performance was labeled lackluster.
"DC" was never in any trouble during the fight and didn't allow Mir to get into a rhythm. Instead, he used his superior wrestling to muscle Mir against the cage and land a bevy of devastating shots.
In the fight, Cormier outstruck Mir by a ratio of nearly 2:1, according to FightMetric. Cormier made Mir, a former two-time heavyweight titleholder, look downright amateurish in a fight that could mark the end of his career.
Cormier is now 1-0 in the UFC and has a flawless 12-0 professional record. And even though Cormier was unable to finish Mir, he proved himself to be one of the most dangerous fighters that the heavyweight roster has to offer.
That's a long way from where Cormier was a year-and-a-half ago when he stepped in as an injury replacement for Alistair Overeem against Antonio "Bigfoot" Silva in the semifinals of the Strikeforce Heavyweight Grand Prix.
Cormier shocked the world with a first-round TKO win that catapulted him from relative unknown to overnight sensation.
Since then, Cormier has become a shining beacon in a rather dull division that currently sports a roster of fewer than 30 active fighters.
Now he stands at the precipice of superstardom with the chance at making a title run in two different divisions. It still remains unclear whether the diminutive heavyweight will stay at 265 or make the drop down to light heavyweight.
However, given the fact that Cormier is 34, it is imperative that he make his move while he's still in his prime. With that said, this list of potential matchups is comprised of the crème de le crème of both the heavyweight and light heavyweight divisions.
Begin Slideshow

»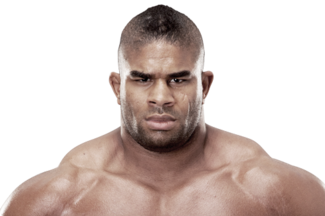 via ufc.com
"The Reem" has had a rough 2013 so far.
After coming back from a year-long suspension, Alistair Overeem looked to be on his way to a quick title shot. All he had to do was beat Antonio "Bigfoot" Silva, and he would've been golden.
But his hubris got in the way. Overeem showed a total disrespect for Bigfoot's punching power, and at the beginning of the third round, he paid the price for his arrogance.
Bigfoot came out like a man possessed and proceeded to tee off on Overeem, finishing him in highlight-reel fashion.
The loss was devastating to Overeem's heavyweight legacy, but he stood to jump back in the mix with a matchup against hated rival and former titleholder, Junior dos Santos. However, a torn quad muscle forced him off the card, and he saw his spot go to Mark Hunt.
Overeem will need time to get back to full health, but a matchup with Daniel Cormier would be a good fight for his return.
Overeem is a K-1 kickboxing champion, and Cormier is an Olympic freestyle wrestler. The fight would boil down to Cormier's ability to control Overeem and avoid his powerful strikes.
Cormier weighs in at a trim 235, while Overeem tips the scales at or above the 265-pound max. Up until now, Cormier has been able to manhandle every fighter put in front of him—regardless of size.
However, Overeem will be out for blood and enter the fight looking for the knockout. If Cormier can weather the storm and come away with another impressive victory, it will cement him as one of the top heavyweights in the world.
Next fight: TBA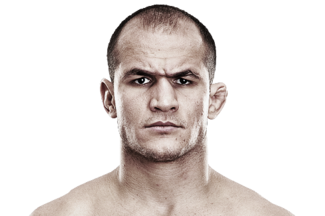 via ufc.com
No UFC heavyweight champion has ever defended the belt more than two consecutive times.
When Junior dos Santos knocked out Cain Velasquez at the inaugural UFC on FOX card to claim the belt, it looked as if the heavyweight division may have finally found a champion who would have a long and dominant reign.
Dos Santos easily defended the strap against Frank Mir at UFC 146, but was proven mortal in his next title fight: a rematch with Cain Velasquez.
Velasquez controlled the action for the full 25 minutes, dominating dos Santos on the feet and on the ground.
Dos Santos was originally supposed to take on Alistair Overeem in his next bout, but instead, got paired with Mark Hunt who is currently riding a five-fight win streak that includes a vicious knockout of Stefan Struve.
Even after the loss to Velasquez, dos Santos sits in the No. 2 position on the UFC's official heavyweight rankings. If dos Santos beats Hunt, it is likely that he could be in line for another title shot; however, if that doesn't happen, a fight with Cormier would be a good consolation prize.
For Cormier, this matchup would be similar to the one with Overeem, but dos Santos' stand-up would be more boxing centric. This would prove problematic for Cormier in the clinch as dos Santos is a knockout machine racking up 11 KO's in his 15 victories.
Cormier will need to take the fight to the ground and force dos Santos to rely on his underutilized jiu-jitsu. If Cormier was able to actually finish dos Santos via TKO (a feat yet accomplished by anyone inside the Octagon), then it would be impossible to suggest that he isn't the No. 1 contender in the division.
Next fight: Mark Hunt at UFC 160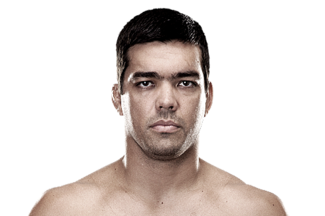 via ufc.com
Lyoto Machida is coming off an uninspiring split-decision win over Dan Henderson at UFC 157. The victory put him "next in line" for a shot at the light heavyweight belt leapfrogging Swede striker Alexander Gustafsson.
If Jon Jones is able to beat Chael Sonnen, April 27, at UFC 159, then it will put him on a collision course with Machida in a rematch of their previous championship tilt.
That fight ended with Jones choking out Machida via standing guillotine and then dropping him to the canvas like a sack of dirty laundry.
Though some fight fans are convinced that Machida won the first round, it still doesn't mean that the outcome of the rematch would be any different than their first encounter.
Perhaps a match with Cormier could reestablish "The Dragon" as truly deserving of the No. 1 contender position. And for Cormier, this fight would be a stiff test at light heavyweight; one that, if he passes, will make it hard to ignore the hype.
This is an intriguing matchup because of each fighter's differing skill set. Machida is a counter fighter who is most successful when his opponent is willing to engage. He can be very frustrating—a puzzle with an unorthodox karate-based striking style that is awkward for some fighters.
Cormier is a good foil for Machida. He has fast hands, moves effortlessly around the cage and utilizes angles to cut his opponents off.
Limiting Machida's movements and keeping him pressed against the cage will put him off balance. This coupled with Cormier's uncanny ability to secure takedowns and Machida's lack of submission victories will almost assuredly give "DC" the upper hand in the bout.
Next fight: TBA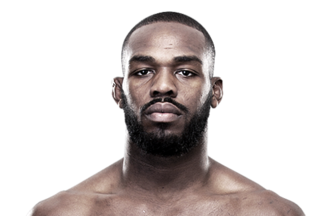 via ufc.com
This fight may not be imminent, but it is inevitable.
Jon Jones has ruled the light heavyweight roost for two years, and in that time, he has essentially cleaned out the division. His first five title fights were against opponents who, at one time or another, had been the light heavyweight champ.
Jones is young and athletic with more God-given abilities than any 10 fighters. He has yet to truly be tested inside the Octagon. His only loss was a disqualification against Matt Hamill in a fight he dominated. And it remains unlikely that natural middleweight Chael Sonnen will pose much of a threat to Jones.
With few options available for future compelling matchups, the possibility of a jump to heavyweight or a superfight with Anderson Silva have been bandied about.
While Daniel Cormier would come into the fight at deficits in every area—age, weight, height and reach advantage—his superior wrestling would still give him an edge.
Cormier has always been the smaller fighter, but has found ways to get on the inside and do damage.
The most interesting aspect of this fight would be to see if Cormier could get Jones to the ground and force him to fight off his back. This is a part of Jones' game that fight fans have never seen.
Not only would it put Jones outside of his comfort zone, but it would also test his ability to stay cool when he's not the one dictating the pace of the fight.
There are few fighters who could take Jones to the brink, but Cormier's unique skill and unflappable demeanor definitely put him in that select group.
Next fight: Chael Sonnen at UFC 159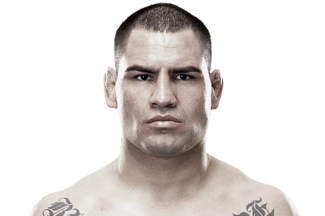 via ufc.com
With a thoroughly one-sided thumping of Junior dos Santos, Cain Velasquez recaptured the UFC heavyweight strap and the title of "Baddest Man on the Planet."
However, given the lack of depth at heavyweight, there are few legitimate title challengers left.
Velasquez is prepared to put his belt on the line against Antonio "Bigfoot" Silva, a fighter he has already dispatched once before in a rather bloody affair.
Daniel Cormier and Velasquez are teammates at American Kickboxing Academy and friends. They have both stated unequivocally that they would not fight one another.
Cormier reaffirmed this feeling after his win over Mir stating via MMAConvert, "I'm not gonna fight Cain. That's pretty clear."
Still this fight (next to Jones/Cormier) would be the most intriguing since Velasquez and Cormier are essentially opposite sides of the same coin. They are both high-level wrestlers with devastating striking.
And considering the fact that these two are training partners only adds another layer of dimension to an already compelling matchup.
This fight may just be wishful thinking or a simple pipe dream, but if Cormier decides to stay at heavyweight, it seems impossible that these two titans wouldn't tangle at some point.
So never say never... just ask Jon Jones and Rashad Evans.
Next fight: Antonio "Bigfoot" Silva at UFC 160