UFC on Fox 7 Results: Memorable Quotes & Images from Henderson vs. Melendez Card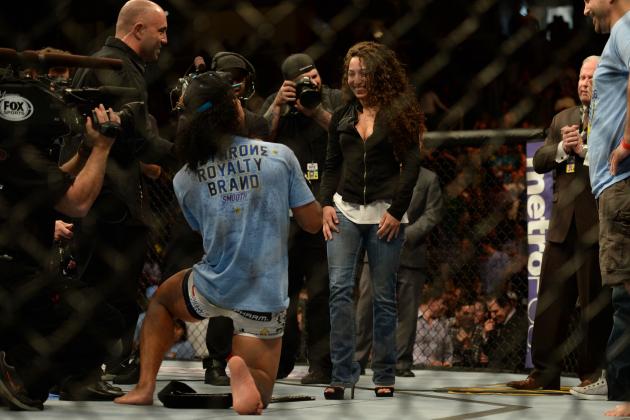 Kyle Terada-USA TODAY Sports

One thing that was not a surprise was that Benson Henderson and Gilbert Melendez went the full five rounds in their UFC on Fox 7 main event bout. What came after the fight, well, yeah, that was a surprise,
It's not very often that a prize fight ends with the victor down on one knee offering up a marriage proposal, but that's exactly what happened moments after UFC lightweight champion Henderson had his hand raised in a split-decision victory over Melendez.
It was one of many memorable images from the event, more of which will follow, along with post-fight quotes from the fighters.
**all quotes provided by the UFC unless noted.
Begin Slideshow

»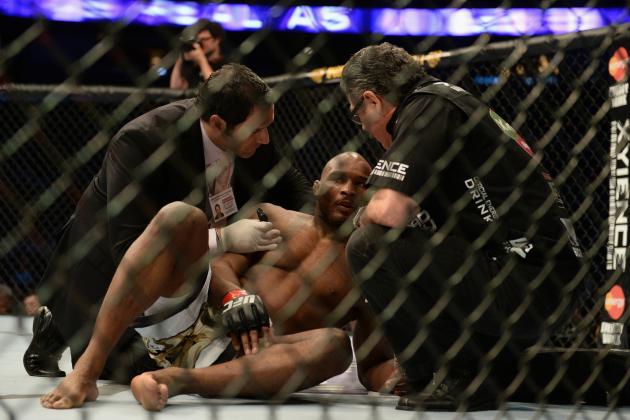 Kyle Terada-USA TODAY Sports

That's not Yoel Romero pictured, it's Clifford Starks. Starks is trying to get his senses back after he was disconnected from them by a flying knee from Romero in the first fight of the UFC on Fox 7 card.
Romero earned "Knockout of the Night" honors for the knockout which came 92 seconds into his UFC debut. After the win Romero offered, "It feels so good to finally be in the UFC. It was my dream to be here someday so I'm glad that I finally get to prove that I've deserved to be here all along.
After I had neck surgery last year it was a very difficult time. I had to talk to my family and refocus to get where I am now. God was telling me that this was what is next. I'm 100 percent and healthy so I'm ready to go whenever Dana White and the UFC want me to get back in there."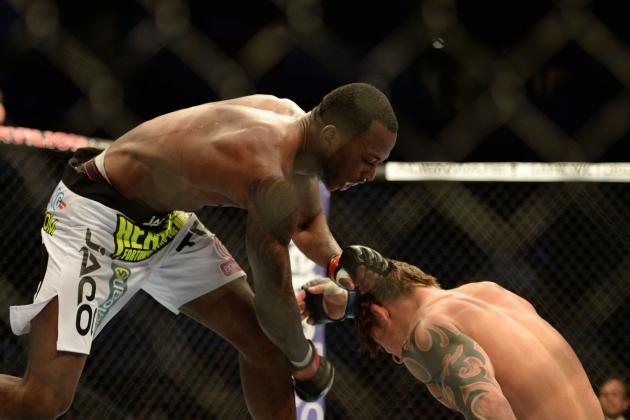 Kyle Terada-USA TODAY Sports

Anthony Njokuani had fought four times in California before Saturday's UFC on Fox 7 card, losing three of those fights. The fourth was a no-contest due to premature stoppage. His luck changed in San Jose when he earned a second-round TKO stoppage over Roger Bowling.
After the fight, Njokuani expressed his happiness with being on the winning side of the ledger, "That felt so good. I lost the last three times I was in California, and I made it clear I was going to end that streak. I'm so glad I'm back now."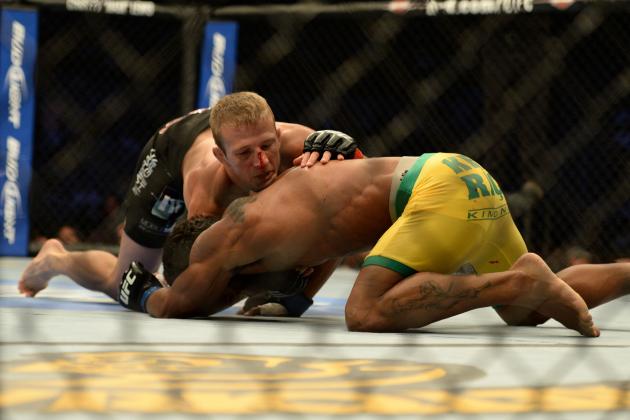 Kyle Terada-USA TODAY Sports

The first two fights of the night were over pretty quickly. T.J. Dillashaw, obviously not looking to be the first fighter to leave the second round on the night, went out and made it three for three in the early-stoppage department, earning a first-round TKO over Hugo Viana.
After the fight, the Team Alpha Male fighter said, "I felt good and calm – just tried to keep my movement going. I knew I had a fast opponent, I knew Hugo was tough. I just tried to keep it fast paced."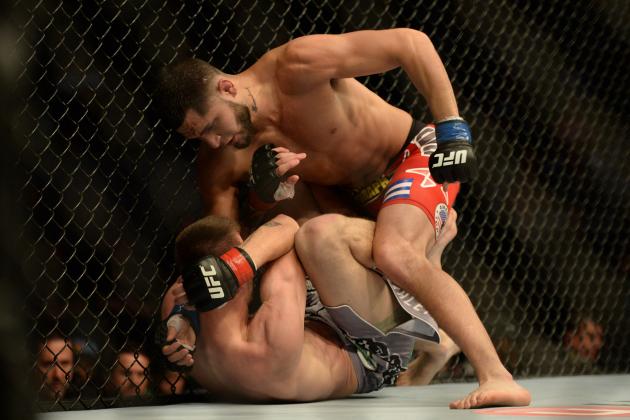 Kyle Terada-USA TODAY Sports

Jorge Masvidal had never fought in the UFC before Saturday night, running up a record of 23-7 while fighting for promotions such as Strikeforce, Bellator and Shark fights. After 15 minutes in San Jose, he had earned his first UFC win and also brought an end to Tim Means' 11-fight unbeaten streak.
After the fight Masvidal said, "I was just kind of out of it before this fight but I woke up once I got in there. I was on top all three rounds so I didn't think I'd lose any rounds, but whatever. That's why you can't leave it to the judges. When I got cut I wasn't hurting. I didn't get dazed or anything. It fired me up and I was trying to cut him back.
I train with some great wrestlers, so I pick up a lot from them. The plan was to strike with him and expose his weaknesses but the wrestling worked out. It was awesome being able to sit out in guard and throw some shots at him. I may have some ligament damage in my arm, so I'll have the doc check it out.
I didn't perform how I should've but each fight I'll be able to improve my performance and ability dramatically. I want any top ten guys as soon as possible."
As for Means, he offered, "I really didn't expect him to shoot as many take downs as he did. I thought we would go in there and slug it out like he has in the past. He was able to get some really deep single legs that I should've defended much better.
I don't look at this as a huge disappointment because the crowd was in it the whole time and we really gave them what they came to see. Jorge is a seasoned guy and he was better tonight. I'll go back to the drawing board and grow from this."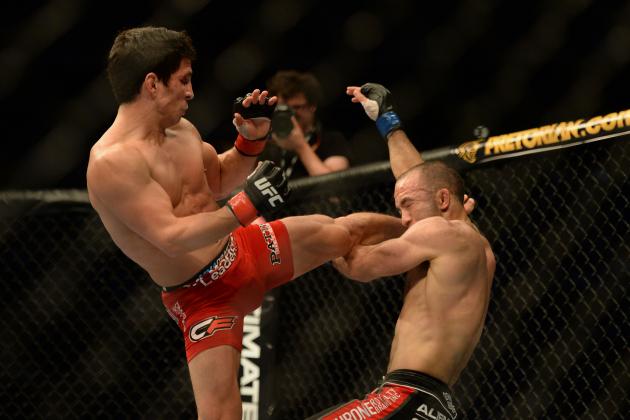 Kyle Terada-USA TODAY Sports

Joseph Benavidez entered his bout against Darren Uyenoyama as the No. 1-ranked fighter in the UFC's flyweight division after 9:50 of fighting on Saturday night; it's very doubtful that will change when the next set of rankings come out early next week.
Following his second-round TKO, Benavidez said, "I felt good everywhere. I was able to go to the ground with an elite grappler and I actually felt stronger, especially from the top. I look for the body shots because they work and they hurt. When you wake up in the morning after a knockout you don't feel anything but after a body shot you're definitely feeling it.
I faked the big right hand and was able to connect. My awesome coaches Duane Ludwig and Jimmy Gifford were yelling that he was hurt so I went in to swarm him. Thanks to Darren for getting in there with me and to the fans for all their support. I'm looking forward to the next one."
If you're looking for a dissenting opinion on Benavidez's standing in the division, you won't get it from Uyenoyama who offered, "This is the best camp I've had to date. I was moving well and came in with all the tools. In my opinion, Joseph is the best and most well-rounded 125-pounder in the world, whether he has the belt or not.
Honestly, I was a little in awe of the fact that I was actually fighting him. You try to get mentally prepared for a fight like this but potentially being in title contention with a win really keeps you up at night. I got caught looking and I have to work harder. Hats off to Joseph on a great fight."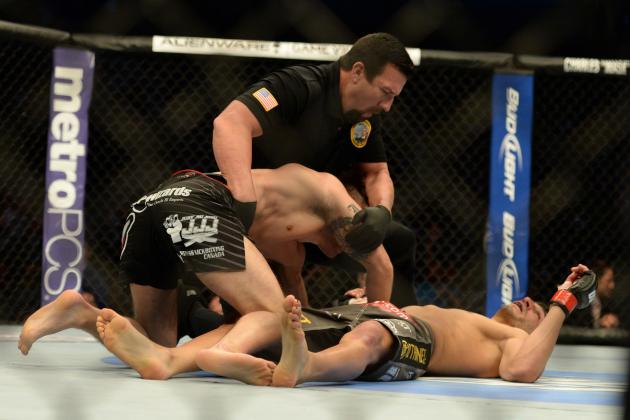 Kyle Terada-USA TODAY Sports

UFC on Fox 7 was full of highlight-reel knockouts, one of which was delivered by Myles Jury. Jury entered his fight against Ramsy Nijem on an 11-0 run; 62 seconds into the bout, that record had moved to 12-0 when he put Nijem down and out after Nijem left himself open following some wild punches.
After the fight, Jury said, "I've never finished anyone quite like that. I was lost in that moment and when you see them fall down, you just go in there to finish. Honestly, it just feels like you're hitting mitts. I didn't force anything, it's all just technique.
I'm a timing fighter and it was hard to string it together because he's very unorthodox. I do this because I like to. I really don't care where I fit in as far as the next fight. I'm ready for whatever. I don't care what people say, I'm just happy to be here doing what I love."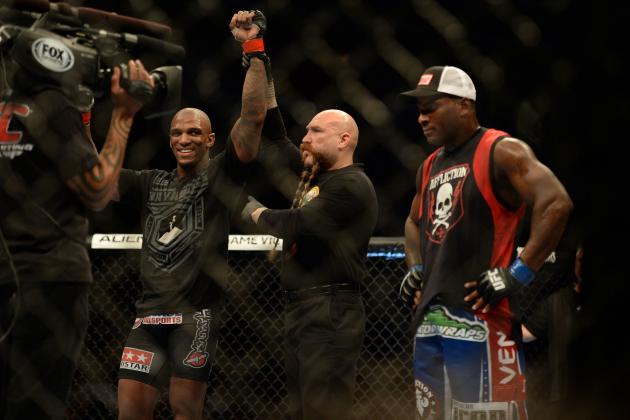 Kyle Terada-USA TODAY Sports

MMA crowds are never shy about expressing their opinions when it comes to judge's decisions. At UFC on Fox 7, there seemed to be two fights that they disagreed with—the main event between Benson Henderson and Gilbert Melendez and the bout between Francis Carmont and Lorenz Larkin.
When Carmont's hand was raised in victory, it was clear that the crowd thought the win should have gone to Larkin.
Carmont offered the following on his win, "He's a tough guy and he's hard to push around. He's a great fighter. He didn't hurt me at all and he didn't take me down easily. I'm just happy to win the fight."
While the vanquished Larkin, making his UFC debut, had the following to say, "I fought my heart out. He tested me to the fullest. Out of all my fights, I learned the most from this one. I also think it was my best fight technical wise, even though it didn't go my way. I'll work harder and be back soon."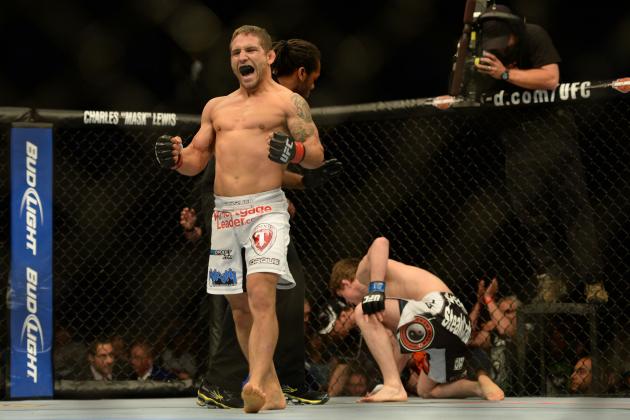 Kyle Terada-USA TODAY Sports

Darren Elkins was red-hot heading into UFC on Fox 7, he had dropped to featherweight five fights before and was sporting a perfect record since then. That changed on Saturday when he met the No. 1-ranked fighter in the division, Chad Mendes.
It took Mendes just 68 seconds to bring the streak of Elkins to an end.
After the fight, the third winner of the night for Team Alpha Male said, "It was a quick finish and if I could do that every time, I would. Overall, I got in there and I felt great. After the Aldo fight, I really worked on my standup-I'm just starting to find myself in the standup world. Props to Darren for taking the fight on short notice. I knew he was tough.
He's a tough, tough dude, but I just stuck to what I knew. It was another first round finish, and hopefully there's more of those to come. I don't know if people are afraid to fight me, it's a chance to beat me and a chance to move up in title contention.
I want to remain active because you only have so much time to remain active in the sport, but I'd like to wait for the winner of the Aldo vs. Pettis fight. I want that belt."
As for Elkins, he made no excuses for the loss, "I had a great training camp coming into tonight. Chad is a tough guy. He caught me and did his job putting me away. Hats off to him."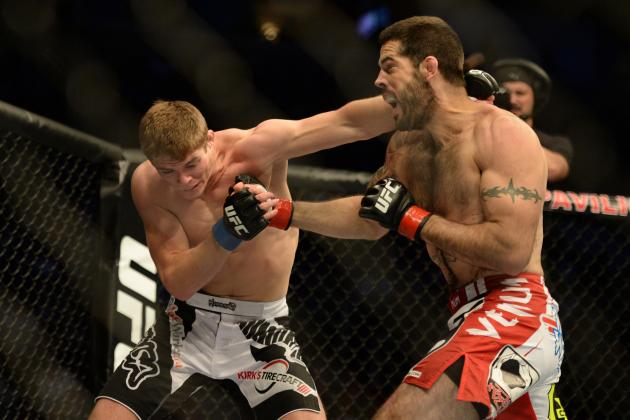 Kyle Terada-USA TODAY Sports

Sometimes, as fans of mixed martial arts, we love to see a great strategic matchup. Other times, we just want to see some good, old-fashioned violence. The bout between Matt Brown and Jordan Mein at UFC on Fox 7 fell into the latter category, as both fighters were rocked on multiple occasions throughout the brief bout.
This one may have only lasted six minutes in total, but it was enough to earn "Fight of the Night" honors.
After securing the TKO win, Brown offered, "I think Jordan's hype was well deserved. He hurt me really bad with that body shot-I was really close to being incapacitated and unable to defend myself.
I have no idea who I want next, but I think I deserve a fight that would put me in title contention. Every day I wake up and work as hard as I can. Some days you're on and some days you're off. I definitely woke up today."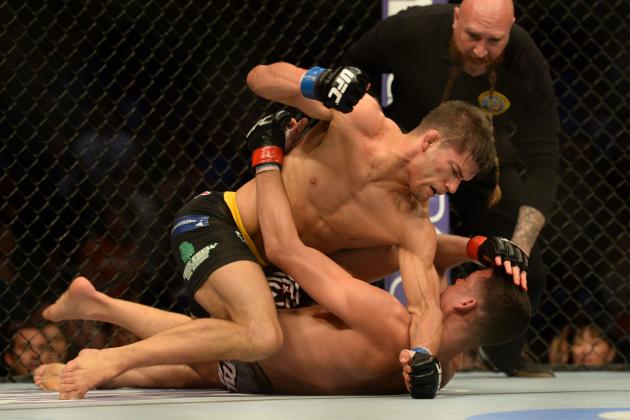 Kyle Terada-USA TODAY Sports

Everyone's heard the old expression "they threw in the towel," but rarely do we get to see that play out in real life; Saturday night was one of those exceptions. As Josh Thomson pummeled Nate Diaz, Diaz's corner threw the towel into the Octagon at the same time the referee was bringing a halt to the fight.
After the win, Thomson, who became the first fighter to ever stop Diaz with strikes, said, "I played it over and over in my head and honestly, I had myself losing a couple times too. I couldn't have scripted it any better. I doubted myself a little bit. I was more nervous for this fight than I was for Gilbert. I thought he posed a lot of problems for me from his ground to his reach.
There's nothing like fighting in San Jose. The first round I felt confident in the clinch, but in the second round he got a little better, so it threw me off. My whole game plan was to pick him apart and take what he gives me. I see Nate on TV and the dude looks great. I respect him and Nick. The whole camp.
I think the difference for me was mixing it up-punches, kicks, knees, takedowns, elbows. I did something the champ didn't. I finished him in three. I think I deserve a shot at the title but it's hard for me to say. I was fighting in UFC before it was cool. I started my career here and I'm so happy that I get to finish it here."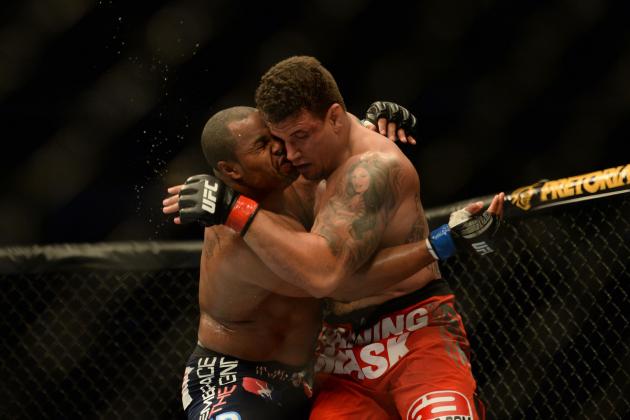 Kyle Terada-USA TODAY Sports

When Frank Mir stepped on the scale on Saturday night, the general consensus was that he had never looked better physically. Dude was ripped up compared to the physique of his opponent Daniel Cormier. When fight time rolled around, the beach-body muscles had nothing on the man strength of Cormier.
Cormier held Mir against the fence at will and landed hard body shots from in close to earn the victory in his UFC debut. It wasn't pretty, it made some fans unhappy, but it was a win.
After the fight Cormier said, "I'm not happy with my performance. I was nervous and I can't explain why. It must've been this big fight feel. I didn't fight how I wanted. I controlled the fight and I thought I landed some good punches. At the end of the day, I stay undefeated and move forward.
Before I walked into the cage I felt a little nervous. Maybe it was all the back and forth between Frank and I leading up to the fight. I'm sure the jitters will get better with time. I should've thrown my jab more and kicked more. On the outside I felt like I was landing great punches. There's a lot of things I can do differently.
My striking is better and faster and my cardio was better. I train really hard. I'm going back to work on Monday and I will learn from this."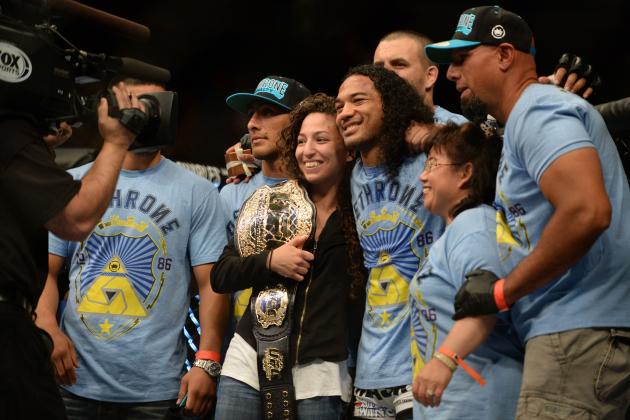 Kyle Terada-USA TODAY Sports

This will be one of those fights that will be debated for quite some time. It was close and probably could have gone either way, but in the end, to become the champion, you have to beat the champion, and the scorecards said that Gilbert Melendez fell just short of beating UFC champion Benson Henderson.
Melendez, long recognized as the top lightweight competing outside the UFC, at the very least, earned the respect of many fans and justified his longtime top ranking. Expect him to be back in the hunt for another shot at UFC gold in very short order.