Power Ranking the UFC on Fox 7 Main Card Fights
Photo by Josh Hedges/Zuffa LLC/Zuffa LLC via Getty Images
From time to time, a fight card high in promise delivers. Saturday night was one of those nights.
Following an incredible preliminary card, featuring six knockouts in eight fights, the UFC hit Fox for the four-fight main card, with Benson Henderson vs. Gilbert Melendez topping the bill in San Jose, Calif.
Prior to the evening's main event, Matt Brown and Jordan Mein opened the card in one of the most exhilarating fights of the year, Josh Thomson joined the UFC lightweight ranks against Nate Diaz and Daniel Cormier looked to make a grand entrance against former heavyweight champ Frank Mir.
Check out how the four main card fights stacked up in our UFC on Fox 7 power rankings.
Begin Slideshow

»
Photo by Josh Hedges/Zuffa LLC/Zuffa LLC via Getty Images
The evening's co-main event yielded an unsurprising result: Daniel Cormier defeated Frank Mir.
But the route to victory taken by Cormier, while not necessarily unconventional, was moderately disappointing. The final Strikeforce heavyweight champion bullied Mir around without much effort, working his way to the clinch almost at will.
This worked wonderfully in the first round, then in the second and then in the third.
One can't blame Cormier for seeking out the easiest path to victory; grinding Mir against the cage and avoiding the striking game was a safe plan. However, the acclaimed wrestler entered the cage with a lot of hype, and he failed to live up to that hype, merely taking a decision.
With Mir's ineffectiveness and Cormier's willingness to grind, this bout failed to live up to its expectations, falling short of just about every other fight on the entire card, let alone the main card.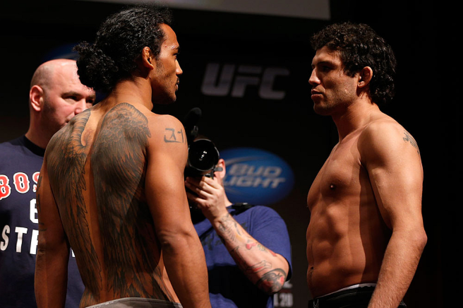 Photo by Josh Hedges/Zuffa LLC/Zuffa LLC via Getty Images
Ben Henderson defended his lightweight title against former Strikeforce champion Gilbert Melendez at UFC on Fox 7 Saturday night, but he did so narrowly.
Melendez came out of the gate strong, putting forth an impressive effort in the early going. He managed to defend Henderson's leg kicks nicely, while mounting offense of his own. Meanwhile, Henderson's greatest concern seemed to be his hair, which he would pull to the side every time it fell across his face.
The later rounds featured a champion less concerned with his hair and more concerned with getting a belt strapped around his waist.
"Smooth" put together combinations effectively, defended Melendez's offense and turned the momentum in his favor. Still, going to the judges' scorecards it was up in the air, and Henderson barely walked away with the decision.
However, the fight never really seemed to click from an entertainment standpoint. It was close, sure. It was competitive, undoubtedly. But it didn't do enough to top the first two contests from Saturday evening.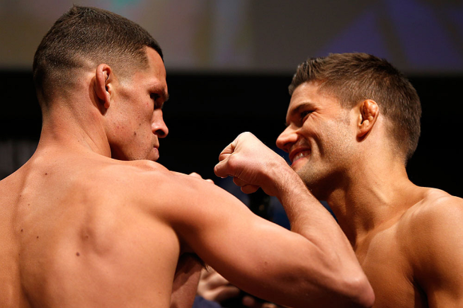 Photo by Josh Hedges/Zuffa LLC/Zuffa LLC via Getty Images
After a successful career in Strikeforce, Josh Thomson entered into the UFC, and he did so with an unavoidable bang.
Thomson and his opponent, Nate Diaz, did their best to keep up with the pace of the previous fights to take place at UFC on Fox 7, getting off to a terrific start. Thomson seemed comfortable in his UFC debut, putting out a strong game plan, while Diaz brought his own entertainment through his taunting.
But Thomson was the one to make the biggest noise, flooring Diaz in the second with a head kick and jumping on the Stockton native to earn the technical knockout stoppage.
The end was a violent one for Diaz, who previously boasted a reputation of one who could not be stopped in the cage. Meanwhile, Thomson reintroduced himself as a lightweight contender.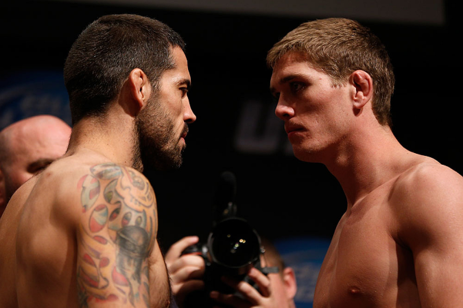 Photo by Josh Hedges/Zuffa LLC/Zuffa LLC via Getty Images
UFC welterweights Jordan Mein and Matt Brown did more than put on a show Saturday night at UFC on Fox 7; they stole it.
Mein and Brown got off to a frantic pace from the opening bell, delivering a different breed of action. Brown marched forward, taking anything Mein could throw at him and throwing it back as hard as he could. Meanwhile, Mein took a more calculated approach, though he quickly fell into the trap that is Matt Brown's game.
Then, late in the first, the fight went to the ground, but the two kept the high level of intensity even on the mats, as Brown nearly submitted his far younger opponent.
While Mein escaped the first, Brown would not let the 23-year-old escape the second, earning a technical knockout at exactly 1:00 of Round 2.
The six minutes of actions earned Mein and Brown Fight of the Night honors, and rightfully so. This fight was easily the best of the night and, perhaps, will be in the running for Fight of the Year later in 2013.