1 Bold First-Round Prediction for Every 2013 NBA Playoff Team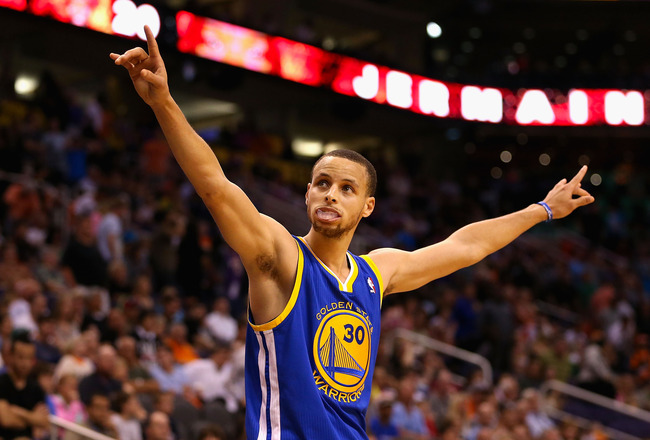 Playoffs, baby. Playoffs.
Christian Petersen/Getty Images
Now that the NBA playoffs are beginning, it's time to make some predictions. Bold predictions.
This year's first round has blessed us with some really fun—and really intriguing—match-ups. Very few of these series can already be written off, and every one of them has a few subplots that make them worth tuning into.
The next few weeks are going to be crazy—that's for sure. It's impossible to know what's going to happen and pretty darn difficult to just predict it. But what the heck. Let's try it anyways.
Note: If any of these predictions are proven totally wrong, feel free to mock them in the comments section. It's only fair.
All stats current as of 4/19/13.
Milwaukee Bucks: The Bucks Will Take Two Games from the Miami Heat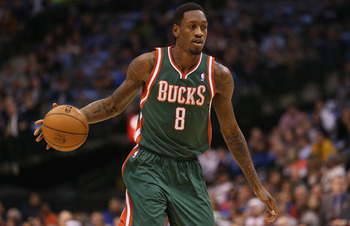 The Bucks need Sanders to be at his best.
Ronald Martinez/Getty Images
You were expecting more?
Honestly, unless you're Brandon Jennings, this is about as bold as a prediction can get for the Milwaukee Bucks. The Miami Heat look worlds better than they did last year, when they just so happened to win it all. Things are looking bleak.
But with that being said, the Bucks do have what it takes to hang with Miami for a little bit. Larry Sanders alone is enough to help prevent LeBron James and Dwyane Wade from getting anything easy at the rim, which is a good chunk of Miami's offense.
Milwaukee has also done a good job of contesting all of the outside shots the Heat get in their small-ball sets, limiting them to just 33 percent from three in their four match-ups this season (per NBA.com).
The Brandon Jennings and Monta Ellis show on offense isn't going to be nearly consistent enough to make this a real series, but they just should be able to get hot enough to steal a pair of home games before they fall in six. That's as good as it gets right now.
Also, if Larry Sanders is at all banged up for this series, then this prediction never happened.
Miami Heat: Every Heat Win Will Be by 15 Points or More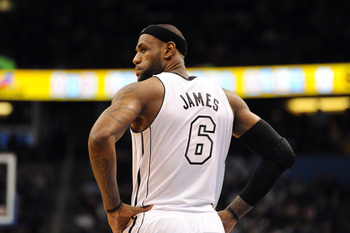 Like LeBron, the Heat have another gear.
Gary Bogdon/Getty Images
The Miami Heat are really, really good. That enough of an explanation?
As mentioned earlier, the Milwaukee Bucks do a few things that could give Miami some problems, but nothing to make them overly worried. And though you generally see games really tighten up in the playoffs, that won't be the case here.
The Heat are the one team in this year's playoffs that seems to have another gear. Because they play "positionless" basketball, it's not uncommon to see the Heat running really small sets in which Dwyane Wade is the worst outside shooter on the court (and he's not that bad).
When they're really cooking in those small-ball lineups—their threes are falling, the ball's zipping around and Wade and James are getting to the rack at will—they're killers. They destroy teams.
The perfect storm for the Milwaukee Bucks would be the Heat going cold on the road as Brandon Jennings and Monta Ellis play out of their minds. As mentioned earlier, that'll be enough to snag two games. But the other four...those will probably just consist of the Heat going nuts. And winning big.
New York Knicks: Knicks Will Break Record for Three-Pointers in a Game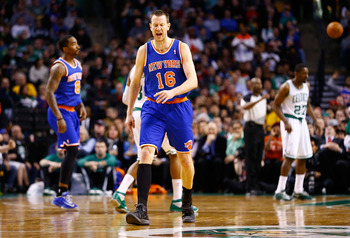 Steve Novak knows how to hit some threes.
Jared Wickerham/Getty Images
The New York Knicks have been knocking down three-point records like they were bowling pins this season, so why not break another?
The Seattle SuperSonics set the record for most three-pointers in a playoff game in 1996, when they canned 20 against the Houston Rockets (per NBA.com), and the Dallas Mavericks matched the mark recently. The Knicks have hit 20 threes only once this year, but they've flirted with that number (hit 17 or more) on six separate occasions.
Breaking the record will definitely be tough against the Boston Celtics, who have allowed opponents to shoot just 34 percent from three all season, fourth in the league (per Basketball-Reference). But the Knicks have the firepower, and they certainly have the green light to bomb away from deep.
If Steve Novak, Carmelo Anthony and J.R. Smith can get on one of those unconscious streaks in the Garden, then they'll be all set to make some history.
Boston Celtics: Celtics Will Upset New York Knicks in Six Games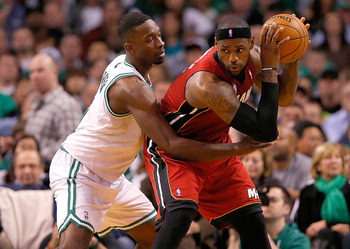 Jeff Green has been outstanding defensively this season.
Jim Rogash/Getty Images
Yup, even if the New York Knicks have a huge offensive explosion at home, the Boston Celtics will take the series against them.
To be honest, this match-up looks surprisingly good on paper for the Celtics, even if they are a big underdog. The Knicks are one of the most hit-or-miss teams in the league. When their threes are falling, J. R. Smith's getting to the rim and Carmelo Anthony's got his inside-outside game going, they're a juggernaut.
If only two or one of those things are happening, they're very beatable. And the Celts can absolutely take that stuff away.
Boston ranks fourth in the league at defending the three-point line, holding opponents to just 34 percent shooting from downtown (per NBA.com). They also have Avery Bradley to help nullify J.R. Smith, who tends to shift into stepback jumper-mode when he's faced with a true perimeter stopper.
Carmelo is a problem, of course. Jeff Green's been fantastic on defense this season, but when 'Melo's spitting fire, there's nothing you can do but cross your fingers and hope that it ends. And he has had some monster games against them in the past.
However, he's been kept under wraps so far this season (he's shot over 40 percent against them just once), and you have to imagine that the Celts can slow him down in the playoffs, too.
New York won the regular season series 3-1, but the playoffs are a whole different ballgame. Boston has a penchant for stepping up its game big-time in the postseason and going on runs that it shouldn't.
As long as the defense holds up, they should be able to muster enough points against the Knicks' 18th-ranked defense (per Basketball-Reference) to punch their ticket to the next round.
Chicago Bulls: Jimmy Butler Will Get People to Stop Talking About Derrick Rose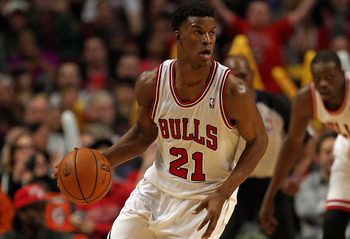 Jimmy Butler is the greatest.
Jonathan Daniel/Getty Images
Sounds impossible, right? Wrong. Jimmy Butler can do it. He's that much fun to watch.
Butler came out of relatively nowhere to become a defensive wrecking ball for the Chicago Bulls this season, and he's upped his play pretty much every month as well.
Butler's per game numbers in November: 16 minutes, six points, three rebounds and zero percent three-point shooting. Butler's per game numbers in April: 42 minutes, 15 points, seven rebounds and 56 percent three-point shooting (per Basketball-Reference). His evolution from "decent piece" to "major swing guy" has been incredible...and relatively unnoticed.
Most of the things Butler does well—locking down wing players, pulling down a lot of rebounds for his size and (recently) hitting timely threes—aren't the kinds of things that casual fans notice. You know what is? Dunking. Fortunately, Butler can do that, too.
So here's the prediction: At some point in the Chicago Bulls' series against the Brooklyn Nets, Butler's going to do something that gets everyone talking. It might be a block, a soul-crushing dunk, or maybe he holds Joe Johnson to two or three points in a few games. Whatever.
Someone's got to get the media off this Derrick Rose narrative. And if anyone can do it, it's Jimmy Butler.
Brooklyn Nets: Deron Williams Will Be the First Round's Second-Best Player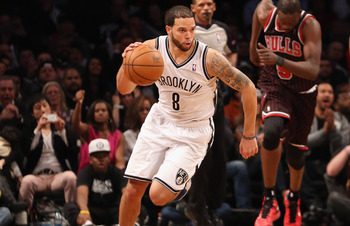 It's good to see superstar Deron back.
Bruce Bennett/Getty Images
Welcome back, superstar Deron Williams. We missed you.
LeBron James is almost destined to be the first round's top performer against a "meh" Milwaukee Bucks team, but the No. 2 slot is still available. And here's to thinking that Williams takes it.
Williams has taken a lot of flak for his play this season, all of which was deserved before the All-Star break. Now? Not so much. Since the break, a visibly healthier Williams has averaged 23 points and eight assists per game on 62 percent true shooting (per NBA.com). Now those are superstar numbers.
Williams has finally played like the guy we all loved in Utah. He's hitting threes, driving and dishing and has just been a general nightmare to try and guard.
To be fair, it's not going to be easy to do stuff like that against the Chicago Bulls. Tom Thibodeau is one of the best at figuring out how to take star players out of the equation, and he has two awesome wing defenders in Luol Deng and Jimmy Butler.
But Williams has been playing like a man possessed, and with Chris Paul and Kevin Durant both facing tough defensive match-ups in their series, he's more than ready to be the first round's second most valuable player.
Atlanta Hawks: Jeff Teague Will Be the Hawks Best Player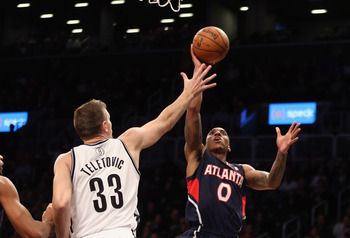 George Hill better be ready for Teague.
Bruce Bennett/Getty Images
This is just a gut feeling. The combined play of Jeff Teague and Devin Harris will be one of the main deciding factors in this series, with Teague being the biggest wild card of the pair.
Teague has been solid against the Indiana Pacers this season (16 points, five assists per game, according to Basketball-Reference), but the Hawks will need more than that if they want to win this series.
Generally, most of the Hawks offense revolves around Josh Smith and Al Horford, but they won't have a great time at the rim against the Pacers. Roy Hibbert has been a game-changer on the defensive end this season, a rim-protecting, shot-altering force who clogs the paint as well as anyone in the league.
However, Horford's mid-range game could draw Hibbert away from the rim and open up driving lanes for other players. Enter Jeff Teague. George Hill is a decent defender, but he's nowhere near the athlete that Teague is, who should be able to get to the rim and set up shooters like Kyle Korver.
If Teague pushes the pace and attacks, then he could be a nightmare for Indiana—who's been outproduced at the point all year (per 82games.com)—to deal with.
All the tools are there for Teague in this series, he just has to take advantage of them. He's not one to shrink in big moments, so it's a safe bet to say he'll do just that in Round 1.
Indiana Pacers: Paul George Will Average a Near Triple-Double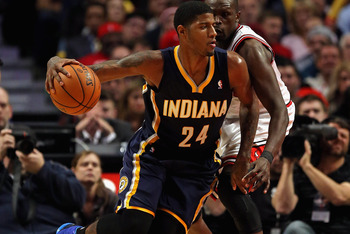 Is George ready to make the leap?
Jonathan Daniel/Getty Images
And put up a triple-double to boot. Something like a 20-7-7 sounds reasonable.
Paul George is emerging as a star for the Indiana Pacers, but he hasn't quite made the leap to a full-fledged superstar. The playoffs seem like as good a time as any to make that leap.
George does it all for the Pacers, ranking in the top three on the squad in just about every major statistical category. He's going to have to generate the majority of the Pacers offense this round, which shouldn't be a problem considering that the Atlanta Hawks have almost no one to check him.
Josh Smith would appear to be the best possible choice, but going big would really hurt an Atlanta offense that will already struggle to score. And Kyle Korver, the other main option, doesn't have the size or athleticism to stop George from doing what he wants.
The Hawks will probably throw a combination of Smith, Korver and DeShawn Stevenson at George, but no matter who's on him, he should have free reign.
Racking up assists could be tough in what's sure to be a slow-paced game, but as long as the George-David West pick-and-roll and pick-and-pops are running smoothly, it should be attainable.
Golden State Warriors: Stephen Curry Will Average Six Threes Per Game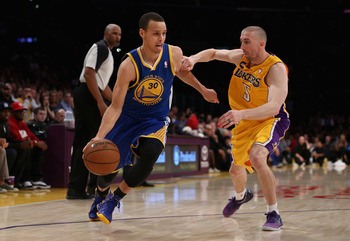 It's time for Curry to go to work.
Jeff Gross/Getty Images
The Golden State Warriors' young point guard has been playing out of his mind lately, and there's no reason for that to change against the Denver Nuggets. Stephen Curry's got a good chance to go off in this series.
Nuggets-Warriors is going to be played fast. Both teams were top five in pace this season (per Basketball-Reference), and they're always pushing the ball up the floor. There's nothing the Warriors love doing more than finding shooters in transition, so Curry will have plenty of opportunities to fire away.
And even if the game slows down, Curry loves to come out of high screens firing, and the Nuggets—who are only so-so at defending the three-point line—just haven't had an answer for that this season. Curry's averaging four threes per game against Denver on 66 percent shooting from deep (per Basketball-Reference).
Six threes per game may seem like a lot, but if Curry steps up his game even more for the playoffs and is aggressive from the opening tip, then he'll do it.
Denver Nuggets: Evan Fournier Will Swing at Least One Game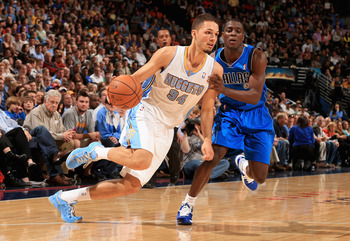 Fournier's come up big since Gallinari's injury.
Doug Pensinger/Getty Images
Denver Nuggets rookie Evan Fournier experienced some trial by fire after Danilo Gallinari's injury. His minutes jumped eight or so per game to 23 per game in the month of April. And it's gone surprisingly well for the rook.
Fournier's on-off court splits are pretty terrible (per 82games.com) and his defense is poor, but he's a very skilled offensive player for his age. Fournier excels spotting up as a shooter and running the pick-and-roll, ranking third and second in the league (in points per possession) at the pair (per Synergy Sports Technology). The sample sizes for each are small but big enough to indicate that Fournier can do each well.
Fournier doesn't have Gallinari's size or positional flexibility, but he does have the same kind of shooting touch (he's hit 41 percent of his threes) and has scored in double figures six times over his last nine games.
He'll be given tons of opportunities to score against the Golden State Warriors, who allowed more three-point attempts than any team in the league (per Basketball-Reference) and struggle to defend the pick-and-roll.
The playoffs are going to be a test of the Nuggets depth, starting with Fournier. He's played with no fear so far this season, and there's no reason for that to start in the playoffs. Bank on him to swing at least one game with a 20-some point performance in Round 1.
Los Angeles Clippers: DeAndre Jordan Will Play Big Minutes in Crunch Time
DeAndre's going to have to hit some free throws.
Harry How/Getty Images
Whether to play DeAndre Jordan or Lamar Odom in crunch time has been the topic of many heated debates among Los Angeles Clippers fans, and for good reason.
DeAndre Jordan is the Clippers' only real rim protector, but he's misused in their scheme (which calls for bigs to hedge hard on pick-and-rolls). Plus, his abysmal 39 percent foul shooting makes him an offensive nightmare if teams decide to play Hack-a-Jordan.
Odom is far better in terms of the Clippers' scheme, and he can sink foul shots, but he can't protect the rim like Jordan.
Vinny Del Negro has gone with Odom late for most of the season, but that almost has to change against the Memphis Grizzlies. Memphis will obviously be playing Zach Randolph and Marc Gasol in late-game situations, and they would tear apart a Clippers frontcourt of Odom and Blake Griffin.
Offensively, the Clippers would fare well if they lured Gasol away from the rim with smart screen-and-rolls, but defensively they'd be a wreck (and they're already not that good).
Gasol typically facilitates from the high post, but against Griffin and Odom, Memphis could just feed him on the low block every single time.
The Clippers' small-ball sets generally work because Odom is fantastic at defending pick-and-rolls, but he struggles when he's isolated on the block, and that's even if he's not against someone as skilled as Gasol.
The Clippers are almost forced to roll the dice with Jordan and his less-than-admirable shooting if they don't want to get chewed up on the defensive end. If Jordan can hit even 50 percent of his foul shots, then he'll make the payoff worth it.
Memphis Grizzlies: Marc Gasol Will Average over 20 Points Per Game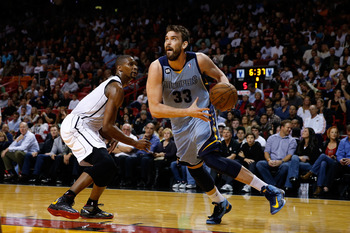 Has any big been more fun to watch this season?
Chris Trotman/Getty Images
Thus leading to the previous prediction.
Marc Gasol has been incredible this year—both as a distributor and as a defender. But the one knock on Gasol is that he too often defers to less efficient players (hello, Zach Randolph) rather than looking for his own offense.
Gasol has been awesome against the Los Angeles Clippers, putting up 17 points, nine rebounds and four assists per game on 54 percent shooting. But he's not even shooting 14 times per game against them, despite being the Memphis Grizzlies' best offensive player (per Basketball-Reference).
Randolph is no longer the same player he was two years ago, and Mike Conley, though good, isn't at the level to put the Grizz on his back for extended stretches.
You can blame Lionel Hollins for Gasol's lack of time on the low block, or you can blame Gasol himself. But no matter whose fault it is, it's something that needs to change quickly. When the Clippers go small (which they do often), there's no one on the court who can even remotely defend Gasol.
For the Grizz to win this one, Marc Gasol's going to have to take a page out of his brother's book and be aggressive in the post. Los Angeles loves to play small, and Gasol can punish them for it. So for everyone who loves sweeping hooks and flat-footed mid-range shots...you're in luck.
Houston Rockets: Chandler Parsons Will Defend Kevin Durant Better Than Anyone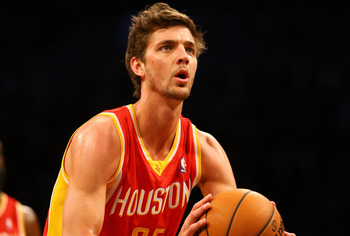 Chandler Parsons has done an awesome job on Kevin Durant this season.
Al Bello/Getty Images
Kevin Durant isn't really a player you can stop, just a player you hope doesn't completely kill you. Except against Chandler Parsons.
Parsons has defended Durant better than just about anyone in the league this season. When he's on the court, Durant's numbers fall off a cliff in almost every major offensive category. Points, field goal percentage, three-point percentage...everything decreases (per NBA.com).
What's most noticeable is the spike in Durant's three-point attempts when Parsons is around. Parsons does a great job of keeping Durant out of the lane and limiting him to spot-up attempts and shots off screens. To be fair, he doesn't do it all by himself. The Houston Rockets are really aggressive helping Parsons any time Durant does go by him.
But even when Parsons is on an island, he does an admirable job against the most dangerous scorer in the game.
Kevin Durant will still get his, but Parsons is going to make him work for it every step of the way. Holding Durant to something like 25 or 26 points on 40 percent shooting seems reasonable.
And for those of you who say that's not that impressive, just remember that Durant torched LeBron James and Shane Battier in last year's Finals to the tune of 31 points on 55 percent shooting. Nobody even slows Durant in the playoffs anymore. Well, except for Parsons (probably).
Oklahoma City Thunder: Reggie Jackson Will Start Being Compared to James Harden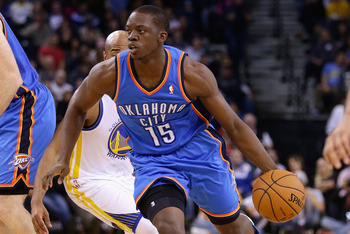 Reggie Jackson has been like a young Harden this season.
Ezra Shaw/Getty Images
It's not very likely that Reggie Jackson becomes the superstar that James Harden is, but his game is extremely Harden-ish, especially when you compare him to the Harden of a few years ago.
Like Harden, Jackson doesn't like to fool around with mid-range shots, preferring to either attack the rim or spot up from behind the arc. He's not nearly the shooter Harden is (hitting an abysmal 23 percent from three-point range), but he's outstanding at getting to the rim and finishing.
What's really impressive is the fact that Jackson is just as efficient in pick-and-roll and isolation situations as Harden was when he was in his second year with the Oklahoma City Thunder.
This year, Jackson ranks 20th in the league in isolation situations at 0.98 points per possession and 11th in the pick-and-roll at 0.95 points per possession. In 2010-11 (Harden's second year in the league), he ranked 22nd in isolation (0.99) and ninth in the pick-and-roll (0.96) according to Synergy Sports Technology.
It's eerie how close those numbers are.
Harden may be a superior playmaker, but in terms of getting to the hoop and scoring, Jackson's astonishingly similar to the way Harden used to be.
Not many people have noticed yet, especially with Derek Fisher eating at Jackson's minutes. But in the playoffs, with the lights shining a little bit brighter, some comparisons might finally be made.
San Antonio Spurs: Tracy McGrady Will Be a Major Contributor off the Bench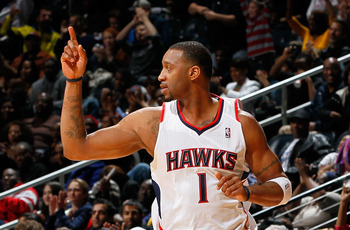 McGrady played well in his short stint with the Hawks.
Kevin C. Cox/Getty Images
The San Antonio Spurs surprised a lot of people when they waived veteran forward Stephen Jackson and signed Tracy McGrady to fill his spot.
Most people are writing this off as a minor move—the Spurs just want another body in case their injury situation goes south. But Tracy McGrady could actually be a major playoff piece for the Spurs.
Obviously T-Mac's not going to be ringing up 30-point games anymore, but he offers much more versatility than Jackson did. McGrady can obviously play as Kawhi Leonard's backup at the 3, but because of his size and excellent passing, he could also fill in for Boris Diaw—who's out with injury—at the 4.
McGrady spent a lot of his time with the Atlanta Hawks last season serving as a middle man/facilitator, which was essentially Diaw's role in the Spurs offense all season.
McGrady can hit from long range (he shot 46 percent from behind the arc last season), score on post-ups against smaller defenders and find shooters or cutters in post situations as well.
McGrady's not a lockdown defender by any means, but he can bother a lot of people with his size and length. All in all, he's an intriguing piece for the Spurs small-ball units, especially when you consider that no one squeezes more out of veteran players than Gregg Popovich does.
McGrady's a vet and should be able to step into the Spurs' system immediately. He should get major burn in the playoffs.
Los Angeles Lakers: Lakers Will Upset the San Antonio Spurs in Seven Games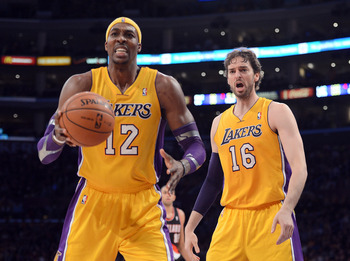 If Dwight and Pau play out of their minds...it can definitely happen.
Harry How/Getty Images
What the heck, right?
This is a really bold pick, but it's not totally out there. The Los Angeles Lakers have been written off without Kobe Bryant, but they have way more top-shelf talent than most seven seeds, and the San Antonio Spurs have limped into the playoffs due to injury.
The Spurs have lost seven of their last 10 games and haven't won a game on the road since late February. Tim Duncan has still been playing his typically awesome basketball, but Tony Parker hasn't looked the same since his early-March ankle injury, and the Spurs have suffered because of it. Since the All-Star break, they rank 17th offensively, better than just three other playoff teams (per NBA.com).
Almost all of the Spurs' problems are injury-related, but there's no telling if Manu Ginobili or Parker will be 100 percent against Los Angeles, who look dangerous even without Kobe. Dwight Howard is finally starting to look like himself again, and Pau Gasol might just be playing better than he ever has.
Obviously, the Lakers would need a lot of help from the three-point gods to pull any kind of upset off, but they've played the Spurs remarkably close this year and just beat them (without Kobe) a few days ago.
Again, this pick is more about the Spurs than it is the Lakers. San Antonio has been a shell of itself offensively and has ranked dead last at defending the three-point line over the final quarter of the season (per Spurs Nation's Dan McCarney). If they were healthy, then a clean sweep would be in order, but as it is...the Lakers take it in seven.
Now that's a bold prediction.
Keep Reading