Minnesota Vikings Big Board: Final Pre-Draft Update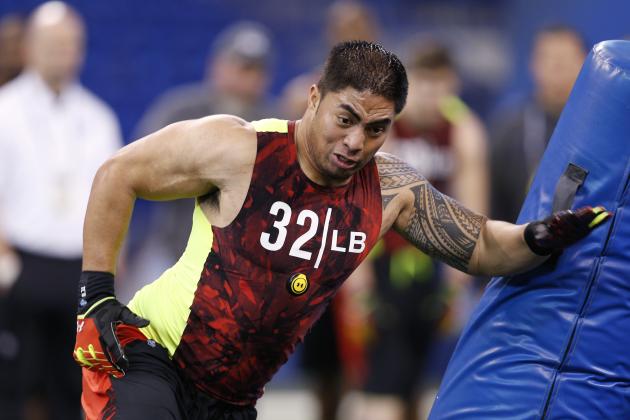 Joe Robbins/Getty Images
It sounds like if Manti Te'o is there at No. 23 or No. 25 the Vikings will select him.
More so than most years, it feels as if the Minnesota Vikings have an abundance of positions they could/should address in this year's NFL draft.
Part of the reason for the numerous needs has been self-induced (trading receiver Percy Harvin, releasing cornerback Antoine Winfield, failing to re-sign middle linebacker Jasper Brinkley), but others are just natural (defensive tackles aging, left guard struggling, limited depth at outside linebacker, etc.).
With that in mind, the Vikings' mock big board is the focus here.
Middle linebacker and wide receiver are the top two needs, but Minnesota shouldn't automatically draft that way, especially if the draft doesn't dictate that it should.
This isn't a top-heavy draft, but it is deep.
With its first-round picks, the Vikings should find two players who can contribute immediately and they may even find a contributor or two in the second and third rounds.
This slideshow will lay out the top five players at each position and the Vikings' big board. The big board will list the top 10 players relative to their expected availability when Minnesota picks (i.e., Luke Joeckel is projected as a top-five player, he won't appear on the Vikings' big board).
The other boards will feature the top five players at each position (kicker and punter excluded).
Let's go.
Begin Slideshow

»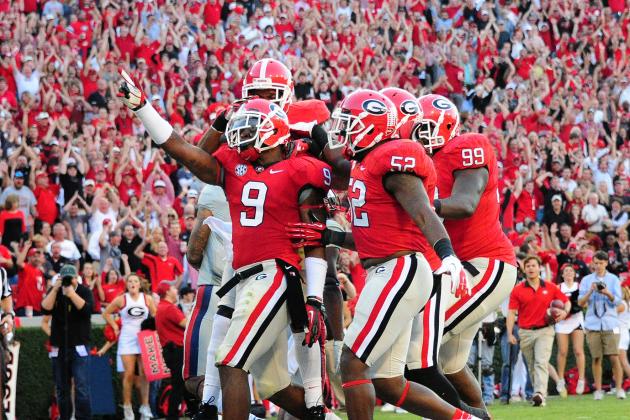 Scott Cunningham/Getty Images
Should he be available, middle linebacker Alec Ogletree ought to be the Vikings' pick at No. 23.
1. Alec Ogletree, Georgia middle linebacker
Long, athletic linebacker with a frame to build into. Can play three downs.

2. Sylvester Williams, North Carolina defensive tackle
Athletic and versatile with good size. A well-rounded defensive tackle prospect.
3. Keenan Allen, California wide receiver
Played in a poor offense, so numbers don't stand out. Has all the tools to be an impact receiver.

4. Manti Te'o, Notre Dame linebacker
Girlfriend hoax, title game performance, speed and size will scare some. The man just makes plays.

5. Xavier Rhodes, Florida State cornerback
Physical corner who can also play in the slot. Shows good instincts as a run defender, too.

6. DeAndre Hopkins, Clemson wide receiver
Likes to play on the edge and go vertical, which is what Minnesota needs.

7. Cordarelle Patterson, Tennessee wide receiver
Many consider him the top WR; the physical tools are there. Limited college production scares me.

8. John Jenkins, Georgia defensive tackle
His resume screams PAT WILLIAMS. Phenomenal against the run with no pass-rushing skills.

9. Desmond Trufant, Washington cornerback
Versatile defensive back with size who can contribute immediately.

10. Robert Woods, Southern California wide receiver
Polished route runner whose final season didn't pan out as expected.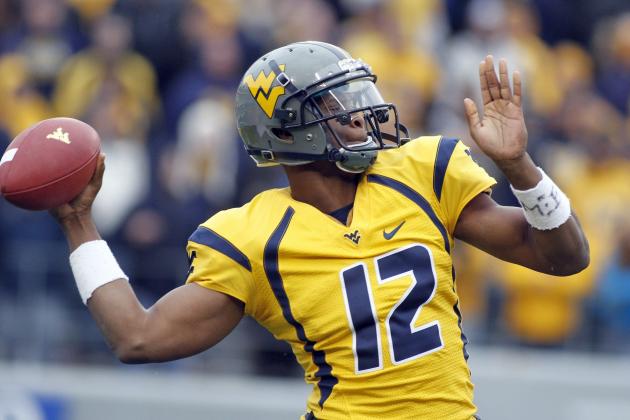 Justin K. Aller/Getty Images
Geno Smith has size, mobility and athleticism but concerns about his footwork are real.
The Minnesota Vikings should stay away from this position altogether. Christian Ponder is the guy (for another year anyways) and they signed Matt Cassel in the offseason to be the backup.
But you never know.
1. Geno Smith, West Virgina
Athleticism, size and mobility are exciting. Concerns about footwork and working under center are real.

2. Matt Barkley, Southern California
Very accurate passer who has a very high floor. Arm strength is a concern.

3. Ryan Nassib, Syracuse
Good arm strength and mobility to make plays outside pocket. Accuracy is a major concern.

4. EJ Manuel, Florida State
Phenomenal size and athleticism. Built like a linebacker. Delivery, passing motion are questionable.

5. Tyler Wilson, Arkansas
Not afraid to take a hit in the pocket. Limited mobility.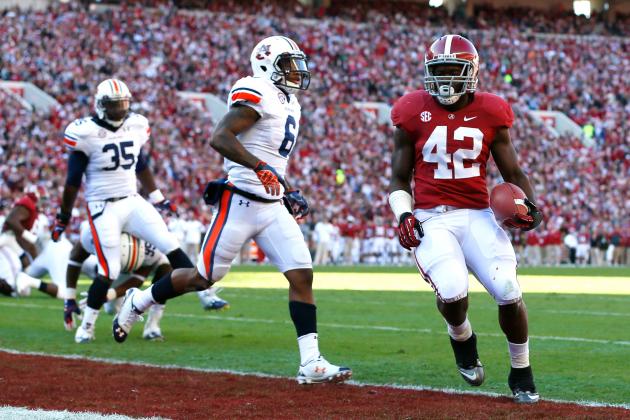 Kevin C. Cox/Getty Images
Eddie Lacy projects as the top back in this draft, but he shouldn't be on Minnesota's radar.
With Adrian Peterson and Toby Gerhart on the roster, this position should be ignored until the later rounds if not altogether.
1. Eddie Lacy, Alabama
Injuries and average speed are concerning, but he's well-built and bounces off defenders.

2. Montee Ball, Wisconsin
Touchdown machine who's a good football player. Speed is less than stellar.

3. Giovani Bernard, North Carolina
Size/build and speed aren't top-notch. Has good instincts and vision.

4. Johnathan Franklin, UCLA
Has NFL size and speed, but struggles as a receiver.

5. Le'Veon Bell, Michigan State
NFL size and power. Speed leaves more to be desired.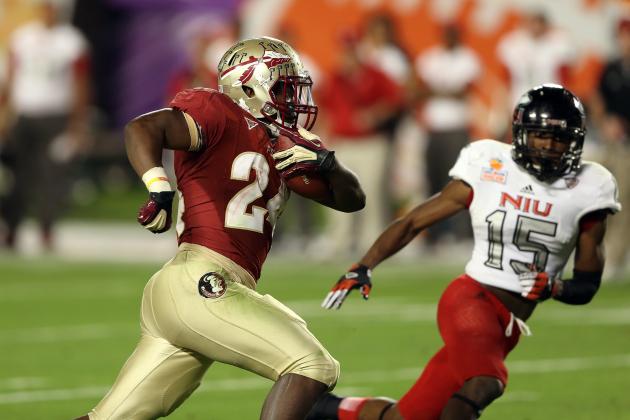 Streeter Lecka/Getty Images
Lonnie Pryor (No. 24) has the size to be a contributor on Day One.
By re-signing Jerome Felton and with Rhett Ellison still on the roster, this position should be ignored. The Vikings don't use their fullback enough to need more than two on the roster, especially given their abundance of other needs.
1. Lonnie Pryor, Florida State
Body is NFL-ready and has experience as a runner in FSU's offense.

2. Zach Line, Southern Methodist
Three 1,000-yard seasons and is a powerful blocker. Doesn't possess NFL speed. Tough player.

3. Kyle Juszczyk, Harvard
Played lot of tight end, but shows abilities at FB. Good hands and very intelligent.
4. Tommy Bohanon, Wake Forest
Good showing at the combine, but needs to bulk up.

5. Zach Boren, Ohio State
Possesses great power and blocking abilities. Won't contribute as a runner or receiver.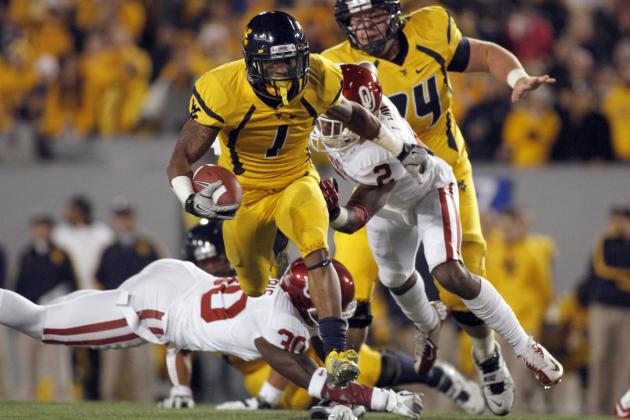 Justin K. Aller/Getty Images
Tavon Austin excels in the slot, which isn't ideal for Minnesota, but it'd be tough to pass should he fall to No. 23 or No. 25.
This position will be addressed in the first two rounds. Greg Jennings, Jarius Wright and Jerome Simpson aren't a scary trio. One of these players could be a first-round pick for the Vikings.
1. Tavon Austin, West Virginia
Many scream, "Percy Harvin!" Similar size and can line up in the backfield. Shouldn't be available at No. 23.

2. Keenan Allen, California
Has size and solid NFL speed. Injury history isn't great nor is college production, but offense was limited.

3. DeAndre Hopkins, Clemson
Likes to play on the outside and go deep. Doesn't have great speed. Has enough size to impact game.

4. Cordarrelle Patterson, Tennessee
Athleticism and physical skills are outstanding. Limited college time and off-field issues are concerning.

5. Robert Woods, Southern California
Runs routes like a pro already and played in a pro-style offense at USC.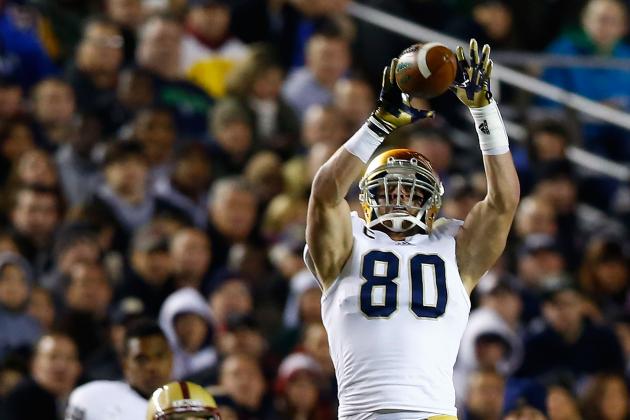 Jared Wickerham/Getty Images
Tyler Eifert is the top tight end and played at Notre Dame. Will Rick Spielman consider him in the first round? It's unlikely.
This is a position that could be addressed in the later rounds, but is pretty strong with Kyle Rudolph, John Carlson and Rhett Ellison.
1. Tyler Eifert, Notre Dame
Good frame and ball skills. Blocking is still developing.

2. Zach Ertz, Stanford
Runs good routes and a very strong receiver. Blocking skills are non-existent.

3. Gavin Escobar, San Diego State
Not a blocker at all. Good size, but speed is lacking for strictly a receiver.

4. Travis Kelce, Cincinnati
Very athletic and conventional with ability to block and catch. Attitude and intelligence concerns.

5. Vance McDonald, Rice
Has a history with drops. Experienced lining up wide. Interior-blocking underwhelms.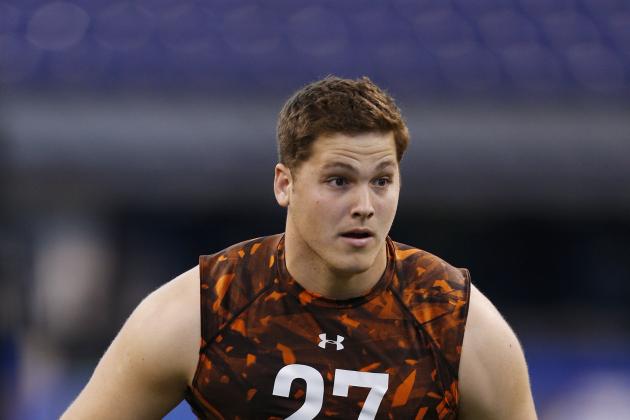 Joe Robbins/Getty Images
Luck Joeckel is expected to be the draft's top pick.
The Vikings re-signed Phil Loadholt and drafted Matt Kalil with the No. 4 pick in last year's draft. Kalil made the Pro Bowl as a rookie. This position will be avoided until after the fifth round. At that point, it will be addressed for depth.
1. Luke Joeckel, Texas A&M
The consensus No. 1 pick is expected to be a blind-side protector for years to come.

2. Eric Fisher, Central Michigan
Many argue he's not that far off from Joeckel. Considered an elite athlete with strength concerns.

3. Lane Johnson, Oklahoma
Athletic with good size. Concerns with his technique.

4. D.J. Fluker, Alabama
Three-year starter has all the moves. Intelligence concerns.

5. Menelik Watson, Florida State
Very athletic, but expected to take some time to transition to the NFL.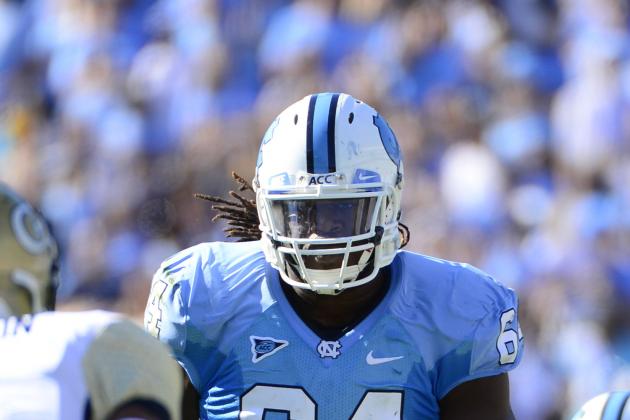 USA TODAY Sports
Jonathan Cooper is unlikely to be available at No. 23, but some mock drafts have him lasting until around then.
Charlie Johnson is still entrenched at left guard, which means this should be addressed in some way. Depending on the draft, it could be one of Minnesota's first-round selections. Warmack and Cooper unlikely to be available at No. 23.
1. Chance Warmack, Alabama
Projected top-10 pick by most. Light on his feet and should start from day one.

2. Jonathan Cooper, North Carolina
Projected top-20 pick, maybe top 10. Athletic and possesses ability to get to next level quickly.
3. Justin Pugh, Syracuse
Versatile lineman capable of playing guard or tackle. Played left tackle at Syracuse.

4. Larry Warford, Kentucky
Possesses a short, stout frame but is very slow.

5. Brian Winters, Kent State
Good size, but foot speed is a concern.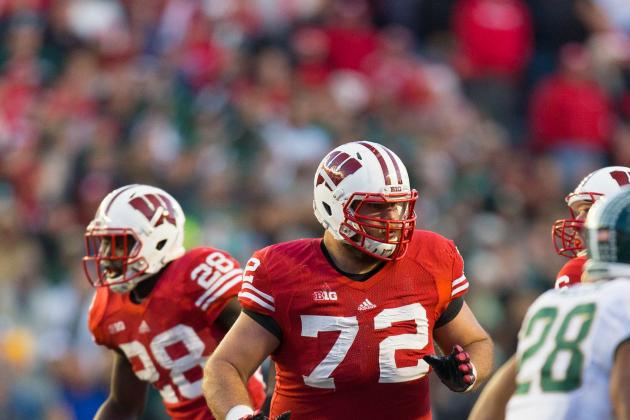 Jeff Hanisch-USA TODAY Sports
Wisconsin's Travis Frederick comes from a school known for making good linemen.
John Sullivan is entrenched at center. With Joe Berger back, the position shouldn't be a draft concern.
1. Travis Frederick, Wisconsin
Versatile and well built. Considered very intelligent, but an average (at best) athlete.

2. Barrett Jones, Alabama
Has played guard, tackle and center at Alabama. Intelligent, but lacks elite strength.

3. Brian Schwenke, California
Tough with experience at guard. Only one season at center.

4. Khaled Holmes, Southern California
Broad-shouldered with quick feet. Prone to getting pushed into the backfield on pass pro.

5. Braxston Cave, Notre Dame
Strong at blitz pickup. Average footwork and needs to play with more of an edge.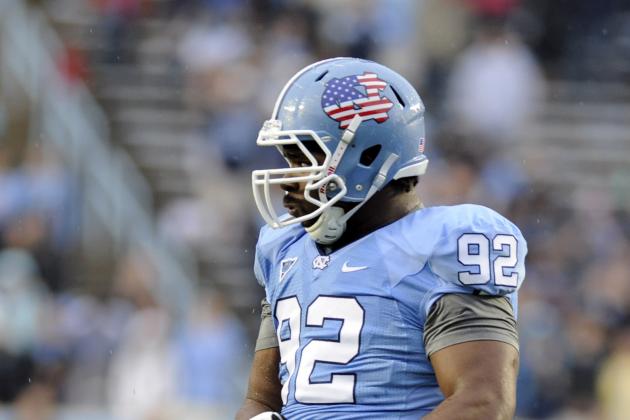 Liz Condo-USA TODAY Sports
Sylvester Williams should be taken around Minnesota's two selections.
Kevin Williams continue to age and the duo of Letroy Guion and Fred Evans leaves more to be desired. This position will be addressed early. There is some top talent that Minnesota will miss out on, but the position is deep.
1. Sharrif Floyd, Florida
Continued to rise up draft boards and now is entrenched as a top-three pick.

2. Star Lotulelei, Utah
Before reports of a heart condition he was considered a top-two pick. Still will go top-15.

3. Sheldon Richardson, Missouri
Long frame helps him as a pass rusher. Had just one season of elite productivity.

4. Sylvester Williams, North Carolina
A well-rounded defensive tackle who can rush the passer and stop the run. Not elite at either.

5. John Jenkins, Georgia
Stuffs the run and does little else. With his size and skills, could be the next Pat Williams. Motor an issue.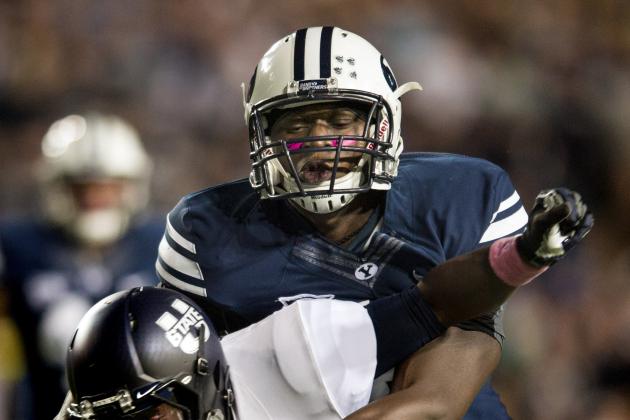 Douglas C. Pizac-USA TODAY Sports
Ezekiel Ansah will be a top 10 pick.
Many are trying to claim this as a position of need. Yes, Jared Allen, Brian Robison and Everson Griffen have expiring contracts soon, but Minnesota won't let all three walk. There are greater needs that need addressing, especially early in the draft. Position should be considered after the fourth round.
1. Ezekiel Ansah, BYU
The cream of the crop and a top-10 pick. Phenomenal athlete with tons of upside.

2. Datone Jones, UCLA
Strong and powerful. Projects more as a 3-4 defensive end.

3. Bjoern Werner, Florida State
Good speed, but limited football experience. Not expected to be a superstar.

4. Cornellius "Tank" Carradine, Florida State
Quick in bursts and possesses active hands. Needs to add more strength.

5. Margus Hunt, Southern Methodist
Scary size (6'8" and 282 pounds) who can get after quarterbacks and possesses phenomenal strength.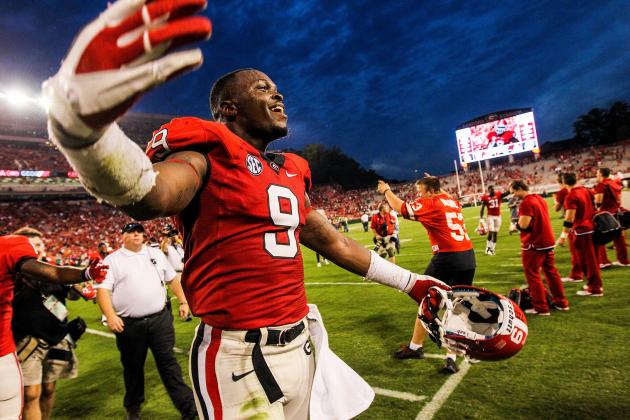 Daniel Shirey-USA TODAY Sports
Alec Ogletree is a top-10 talent with off-field concerns.
This position will be addressed in the first round if Manti Te'o or Alec Ogletree are available. Regardless, it will be addressed in the first three rounds.
1. Alec Ogletree, Georgia
Is a top-10 talent with off-field issues (DUI, failed drug tests).

2. Manti Te'o, Notre Dame
Intelligent player with speed, size issues and a girlfriend controversy.

3. Kevin Minter, LSU
Height concerns, but very strong against the run. Continues to improve against the pass.

4. Arthur Brown, Kansas State
Good hitter with good instincts. Height is a concern. One scout says he reminds him of Ray Lewis.

5. Jonathan Bostic, Florida
Instinctive and physical. Struggles to get off blocks.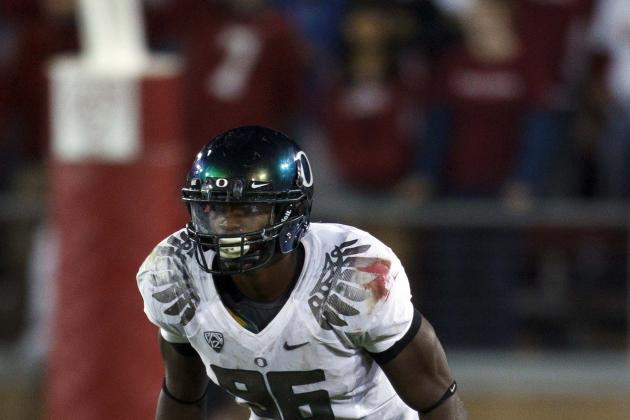 Jason O. Watson-USA TODAY Sports
Oregon's Dion Jordan is a talented pass rusher.
Chad Greenway returns and the Vikings re-signed Erin Henderson. Henderson isn't stellar, but there are more pressing needs than OLB.
1. Dion Jordan, Oregon
Could be a defensive end, depending on the defense. Pass rusher. Top-10 pick.

2. Barkevious Bingo, LSU
Very fast with great first step. Can play as a down-lineman.

3. Jarvis Jones, Georgia
Was a top-five pick before health concerns arose. Barring a flare -up there, should be a long-term starter.

4. Damontre Moore, Texas A&M
Has experience at OLB and DE.

5. Jamie Collins, Southern Mississippi
Very athletic, former QB.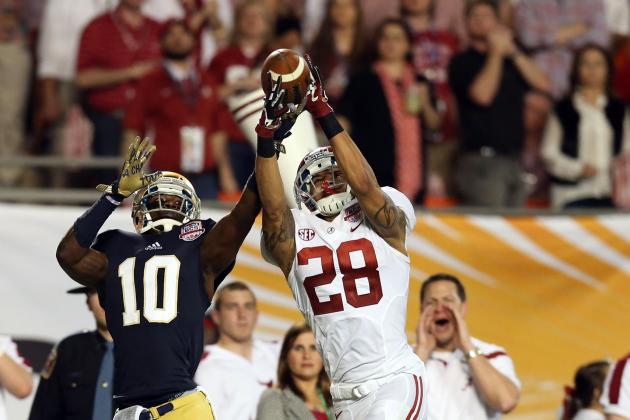 Matthew Emmons-USA TODAY Sports
Dee Milliner (No. 28) will be a top 10 pick.
This position should be up for first-round consideration. The Vikes are penciling Josh Robinson and Chris Cook as starters as of now with A.J. Jefferson as the No. 3. Help is needed.
1. Dee Milliner, Alabama
Consensus top-10 pick. Some concerns with missed tackles, but considered well-rounded prospect.

2. D.J. Hayden, Houston
Been shooting up draft boards as of late. Serious heart surgery scares some.

3. Xavier Rhodes, Florida State
Has great size and should match up well with bigger receivers.

4. Desmond Trufant, Washington
Good athlete who doesn't shy away from contact.

5. Jamar Taylor, Boise State
Quick, aware and tough.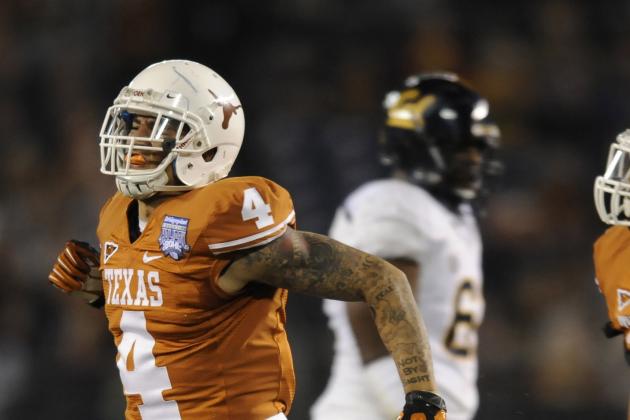 Christopher Hanewinckel-US PRESS
Kenny Vaccaro is a very physical safety.
Harrison Smith was Minnesota's second first-round pick in 2012. Jamarca Sanford and Mistral Raymond will compete for the starting gig next to him, which means the position isn't stellar, but is solid. The Vikings still have Robert Blanton from last year's draft.
1. Kenny Vaccaro, Texas
Not the best runner, but isn't afraid of a little contact.

2. Matt Elam, Florida
Bob Sanders comes to mind when watching him play.

3. Eric Reid, LSU
Great body for the position, but speed is suspect.

4. Jonathan Cyprien, Florida International
Just a football player. Measurables and combine tests don't tell the whole tale.

5. Phillip Thomas, Fresno State
Injury concerns, but made plays when healthy.