Saul 'Canelo' Alvarez Defeats Austin Trout to Unify Junior Middleweight Title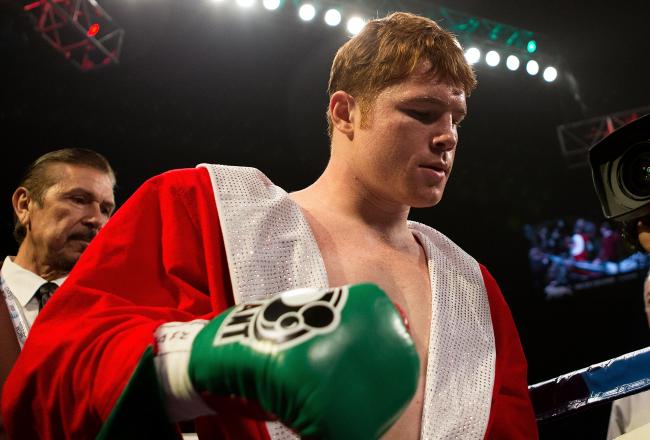 Canelo faces his toughest challenge tonight when he faces Austin "No Doubt" Trout.
Josh Hedges/Getty Images
Mexican superstar Saul "Canelo" Alvarez took a huge step towards boxing's elite tonight with a unanimous 12-round decision victory over Austin Trout in San Antonio.
The scorecards of 115-112, 116-111 and 118-109 were much wider than most of the media cards but reflected the judges appreciation for Alvarez superior punching power.
Canelo was able to drop Trout for the first time in his career to begin the seventh round but was forced to fight in spurts as he appeared to tire down the stretch.
It was an extremely close, competitive fight that legitimately could've gone either way. It all came down to whether you favored Trout's activity and volume punching or Canelo who didn't throw as many shots but clearly had the power advantage.
The win paves the way for Alvarez to seek out a potential huge money superfight with Floyd Mayweather in September and will only increase his star-power in the sport.
With the win he now holds the WBA, WBC and The Ring Magazine junior middleweight titles.
That'll do it for us tonight boxing fans. We hope you enjoyed our live coverage of Canelo vs. Trout. Stay tuned with us here at Bleacher Report for your post-fight coverage and everything boxing!
The real loser tonight is open scoring. It totally changes the strategy of the fight. And it exposes incompetence before we have the right to know.
Who wants to spend four whole rounds complaining? We're not supposed to be able to do that until after the fight.
114-113 for Canelo. No more opening scoring. No more Texas judges,

— Briggs Seekins (@Briggsfighttalk) April 21, 2013
That's a respectable card even though I disagree.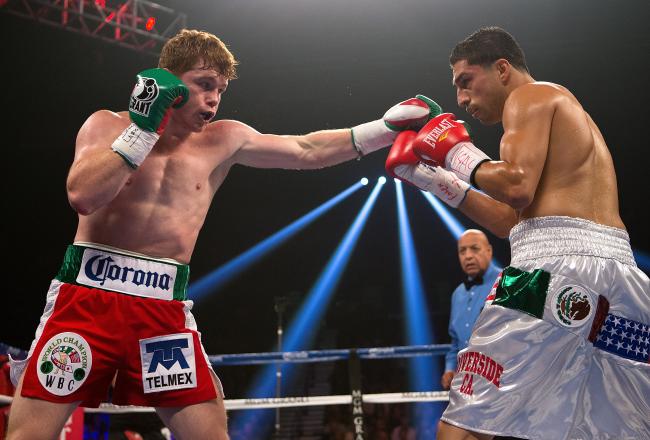 The reactions to this decision are pretty well mixed. A lot of people felt Canelo won, others Trout. But everyone agrees, except for the judges, that this was close and competitive and both guys deserve props.
The judge that had it 118-109 for Canelo was Stanley Christodolou, a WBA judge, who the Trout camp was most comfortable with of the 3

— Steve Kim (@stevemaxboxing) April 21, 2013
A dose of irony.
Good fight. I had Trout winning and making the fight. But it was pre-ordained so who cares? I like competitive fights both can win. #boxing

— Gabriel Montoya™ (@Gabriel_Montoya) April 21, 2013
I had it 115-113 for Trout. Who landed more punches, threw more punches and dictated the pace. Crazy scores. Even those who feel Canelo won didn't think it was that wide.
118-109 for Canelo is an absurd card. #boxing #CaneloTrout

— Dan Rafael (@danrafaelespn) April 21, 2013
You can argue Canelo won. But you cannot argue by that score. At all.
And we go to the cards:
115-112, 116-111, 118-109 all for the winner and now unified junior middleweight champion...
Saul "Canelo" Alvarez
Canelo knew he was up, gives away 12th. No drama w/ open scoring. Go to cards. I have Canelo 114-113. Knockdown did it. #CaneloTrout #boxing

— Dan Rafael (@danrafaelespn) April 21, 2013
See I can buy that card. Close, competitive fight. But Trout made the fight in most of the rounds. But these cares are not going to reflect reality.
All Canelo needed to do was stay on his feet/land a couple shots a round. Trout never had a chance despite making the fight. #boxing

— Gabriel Montoya™ (@Gabriel_Montoya) April 21, 2013
You can say anything you want about this fight. It was close and competitive regardless of what the official cards will say.
Had the 12th for Trout and gave him the fight 115-113. But he will lose and wide on the Texas scorecards.
Open scoring. Just a chance to make you angry before you heard the official verdict. Alvarez taking no chances in the 12th because he knows he has it won.
Gave Canelo the 11th round but have it 105-104 for Trout.
But he needs a knockout to win the fight due to the crazy Texas scorecards.
Gave Canelo a close 10th round but Trout leads 6-4 on my card.
96-94 Trout.
Those scores they just announced sucked. This is why I'm so conflicted by my sport. Pisses me off.

— Lou DiBella (@loudibella) April 21, 2013
Disgrace. Close fight. Can go either way but that guy simply isn't watching the fight.
Wow at the scorecards! Now trout need a KO..

— Eddie Chambers (@Champfasteddie) April 21, 2013
Saying either guy won every round is absolutely ludicrous.
Open scoring being used. @albernstein announced scores, Alvarez ahead on all three cards. #boxing #CaneloTrout

— Dan Rafael (@danrafaelespn) April 21, 2013
One of the judges gave Canelo EVERY round. Absolutely ridiculous. You can easily say he's winning the fight but every round? That's incompetence.
Here's the deal. Canelo is fighting in spurts and with flash when he does. Trout is being more consistent, and active but not landing many hard shots.
That makes this one helluva tricky fight to score.
6-3 Trout. 87-84
Canelo is fighting in spurts but when he lands Trout feels it every single time.
In large stretches I think Canelo is out-boxing Trout and making him really ineffective. I have Canelo up 77-74 #boxing #canelotrout

— Steve Kim (@stevemaxboxing) April 21, 2013
Think it's exactly the other way around.
Very easy eighth round to score.
Trout came back well from the knockdown and Canelo seemed to give that one away.
5-3
77-75 Austin Trout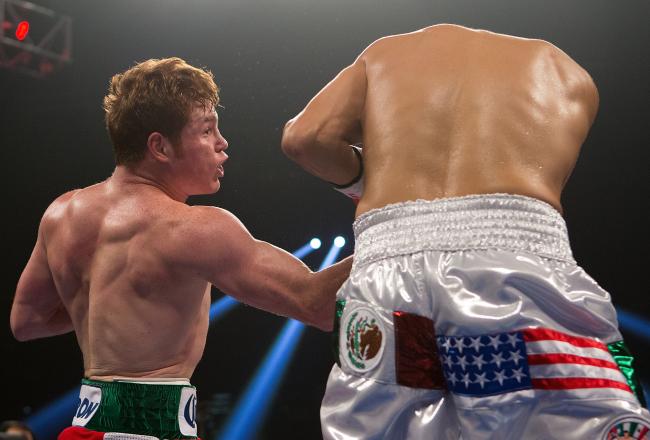 Canelo letting Trout dictate the pace. Seems either tired, or loading up for one big shot.
Canelo wins rd 7 10-8 with the clean knockdown. Trout did well to survive. Been a good fight. #boxing #CaneloTrout

— Dan Rafael (@danrafaelespn) April 21, 2013
Can make the case for a 10-9 round there. Trout knocked down but won the rest of the round.
What a crazy round. Trout dropped in the opening seconds, Canelo punches himself out and gets dominated for the final two minutes.
High drama in San Antonio.
Canelo gets the 10-9 round because he lost most of it.
4-3 Trout.77-76
This article is
What is the duplicate article?
Why is this article offensive?
Where is this article plagiarized from?
Why is this article poorly edited?