Wisconsin Football 2013 Spring Game: Live Analysis, Notes and Recap
Gregory Shamus/Getty Images
FINAL—Cardinal Team 61, White Team 47
Spring practice—and the spring game—has come to a close for Wisconsin football, and the defense wreaked havoc in the second half, pulling away for a two-touchdown victory.
For all the hype revolving around the new looks on offense and defense, there was barely a hint of read option. But the defense got after the quarterback early and often, racking up nearly a dozen sacks.
Other than a missed opportunity on a deep pass and a rough final drive, Joel Stave looked like a No. 1 quarterback on Saturday, completing around 75 percent of his passes. Sixth-year senior Curt Phillips also performed well, but it was Stave who led multiple scoring drives for the White team.
On defense, redshirt freshman linebacker Vince Biegel made some noise, recording multiple sacks. Early enrolled freshman Sojourn Shelton also made his presence felt outside on coverage. Overall, the defensive line controlled the line of scrimmage and didn't allow Melvin Gordon to reel off many effective runs.
With so many injuries, it's still difficult to get a good read on several position battles. It made for a fun, laid-back atmosphere at Camp Randall Stadium thanks to coach Gary Andersen's demeanor on the field.
Thanks for following along!
One last heave, and that'll do it. The defense, aka the Cardinal, is victorious.
FINAL: Cardinal 61, White 47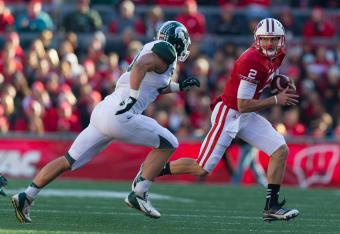 Plenty of sacks for the defense today—Joe Schobert, another player to look for this fall, with the latest one. Stave having a rough go of it on his final drive.
Stave leading the White team on a "two-minute drill" with a chance to win the game—for whatever that's worth. It will be the final possession of the game.
Biegel really taking advantage of the injuries at linebacker.
Vince Biegel with another spring game sack on Danny O'Brien. More so a product of the 2nd-team OL, but Biegel w/ a nice game so far.

— Benjamin Worgull (@TheBadgerNation) April 20, 2013
The spring game has had a pretty laid back feel—that could have to do with how many players are sitting out. But there have been a few too many false start penalties and that can't sit well with coach Andersen.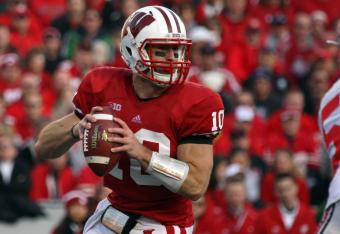 Phillips back in—misses on a deep-ball. That's really been the only blemish for Wisconsin's top two signal callers.
The scoring slowed down noticeably in the third quarter. Probably had something to do with the Badgers going to their five-deep. Fans are now enjoying the traditional "Jump Around" right before the fourth quarter.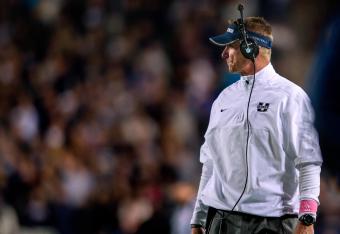 Haven't seen hardly any read-option so far. The defense has been fairly aggressive, but there haven't been any turnovers today.
We're about as far down on the depth chart as you can get at this point.
Scratch that—sixth-string (?) quarterback Thad Armstrong just led the offense to a first down!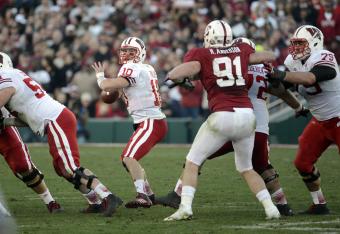 The only quarterbacks to compile drives longer than three plays are Phillips and Stave. Chase Knox just got his first snaps under center.
Punt catching competition. Let's just say these guys play defense for a reason.
With 1:03 left on the clock, Andersen has apparently seen enough.
At halftime, #Badgers Cardinal squad leads the White squad, 43-42.

— Benjamin Worgull (@TheBadgerNation) April 20, 2013
Biegel and Shelton are two freshmen to keep a close eye on this fall. Both could really compete for legitimate playing time.
Fun for Badger fans to get a look at Bart Houston and Vince Biegel, two highly touted recruits. Biegel has made some plays, Houston has not, to be frank.
Wrapping up the job? Probably too early to tell.
Joel Stave leads a second touchdown drive. He's now 11-13 for 131 yards and TD. Watt with 5-yard TD catch.

— Tom Mulhern (@TomMulhernWSJ) April 20, 2013
Lots of getting the quarterback on the move, and lots of short dump offs and screens. Andersen trying to let his skill players make something happen in the open field.
In O'Brien's defense, he's not getting nearly the same protection as Stave. Early enrollee Sojourn Shelton makes a nice play breaking up a pass.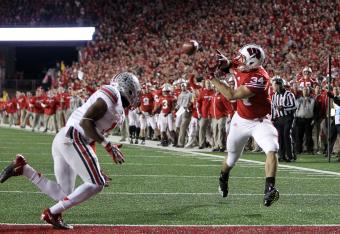 Stave completes the drive with back-to-back passes to his fullback Derek Watt, and he's now led two touchdown drives for the White team. Someone needs to tell Zac Matthias that this is only the spring game. Poor Jake Rademacher.
Lots of play action with Stave, and he's leading the offense down the field once again. Stave was most successful via the play action last season.
Joel Stave had Alex Erickson wide open on a go route but badly overthrew him. That's been his issue throughout camp.

— Benjamin Worgull (@TheBadgerNation) April 20, 2013
Feels like the Badgers are throwing much more with Stave on the field. He and Gordon just hooked up for a nice gain off a rollout.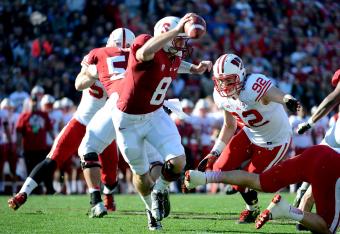 Pat Muldoon has been lined up on the line while other defensive ends from last season like Brendan Kelly and Tyler Dippel are expected to play standing up at linebacker next season.
And now, the ball will be placed at the White team's own half-yard line, because of course.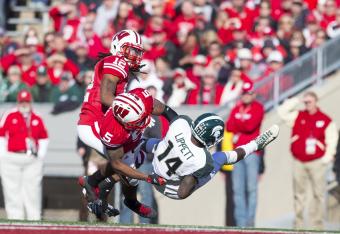 Quarterbacks have really been going after cornerback Darius Hillary. He's been inconsistent in coverage, but can really lay a licking.
This article is
What is the duplicate article?
Why is this article offensive?
Where is this article plagiarized from?
Why is this article poorly edited?

Wisconsin Badgers Football: Like this team?