Virginia Tech Football 2013 Spring Game: Live Analysis, Notes and Recap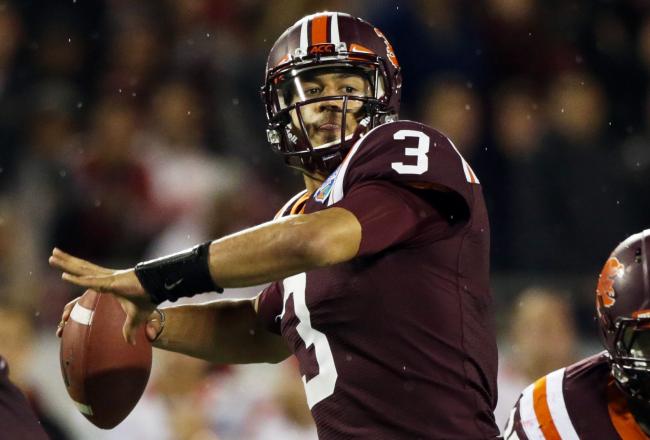 Rob Foldy-USA TODAY Sports
White Team - 27, Orange Team - 9, Final
It was an absolutely beautiful day in Blacksburg, Va. for today's Virginia Tech spring game.
The White team was spotted a 13-0 lead on the Orange team and in the end it didn't matter. Senior quarterback Logan Thomas picked right up where he left off in 2012 with three interceptions, two returned for touchdowns.
New offensive coordinator Scot Loeffler's offense combined for 72 yards rushing on 41 carries. An entirely new offensive line is partly to blame, but Loeffler has to have concerns heading into the summer.
Stay with us here at Bleacher Report as we take a look at the winners and losers from today's spring game.
Thomas' last throw of the game, a laser to McCray was behind him. A good throw would have went for a touchdown.
The throw was very typical for Thomas today.
Tight end Zack McCray with a nice game today. This is McCray's first season at tight end after moving over from defensive end.
Mark Irick with two nice catches today. Will definitely keep an eye on him moving forward.
Austin Jones with a big drop on third down. Thomas threw a perfect pass there. Have to take advantage of those kinds of opportunities.
Not sure about Kyle Fuller on punt returns. Just not fast enough, great defensive back, just not a punt returner.
Another three-and-out for Thomas. Bad offensive line play there by the right tackle.
New offensive coordinator Scot Loeffler can't be happy with the Orange team's performance today. I stress, it is the spring, but there are a lot of concerns on the offensive side.
Logan Thomas back in the game at quarterback.
The Orange team defense has asserted themselves and are dominating this game up front. James Gayle with a terrific game thus far.
Leal led an excellent drive in his second series at quarterback. It concluded with a nice 30-yard touchdown toss to tight end Ryan Malleck.
Michael Holmes with 21 yards on his last three carries. Are the Hokies getting a running game going? Two impressive runs.
If we are to use the first half of the spring game as a barometer to measure this team's rushing game, then it could be a long year. Again, it is just the spring game, however, both sides have combined for 18 yards on 20 carries.
Trey Edmunds had a nice 41-yard run, but it was called back due to penalty.
How much will Logan Thomas play in the second half? He needs as many reps as possible with these young receivers.

Freshman Connor Jessop with two great throws in a row. One, a completion to Mark Irick, and the second, a beautiful deep ball to Willie Byrn that he could not hang on to. On the second pass he was hit hard and knocked from the game.
Jessop looks like the best quarterback on the field today.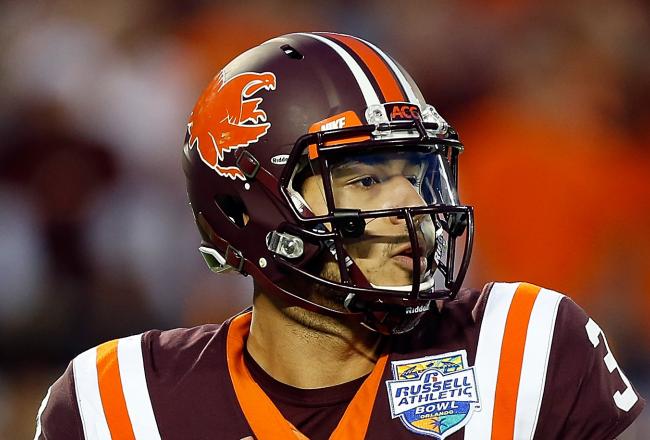 I've praised Stanford so far today, but he has to catch that pass. Thomas threw a nice deep out and it went through Stanford's hands.
On the very next play, Thomas overthrows Coles for his third pick of the day. Thomas is now 9-for-14, 132 yards and three interceptions.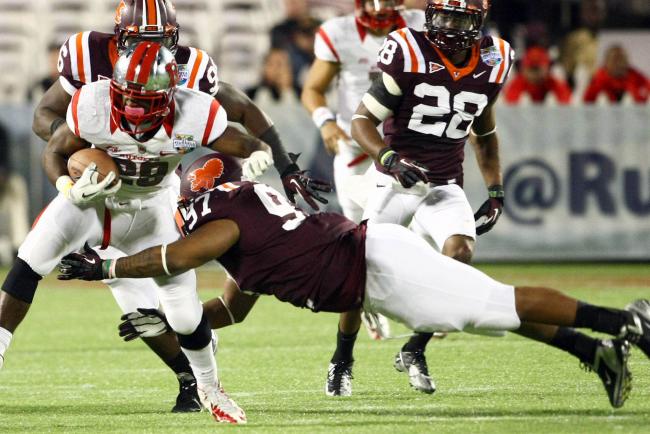 Great individual effort by sophomore defensive tackle Kris Harley. He strips running back Maurice Taylor of the football, who then has to go back and land on the ball, in the end zone.
The Orange team is on the board. 27-2 White team.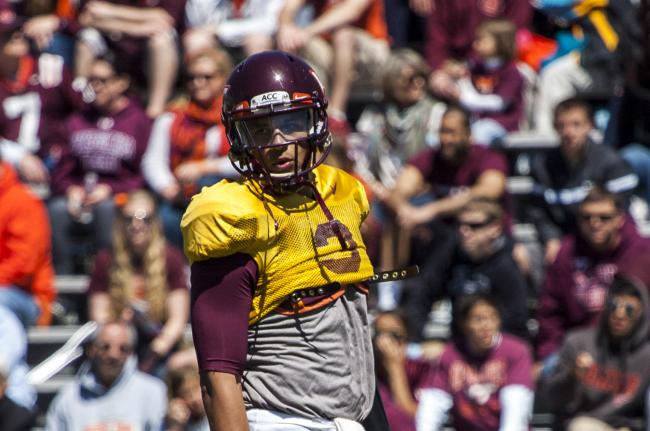 Thomas returned at quarterback for that series. It was a mixed bag. Good throw to Stanford and completed two short passes. The throw to Edmunds had a bit too much heat on it. Still should've been caught.
Ugly offensive game thus far.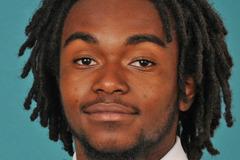 Another great connection between Thomas and Stanford. Stanford really making a case for himself today.
No other receiver has really made a play. And senior D.J. Coles, expected to be the team's top receiver, looks the part of a tight end.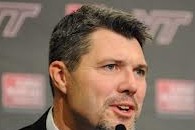 New offensive line coach Jeff Grimes can't be happy. His offensive line, facing all back-ups, is getting pushed around.
No room to run for Trey Edmunds, Michael Holmes or J.C. Coleman.
No need to panic, Hokie fans, it is still just spring.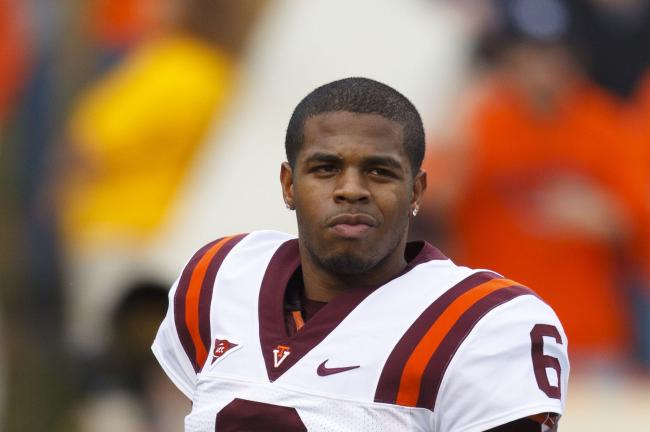 Leal in at quarterback for the Orange team.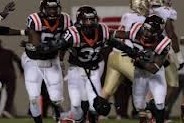 WOW!
Thomas intercepted again. Not a good read by the quarterback. Sophomore corner Donovan Riley with the pick and returns it 53 yards for the touchdown.
27-0 White squad.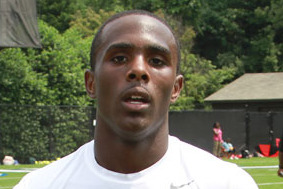 Great play by Devin Vandyke on the 3rd-and-goal. The Hokies go for it on 4th-and-goal and Thomas is intercepted by freshman defensive back Der'Woun Greene. Greene takes it 98 yards for the score! Wow.
Interceptions plagued Thomas in 2012. Not a good start.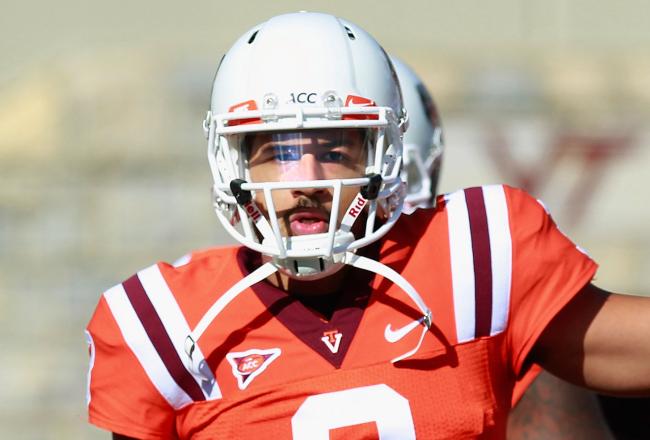 Great throw-and-catch by Logan Thomas to Joshua Stanford. Stanford showed excellent catch-and-run ability there. Big opportunity for him today.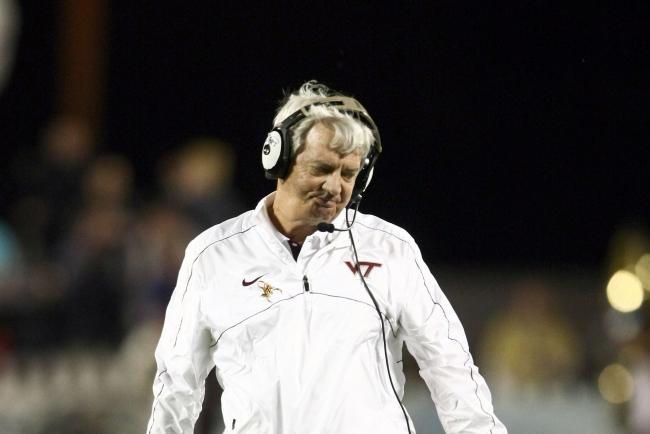 Frank Beamer looking absolutely dapper in his gray suit today. Uncharacteristic look for the longtime coach.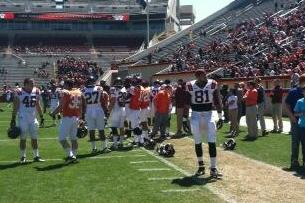 We are less than five minutes until gametime.
Getting ready to kickoff the Spring Game! twitter.com/VTFBEquipment/…
— VT Equipment Room (@VTFBEquipment) April 20, 2013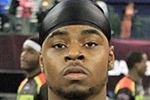 Big news for the Hokies before the game starts. Four-star safety, C.J. Reavis, from the Richmond area, has committed to the Hokies. Reavis had a pretty long list of offers.
Will there be more? Stay tuned to the Bleacher Report for the latest updates.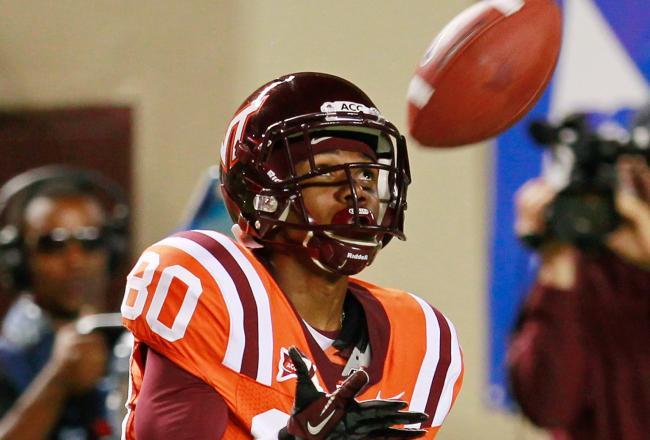 Who will step up at wide receiver opposite senior D.J. Coles?
Sophomore Demitri Knowles is a talented young player with lots of speed. Can he learn to run better routes?
Joshua Stanford and Joel Caleb are two young receivers to watch today, too.
This article is
What is the duplicate article?
Why is this article offensive?
Where is this article plagiarized from?
Why is this article poorly edited?

Virginia Tech Football: Like this team?