Texas Football: 5 Biggest Concerns Post-Spring Practice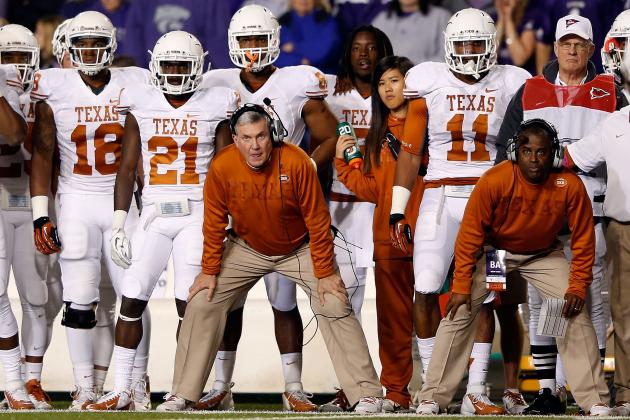 Jamie Squire/Getty Images

Success during the college football season is often preceded by well-coordinated and productive spring workouts, efforts that may sometimes go overlooked in some programs, as is the case with the Texas Longhorns.
The Texas Longhorns are almost a month removed from their spring football practices, and while there were plenty of talking points about new offenses, new pieces and a newer brand of Texas football, there are still many questions that have gone unanswered heading into the summer.
Is the back-up quarterback position already settled? What kind of improvements can Texas expect defensively? These two questions merely scratch the surface of the unknowns going into the summer months.
Begin Slideshow

»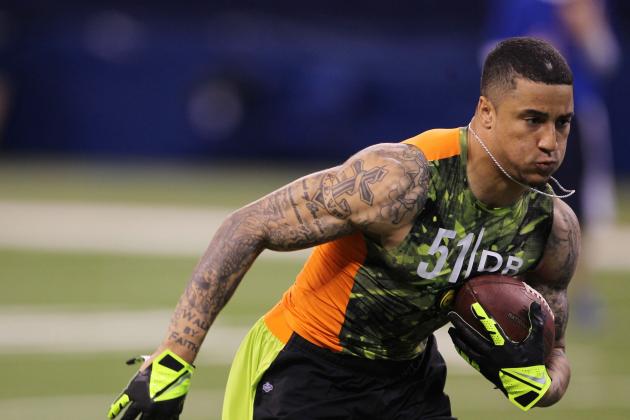 Brian Spurlock-USA TODAY Sports

Texas loses two All-Big 12 performers going into the 2013 season in safety Kenny Vaccaro and defensive end Alex Okafor, which will punch two seemingly large holes in the Texas defense.
Replacing that production will be incredibly difficult given the amount of experience and talent going out the door. The 'Horns do not have two guys who can immediately step in and recreate those numbers. Instead, it will all have to come by committee.
Defensive backs Mykkele Thompson, Sheroid Evans and Adrian Phillips will all need to turn in strong seasons to come close to mimicking Vaccaro's presence. Likewise, a combination of Reggie Wilson, Cedric Reed and Shiro Davis will have to take the necessary leaps forward to cover the ground left behind by Okafor.
The Longhorns definitely have the talent to replace the production lost. It just may take more bodies to do so.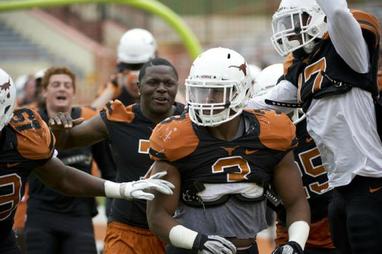 mackbrown-texasfootball.com
The linebacker position was often the scapegoat for last season's defensive shortcomings. Fact or fiction aside, the group absolutely has to improve in 2013.
With Jordan Hicks expected to be fully healthy when the season starts, Texas may finally have an established linebacker corps with experience all around.
Dalton Santos is pushing Steve Edmond for the starting gig at middle linebacker, while the expected progressions from guys like Peter Jinkens and Kendall Thompson may deliver hugely this year.
The reports from spring were neither great nor terrible, but the Longhorns will likely need a huge leap in production if they figure to factor into the BCS conversation.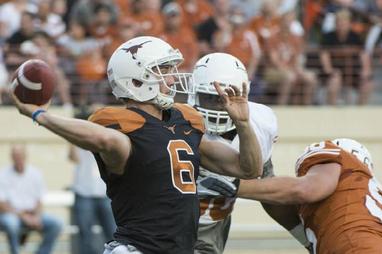 mackbrown-texasfootball.com
For the first time in what seems like a decade, many questions surrounding the quarterback position relate to the back-up job.
David Ash is in full control of the new spread offense, with senior Case McCoy and true freshman Tyrone Swoopes taking the No. 2 and No. 3 spots, respectively, behind him.
The situation likely will not change moving into the season, but it is hard to ignore a scenario where the Longhorns could be more interested in seeing the future with Swoopes at the helm over McCoy, who will be gone after this year.
McCoy holds a vicious advantage in experience, which factors tremendously in the decision-making. But if Swoopes continues to make notable progress with his arm, he may not be that far removed from snatching the back-up spot away from McCoy.
At this point, Swoopes jumping McCoy is all conjecture, but some of the cards are definitely out there.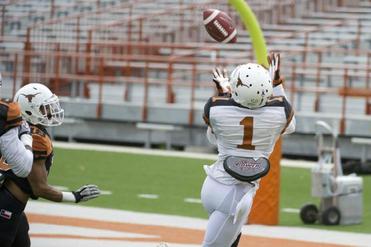 mackbrown-texasfootball.com
Texas loses a great playmaker in Marquise Goodwin at receiver, and despite holding onto Mike Davis for his senior year with Jaxon Shipley complementing him, the Longhorns are running thin behind them.
Cayleb Jones was expected to make that next leap, but his assault charges have curtailed his progress. With the No. 3 receiver position virtually gift-wrapped for Kendall Sanders, the sophomore pass-catcher was recently booked with a DUI, clouding receiver projections even further.
The rest of the crew is limited to John Harris, Bryant Jackson, Miles Onyegbule and Marcus Johnson. None have really taken any opportunities by storm, and the chance is definitely there for the taking.
Daje Johnson is an x-factor at the position, and who knows how the Duke Thomas experiment will play out into the season as he has taken reps at both receiver and cornerback.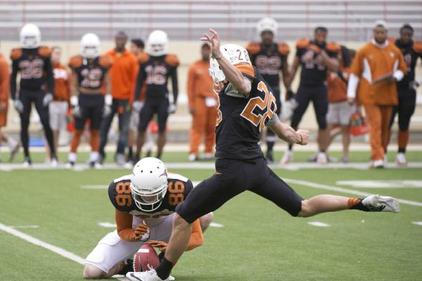 mackbrown-texasfootball.com
Texas' struggles in the kicking game did not go unnoticed last season, with both Anthony Fera and Nick Jordan unable to provide any sort of confidence or consistency on field goals.
The Longhorns shuffled through both of them like a deck of cards, and the situation has not really improved after the spring.
Losing punter Alex King, who performed brilliantly over the course of the year, likely will have Fera slide into that role, leaving Jordan with field goal duty.
While that hardly brings any comfort on special teams, it may be the best option at this point, and it may not get any better.