Golden State Warriors vs. Denver Nuggets: Postgame Grades and Analysis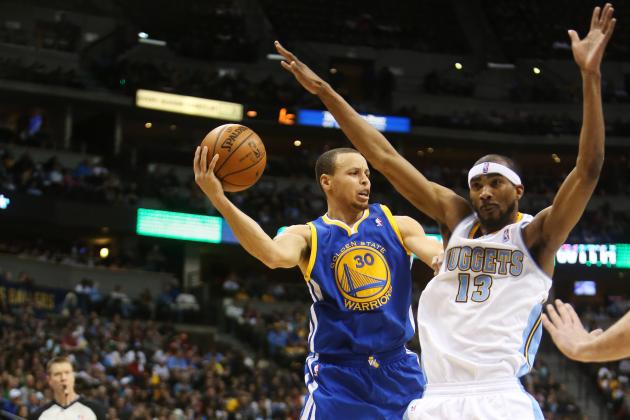 USA TODAY Sports

Led by their 37-year-old backup point guard, Andre Miller, the Denver Nuggets defeated the Golden State Warriors 97-95.
With 1.3 seconds to go and the game tied, Miller hit a beautiful reverse layup that gave his team a two-point lead and the win. Stephen Curry, who started the game 1-of-10 from the floor, hit a corner three with 14 seconds left to tie the game.
David Lee left the game in the second half after falling on his hip. He didn't return.
Begin Slideshow

»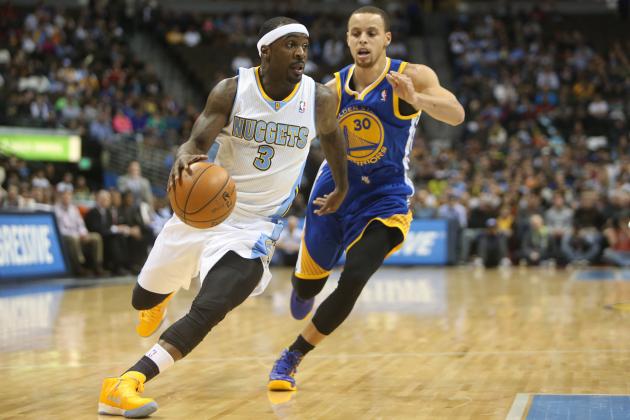 USA TODAY Sports

Stephen Curry
After putting up one of the most impressive shooting seasons in NBA history, Stephen Curry came out the gate hobbling.
He missed his first eight shots (three behind the arc) and scored just one point in his opening 19 minutes. Even though his shot wasn't falling, Curry had eight assists in the first half.
He woke up a bit in the second half, hitting a game-tying three with 14 seconds left and finishing with 19 points in 43 minutes.
Grade: B-
Ty Lawson
Lawson had a relatively disappointing first half. He couldn't get his own shot or get others going, which is really bad for Denver's offensive game plan.
He missed four of his six shots in the first half and recorded just one assist.
But with his team up by one and just 30 seconds on the clock, Lawson made a huge play, stripping the ball from Stephen Curry and taking it the other way for a layup.
He scored 12 points on 15 shots.
Grade: C+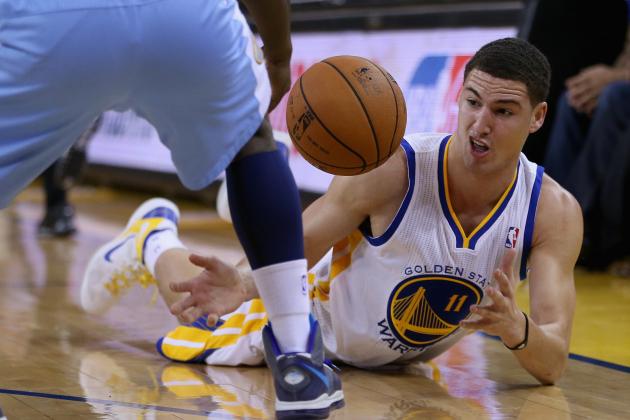 Ezra Shaw/Getty Images

Klay Thompson
With his backcourt mate Stephen Curry struggling in the first half, Klay Thompson's offensive contributions were huge.
He went 7-of-11 from the floor and was the only player on either team in double figures (15 points).
Thompson finished the game with 22 points in 41 minutes, making over half of his shots.
Grade: A-
Evan Fournier
Fournier started the game looking like an eight-year veteran instead of a rookie, leading Denver in points (six) and shots (five). And he did it all logging the fewest minutes out of any Denver starter (seven).
For the rest of the game, Nuggets coach George Karl opted to go with the more experienced Andre Miller, and it obviously paid off.
He scored 11 points in 22 minutes.
Grade: B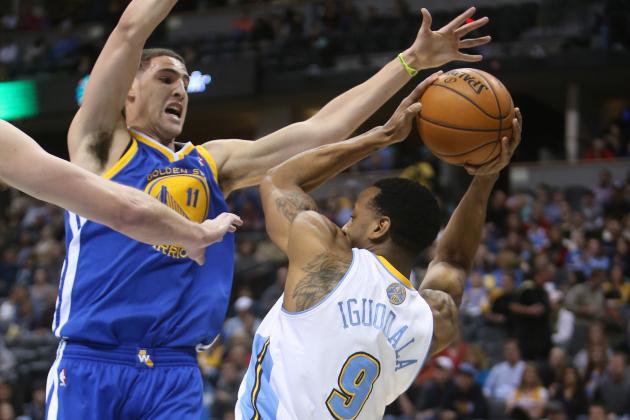 USA TODAY Sports

Harrison Barnes
Harrison Barnes was largely a non-factor in the first half, knocking down one three-pointer and scoring five points in 16 minutes (as many as Andrew Bogut).
He scored eight points in 28 minutes and wasn't able to have the impact in an up and down game that the Warriors probably would've liked.
Grade: D+
Andre Iguodala
Iguodala did everything but score in the first half. He paced his team in transition and was fantastic on the glass, where he pulled down seven rebounds.
He finished with three steals, 10 rebounds and eight points in the game.
Grade: C
USA TODAY Sports

David Lee
David Lee had a frustrating shooting effort in his first 25 minutes of play, going 4-of-14 from the floor. But he did a great job helping his team in other areas.
Lee grabbed 13 rebounds in that time. Lee suffered an injury after falling on his hip in the second half and didn't return.
He finished with 10 points and 14 rebounds.
Grade: C
Wilson Chandler
Chandler grabbed 12 rebounds in his first 23 minutes, filling in for the injured Kenneth Faried. It wasn't a bad impersonation at all.
Offensively he pressed a bit but fared relatively well, scoring 11 points on 16 shots.
Grade: C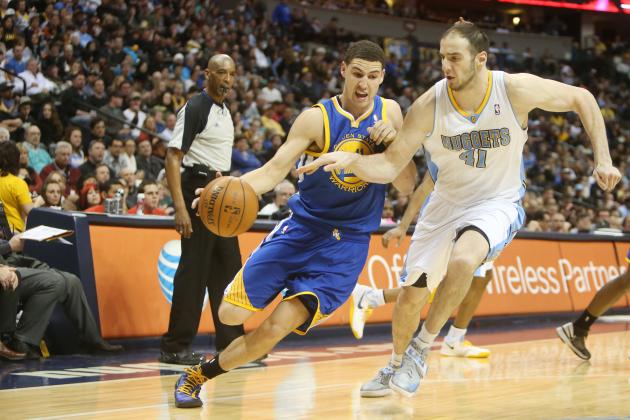 USA TODAY Sports

Andrew Bogut
Bogut's defense was amazing tonight, highlighted by a beautiful block on a Corey Brewer dunk late in the fourth quarter. He also connected on a big left-handed hook with three minutes to go that cut Denver's lead to three.
If Bogut can supply this type of defense at the rim throughout the series, the Warriors might be able to surprise some people.
Grade: B+
Kosta Koufos
Koufos was solid but unspectacular on both ends of the court, finishing on a few hand-fed opportunities right near the rim and providing the proper back-line rotations.
He finished with six points and seven rebounds in 26 minutes, but he went 2-of-7 from the floor.
Grade: C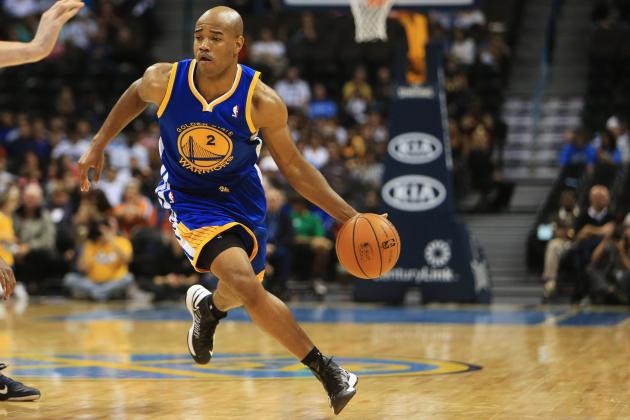 Chris Humphreys-USA TODAY Sports

Jarrett Jack
Jack had an off shooting performance. He went 3-of-12 and looked tentative at times. This wasn't one of his prouder games, even though he finished with a 10-point, 10-assist double-double.
In his matchup with Andre Miller, Jack was overmatched. Expect that to go back and forth as this series develops.
Grade: D
Corey Brewer
Brewer ended the third quarter with two deep shots, one a three-pointer and the other a long two with his toe on the line, that gave Denver a significant lead heading into the fourth quarter.
He was everywhere in 21 frenetic minutes, especially giving Golden State's perimeter players trouble whenever they had the ball.
Brewer scored 10 points.
Grade: B-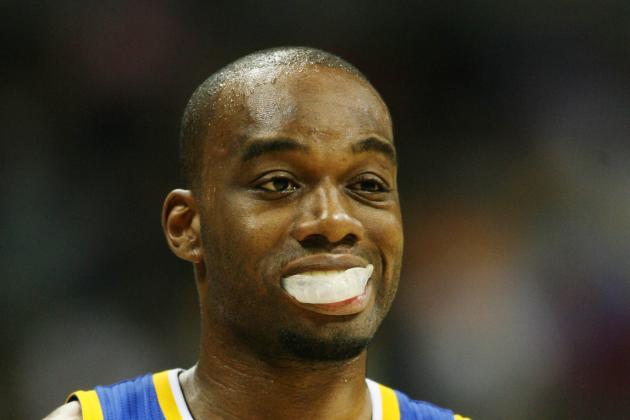 USA TODAY Sports

Warriors
Carl Landry gave the Warriors big minutes throughout the game, especially with his crafty interior scoring. He finished with 14 points and five rebounds.
Elsewhere, Draymond Green played just four minutes and was beaten off the dribble by Andre Miller on the game's final play.
Grade: C-
Nuggets
JaVale McGee made his impact early on, patrolling the paint with fly-swatter hands and finishing a half-court alley-oop pass from Andre Miller.
Speaking of Miller, nobody on either team was better. He took over on the offensive end in the second half, scoring just about every time he shot.
He scored 28 points (on just 16 shots) in 27 minutes, including the game-winning layup with 1.3 seconds left. What a game from him.
Grade: A