Alabama Football 2013 Spring Game: Live Analysis, Notes and Recap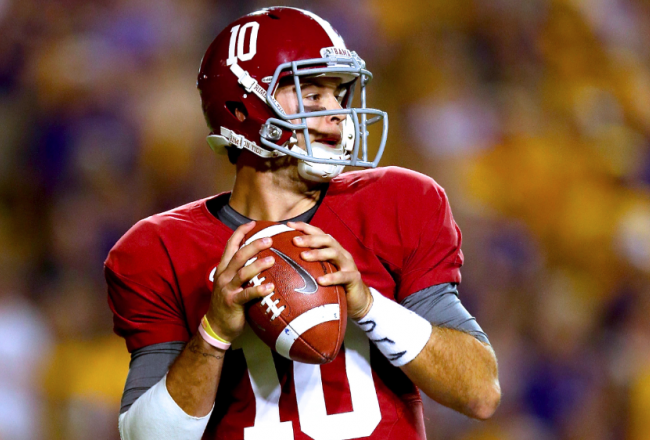 Crimson Team 14, White Team 17 – Final
T.J. Yeldon scored on a seven-yard touchdown run with just over a minute left to play to lift Team White to a 17-14 win over Team Crimson in Alabama's annual A-Day game.
Yeldon's score capped a wacky finish to a game that was headlined by the sloppy play of the offense until the waning moments in the final period.
Alabama quarterbacks combined to throw six interceptions on the day, including two by AJ McCarron. Additionally, both defenses recorded touchdowns off of turnovers.
With spring now concluded, the two-time defending national champions will try to improve on their weaknesses in the months leading up to fall camp beginning in August.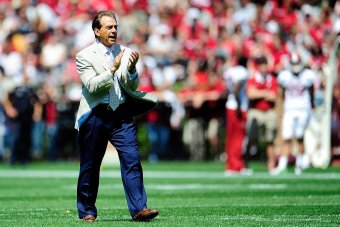 Stacy Revere/Getty Images
Morris tried to hit Chris Black for the win but his pass falls incomplete and Team White holds on for the 17-14 victory over Team Crimson, per Alabama Football's Twitter account.
Alec Morris' pass is incomplete, intended for Chris Black in the endzone. And that's the end of the game. The final, White 17, Crimson 14.

— Alabama Football (@AlabamaFTBL) April 20, 2013
The final flurry of offense added a thrill to what had a been a mostly lackluster spring game.
Thanks for tuning in to this live blog and stay glued to B/R for more postgame coverage of Alabama's spring game.
Morris hit Chris Black for a 31-yard gain down to the White's 12-yard line. Facing a fourth and nine from there, Saban has made the decision to let the Crimson Team go for the win per Alabama Football's Twitter account.
Crimson with the ball at White's 11 yard line with 12 secs remaining. Fourth and 9 for the Crimson and they will be going for a TD.

— Alabama Football (@AlabamaFTBL) April 20, 2013
Wow.
Team Crimson isn't going down without a fight. Alec Morris is trying to engineer a last-minute comeback, according to Cecil Hurt of the Tuscaloosa News via Twitter.
Crimson team driving. First and 10 at the White 12 with 31 seconds to go. Alec Morris at the controls.

— Cecil Hurt (@CecilHurt) April 20, 2013
Setting up for a wacky finish.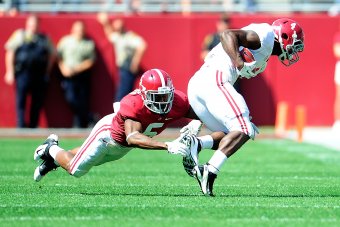 Stacy Revere/Getty Images
McCarron and the first-team offense came back into the game, and the senior signal-caller promptly engineered a quick scoring drive to retake the lead. T.J. Yeldon scored from seven yards out to put the White Team up 17-14, per Alabama football's Twitter account.
Yeldon up the middle for seven yds & a touchdown! White retakes the lead, 17-14, with 1:04 left. Yeldon now has 15 carries, 69 yds and a TD.

— Alabama Football (@AlabamaFTBL) April 20, 2013
Clearly, Saban was just waiting for ESPN's cameras to quit rolling before unleashing the offense.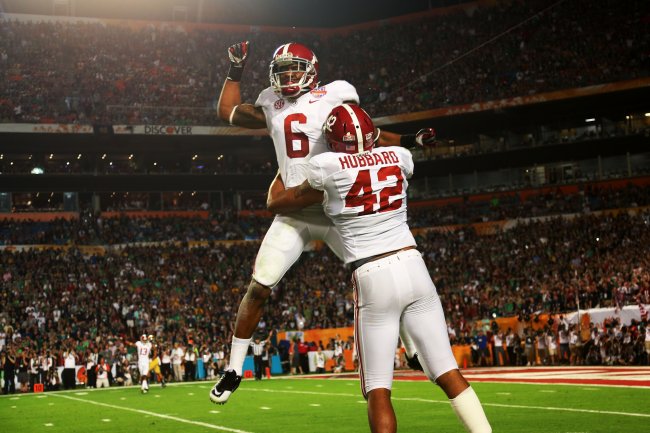 Mike Ehrmann/Getty Images
Deion Belue continues his big day by forcing a fumble that Ha-Ha Clinton-Dix scoops and returns 55-yards for a score to put team Crimson up 14-10 late in the fourth quarter, per Alabama football's Twitter account.
Deion Belue forced the fumble which was returned 55 yards to paydirt by Clinton-Dix. Crimson now leads 14-10 with 2:01 left.

— Alabama Football (@AlabamaFTBL) April 20, 2013
The White Team will need a touchdown in the final 2:01 if they hope to eat steaks on Monday.
Team Crimson has the ball on its own 28-yard line with 3:18 left to play, and they are still trailing 10-7 per the University of Alabama's official Twitter account.
As McCarron bought time trying to make a play, a cross-body throw is picked off by Cyrus Jones and another turnover keeps Team Crimson alive.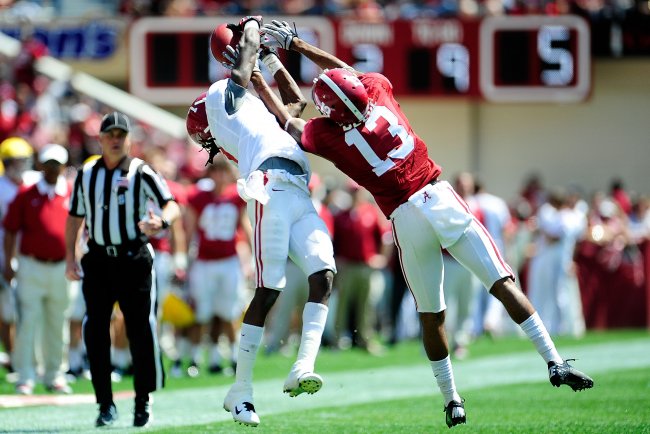 Stacy Revere/Getty Images
McCarron and the rest of the first-team offense re-enters the game to begin the final period.
Belue makes a fantastic play on a deep ball intended for Cooper. Belue's play thus far has to be encouraging for Tide supporters.
The White team enters the red-zone for just the second time all afternoon.
Parker McLeod decided he wanted to be different, so he fumbled his first snap instead of throwing a pick on his first snap at quarterback. Team White keeps possession.
McLeod recovers nicely to fire a 19-yard strike to Parker Barrineau.
The White team will try to build on its lead heading into the fourth quarter.
One interesting tidbit of note is that most of the formations have been out of the shotgun with three receivers.
Walk-on quarterback Luke Del Rio checks into the game for Team Crimson and converts a nice third-down pass to running back Trey Roberts to get the offense into White territory.
Saban must want Cooper to come back into the game simply to get some energy on the field.
Cooper Bateman checks in at QB and I'm sure you can guess what happened next.
Tyler Owens picks off Bateman's pass and thats number six for the day. Ouch.
The Crimson defensive line has stepped up the pressure, and forced McCarron to throw it away.
Bell drops a slant that would have converted a first down and the struggles continue.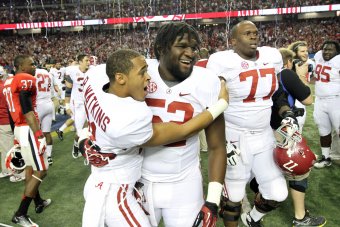 USA TODAY Sports
Dalvin Tomlinson gets a sack on Blake Sims, which forces a three and out for Team White on the opening drive of the second half.
Not exactly a great start to the second half for the offense.
It's been a sloppy day for the offense so far, with both sides struggling to keep possession of the ball, according to Andrew Gribble of AL.com via Twitter.
Stat of A-Day so far: Crimson and White have combined for six turnovers.

— Andrew Gribble (@Andrew_Gribble) April 20, 2013
I would not want to be in those offensive meetings when Saban peeks his head in the door.
Halftime observations.
There's plenty of adjectives that I can use to describe the Tide's offense, but few of them would be positive in nature.
Saban said it best about the unit's lack of attention to detail.
Defensively, both teams have done a good job playing physical and not giving the offensive skill players much room to operate.
Here are a few players that caught my eye in the first half.
Ryan Anderson -- had the pressure on Blake Sims that forced the first interception. Looked solid playing outside linebacker and was active in the snaps he received in the first half.
Nick Perry -- recorded two picks from his safety spot.
Vinnie Sunseri -- looked good in coverage, and obviously had the biggest play of the half for his squad with the pick-six.
Deion Belue -- was strong in coverage and doesn't look out of position like he did at times a year ago.
Kenny Bell -- his long scoring reception in the first quarter showed that he's fully recovered from a broken leg suffered late last season.
Feel free to share you observations about the first half and what you are looking forward to seeing in the second half.
Sunseri's pick-six gives him a defensive touchdown in the spring game for the second-straight season.
He's a player that just simply has a nose for the ball.
Saban's halftime remarks makes it clear that he's unhappy with the offense. The flipside is that a secondary considered a potential weak-link coming into the spring has responded by recording four interceptions in the first half.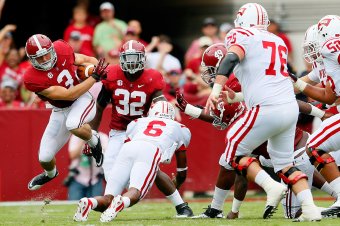 Kevin C. Cox/Getty Images
McCarron comes back into the game for the White team to run the two-minute drill. Saban's intensity is still in high gear, with this situation one that could surface at some point this fall.
Three consecutive passes to Yeldon has the White team in Crimson territory with 28 seconds left.
Another short pickup to Yeldon gets Alabama closer, but eventually, McCarron will have to try something downfield before the clock runs out.
Saban appears to be trying to get a field goal out of this drive.
And that's probably why I'm not an offensive coordinator. Vinnie Sunseri snags a McCarron pass tipped by Deion Belue, and races 85-yards the other way for a pick-six. The White team will take a 10-7 lead into halftime.
Saban is all over Alec Morris for flubbing the formation on two consecutive plays in the two-minute drill.
No players on the Crimson offense, which is comprised of second-team players, has stepped up and seized the opportunity to make plays.
In fact, other than McCarron's first series, there's been very little that's gone right for either offense.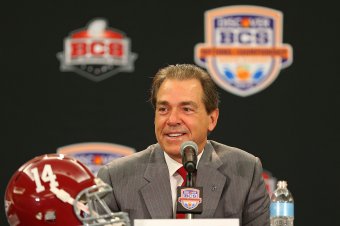 Mike Ehrmann/Getty Images
Oh man.
What a golden soundbite from McCarron asking if Saban's wife picked out his tie.
Personally, I think AJ should have let Saban borrow one of his bow ties.
An offside penalty negates a pick-six by Clinton-Dix off McCarron on first play when the action resumed.
Yikes.
However, McCarron did throw three picks in last year's spring game and then went on to throw three in the entire 2012 season. Just a little perspective.
As the ESPN feed returns to the action, Maria Taylor reports that the injured person is the play clock operator.
The crowd is eerily silent as medical personnel is tending to him.
The replay looked like Collins tumbled into him and the play clock operator's head hit another Tide player on his way to the ground.
Scary situation to say the least. ESPN identified the play clock operator as Doyle Shaw, who was carried off on a stretcher. Best wishes to Mr. Shaw.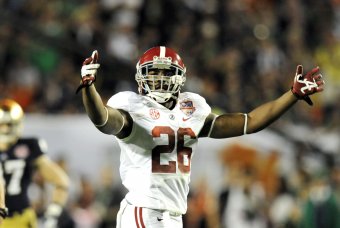 Eileen Blass-USA TODAY Sports
Morris tries to pick on Collins again, but this time the former 5-star recruit latches on to the pass and records the third pick of the game.
It looked like Collins was tackled into an official on the sideline who took the brunt of the blow. Hope he is ok.
C.J. Mosley may be wearing a non-contact jersey, but that doesn't stop him from doing what he does best and that's force turnovers.
Mosley strips Bell and recovers the fumble to get the Crimson squad a shot of momentum.
Aside from McCarron, the quarterbacks have been pretty sloppy to this point.
As i type that, Collins drops another potential pick.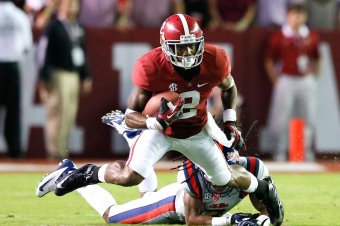 Kevin C. Cox/Getty Images
Alec Morris is in at quarterback for the Crimson Team.
Morris fires an absolute rocket on a post-route to DeAndrew White for a big play and the Crimson team is on the move.
In perhaps of a sign of his youth, Morris fumbles a snap that's recoverd by the White team on the very next play.
Tight end Brian Vogler had a nice reception on the last series, and he appears to be the front-runner to succeed Michael Williams at that spot.
Dee Hart, who has been wearing a non-contact jersey for the entire spring, gets into the game at running back and gets a carry.
Saban is overheard instructing sophomore corner Geno Smith after a pass play. It's pretty cool to catch Saban in an element where fans can hear him actively coach his players.
McCarron heads to the bench and Phillip Ely checks into the game. That's a smart move to get some of the younger quarterbacks some experience.
Vinnie Sunseri always seems to find his way to the football, and he sniffs out a wide receiver screen that ends up forcing the White team to punt.
This article is
What is the duplicate article?
Why is this article offensive?
Where is this article plagiarized from?
Why is this article poorly edited?

Alabama Crimson Tide Football: Like this team?