Game-by-Game Predictions for Brooklyn Nets' Series with Chicago Bulls
The Barclays Center will be rocking for Game 1 of Nets-Bulls on Saturday night.
Bruce Bennett/Getty Images
There are a few juicy matchups in this year's NBA Playoffs and the Brooklyn Nets-Chicago Bulls series will feature one of them.
The No. 4 seed Nets and No. 5 seed Bulls are two evenly matched teams, so predicting a winner for this first-round bout is difficult.
Both squads rank in the top 10 in the NBA for points allowed per game and total rebounds per game. This series will be a tightly-contested, physical affair and has the potential to go the distance.
The Bulls won the regular series 3-1, but the Nets have the home-court advantage and a clean bill of health. Chicago, on the other hand, could be handicapped by a slew of injuries to its star players.
These two advantages should be the deciding factor in helping Brooklyn advance to the second round.
Game 1: at BK, Saturday, April 20, 8 p.m., ESPN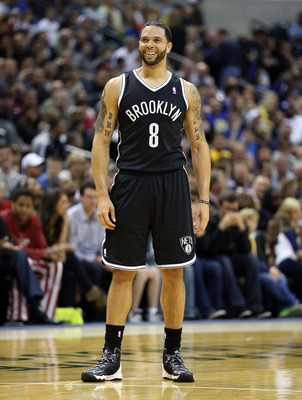 Deron Williams is playing his best basketball at the right time.
Andy Lyons/Getty Images
Brooklyn is buzzing in anticipation of the Nets' first home playoff game at the Barclays Center.
All week, fans from Coney Island to Boerum Hill have been rocking their black and white gear in anticipation of Saturday night's showdown.
Tomorrow, the doors to the arena will be opened early and black t-shirts will be handed out to fans for the "blackout" playoff theme.
The Nets will feed off this energy and win Game 1 of this best-of-seven series.
Someone is going to erupt in the first game of an opening-round series. This player will be Deron Williams. D-Will averaged nearly 23 points and 8 assists while leading Brooklyn to a 33-18 record in 2013.
Expect him to carry this momentum into Game 1 on Saturday night.
Prediction: Nets 94, Bulls 84
Game 2: at BK, Monday, April 22, 8 p.m., TNT

Brooklyn is buzzing with playoff fever.

The Nets will carry the momentum from their Game 1 victory into Monday and light up the scoreboard in Game 2.
Brooklyn averaged just 96.9 points per game during regular season, but scored at least 100 points in eight of their last 10 games.
Deron Williams will push the tempo against Chicago. Look for him to lead the Nets on the fast break in a tightly-contested win.
Prediction: Nets 102, Bulls 99
Game 3: at CHI, Thursday, April 25, 8:30 p.m., NBA TV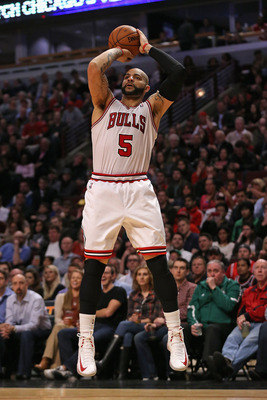 Carlos Boozer is a bad matchup for Reggie Evans.
Jonathan Daniel/Getty Images
The scene for Game 3 will switch to the United Center in Chicago, Illinois.
Chicago is known for its passionate sports fans. They'll play a big role in willing the Bulls to a crucial win in the third game of the series.
The Bulls have been a resilient group in the face of adversity all season. Coach of the Year candidate Tom Thibodeau will get his players fired up and prepared to defend their home court.
This will also be the game that Carlos Boozer dominates Reggie Evans in the post. Boozer destroyed the Nets during the regular season, averaging 21.3 points on 53.8 percent shooting in three games.
Prediction: Bulls 90, Nets 78
Game 4: at CHI, Saturday, April 27, 2 p.m., TNT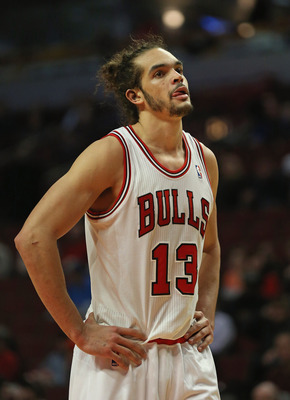 The series could hinge on the health of Joakim Noah.
Jonathan Daniel/Getty Images
The Nets will take control of the series in Game 4 and steal a game in Chicago.
Bulls' center Joakim Noah is a difference maker. He's been dealing with a plantar fasciitis injury that could significantly limit his playing time in the series. If Noah isn't able to play, or his minutes are limited, Chicago will have no answer for Brook Lopez.
Lopez averaged 22 points on 52.9 percent shooting in four games against the Bulls in the regular season.
Chicago will more than likely be without superstar point guard Derrick Rose, who's missed the entire regular season after tearing his ACL in last year's playoffs. Luol Deng (hip) and Taj Gibson (left knee) are also banged up.
After three hard-fought games, the Bulls' injury issues will begin to take their toll.
Prediction: Nets 108, Bulls 100
Game 5: at BK, Monday, April 29, TBD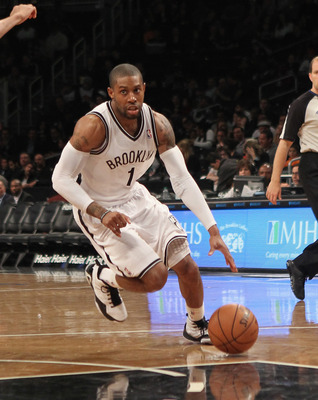 C.J. Watson is hoping for a little revenge against his former team.
Bruce Bennett/Getty Images
The series returns to Brooklyn on April 29. With a commanding 3-1 lead, the Nets will take their foot off the gas pedal in Game 5.
Deron Williams, Joe Johnson, Gerald Wallace and Reggie Evans are all experienced veterans. They know the NBA Playoffs are a marathon, not a sprint.
Look for the Nets to save their energy for the final two games of the series and concede a home game to the Bulls.
Prediction: Bulls 88, Nets 84
Game 6: at CHI, Thursday, May 2, TBD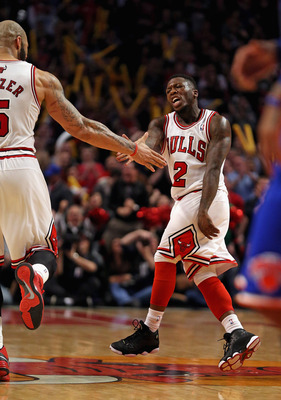 Nate Robinson is capable of swinging the momentum of the series.
Jonathan Daniel/Getty Images
At some point in this series Bulls' point guard Nate Robinson is going to explode.
Robinson scored in double figures in 12 of the last 14 games of the regular season. He dropped 34 points on the Denver Nuggets on March 18, and scored 35 points versus the Knicks on April 11.
Look for the 5'8" University of Washington product to make his mark in Game 6 and force a decisive Game 7.
Prediction: Bulls 95, Nets 93
Game 7: at BK, Saturday, May 4, TBD
If Joakim Noah can't play, the Bulls will have no answer for Brook Lopez.
Bruce Bennett/Getty Images
By the time Game 7 comes around, Joakim Noah will no longer be a factor. The Nets will win the battle of attrition and deliver the final blow to the Bulls at the Barclays Center on May 4.
Brook Lopez will take advantage of Noah's absence and control the paint area.
Carlos Boozer, who dominated the Nets during the regular season, will have another monster game against Reggie Evans, but it won't be enough.
Brooklyn will advance to the second round and take on the Miami Heat in the Eastern Conference Semifinals.
Prediction: Nets 106, Bulls 94
For more Brooklyn Nets analysis, follow Andrew on Twitter:
Keep Reading

Brooklyn Nets: Like this team?