Auburn Football 2013 Spring Game: Live Analysis, Notes and Recap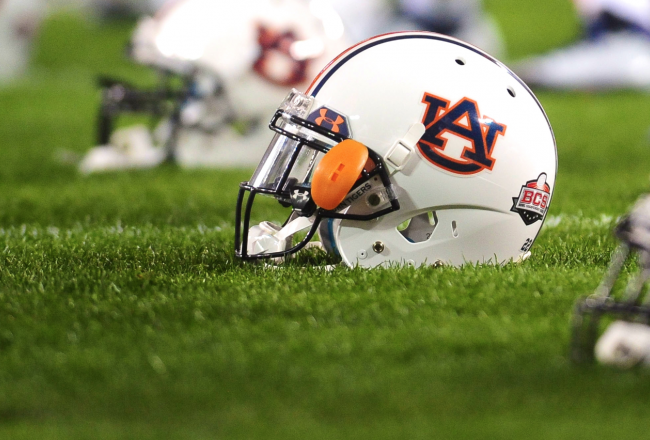 Welcome to the live blog of the Auburn A-Day spring football game.
First-year head coach Gus Malzahn and the Auburn Tigers are looking to rebound from a disastrous 3-9 season that saw them go 0-8 within the SEC for the first time in program history.
The teams are essentially divided up as "ones vs. twos," with the blue team being the second team and the white team being the first team. That's really only a guideline though, as players will switch sides. The official crowd today at Auburn is 83,401, an A-Day record.
FINAL: Orange 35 - Blue 14
Wraps it up from Auburn. Stand by for quotes from the locker room.
FINAL: Orange 35 - Blue 14
Second half is moving along quite briskly. Tate O'Connor in at quarterback and a lot of unfamiliar faces on both sides of the ball...including All-Name Team nominee Chandler Shakespeare at running back. This one is close to coming to a conclusion.
Stats after three quarters: Frazier 8-13 for 116 yards and one touchdown, Wallace 15-21 for 178 yards, two touchdowns and one pick.
Wallace looks like the better quarterback. He's not forcing many passes and taking what the defense gives him, for the most part.
83,401 is the announced attendance here at Jordan-Hare Stadium, which is an A-Day record. It's a legitimate number too. The crowd has thinned out quite a bit, but the upper decks were nearly full for the majority of the game.
Running clock in the second half here in Auburn. Kiehl Frazier finds Sammie Coates for a 30-yard gain to get the blue team on the plus side of the field. Offense picking up right where it left off.
Cody Parkey misses a 36-yard field goal to end the threat.
Orange 35 - Blue 14: 2:12 in the 3rd Quarter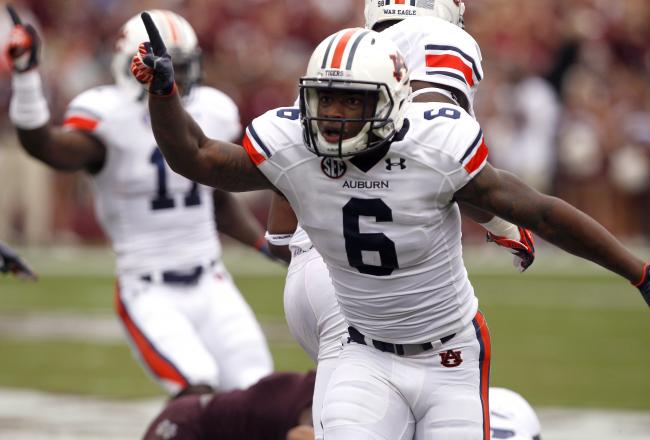 Auburn cornerback Jonathon Mincy has been ejected from the spring game for targeting wide receiver Dimitri Reese above the shoulder. Reese walked off under his own power. I hate the new rule for ejections for targeting, but that one was pretty clear on first glance. The replay, however, makes it look like a bad call. I don't think Mincy gets tossed in a game with replay playing a factor in that part of the penalty.
With that said, I never expected a player to be tossed in a spring game. Ever.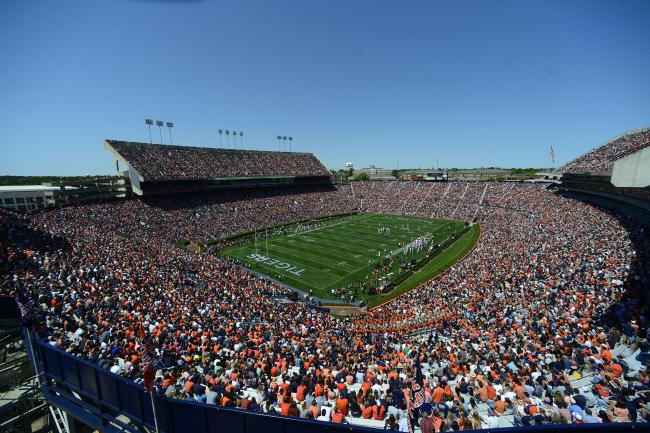 Stands are almost completely full here in Auburn. Here's a picture from Auburn's official Twitter account.
It was an offensive explosion for Auburn in the first half, with 49 combined points in the first half. Malzahn's offense is a downhill, run-based offense out of the spread. We saw that in the first half with big runs from Tre Mason and Cameron Artis-Payne. Defense has been sketchy, but the presumed starters are playing well at times.
Orange 35 - Blue 14: Halftime
Offense is clicking now on the Plains. Jonathan Wallace leads Auburn down the field against the No. 2 defense and Tre Mason caps it off with a 4-yard touchdown run. Efficiency from the offense after a slow start.
Orange 35 - Blue 14: 3:24 to play in the 2nd Quarter
Jonathan Wallace finds a wide open Sammie Coates. Jermaine Whitehead was late over the top, but Wallace still made a fine throw downfield. He then found Dimitri Reese for a 28-yard touchdown down the far sideline. Auburn's defense hasn't been great, but the presumed starters have been decent. This offense is designed to create and exploit holes, and it's working.
Orange 28 - Blue 14: 6:53 to play in the 2nd Quarter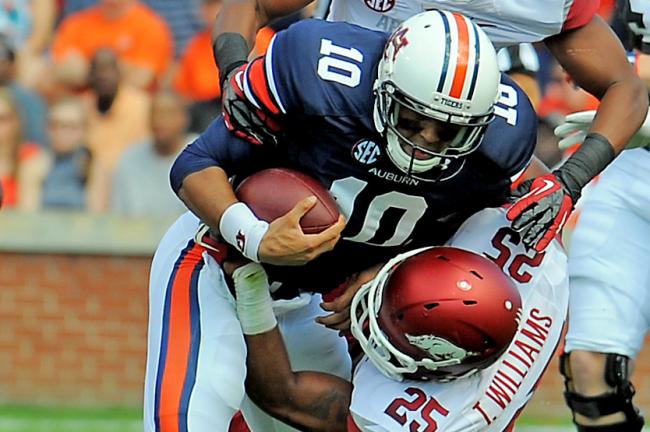 Kiehl Frazier takes it in himself from seven yards out. Solid 75-yard drive led by Tre Mason on the ground. Eight plays on that one, with two of them being 15 yard runs by Mason. When the pace picks up, this offense is hard to stop.
Orange 28 - Blue 7: 8:38 to play in the 2nd Quarter
Tre Mason with a big 15-yard gain on 3rd and 3 early in the second quarter. When he gets out in space, he's incredibly in dangerous. With this offense, that may happen a lot.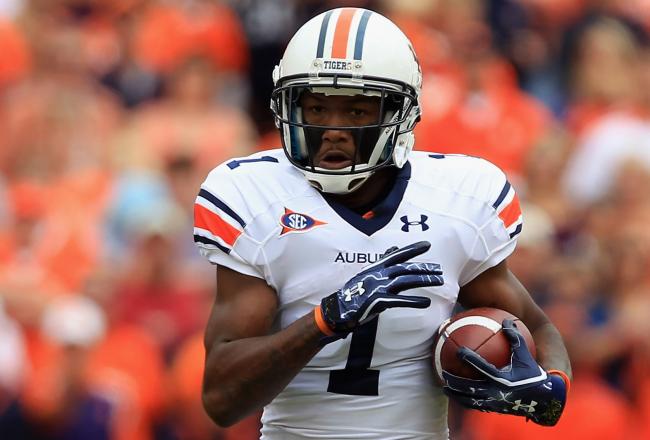 Frazier with a big gain to Cameron Artis-Payne on a screen pass, which is followed up with a 9-yard TD to wide receiver Trovon Reed on a bubble screen.
Orange 21 - Blue 7: 0:52 to play in the 1st Quarter
"Star" Justin Garrett has been all over the field today. He has had a great spring and is going to be a big-time player for this defense. Fast, and fundamentally sound. The latter of which was absent from this Tiger team for the last four years.
Frazier and Patrick Lymon fumble a handoff. That's three turnovers from quarterbacks in the first quarter. On the first play after the turnover, Wallace tosses a 17-yard touchdown to Brandon Fulse who was wide open for the touchdown. Auburn faked a bubble screen and Fulse leaked out to the corner of the end zone for the score.
Orange 14 - Blue 7: 3:40 to play in the 1st Quarter
Ryan Smith picks off a terrible pass by Jonathan Wallace. Threw way behind his receiver into triple coverage. Wallace threw off of his back foot with the pass rush in his face. Not a good idea when you're fighting for a job.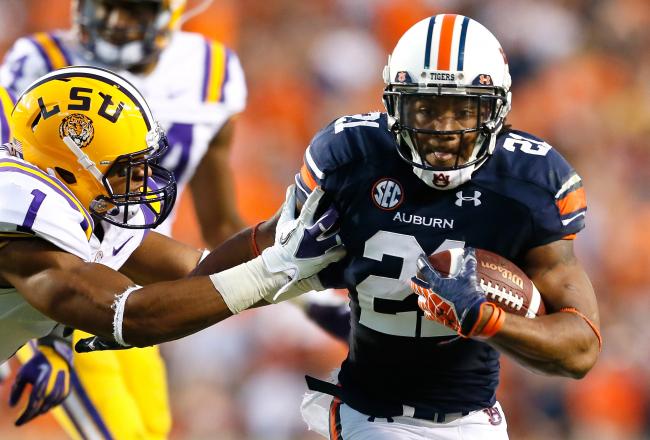 One thing is for sure, Tre Mason is still a good running back. Featured often for the orange team, and always falls forward.
Cameron Artis-Payne breaks free for a 27-yard touchdown run down the right side. 7-7 here in Auburn. Running back depth would be a big plus for Auburn this year. With the quarterback situation up in the air, a stable group of running backs is a must for this Auburn team.
Orange 7 - Blue 7: 7:06 to play in the 1st Quarter
Jonathan Wallace misses a wide open Ricardo Louis on a wheel route. Would have been a TD, but was WAY overthrown. The same play was called on the next series for Kiehl Frazier, who made a good pass that was broken up by a diving Robinson Thereize.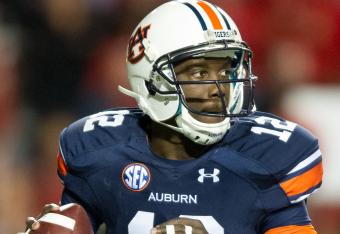 Jonathan Wallace wasn't ready for his first snap of the game, which went over his head. It was scooped up by "Star" Justin Garrett and returned for a touchdown. Not a good start for Auburn's quarterbacks.
Orange 7 - Blue 0
If it means anything, Kiehl Frazier is the first quarterback out for Auburn. After two straight running plays, he missed Trovon Reed on a deep out on 3rd and 9. It wasn't close to being complete.
We are set to kickoff here at Jordan-Hare Stadium. The lower bowl is essentially full, which would put the crowd at about 50,000 give or take for the day.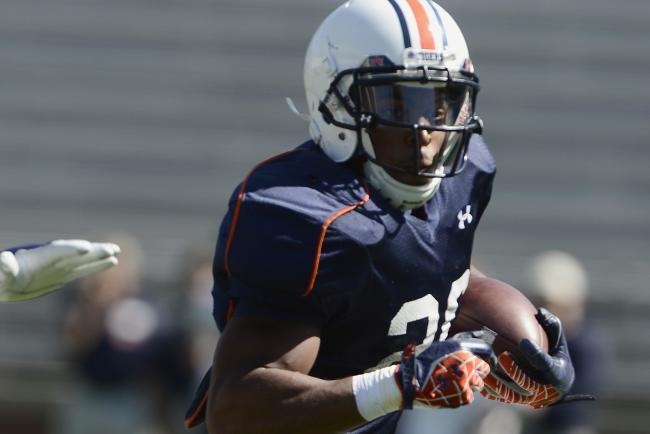 Player to watch on offense today other than the QBs—running back Corey Grant. Incumbent Tre Mason has been limited this spring, but will play. But the buzz for the past week or so has been Grant, who has the speed to be a home run hitter and could be a major weapon for this team.
Head coach Gus Malzahn said that this spring game will be as close to a real game as it can be, which is a departure from the norm for this program. Under former coach Gene Chizik, it was offense versus defense and points were awarded for third down stops, safeties, turnovers, etc. None of that will happen today. It will be a real football game—well, at least as real as spring games can be.
Players out warming up. Auburn just aired an awful country/pop music video titled "Great To Be" on the jumbotron. It's a trend in college football, and it needs to stop. Now.
This article is
What is the duplicate article?
Why is this article offensive?
Where is this article plagiarized from?
Why is this article poorly edited?

Auburn Football: Like this team?