Penn State Football 2013 Spring Game: Live Analysis, Notes and Recap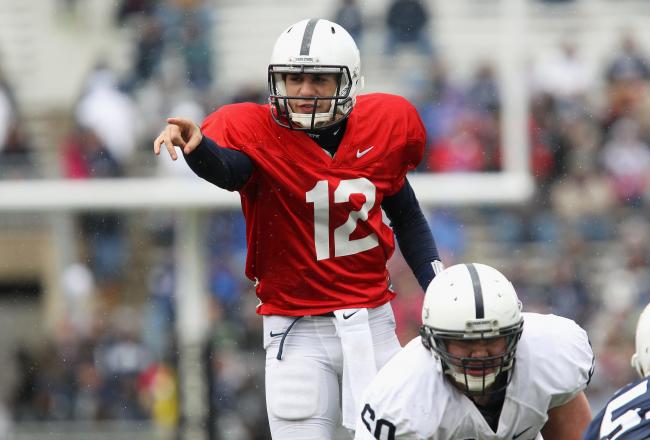 Matthew O'Haren-USA TODAY Sports
Well that's all for the 2013 Blue and White game at Penn State.
The defense dominated early, and was in the face of all the quarterbacks that coach Bill O'Brien used in the game.
Many young players got their chance to shine, and didn't waste it; Nyeem Wartman and Trevor Williams both had great games.
It was a fast paced game full of scoring and substitutions.
We saw four different quarterbacks all get seemingly equal time, and some new faces at running back with Deron Thompson and Dominic Salomone.
Although the quarterback competition wasn't made any clearer today, we still got a good insight into how the team is doing so far.
The defense ended up winning the game and stopped both first and second team offense, except for some big plays early.
That wraps it up in Happy Valley.
Final: Blue 67, White 47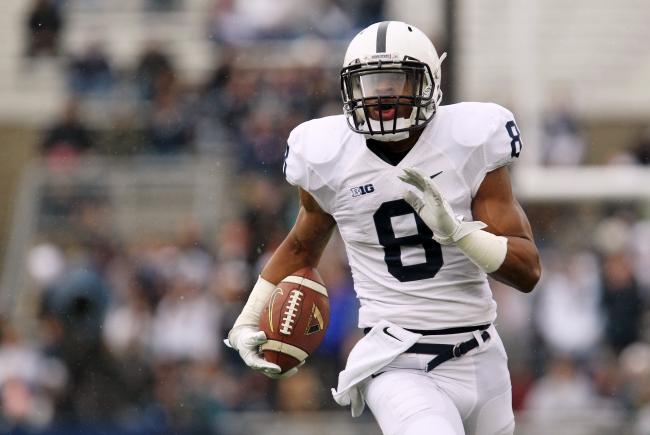 Game Over
Final score: Blue 67, White 47
Tyler Ferguson had two touchdowns and threw an interception as well.
Richy Anderson, Jesse James and Akeel Lynch all had touchdowns.
Many of the young players are making impacts, which could benefit the team this year.
Salomone Running Hard
Dominic Salomone is bringing back memories of Zach Zwinak.
This kid is running hard and just lowering his shoulder, and as Mike Mauti said it - he brings the wood.
Salomone is carrying us out of the spring game today.
Anderson Making Noise
Early enrollee Richy Anderson is making quite an impact on the game today.
Anderson has made some nice catches already and has a touchdown.
He's not big (5'11", 171 lbs) but he's pretty nifty in the slot.
With Belton hurt, Anderson is looking like a strong slot receiver.
Touchdown: Blue 50, White 47
Ferguson did a nice job eluding some pass rushers and throwing on the run to Richie Anderson.
That was one of the better plays by Ferguson, no doubt.
He now has two touchdown passes on the day.
Offensive Line Dominating
As we get into the fourth quarter, holes for running backs seem to get bigger and bigger.
Deron Thompson is running all over the second team defense behind his line that is clearing the way.
It is good that the offensive line is doing well, but remember it is the second team.
This offensive line group seems pretty solid, after losing Matt Stankiewitch for this year.
Touchdown: Blue 47, White 39
It was Bench to Brent Wilkerson for a six-yard TD catch.
Bench looked ok on that drive but he still hasn't impressed me.
But Bench has been doing a solid job guiding this first team offense.
Defense is still winning, but offense is alive.
O'Brien Mic'd Up
It's a cool idea having O'Brien on the PA system at Beaver Stadium, but it's a little too much.
Everyone was able to hear every play and O'Brien coaching - kind of odd.
Thank goodness it's over now.
Akeel Lynch is the Reel Deal
So far today, Lynch has put up a nice highlight reel.

Photo courtesy of Kevin McGuire
He has more speed than Zwinak, but runs under his pads like Zwinak.
Great job by the youngster so far.
Quarterback Battle: Undecided
Neither Bench nor Ferguson has jumped out thus far in today's game.
Ferguson had a nice touchdown throw, but that's about it.
Bench has had passes batted down at the line of scrimmage.
Not a good sign for many Penn State fans.
But it is a good sign for anyone who thinks Christian Hackenberg should start in the fall.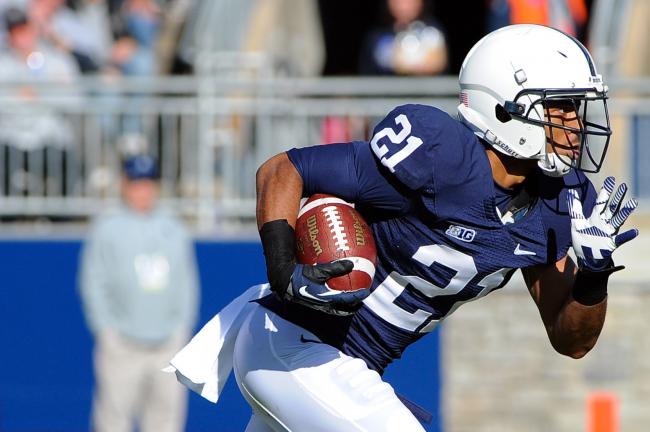 Trevor Williams Shining
What a first half by the defensive back converted from receiver.
The soon-to-be sophomore has broken up a few passes and almost had a pick at the end of the first half.
It looks like Penn State's weak secondary will be stronger for the 2013 season.
Williams is a great athlete and he's flying all over the field.
Tight Ends All Over
PSU doesn't even seem to care who knows it. They will line a TE up at FB all day long. And they will throw it to him, too.

— Donnie Collins (@psubst) April 20, 2013
As writer Donnie Collins says, O'Brien is using his tight ends everywhere.
Literally there are tight ends lining up at fullback, receiver and of course tight end.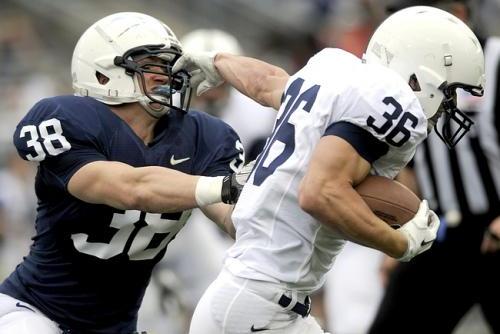 Thompson Who?
Sophomore running back Deron Thompson is pounding the ball right now.
As Zwinak walks off the field, Thompson is seemingly taking his role as a rumbler down the field.
Some nice stiff arms and downfield running, and Thompson is having a solid game.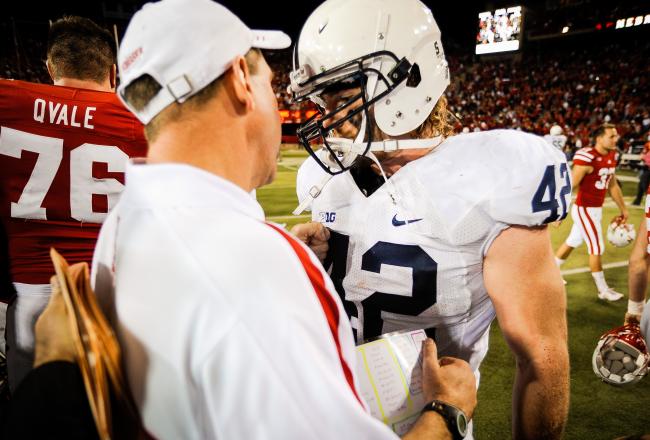 Mauti Killin' It in the Booth
From an autograph session to analyzing the defense today, Mike Mauti is doing a pretty good job in the announcer's booth.
It's pretty cool to hear insight from Mauti, who was the heart of the team last season.
He really knows what he's talking about.
Not to mention, an on air autograph session doesn't happen in most football games.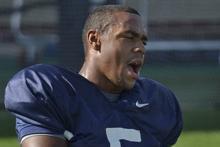 Wartman Bringing It
Nyeem Wartman really looks good out there.
He blew up a screen earlier, and he's just flying all over the place.
Great sign for Nittany Lion fans.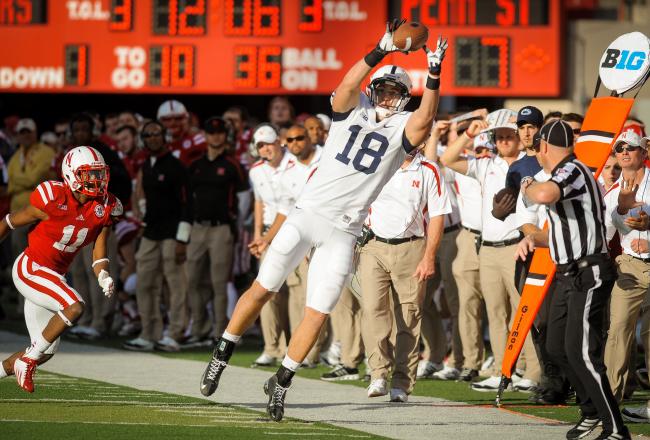 Touchdown, Blue 27, White 23
Ferguson to Jesse James on a deep throw made Ferguson look a little better.
It's pretty obvious that Ferguson is bigger than both Bench and Matt McGloin.
He really stood in there and fired the ball.
Also it was a nice catch by the 6'7" James, but that isn't exactly surprising.
Lynch Looking Good
Wow. Already this kid is making an impact.
Whenever Lynch has touched the ball he's done something impressive.
Right now at least, it looks like Lynch is backing up all the hype.
Defense Winning Without a TD
With this being a spring game, obviously it is tough to give the defense points if all they do is play defense.
So to fix this problem Penn State has a scoring system that gives points for stops on defense, but also give the offense points for first downs.
Odd way to do it, but it makes for a fun game.
Defense Dominant
It looks like the first-team defense hasn't missed much.
The Blue team is wreaking havoc on this offense led by Ferguson, then Austin Whipple and now DJ Crook.
Yes, that's three quarterbacks in about three minutes.
But it hasn't slowed the defense one bit.
Rough Start
Ouch. First few plays haven't been good for Tyler Ferguson.
Not sure if it's first game jitters, but Ferguson doesn't look good.
First completion for Ferguson was a screen that is blown up by Nyeem Wartman.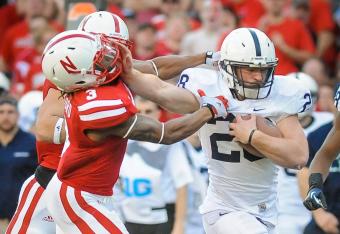 Touchdown
After big plays from their go to players in Zwinak and Robinson, the White team scores.
Newcomer Akeel Lynch score in the first scoring drive from the first team offense.
Lynch looked pretty good in that series.
Lynch and Zwinak combo could be lethal.
Nothing New
Well, it looks like Zach Zwinak hasn't changed.
First two plays, Zwinak rumbles ahead.
Then Robinson makes a ridiculous play on a reverse.
Good signs for this offense.
He's Back!!!
Michael Mauti is at the spring game at Beaver Stadium.
Yes the legend is back, but he's traded in his jersey for a suit and tie.
This should be fun to listen to Mauti talk about this team that he led last season and was so close with.
Other Players We'll Miss:
It looks like we'll be missing some other key players in today's spring game.
Among Lions unlikely to play in B-W Game due to injuries: Bill Belton, Adam Breneman, Kyle Carter, Garry Gilliam, DaQuan Jones
— Jeff Nelson (@GoPSUJeff) April 20, 2013
Most notable of the injured are Bill Belton and Kyle Carter.
Both players are supposed to be big contributors in 2013.
This is a little troubling because both of these guys had problems staying healthy last season.
Also, top tight end recruit Adam Breneman won't be making his debut until the fall now.
Again, these injuries will give us a look at other young players we may not have seen yet.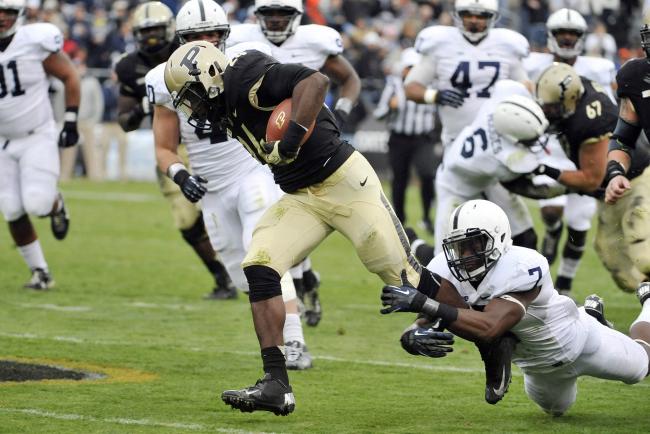 Player We'll Miss:
Stephen Obeng-Agyapong, S
Last year Obeng-Agyapong was a big part of holding together a razor thin secondary at Penn State.
We found out this offseason that the safety was playing through a shoulder injury all season and that he needed surgery.
Obeng-Agyapong has been very limited this spring in drills, so don't expect to see him today.
He is trying to get back for the summer, so playing today wouldn't do much to help Obeng-Agyapong's recovery.
This will give us a chance to see some younger players filling in for Obeng-Agyapong
Player to Watch:
Nyeem Wartman, LB
Penn State may have found it's answer at linebacker for 2013.
Wartman was injured for most of last season, and now he has an opportunity to win the starting job as a freshman.
The loss of both Michael Mauti and Gerald Hodges will hurt, but Wartman can help ease the transition.
Wartman should be running with the first team defense, so we'll see what he can do.
This article is
What is the duplicate article?
Why is this article offensive?
Where is this article plagiarized from?
Why is this article poorly edited?

Penn State Football: Like this team?