UFC on Fox 7 Results: Top 10 Heavyweights in the UFC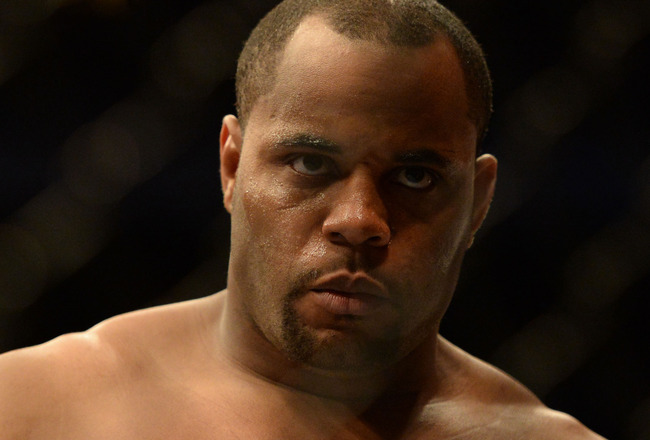 Kyle Terada-USA TODAY Sports
Daniel Cormier didn't gain many fans with his win at UFC on Fox 7, but the former Strikeforce Heavyweight Grand Prix champion fought smart enough in his Octagon debut against Frank Mir to ensure victory.
Undefeated thus far in his career, Cormier is one of the top contenders in the heavyweight division, but his performance on Saturday may still leave him one win shy of being considered for a title shot.
That may not be such a bad thing, though, with Cormier being unlikely to accept a fight with current heavyweight champion and American Kickboxing Academy teammate Cain Velasquez.
After his win over Mir, let's see where Cormier now stands in the heavyweight division.
10. Travis Browne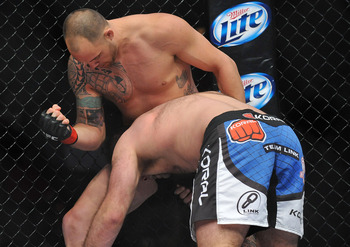 Gary A. Vasquez-USA TODAY Sports
Record: 14-1-1 MMA, 5-1-1 UFC
Streak: W1
Travis Browne recently began his quest to prove his lone UFC loss to Antonio Silva was a fluke. Injured in that bout against Silva, Browne was knocked out in the opening round.
A victory over Gabriel Gonzaga put Browne back on track, but he'll need a few more wins to regain the momentum he had prior to his "Bigfoot" fight.
Mark Hunt is nipping on Browne's heels for the No. 10 spot on this list, but "Hapa" also has a knockout over Stefan Struve and has been more consistent throughout his UFC career.
9. Antonio Rodrigo Nogueira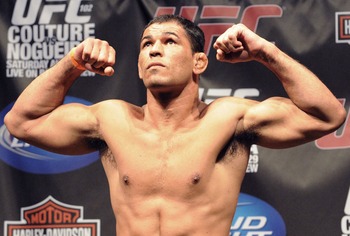 Jon Kopaloff/Getty Images
Record: 34-7-1 MMA, 5-3 UFC
Streak: W1
At 36 years old, Antonio Rodrigo Nogueira likely isn't a threat to win another championship, but he refuses to fade away.
With wins in two of his past three fights, Nogueira was given the chance to coach TUF: Brazil 2 and could make an unlikely return to title contention should he upset Fabricio Werdum at the show's concluding event.
Having lost to Cain Velasquez and Frank Mir though, Nogueira sits down low among the top-10 UFC heavyweights for now.
8. Roy Nelson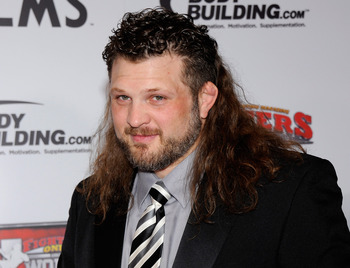 Ethan Miller/Getty Images
Record: 19-7 MMA, 5-3 UFC
Streak: W2
Roy Nelson has been unable to defeat the best of the best in the heavyweight division, but he has beat everyone that he's been supposed to beat since joining the UFC roster.
Back-to-back wins have put Nelson in an important fight with Cheick Kongo.
Should Nelson win against Kongo at UFC 159, he may get one more shot at an elite UFC heavyweight later on in 2013.
7. Frank Mir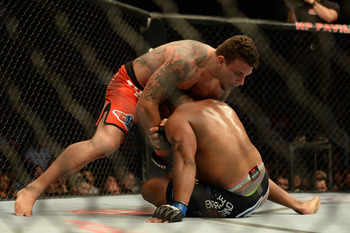 Kyle Terada-USA TODAY Sports
Record: 16-7 MMA, 14-7 UFC
Streak: L2
At 33 years old, a second straight loss at UFC on Fox 7 was deflating for Frank Mir.
Still, the former UFC champion has some wins left in him and can still compete at a high level for the time being.
For now, Mir should take a step down in competition and take some interesting bouts with fellow veterans like Gabriel Gonzaga.
6. Fabricio Werdum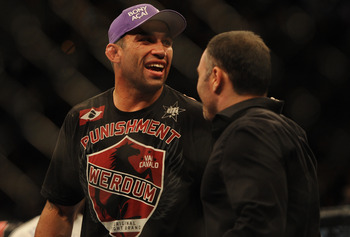 Kelvin Kuo-USA TODAY Sports
Record: 16-5-1 MMA, 4-2 UFC
Streak: W2
Since being knocked out by Junior dos Santos, Fabricio Werdum's only loss came in a weird fight against Alistair Overeem, where the Brazilian essentially beat himself by continually trying to pull guard.
Werdum has taken some time off to coach TUF: Brazil 2 and will try to avenge a loss to Antonio Rodrigo Nogueira at the end of the season.
With a win over Nogueira, Werdum will be in the running for a heavyweight title shot. Another rematch against Dos Santos also has to interest Werdum.
5. Alistair Overeem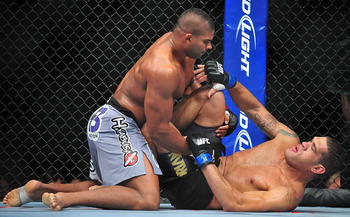 Gary A. Vasquez-USA TODAY Sports
Record: 36-12-1 MMA, 1-1 UFC
Streak: L1
Alistair Overeem was previously considered the greatest heavyweight threat to come over from the now-defunct Strikeforce promotion.
However, after failing a drug test and losing to Antonio Silva, Overeem is now looking like a fighter headed in the wrong direction.
Since Overeem is a fighter with a lot of drawing power, the UFC will want to throw him back in there with another contender when he's ready to roll. If Overeem doesn't make the proper adjustments, he could speed his own fall from the top.
4. Antonio Silva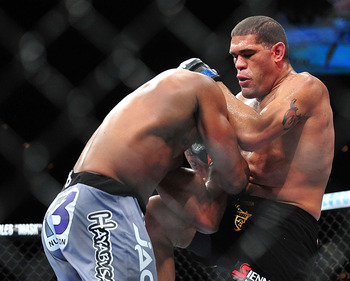 Gary A. Vasquez-USA TODAY Sports
Record: 18-4 MMA, 2-1 UFC
Streak: W2
Despite losing to Cain Velasquez last May, Antonio Silva now finds himself preparing for a rematch with the heavyweight champion.
Silva earned his unlikely title shot by upsetting Alistair Overeem with a brutal series of punches.
Though Silva has a tough task in front of him, the Brazilian has established himself as one of the best heavyweights in the world.
3. Daniel Cormier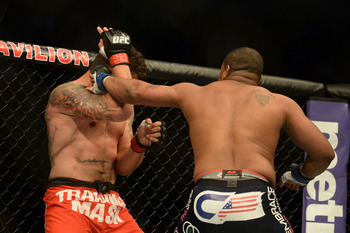 Kyle Terada-USA TODAY Sports
Record: 11-0 MMA, 1-0 UFC
Streak: W11
Daniel Cormier's win at UFC on Fox 7 was an important one. It solidified his standing as a top heavyweight, but it may not have been impressive enough to warrant a title shot.
With teammate Cain Velasquez reigning over the heavyweight division, a move to light heavyweight could be in Cormier's future.
Wherever he ends up, Cormier is sure to be in the running for a chance to claim UFC gold.
2. Junior dos Santos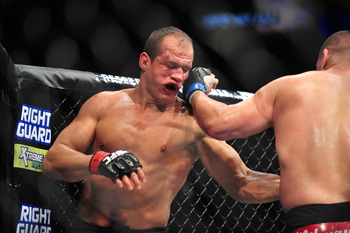 Gary A. Vasquez-USA TODAY Sports
Record: 15-2 MMA, 9-1 UFC
Streak: L1
As badly as Junior dos Santos was beaten by Cain Velasquez in their last meeting, it couldn't be much clearer that the Brazilian is one of the three best heavyweights in the world.
Dos Santos is the only fighter to hold a win over Velasquez and was more impressive in victory over Frank Mir than Daniel Cormier.
A win over Mark Hunt in his next appearance should put Dos Santos back in position to try to reclaim his crown.
1. Cain Velasquez
Gary A. Vasquez-USA TODAY Sports
Record: 11-1 MMA, 9-1 UFC
Streak: W2
With his win over Junior dos Santos at UFC 155, Cain Velasquez became a two-time heavyweight champion.
Now, Velasquez can return to building his legacy as one of the greatest heavyweights in MMA history.
A rematch with Antonio Silva will be next up. In his previous meeting with Silva, Velasquez manhandled the Brazilian and finished the fight with ground and pound.
Keep Reading