Manchester City's Biggest Winners and Losers for the 2012-13 Season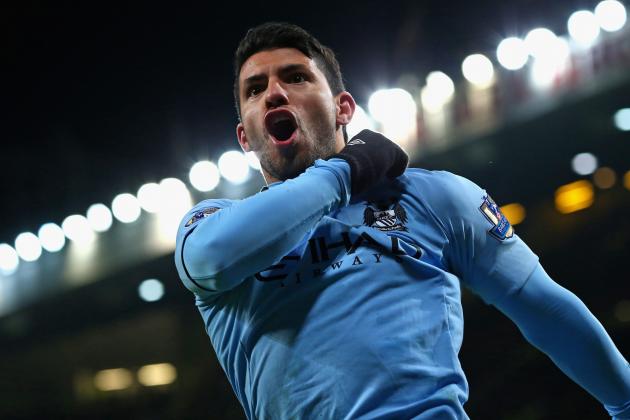 Alex Livesey/Getty Images

The 2012-13 season has been somewhat tumultuous for Manchester City.
There have been big highs—like their defeat of Manchester United at Old Trafford and getting an FA Cup Final matchup with Wigan Athletic (which their odds-on favorites to win). However, there have also been huge lows for the defending Premier League champions, who have conceded their title defense to United and saw their chance at European success end in the group stages of the UEFA Champions League.
Without a single victory to their name.
It's been a very up-and-down season, and the players and management that make up this season have experienced firsthand just how luxated the year has been.
Several players have found roaring success this year; others have been not so fortunate, with several more somewhere in between.
Let's take a look at who the big winners and losers have been from Manchester City's 2012-13 season so far.
Begin Slideshow

»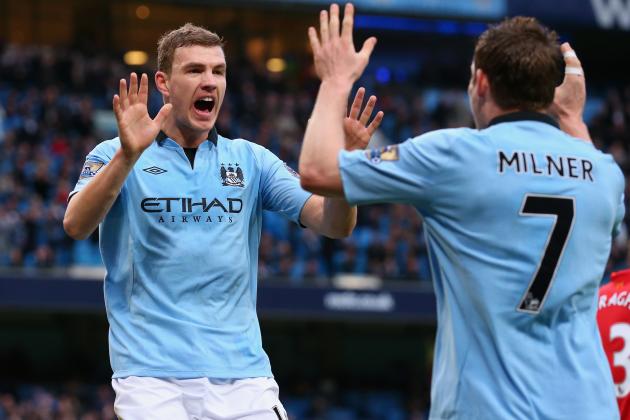 Alex Livesey/Getty Images

His performances might have died off somewhat compared to his blistering start at the beginning of the year, but Edin Dzeko still emerged as a big winner from the 2012-13 season.
Despite only starting 14 Premier League games this year, Dzeko has netted 12 goals (team-high) and four assists this year on 2.7 shots per game, and he creates a goalscoring chance on average every game.
However, it's been his role within the team that's been most impressive this year, as Dzeko has emerged as the go-to player in attack. Carlos Tevez has struggled, and Sergio Aguero has battled injuries—leaving the door open for Dzeko to cement his place as a key player for the Citizens.
Which, for a club likely to make some moves (both in and out) in attack this summer, could well turn out to make him the biggest winner of them all.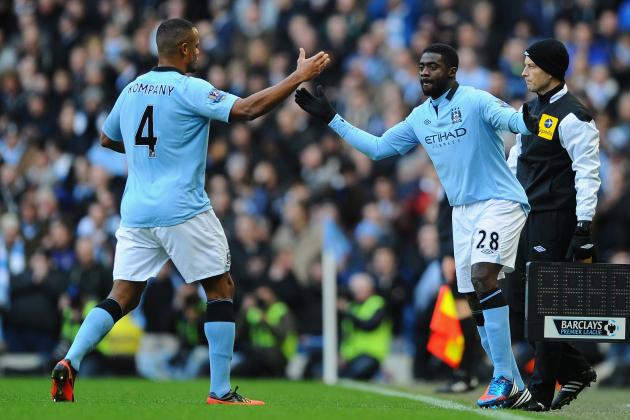 Laurence Griffiths/Getty Images

With the emergence of a number of good defensive talents this year from Manchester City (which we'll get to in a minute), there have to be some losers. And if we're talking defense, there can be no bigger loser than Kolo Toure, who looks set to leave the Etihad this summer as a result of his poor play.
Toure struggled to make a mark when given opportunities this season by Roberto Mancini, and the Ivorian found himself often as a substitute or even an unused player.
Throw in the midseason revelations that he'd been carrying out a two-year affair, and it's fairly safe to say that it hasn't been the best year for the Ivory Coast international.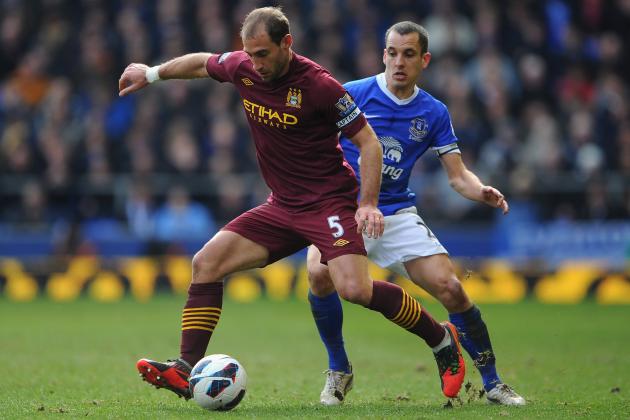 Michael Regan/Getty Images

The performances of Manchester City's defenders this year have been simply superb at times, with the work of Pablo Zabaleta in particular leaving a mark on many fans at the Etihad Stadium.
Zabaleta has led the team in tackles and interceptions this year, and his ability to get forward and contribute to the attack has also been well-received—chalking up two goals and two assists this year, with an average of 0.7 goalscoring chances created per game.
The 28-year-old suits the tough and gritty style that Mancini loves to employ at the back and will likely be a starter at City for many years to come following his performances this season.
He's not the most skillful player or even the most graceful, but he is determined and he never gives up. Simply put—he has skills that you cannot teach but every manager desperately wants.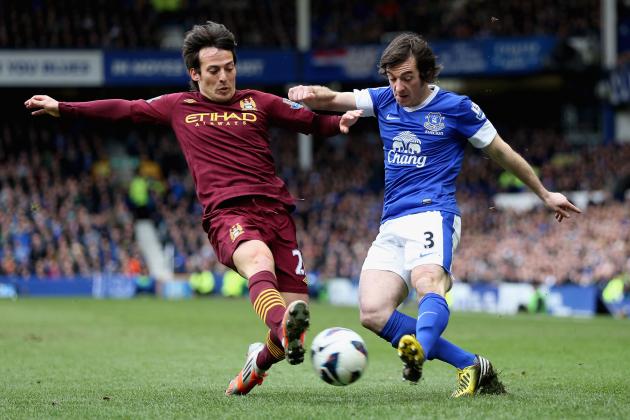 Clive Brunskill/Getty Images

I wrote on David Silva a few weeks back when I discussed this season with Manchester City, and I came to the conclusion that whilst the playmaker's role has changed this season and he has been let down at times by the attackers ahead of him, he has still disappointed a great deal in 2013.
And it's something I stand by 100 percent.
Silva has not stepped up when the attack was struggling, and he failed to inject himself in the same way that he did in years gone by—even when the likes of Aguero and Tevez were struggling.
He's still a definite starter for City, and his talents are by no means wasted, but given what we've come to expect from the Spanish international, there's no doubting that this year does not compare to what he has shown before—leaving 2013 as something of a disappointment for Silva.
Expect him to be back next year, as determined as ever, though.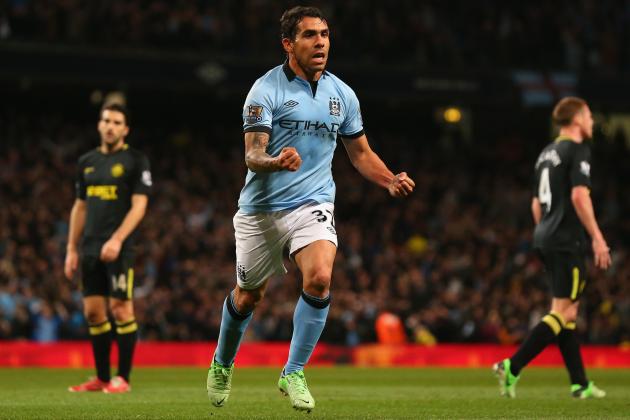 Alex Livesey/Getty Images

Carlos Tevez is another player whom many will have mixed opinions about this season, but I think he's shown himself to be a valuable part of the Manchester City attack.
Granted, that was something we already knew, but given that Silva hasn't been operating as efficiently behind him and Aguero has been struggling with injuries and playing time, for Tevez to come out and score 11 goals and make seven assists this year has been very impressive.
Tevez has been forced to play as an attacking midfielder more this year than in years gone by, and yet he's responded to that with a willingness to adapt his game and best help out City's attack. It might not have been easy, but Tevez never gave up in his role and was a huge reason why the Citizens have finished off the season with some of the results they have.
Slow start, but a definite winner this year overall.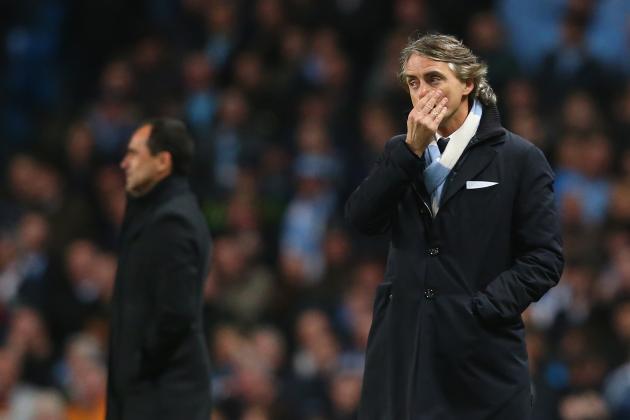 Alex Livesey/Getty Images

Harsh, but you've got to call Roberto Mancini a loser this season from City's year—something that winning the FA Cup title next month may help, but not completely change.
He had a Premier League-winning side 12 months ago and had them poised for greatness in Europe. However, they finished over double figures behind United in points and goals scored this season, gave up the Premier League title and were eliminated from the Champions League without a single win.
Yes, they had a tough draw, but this was a champion team that didn't play like champions, and at the end of the day, that responsibility falls back on to Mancini.
The rumors about his potential sacking have started to arise this season, and whilst I don't think he'll leave City just yet, there's no doubting that he's under much more pressure this year.
After all, he has won just one Premier League title and one FA Cup in four years, despite spending all the money that he has. Hard to see Sheikh Mansour being too thrilled with that.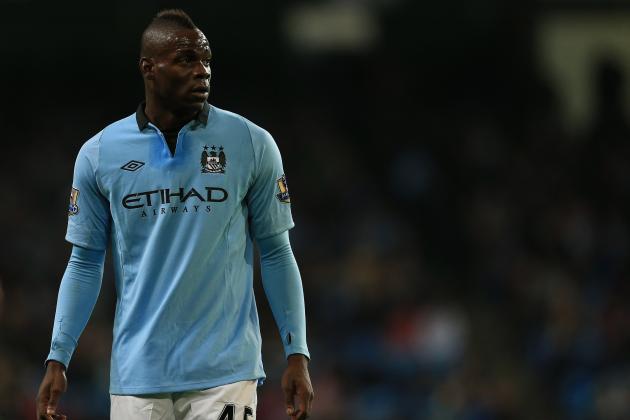 Richard Heathcote/Getty Images

We finish up here with a player who was a loser and then became a winner this year—Mario Balotelli—without whom the world would seem a lot more dull.
Balotelli was sold by City over the winter transfer window after struggling to leave a mark in the Citizens' attack and, well, trying to hit Mancini during a training session—bringing to an end one of the more tumultuous careers that the Sky Blues have seen at the Etihad Stadium.
In 54 appearances, he finished with just 20 goals and one assist (yes, just that Premier League-winning assist) from his time at City—which made him a big loser on the season overall. However, his recent performances at AC Milan have made him a huge winner and have the club poised to launch a very strong domestic and European run next season.
His combination with Stephan El Shaarawy has seen the club not lose a single domestic game in which he has played, with the Italian international netting seven goals in his seven appearances.
Which, in the big picture, makes him some sort of a winner this year now that he's back in his home country, with good form and regular starting appearances.
Oh, and he's one of TIME Magazine's 100 Most Influential People in the World.
#Winning.
Hit me up on Twitter for more sports goodness: Follow @dantalintyre