UFC on Fox 7 Results: Questions Heading into UFC 159 Jones vs. Sonnen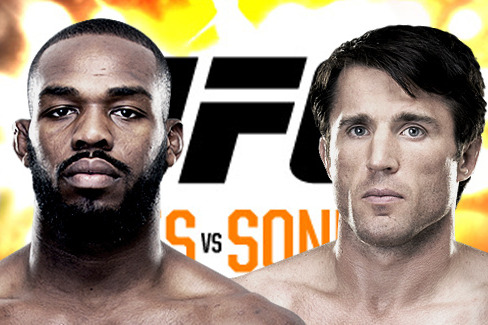 UFC on Fox 7 has come to a close and below are the full results:
Benson Henderson defeats Gilbert Melendez via split decision (48-47, 47-48, 48-47)
Daniel Cormier defeats Frank Mir via unanimous decision (30-27 x 3)
Josh Thomson defeats Nate Diaz via TKO at 3:44 of Round 2
Matt Brown defeats Jordan Mein via TKO at 1:00 of Round 2
Chad Mendes defeats Darren Elkins via TKO at 1:08 of Round 1
Francis Carmont defeats Lorenz Larkin via unanimous decision (29-28 x 3)
Myles Jury defeats Ramsey Nijem via KO at 1:02 of Round 2
Joseph Benavidez defeats Darren Uyenoyama via TKO at 4:50 of Round 2
Jorge Masvidal defeats Tim Means via unanimous decision (29-28 x 3)
T.J. Dillashaw defeats Hugo Viana via TKO at 4:22 of Round 1
Anthony Njokuani defeats Roger Bowling via TKO at 2:52 of Round 2
Yoel Romero defeats Clifford Starks via KO at 1:32 of Round 1
Now that the card is wrapped up, the UFC will begin to look ahead to its fourth card in four weeks, as the promotion heads to New Jersey for UFC 159. The pay-per-view card will see UFC light heavyweight champion Jon Jones put his title on the line against Chael Sonnen in the evening's main event.
Check out a number of questions that may be answered by the upcoming event.
Begin Slideshow

»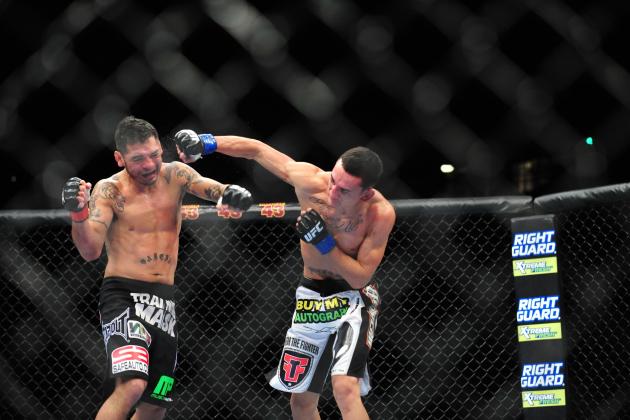 Gary A. Vasquez-USA TODAY Sports

If you want evidence that the UFC sometimes values entertainment over you know, skill or actually winning a fight every once in a while, look no further than Leonard "Bad Boy" Garcia. Garcia is 2-5 in his last seven fights and one could argue that his record should be 0-7 as his wins over Nam Phan and Chan Sung Jung regularly show up on "worst decision in UFC history" lists—yet against the odds, he remains employed by the UFC.

His opponent at UFC 159, Cody McKenzie, has struggled as of late, going 1-3 in his last four fights. His last fight, his featherweight debut, ended in 31 seconds via a body punch.

If you're looking for a "loser leaves town" bout, this is the one. For that reason, it also has the possibility of being a sleeper "Fight of the Night" pick.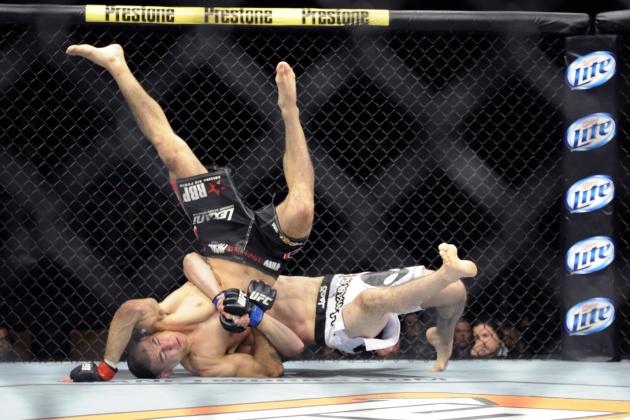 Josh Holmberg-USA TODAY Sports

Rustam Khabilov introduced himself to UFC fans during The Ultimate Fighter 16 finale in a pretty spectacular (but some would say borderline illegal) fashion when he finished his fight against Vinc Pichel with one of the most spectacular suplexes in UFC history.

Even more impressive was the fact that the suplex that ended the bout at the 2:15 mark of Round 1 was the third suplex that the Sambo world champion delivered during the short bout.

When a fighter delivers something like that in their UFC debut they set the bar pretty high for their next fight; hopefully fans will not be disappointed if Khabilov does not come out and hit a highlight-reel move when he faces Yancy Medeiros at UFC 159.

With that being said, if Khabilov does deliver another amazing stoppage, get this kid on the next PPV card and start the hype machine rolling!

Oh and please, someone in Khabilov's camp, tell him to go back to the Twitter handle that the UFC displayed for him on the TUF card, @89289474444.
What started out as a controlled experiment is on the verge of moving beyond the "let's give this whole WMMA thing a try" phase. The first two bouts in the UFC's women's bantamweight division have been very successful. The UFC will see if it can go three for three when Sheila Gaff and Sara McMann meet on the preliminary card at UFC 159.

This may be the truest test of WMMA in the UFC.
The first UFC WMMA bout featured UFC women's bantamweight champion Ronda Rousey and had a huge mainstream media push behind it. The second women's fight featured a former Rousey opponent in Miesha Tate.
The women's UFC champion was also tied to the bout since the winner of the fight would move on to coach opposite Rousey in the upcoming season of The Ultimate Fighter, something Cat Zingano did with a TKO victory over Tate.

When Gaff and McMann meet in New Jersey, they will come into the Octagon as unknowns to many fans. UFC president Dana White seems to be pretty jazzed about the future of WMMA; a successful bout between Gaff and McMann will, no doubt, increase his enthusiasm going forward.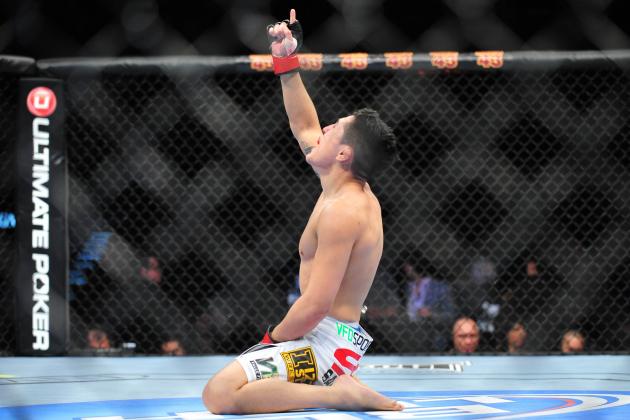 Gary A. Vasquez-USA TODAY Sports

If you were unaware, the UFC has been looking to make inroads with the Mexican MMA market for some time.
They've awkwardly marketed Mexican-American UFC heavyweight champion Cain Velasquez as the promotion's first Mexican champion, conveniently leaving out the fact that Velasquez was born in the States. They've made a scouting trip to Mexico to look for fighters to fill a roster for a season of The Ultimate Fighter: Mexico.
Most recently, they have given an odd and pretty unjustifiable push to Erik Perez.

Perez (13-4) is on a three-fight UFC winning streak, beating John Albert, Ken Stone and Byron Bloodworth, three fighters who currently sport a collective 3-7 UFC record. Normally defeating three opponents of that level would not do much for a fighter, but not only did the three wins land Perez a six-fight deal with the UFC, they also garnered him a multi-page spread in the newest version of the UFC 360 magazine.

It is clear that the UFC is banking on Perez being a huge part of its marketing plan when it takes the next step into Mexico—so no pressure, kid.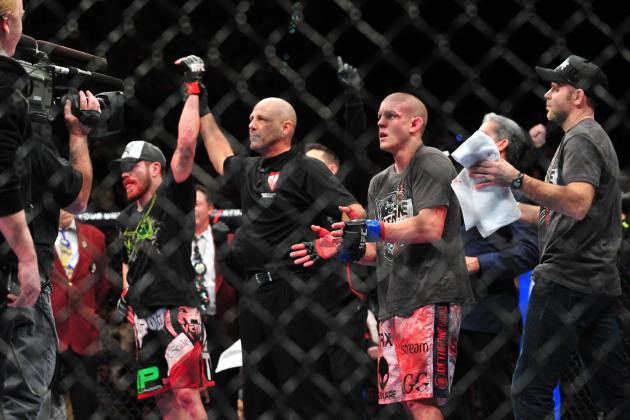 Gary A. Vasquez-USA TODAY Sports

Jim Miller was on one hell of a run through the UFC's lightweight division between 2009 and 2012. Miller put together a record of 8-1 with his only loss being a three-round unanimous decision to Benson Henderson. Miller's impressive run put him one fight away from a shot at the lightweight championship.
To earn that shot he needed to get past Nate Diaz in the main event of UFC on Fox 3. He did not.

Miller rebounded in his next fight, earning "Fight of the Night" honors in a bloody three-round unanimous decision win over Joe Lauzon at UFC 155. Miller will look to take his next step back to title contention when he fights in his home state of New Jersey at UFC 159, meeting Strikeforce transfer Pat Healy.

Miller is currently ranked No. 5 in the UFC's lightweight division. If he hopes to get another chance at that weight division's title, Miller needs this win.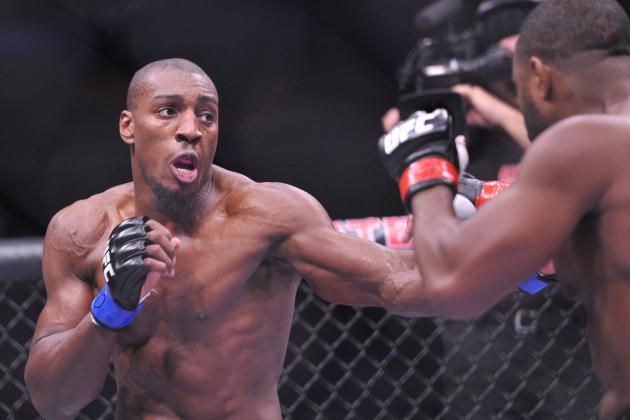 Mike Dinovo-USA TODAY Sports

Phil Davis and Vinny Magalhaes have been having a little bit of a feud over the past few months; on April 27 those differences will get settled.

The bickering started between these two back in October 2012 when Magalhaes tweeted that he was looking for a fight with Davis following Davis' win over Wagner Prado at UFC 153. Magalhaes allegedly had his chance to meet Davis on short notice at UFC 155, a move that ignited a heated battle on twitter between the two in December.

The conflict between the two has remained at a low boil since their fight was booked for UFC 159.

The animosity that has developed between these two is not the only thing that makes this fight intriguing. Adding to the intrigue is the background that the fighters come from, Davis is a four-time NCAA All-American wrestler, while Magalhaes is a multiple-time World jiu-jitsu champion.

More than fighter pride will be on the line in this grudge match as each fighter will be looking to display the effectiveness of their fighting foundation.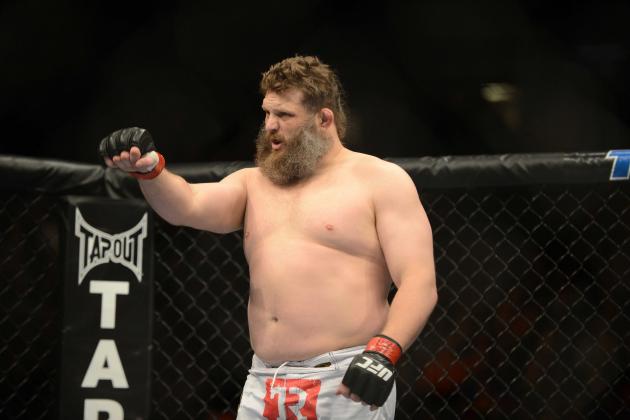 Ron Chenoy-USA TODAY Sports

One thing we have not heard from the UFC heading into UFC 159 are the calls for Roy Nelson to shed some of his bulk and drop to light heavyweight. I guess that is understandable. The request has been made enough times and fallen on deaf ears, so there's no real reason for the promotion to revisit it even if the drop would most likely help Nelson's career.

Somewhat surprisingly, Nelson has managed to keep his name in the top 10 in the heavyweight rankings, but for how long and for what reason is he ranked so high?
If you take a gander at his record, you will see losses against upper-level fighters and wins against the middle-of-the-pack competitors. Sure, he has wins over Matt Mitrione, Dave Herman, Mirko Cro Cop, Stefan Struve and Brendan Schaub, but his losses are to Junior dos Santos, Frank Mir and Fabricio Werdum.
Is the reason for his ranking only that there's no one else to throw in there?

Nelson faces certified heavyweight gatekeeper Cheick Kongo at UFC 159, and at this point one has to wonder what Nelson has left to fight for? Is he fighting for money or to further enervate UFC president Dana White, or does he still believe he can make a run at UFC gold?

When UFC 159 comes to a close, it will be interesting to see where Nelson stands and what he decides to do with his life.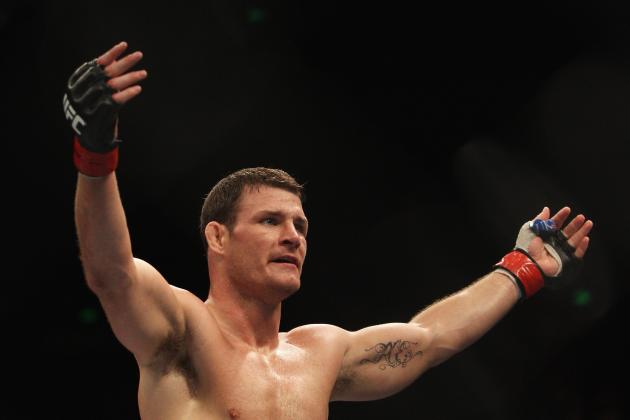 Mark Kolbe/Getty Images

Michael Bisping has never been afraid to engage in a little bit of trash talk before his fights, his UFC 159 contest against Alan Belcher has been no exception. Making matters a bit more interesting is that Belcher has not shied away from Bisping's well-honed trash-talk attack, offering up some bets. Bets that were not so gently rebuked by Bisping.
The trash talk and the bets that will never happen have increased interest in this fight, but the reality is that there's a lot on the line for these two fighters in New Jersey as both are coming off losses in their last fights.
Two consecutive losses in the UFC's middleweight division will most likely leave the loser outside the title shot picture for a long time, if not forever. With so much on the line, I'd look for this one as a possible "Fight of the Night" candidate.
I think we all expected a little more from Jon Jones and Chael Sonnen leading into this fight.
Jones has been practically not selling the bout, and he may be justified in doing so. After all, what has Sonnen accomplished that would justify a shot at the UFC light heavyweight champion? If you need help answering that, here you go: The answer is nothing.
Sure Sonnen can talk a good game, but as far as, oh, I don't know, earning a shot at the light heavyweight title, he has not done that. No matter how you try to justify it, he has not earned that shot.
With that being said, Jones is the champion, and he's kind of leaving the UFC hanging on this one, but maybe that's his plan. Maybe the young champion is pulling a little power play. Maybe Jones' actions are speaking for him, telling the UFC that it can more or less force an undeserving challenger on him, but it can't make him try to sell a fight that does nothing for his legacy or career.
It's hard to tell if things will pick up during fight week, but I'm not holding my breath.